No one ever claimed that children are easy to please! An effective ways to decorate the kids' room requires a lot of planning ahead of time. Storage, multi-functional furniture that adapts to the changing demands of a youngster, and inventive décor are all essential. A good mix of form and function will result in a layout that is both functional and long-lasting.
We've compiled a list of simple ways to decorate the kids' room to assist you to find that balance and ensure that sleep becomes something your kids look forward to.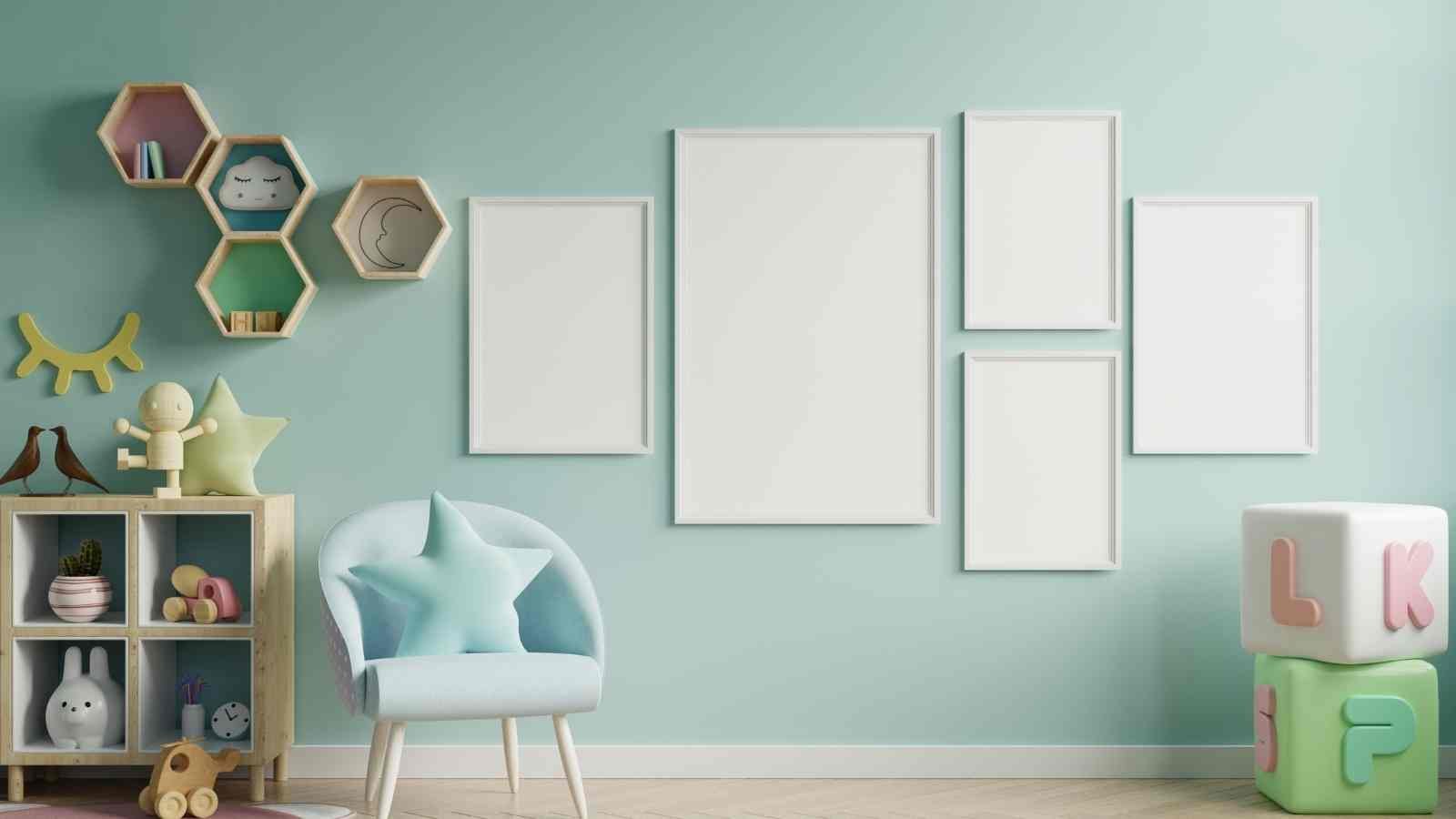 Jump to:
1. Use butterflies to create a stunning wall design.
If you're searching for a way to liven up your little princess's drab bedroom, try recreating this butterfly wall. Butterfly forms may be cut out of colored cards or purchased from the haberdashers as appliqué butterflies. Plan out where you want them to go on the wall and use glue dots or command strips to attach them. To create a mural with depth, experiment with various forms, materials, and colors.
2. Use a high-rise bed to make additional room.
If your child's room isn't very large, a high-rise bed will provide plenty of areas for them to play. To make a cozy refuge to relax and read a book, wallpaper beneath the bed and fill it with pillows.
3. Create a movable gallery wall for your youngster to be inspired by.
Hang plastic or wooden frames without the glass to create a kid-friendly gallery wall. Your children may then quickly change out the artwork and shift photos around to suit their current interests. It may be full of dinosaurs one week, and then their hot wheels take center stage the next. Fix a string 'washing line' to the wall with a few wooden pegs to clip up cards and postcards for an easy shortcut.
4. A teepee may help your child's creativity.
There are lots of indoor teepees for sale right now, but why not make one for yourself for a fraction of the cost? Tie a couple of bamboo canes together at one end with twine to construct a temporary tent. To cover the frame, cut a hole in the centre of an old bed sheet and drape it over it. Then just cut a door flap and stuff it with pillows and books; your kids will enjoy it.
5. Create a unique Lego table
At some time throughout their lives, all boys and girls like playing with lego. If your child is having a lego period and you're tired of removing errant lego bricks from your toes, make an affordable lego table for them to construct and show their works. Pick up a cheap flatpack table and use strong glue to adhere a few Lego baseplates to the tabletop. All that's left now is for your kids to put their good work to the test.
6. Use chalkboard paint to spruce up antique furniture.
Paint an antique piece of furniture with chalk paint and let your kids wild with the chalk to create an eclectic aesthetic. It will encourage their creativity as they create new designs or improve their handwriting, and it will contribute to the room's bright and cheery appearance. Because this is your child's room, it's crucial to engage them in the decorating process and let them to leave their mark in this easy (reversible) method.
7. Use vibrant colors on the walls.
Pops of neon brights in a playroom or bedroom for all ages may be a lot of fun. If you're hesitant to paint a full wall neon green, start small by using masking tape to create random geometric shapes on a plain white painted wall, then fill in each form with bright and zingy tones. To continue the color throughout the space, use additional furnishings like shelving or storage buckets to pick out the colors.
8. Select a long-lasting wallpaper pattern.
It might be tempting to go straight for the charming animal pattern or ornate flower print when selecting wallpaper for a child's room; although these will still look lovely, if you want to ensure that the wallpaper will endure long into their teen years, try for something more discreet. This mint green and white checkered wallpaper will last your kid from the time they are in a cot to the time they graduate from high school.
9. Make space for a desk
Create enough storage at young children's desks to ensure that they have the proper atmosphere in which to do homework or revision. They might not thank you for it, but trust us, they'll be grateful when they're stuck at their desk studying for their GCSEs. Wallpaper or paint behind the shelves and cubby holes to create a fun yet stimulating workspace; they might not thank you for it, but trust us, they'll be grateful when they're stuck at their desk studying for their GCSEs.
10. Use blinds to provide a pop of color.
These rainbow shutters will liven up your child's room immediately. If you already have shutters, experiment with different colors. Colorful blinds are a terrific alternative to shutters since they allow you to manage light levels for nap time and if your child has asthma or allergies. Dust and fluff are simpler to remove from blinds than from curtains or blinds.
If you want your baby to be unique from the start, get inspired with these ideas for decorating baby's room. Create an original and creative space! This is a nice touch that has become very fashionable in decoration for parties and children's bedrooms. You can do yourself, to your taste and very low cost. You only need papers varied and consistent with decoration baby room designs, scissors and tape. Very easy!
The pictures or murals with phrases provide an intellectual and romantic touch to the room. Go for writing the phrase you like a story that always will read your baby to sleep, or even a phrase that summarizes all the emotions you feel in this new phase as a mom.
Stunning Ways To Decorate The Kids' Room
Kids' Room Photos Collected via pinterest.com