Banana bread is something that suits every mood and occasion! Hence we decided to try them out for Christmas! With the holidays around the corner, there are ample days when you will be idle, so why not indulge in something good and enriching? Baking is a great way to keep yourself busy and hence we have got you some amazing recipes for the season! Just so you end up making no mistakes, here are some tips for you as well! So are we ready to indulge in the blissful experience of making banana bread then?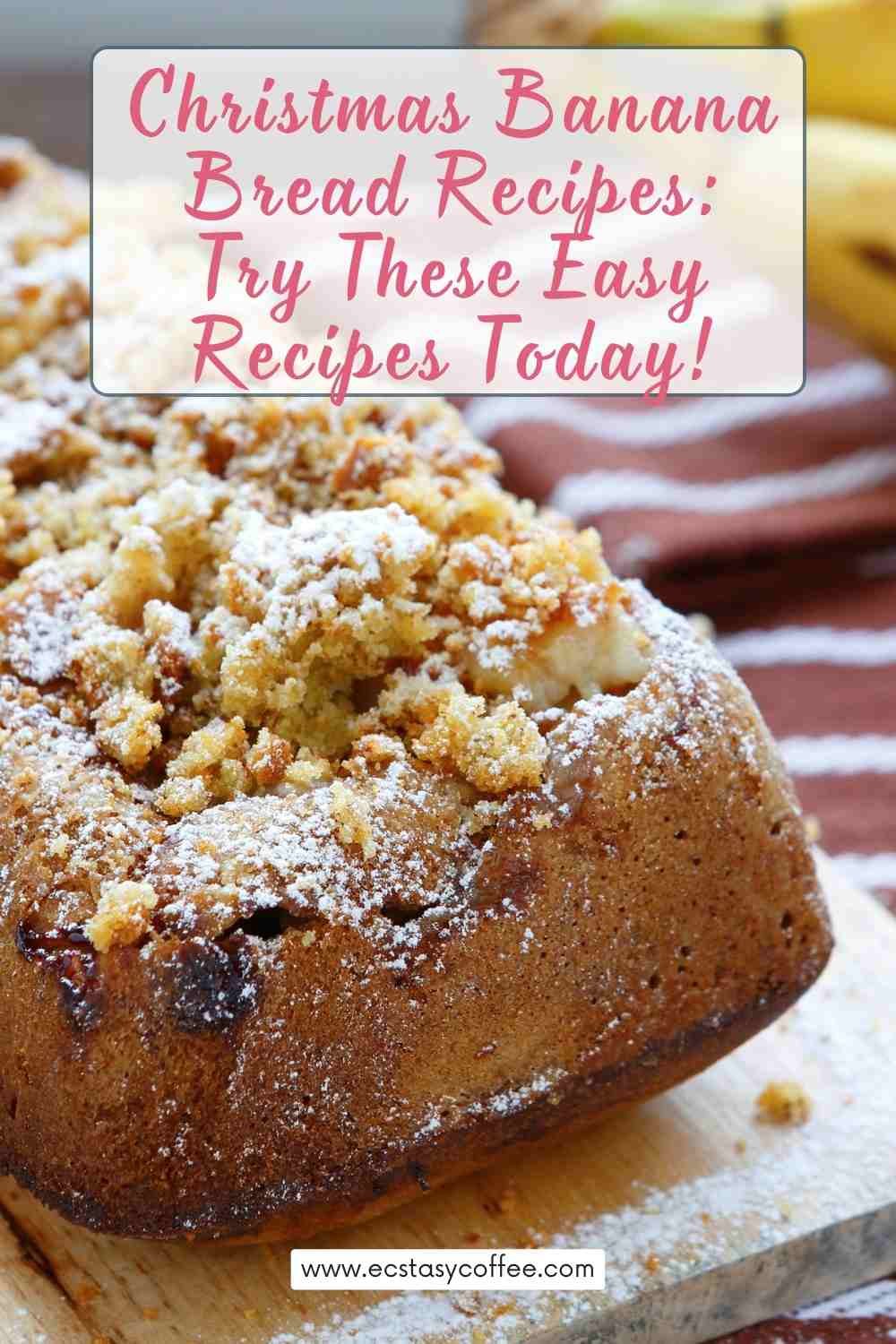 Some foolproof techniques for baking your banana bread right
If you are doing it for the first time and wondering whether things will go right or not! We have a solution to your dilemma! Read the tips that are mentioned below so you make no blunders at all!
1. Bananas should be ripe for making the banana bread but not too ripe-
If you ask us what kind of banana one should choose for making banana bread then we will say that the ideal ones are the yellow ones with small brownish freckles on the surface of the peel! However, there should be no rotten portions or any green unripe portions as this can affect the taste and the texture of the bread! Slightly ripened bananas are tender and soft aiding the texture and flavor of the bread which turns out to be tender and rich in taste.
2. You must experiment with different kinds of flour and sugar -
When you are baking any sort of bread, it is the flour that forms the base and the main constituent of the banana bread or any! So it is always recommended that you experiment with different kinds of flour and sugar to alter the taste and flavor! This will also enable you to make your bread even more healthier and nutritious. All-purpose flour is the most common option that all of us opt for, although you can indulge in almond flour, or any other option depending on your preferences.
3. Do not over-mix the batter-
There is another major mistake one can make while they are working on baking bread! Overworking the dough! You can not imagine what damage this can do to your dough! Activating the gluten in the dough, the banana bread turns out to be extremely tough and chewy! Knead as long as the flour and other ingredients blend well but give up after that! It can be tempting to roll and knead again and again but it is not effective for the texture of the bread.
4. Be accurate with the measurements in the mixture-
There is another vital factor that you need to understand as well! The measurement of the ingredients has to be very accurate in the case of making the mixture for the dough! You simply cannot use approximation here as the absence of precision can ruin the texture of your bread and also its taste! Guess, you do not want to let your efforts go down the drain and hence be careful with the measurements rather. Purchase a measuring cup and spoon to accomplish the job with perfection.
5. And finally comes the toppings-
Now that you have baked your bread fine, it is time for the toppings! From cream cheese to sliced fruits, the options are endless! It completely depends on your choice and preference of what toppings you wish to add! If you are fond of chocolate chips, then go for them too!
Christmas Banana Bread Recipes: Delicious and Easy to Make Baked Goods
Christmas is incomplete without the classic gingerbread on the table! With that, we have the infusion of bananas! What more can you ask for? So let's not waste a single minute more and get started.
Ah, what a lovely treat for dessert lovers! You can begin your day with the mild cinnamon-infused banana bread which is further adorned with streusel! There is no way you will be able to resist it for long!
The combination of sweet maple and crunchy pecan always stands out for us! Delicious and crumbly, the banana bread recipe is one of its kind! Smooth and enriching, this idea for bread is indeed so enticing for the taste buds.
Ah, what a lovely treat! The crunchy streusel topping is indeed an excellent choice with the rich cinnamon essence. Delicious and perfect to go as breakfast, what a wonderful way to enjoy the holiday season. Shall we try it then?
Tender, delicious, and packed with a surprise for sweet lovers, we have this awesome recipe for banana bread right here! Filled with cream cheese in the center, the bread will melt in your mouth to render an everlasting aftertaste! Shall we?
We have this wonderful cheesecake-stuffed banana bread exclusively for you! The enriching flavor of cheesecake leaves you tempted for more and more! This is an excellent treat for the tastebuds! So without any more delay get started with the preps already!
The combination of raspberry and dark chocolate stands out for us! This is an exclusive creation only to make your holidays better and special! You may not be close to your family this season, but banana bread can always make you feel a sense of warmth!
We are talking about the lovely banana bread which is packed with chunky cranberries! Delectable and rich, the recipe is one of its kind! Sweet, tangy, and savory, you are definitely going to love this treat!
We are talking about the source of ultimate satisfaction! The moist homemade banana bread is something you can indulge in at any point of the day! In fact, do not be surprised if the plate is rendered empty in a jiffy!
Well, what more can be said about banana bread? This is something you are supposed to perceive with your taste buds! Enriched with nuts, this one turns out to be a wonderful idea as a side dish for breakfast.
We are here to help you make cranberry banana bread! Once we came across the recipe, we knew that you simply cannot keep your hands off this one and hence this idea! Flavored with tangy and sweet cranberry, make it today!
Here is the classic banana bread with a modern twist! If you haven't tried the recipe for biscoff banana bread yet then you should with the holiday season around the corner. Delectable and super rich in flavors to be honest!
What an adorable treat for the Christmas season! Delicious and fascinating, the caramel macchiato banana bread is such a tempting treat to relish this season! Topped with sweet and savory caramel sauce, you will definitely thank us later for the idea!
We can guarantee you that you might have never tasted something like this before! The delicious banana bread is one of a kind. Rich and luxurious, there are enough chocolate chips to keep you invested in this bread option. Shall we?
An all-time classic, no matter what sort of bread you are baking, the infusion of cinnamon renders it the flavor of divinity! Topped with crunchy streusel, this one turns out to be a great people-pleaser recipe we have observed!
Ah, what an extraordinary recipe to make your Christmas holidays even more special! We will not let you remain sad and in the holiday blues! With cheesecake-stuffed banana bread, it is impossible to resist a smile on one's face.
Yummy! Are we talking about salted caramel? That too with banana bread? There can be no better pairing than this one! Are you ready to experience its blissful flavors? If yes, then get started with the preps already! We can't be late.
If you are making this for the first time and wondering if the one bowl of banana bread is easy or not, we have found you the simplest one! Ideal for beginners to explore, there is nothing that can go wrong with this one.
Let's not waste a single minute more, as the season of holidays is knocking at our doors! With the cinnamon crumb banana bread for breakfast, this idea will turn out to be the best! Shall we try it then?
The crunchy walnut crushing between your teeth at every bite of the banana bread is a wonderful experience for the taste buds! Try out this version of the banana bread and we can guarantee that you will not be disappointed.
Conclusion:
Christmas is the perfect time to try a new and delicious holiday treat. With these easy recipes for Christmas banana bread, you can enjoy a unique flavor combination that not only tastes great but also adds a festive flair to your holiday table. Each of these recipes allows you to create delicious and moist banana bread in just a few simple steps and – most importantly – with minimal extra effort. Now that you have the recipes, why wait? Get baking and enjoy the smell of freshly-baked Christmas Banana Bread! And don't forget to share a slice with your family and friends – it's the season of giving, after all!
Christmas Banana Bread is the perfect way to enjoy a festive spin on a classic treat. With easy recipes and minimal effort, you can enjoy the warmth and comfort of freshly-baked bread, creating a wonderful holiday atmosphere. So get baking and share the joy of Christmas this holiday season!
Read also: