The kitchen is often referred to as the "heart" of the house. It's where you and your family get ready for the day, create holiday memories, entertain friends and family, and commemorate life's major milestones during get-togethers. The kitchen island design, located in the middle of the room, gives additional space for meal preparation, cooking, gathering for informal meals or coffee breaks, and even more storage. Aside from its many utilitarian use, the island may also be used as an aesthetic focal point in the space. To help you design your kitchen, we've compiled our favorite kitchen island designs, ranging from large to little, basic to extravagant.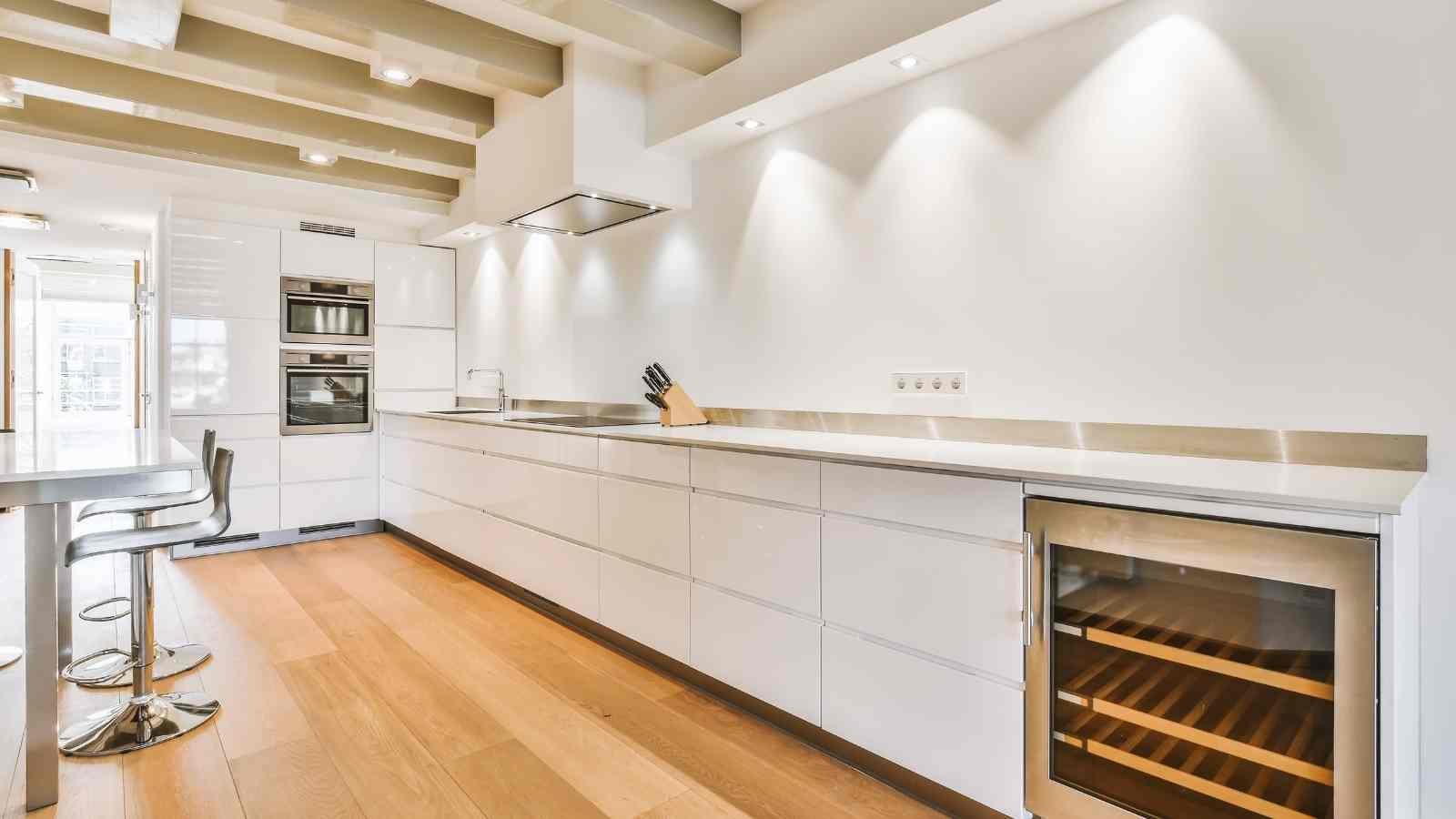 Best Kitchen Island Design Ideas
Wide Plank Wood Island
The kitchen has a black-painted wood island that serves as a focal point. Reclaimed wood was used for the cabinetry and floors, and fence planks dyed in ebony were used for the island. The island's broad boards offer texture and character, while the black hue contrasted with the lighter cabinetry and flooring gives the space a contemporary feel.
Seamless White Kitchen Island
A sleek kitchen island blends in well with the clean lines of this all-white kitchen. The dark wood stools create a contrast to the white design and a spot for the whole family to have breakfast together.
Irregularly-Shaped Island
Why not go with a distinctive asymmetrical island if you have a lot of kitchen room to deal with? Make the most of this spacious kitchen, which has a huge angled island. Irregularly shaped granite, marble, and quartz scraps are sometimes provided at a reduced price, which might help you save money.
Chic Black and White Design
A kitchen island may be both utilitarian and stylish. From a sink with a stunning antique brass faucet to open shelves for additional storage space, this high-end, trendy black and white island have it all.
Contemporary Farmhouse Kitchen
This kitchen seamlessly blends ancient and contemporary elements: The owners of this property purchased their grandparents' home and added contemporary accents while keeping some original features. They freed up the kitchen with a new arrangement that highlights the kitchen island, which was given a fresh, new appearance with a coat of brilliant blue paint.
Pop of Color in an All-White Kitchen
If you prefer a more neutral kitchen but still want a splash of color, the kitchen island is a fantastic place to start. Because the kitchen island is frequently the focal point of the room, painting it a bright color to match the cabinets is a simple and cost-effective method to make it stand out.
Embellished Island
The use of color isn't the only technique to make a kitchen island stand out. You may decorate one side of this blue kitchen island with colorful accent tiles to offer just the appropriate amount of color and visual appeal throughout the house.
A Refreshing Neutral Curved Island
This neutral dining island has light wood slats and curved edges for a delicate, soft aesthetic that complements the home's bright and open tone. The remainder of the furniture is also neutral, giving the room a bright and airy feel.
Pretty in Pink
With a little flipping, old furniture may be transformed into a temporary kitchen island. A fresh coat of colorful paint, like the bubblegum pink hue that matches the Kelly green stools, is a simple way to give antique furniture a new appearance.
A Makeshift Pantry
If you don't have enough pantry space in your kitchen, a kitchen island may be used to create a temporary pantry for dry items. This kitchen design includes a gorgeous, large island with space for containers of dry items that would ordinarily be stored in a pantry. Keeping commonly used things in this area makes cooking faster and simpler, as well as freeing up room in the pantry for stuff you don't need.
Cool Blue Coastal Vibes
The light blue hue of the island mixes in smoothly with the light blue tile backsplash while also showcasing the white quartz countertop and rattan bar stools in the coastal-inspired kitchen.
Cozy Kitchen Design
In tiny kitchens with limited countertop space, a kitchen island may give a much-needed additional prep area. For meal prep and eating for two, this cozy kitchen has a tiny farmhouse-style kitchen island. The big knit blanket and fake fur accessories add to the room's coziness.
Best Kitchen Island Design Ideas
Kitchen Island Design Photos Collected via pinterest.com