From breakfast to dinner, everything is special when it comes to celebrating Christmas! Holidays are all about indulging in something nice and healthy! So why not begin with the start of the day? Today we are going to share with you some awesome Christmas casserole dishes which you can enjoy for breakfast! A happy start to the day marks an even happier time! But of course, you do have to keep some tips in your head! And for that, we have these amazing hacks and a couple of pieces of advice that you can read and find out! This way you even avoid any sort of blender as well!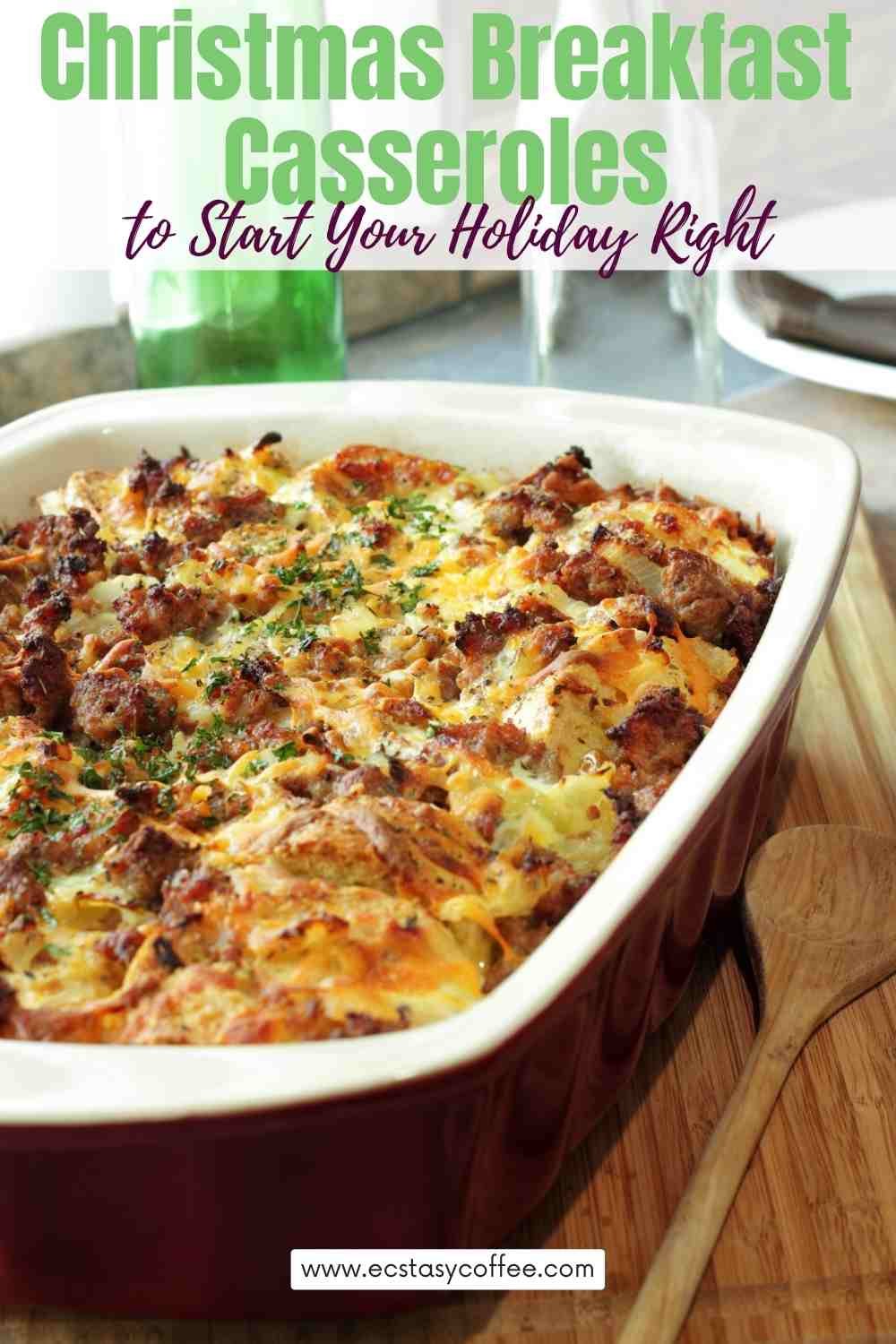 Tips for excellent holiday casserole for Christmas breakfast
1. First of all you need to choose the right size dish
This is to be noted that the size of the dish in which you are planning to make the casserole matters massively in terms of baking the recipe right! The crispy topping should be exposed to the oven heat or else it can turn soggy! However, do not fill the tray completely as this can lead to overflowing as well. Hence it is best you follow the instruction for the size of the vessel given in the recipe.
2. Do not completely cook the pasta
When you are making the base of the casserole out of pasta then it is important that you realize at that point you are expected to stop boiling the same! Let your pasta remain somewhat undercooked because it is going to be subjected to heat twice! It might happen that you have cooked your pasta right but it still seems soggy when you dine on it in the casserole! That is only because when you end up recooking the perfectly boiled pasta, it turns out mushy!
3. Lose all the moisture in the meat
Frozen meat has a lot of water content in it and not cooking them will render the casserole soggy! If you do not want the casserole to turn watery and mushy then you must cook the meat first, season it well and then add to the casserole later. This rule applies even to veggies! You must opt for fresh veggies rather than frozen ones which release water on being thawed.
4. Find out your preference for cheese
Baking a casserole also needs you to know the kind of cheese that you will require! Initially when you have begun to experiment with different kinds to find out which works best for you! Later on, you may go ahead with the ones you like to enjoy in your casserole! The common options are gruyere, feta, parmesan, and so on.
5. Next acquire expertise in casserole arrangement
If you think it is easy to arrange the layers of casserole then let us tell you, it isn't! You have to form the base first and then the layer of meat and cheese comes into play! Finally, a crumbly and crispy topping is added to finish off the task.
6. Casserole is a make-ahead dish
If you wish to save some time to enjoy with the guests instead of settling in the kitchen for the whole day, then casserole is the best make-ahead recipe to take into consideration. You can opt for layering, making the pasta, cookies veggies, and meat before, and then place it in the refrigerator. Bake a little earlier than dinner time and enjoy your wonderful casserole.
Now, let us find out about some amazing breakfast casseroles for Christmas, shall we?
Delicious Christmas Breakfast Casseroles - Easy Recipes for the Holidays
Enjoy your French toast in a slightly different style with the eggnog bake recipe that we have for you right here.
Rich and creamy, you are definitely going to love this!
Ah, it is the very tempting French toast casserole for Christmas!
You are definitely going to fall hard for this recipe!
Before the holidays are over, try out this one quickly! So let's get started then? Shall we?
Delectable and gooey, the croissant breakfast casserole is one of a kind!
Simple and scrumptious, you shall be smitten at the very first bite! Tender and filled with syrup, you will definitely thank us later for the idea!
Shall we begin then?
If you wish to enjoy something meaty for the holidays then you must go ahead with the classic sausage casserole that we have for you right here.
Packed with herbs, eggs, and hash brown, the dish is so satisfying to admit!
You can end up with cinnamon french toast casserole in the morning with the recipe for overnight preps!
Easy-peasy and flavorful, you must give it a try! Rich and syrup, there is nothing as tempting as this one for the holidays!
Packed with eggnog and crunchy topping, the recipe turns out to be an extraordinary choice!
The French toast bake is creamy and flooded with great taste! Delectable and tender, you are definitely up for a great treat! Shall we then?
The rich and luxurious tater tot sausage is here to sway one off their feet!
Creamy, crumbly, and fancy, the recipe turns out to be the best!
The meaty and succulent gravy is wonderful for the kids and adults to begin their day on a great note.
Ah, there is no way we were giving up on the ham and cheese croissant for breakfast! Imagine this one within the casserole.
Yes, that is exactly what we are talking about!
The gorgeous breakfast casserole is ready in no time! This dish is ready in a slow cooker and needs no time at all!
Elegant and charming, the breakfast casserole is one of the most awesome breakfasts that we could think of for you.
Have you tried French toast casserole with blueberry and strawberries yet? If you haven't then here is something to give you the ultimate sensation of joy and magnificence.
See how delighted everyone in the house shall be when you present them with this breakfast!
How lovely it is! The sausage breakfast casserole is an extraordinary idea as you do not have to wake up early to work on this!
The sausage breakfast casserole can be prepared ahead of time.
We do not think that the casserole will last any longer than a couple of minutes!
Rich and creamy, this one turns out to be an extraordinary experience for the taste buds.
And guess what? You can make it ahead of time!
Pancake casserole is a classic choice for dessert lovers and how about we say you can begin your day with not just one pancake but an entire casserole tray!
We are totally in love with this extraordinary idea!
Ah, don't blame us if you spend the whole night imagining breakfast! Loaded with meat and cream, this is an excellent idea for the holiday season.
Well, we can say that you might have to end up making more the next day again on everyone's demand!
The delicious and fancy raspberry french toast casserole is a lovely idea to relish during the holidays!
Creamy and flooded with berry bursts, this one will be a sheer source of delight for the taste buds.
The combination of sausage and eggs always turns out to be a show-stopper!
Flooded with the river of cheese, the breakfast casserole is a wonderful idea for the holiday season! Shall we try it then?
If you do not want anything sweet for breakfast even then we have something to suit your taste buds!
Here is the recipe for cozy and comforting sausage hash brown casserole which can be prepared in no time. What a delightful idea!
Have you tried the breakfast casserole with bagel yet? If not, then you have to go for the rich and luxurious bagel casserole for the holidays!
Such an exciting treat for the holidays especially when you want to surprise your partner first thing in the morning.
The combination of hash brown with eggs is indeed a wonderful idea for breakfast!
Flavorful and crumbly, that layer of cheese on top will render you simply speechless. So let's get started then?
Yup, we are talking about the all-time classic, breakfast casserole with biscuit and gravy!
Enriching and gorgeous, if you are in the mood for something luxurious and crispy then go for this one!
Such a wholesome meal in the morning to begin your day with!
Conclusion
Christmas morning deserves something special, and there's no better choice than a delicious breakfast casserole. Whether you choose something savory or sweet, you'll be sure to have a memorable holiday celebration regardless of how much or how little you make. Gather your family and friends around the table, enjoy this tasty meal, and start your holiday off on the right foot. With these breakfast casseroles, you can make Christmas a time to remember! So let's get cooking and make Christmas morning extra special this year.
We hope you enjoyed learning about the different types of breakfast casseroles you can make to add that extra special something to your Christmas Day. As Julia Child said, "People who love to eat are always the best people." This holiday season, make breakfast casseroles and be merry. Bon appétit!
So, what are you waiting for? Get your ingredients ready, gather around the table, and start your holiday off with a delicious breakfast casserole. From bacon and egg bakes to French toast casseroles, it's time to add flavor and joy to your holiday morning with these delicious recipes.
If you're looking for the perfect way to start your Christmas morning, let breakfast casseroles be the answer. Choose your favorite recipes and gather around the table with your loved ones – it's time to make some wonderful memories!
Read also: