The use of flowers for decorating all kinds of spaces is not new. Flowers have, since time immemorial, been one of the most popular choices for indoor and outdoor decoration. The fact that flowers are readily available and their ability to be used for all kinds of adornments makes them, without doubt, the first choice for a great many people.
Flowers, by their very nature, are one of the simplest and most effective ways to make your home - or any other living space - look classy and vibrant. Flowers come in a variety of colours, with each shade doing its fair share to accentuate the overall aesthetic. Therefore, it only follows that floral decor in and around your living space will brighten it up and make it feel more lively and welcoming not just for you, but also for your family, friends and visitors alike.
One of the more popular home decor trends in today's world is the use of dried flowers to decorate one's home as well as other spaces. It is well known that when people think of beautifying their living spaces, the first items they consider purchasing are furniture pieces such as coffee tables, stylish cabinets, ottomans and lounge chairs, and also accessories such as vases, statuettes, lamps and many other items. Flowers, however, are not something that people readily think of when evaluating their choices.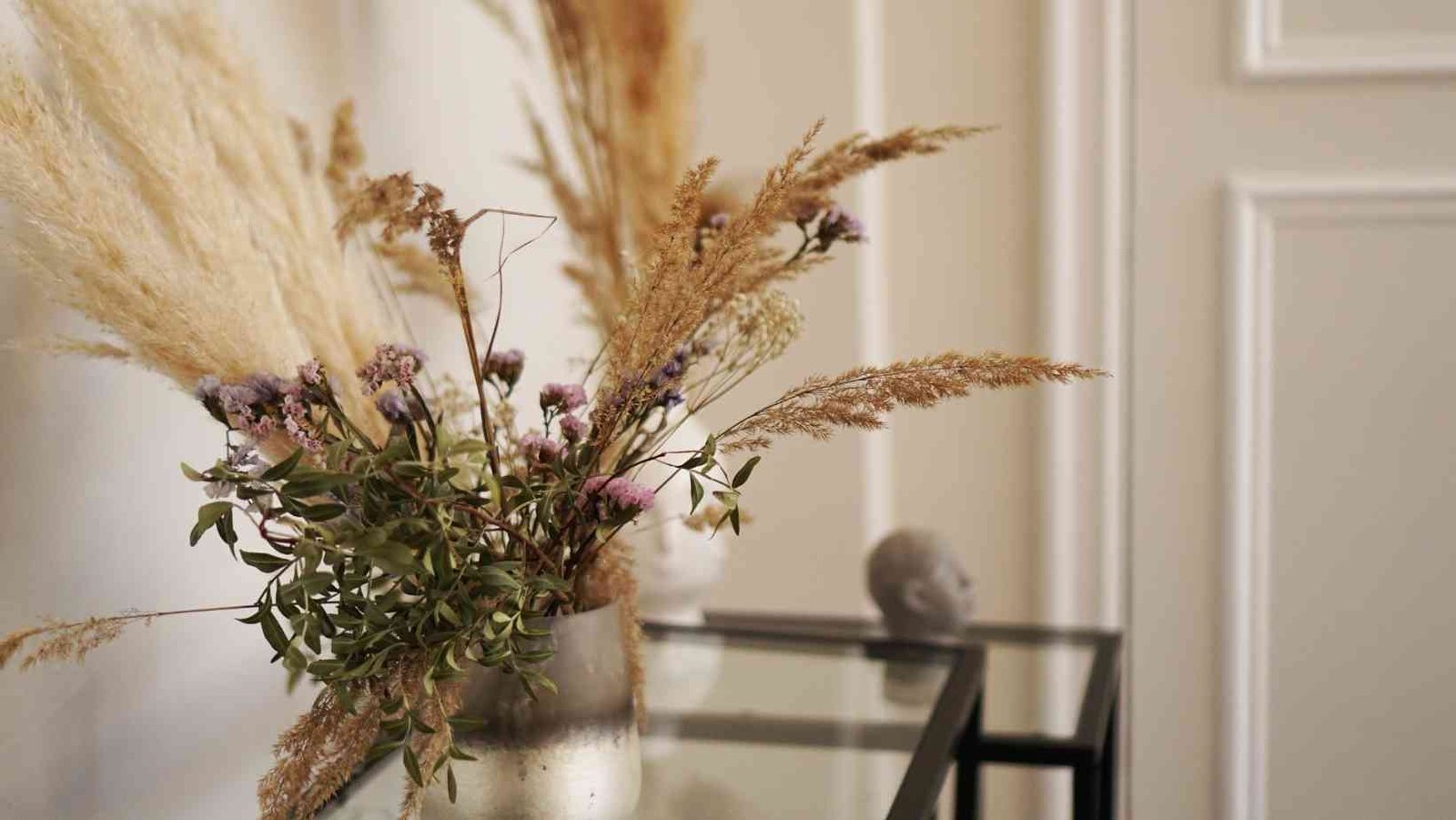 As mentioned previously, flowers have been an integral part of interior decoration for centuries, due to their visual appeal as well as their pleasant fragrances. Nowadays, more and more people are choosing to decorate their living spaces with exotic dried flowers - a trend that is rapidly gaining popularity around the world.
Dried flowers are an environmentally friendly and cost-effective alternative to fresh flowers. Not to mention the fact that they are durable and can be placed just about anywhere and in any kind of setting to liven it up. Given the fact that dried flowers are biodegradable, it makes them a perfectly sustainable choice for decorating one's home.
So, why should you consider decorating your home with dried flowers this autumn? Here's why!
1. Longer lasting
First and foremost, dried flowers are durable as they last longer than freshly cut flowers. Unlike natural flowers, dried flowers do not wilt and fade over time.
2. Reusable
Freshly cut flowers can only be used once. Dried flowers, on the other hand, can be reused as many times as one wants to.
3. Available throughout the year
Unlike many different types of flowers which are seasonal or available only in certain regions, dried flowers are available throughout the year. Dried flowers can also withstand the heat of summer and the chill of winter.
4. Adjustable sizes
Not only are dried flowers durable, but the length of their stalks can also be lengthened or shortened, depending on specific individual requirements.
5. Variety
Dried flowers are available in a wide assortment of colours and shapes.
6. Ease of transportation
There is no need for specialised containers for transporting dried flowers. They can be transported very easily.
7. Environmentally friendly
Dried flowers are among the most environmentally friendly home decor items available today, as they are biodegradable, which makes them sustainable in the long term.
8. Low maintenance
Unlike freshly cut flowers which need care, dried flowers require very little maintenance.
9. Dried flower decor items
There are numerous designs and decorative items that can be made by using dried flowers.
Now that we have covered some of the advantages of using dried flowers, what are some of the ways in which you can decorate your home with them? Read on and find out!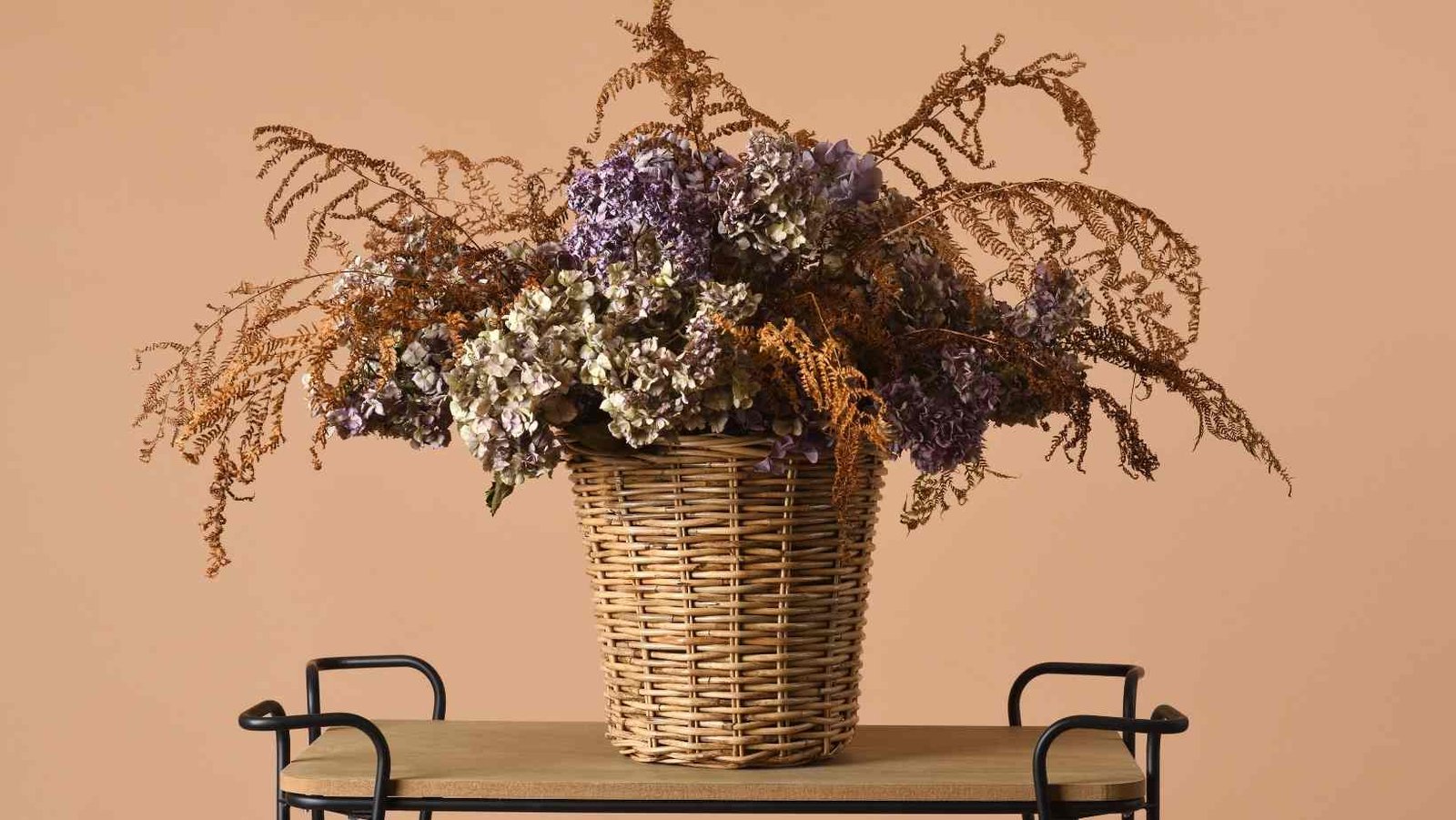 Dried flower bouquets
Having bouquets of dried flowers is one of the easiest ways to enhance your living space with a touch of floral design. Though often overlooked as a design choice for homes, bouquets are a traditional favourite, and this decor idea is as classy as it is simple. The advantage of bouquets is that they can be placed in just about any location in a room. They can turn any corner into the highlight of the room in the same manner that potted plants do.
Framed dried flowers
Dried and pressed flowers can be easily put inside a frame, and this can be made into a fantastic decoration that is sure to beautify any spot it is placed. You can display them just about anywhere, and putting dried flowers in a frame is not an idea that most people would think about at first, so it would certainly add an element of novelty and a touch of uniqueness.
Dried flowers in vases
Vases, as we all know, are a timeless classic when it comes to home decor. We put fresh flowers in vases, so why not do the same with dried flowers as well? Given how popular displaying flowers in vases are, you can use an assortment of different dried flowers or an entire set of the same type to decorate your space. You will also have the flexibility to be as creative as you like with them, and you can choose from minimalistic to elaborate or anything in between!
Dried flower decorations on shelves
Flowers add beauty and aesthetic appeal to any spot, and what better way to liven up a shelf than with dried flowers? You can put dried flowers in vases or with other decorations and this is sure to add colour and vibrance to your shelves. You can use transparent glass vases or opaque vases that blend well with your home decor, and these will make your shelves look attractive and eye-catching.
Potpourri
Also spelled 'pot pourri', this is an aromatic mixture of parts of dried flowers as well as dried plant parts, combined with fruit peels, spices and fragrant oils. Not only is potpourri very pleasing to look at, but they are also generously scented, providing a pleasant and comforting fragrance throughout any living space. Potpourri is typically placed inside clear bowls or containers and is even often laid out along with candles.
There is no shortage of possibilities when it comes to design ideas involving dried flowers. Whether you are moving into a new home or feel like decorating your current home this autumn, you have so many options to choose from. Dried flowers come in diverse shapes, sizes and colours that you will be spoilt for choice!