Halloween – the most anticipated and fun night of the year when our streets, homes, and souls come alive with ghosts, witches, and fantastical creatures. This time is approaching fast, in 2023. Soon the streets are going to be flooded with many colorful, spooky, and creepy ghosts lurking around the streets to jump scare others.
Kids are eager to transform into the characters they adore. But as a parent, it is important to have some checks and balances to ensure your kids remain safe during this fun night. How do we ensure that a Kids' Scary Costume is both safe and age-appropriate?
Let's embark on this spooky fashion journey with safety measures!
In this blog, you will find:
10 Scary and Safe Costume Ideas for Kids
A Mini Guide on Halloween Safety Tips and Age Appropriateness
5 Scary Costumes for Boys
Here are the top 5 costumes for boys who love spooky and unique outfits. These five picks are the most loved:
Kids Demogorgon Costume
Unearthed from the deep, dark woods of Hawkins, this Demogorgon Costume is a showstopper. With its uncanny flesh-like patterns made of snug polyester, it truly embodies the mysterious creature from 'Stranger Things'. It's an ideal choice for young fans of the series.
Kids Pennywise Costume
The famous clown is well-known for his evil traps. This Pennywise Costume has a striking resemblance to the famous villain of IT.  Transporting directly from the haunting streets of Derry, this detailed costume comes complete with accessories to let your boy channel his inner dancing clown.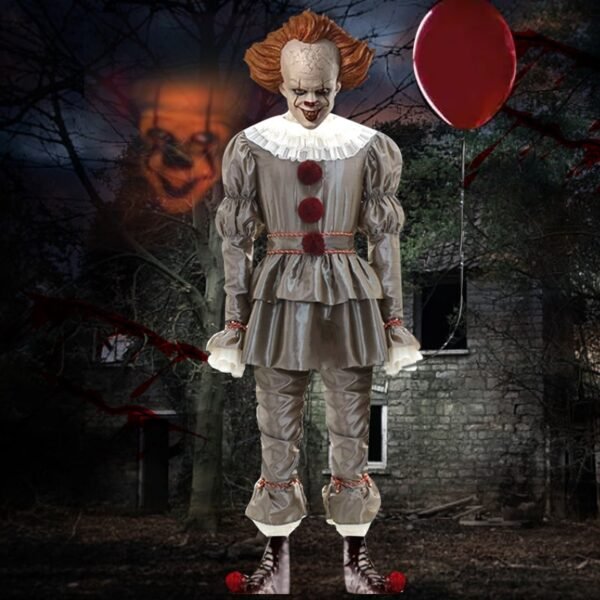 Kids Halloween Alien Costume
Perfect for your curious little space lover! This plush, breathable Alien Costume is perfectly comfortable for your little extraterrestrial creature. The all-green vibe of this costume, paired with cool headwear, and gloves, completes the ET-like appearance that your kid can easily flaunt on this Halloween.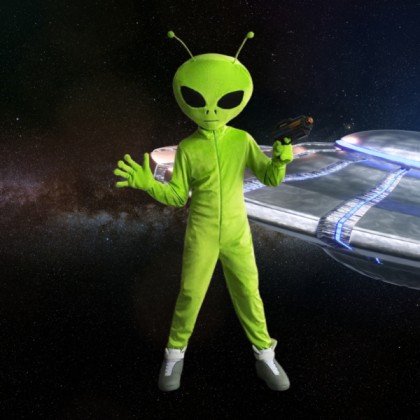 Kids Halloween Hulk Costume
Let your kid smash into Halloween with this muscular, green Hulk Costume. The realistic mask and foam-filled giant fist gloves will surely make your child the superhero of the night. The cool details, perfectly shaped abs, and a Hulk mask to top it off will get all eyes on your child, as he'll be in the spotlight.
Kids Halloween Breath of The Wild Link Costume
Zelda's 'Breath of the Wild' was a gaming sensation, and the Wild  Link Costume brings that adventure to life. Let your kid continue the quest of saving Zelda in this complete costume set with striking details and accessories included. This is a true replica of Link's attire, and this ensemble is an epic choice for boys.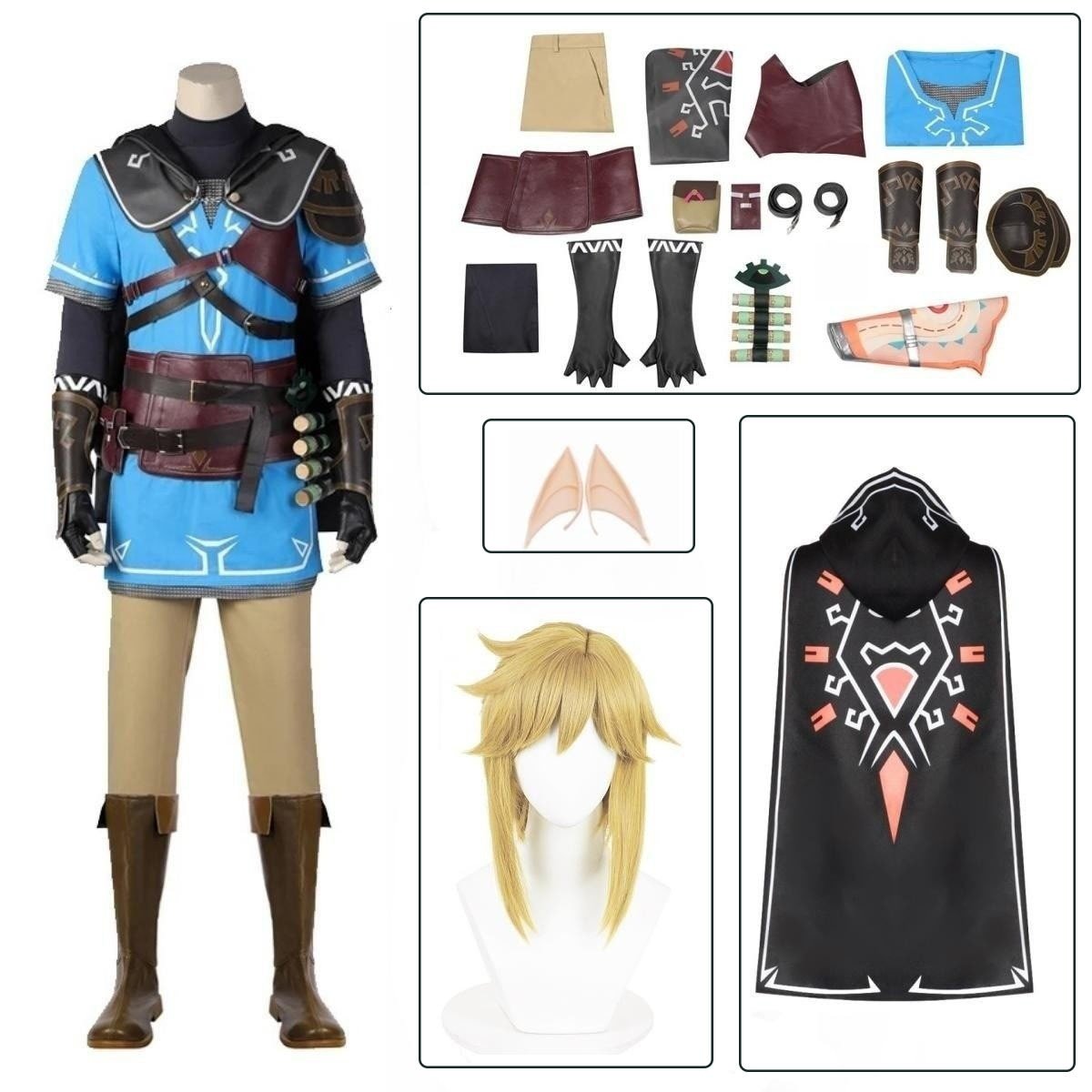 5 Scary Costumes for Girls
These five picks from the best girls' costumes are a must to consider for your little girl's Halloween look this year:
Vintage Court Princess Vampire Costume
Give your princess a touch of the gothic spirit with this vintage-inspired vampire gown. The corset-style top and bell sleeves are the right combo of elegance and spookiness. Steeped in old-world charm, this Vampire Princess Costume is a great way to get that unique, eye-catching look on Halloween.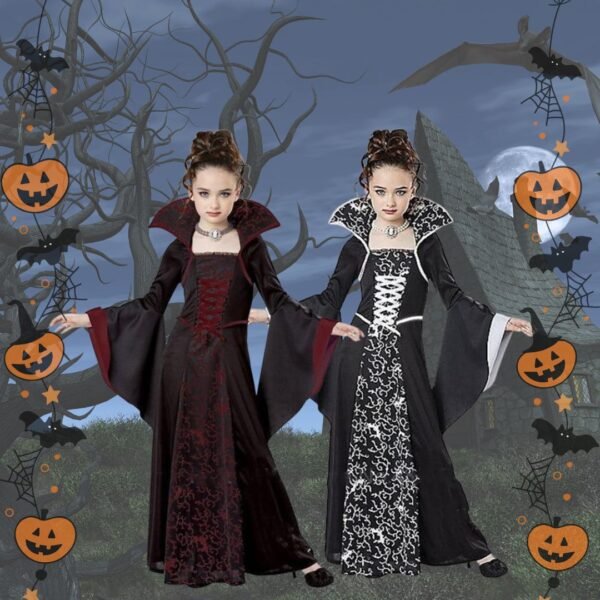 Kids Cowgirl Chaps Costume
Giddy up! This cowgirl ensemble isn't just for rodeos. With the classic cowhide print and faux leather belt, your girls will be all set for a Wild West Halloween. The details are wild and strikingly amazing. It's a complete outfit set that includes relevant accessories to boost up your girl's look. This Cowgirl Chaps Costume is perfect for young girls looking for a blend of adventure and style this Halloween.
Kids Halloween Maleficent Cosplay Costume
Maleficent is a famous character, loved by all since the time it was released. So why not let your little girl embrace the dark side with this Maleficent outfit? Complete with lacey gloves and iconic horned headwear,  Maleficent Cosplay Costume is perfect for your little girl. Make your girl feel truly magical in this attire and bring back the world of fairy tales with a fun, spooky Halloween twist.
Kids Girls Sally Halloween Costume
Inspired by Tim Burton's unique universe, this Sally Costume dress is both charming and spooky. This is a classic nod to 'The Nightmare Before Christmas'. This dress bears a great resemblance to Sally's outfit. Its vibrant colors and patterns make it an ideal choice for young fans of Sally. Just add a little Sally-like makeup, and your girl will be ready to rock Halloween night. Also comes with a matching bag.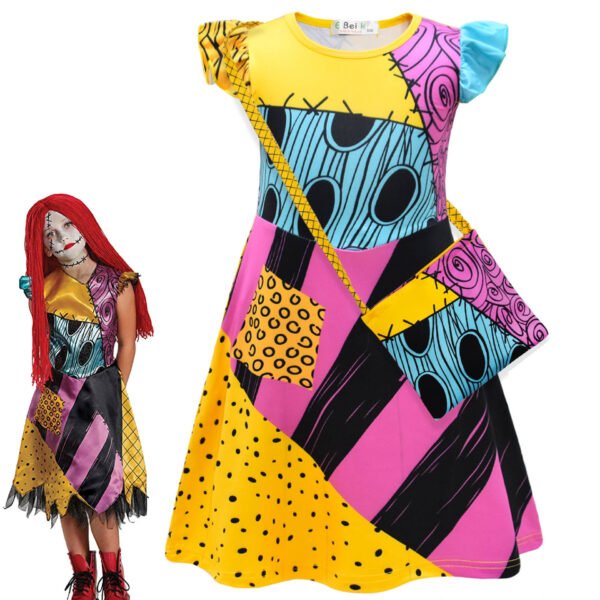 Kids Medusa Halloween Costume
Greek mythology comes alive with this Medusa Costume. The outfit is not just a great way to flaunt spooks and style, but it's also a perfect idea to introduce your little ones to the mythical story of Medusa. This will make awesome Halloween attire. This costume comes with a graceful dress, belt, wristband, and a bonus golden snake toy to spook everyone out.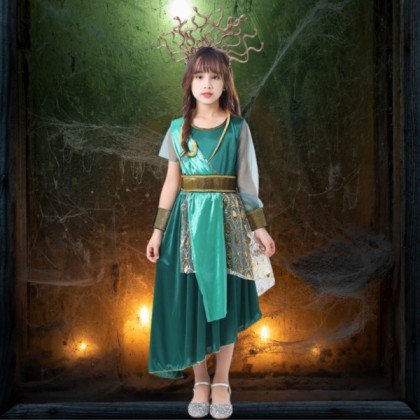 Halloween Safety Tips and Age Appropriateness
Halloween is all fun and scary, but safety is paramount.
Costumes should be the right fit. For parents, ensure that costumes aren't too long to prevent tripping.
Opt for face paint instead of masks, when possible, for better visibility.
Always accompany young kids during trick-or-treating and inspect their treats.
As for age appropriateness, consider the scare factor. If your child thinks that a costume is too scary to wear, don't force them at all.
What's thrilling for a ten-year-old might be nightmarish for a toddler.
Always pick costumes that align with your child's age, comfort, and interest level.
After all, Halloween is about fun-filled frights, not real fears. Happy Haunting!
Conclusion
As Halloween edges closer and the moon shines brighter, it's essential to remember that it's a night of fun, spooks, laughs, treats, and imagination. All the costumes shared in this blog are safe to wear and will cater to the thrilling spooky needs of your child's interest. However, their interest still matters. While you dive into the fun and desserts of Halloween night, ensuring your kids are comfortable, safe, and having the time of their lives should be a priority. Embrace the spirit, ensure safety, and most importantly, revel in the joy of Halloween!
Read also: