We all like to keep our good friends close by, meeting for lunch or dinner is one of the most popular ways people like to spend some quality time with their friends and close family members. However, taking your guests out to have a meal in a restaurant every time can make a big hole in your wallet.
That said, the good news is that with some effort anyone can learn how to cook meals that everyone can enjoy, and with a few tips on hosting fun dinner parties you can save a lot of money spent on restaurants. A lot of properties are designed to make hosting and entertaining guests easy, with big backyards or spacious dining rooms. But with some skills, and a few tips anyone can host fun dinner parties.
Planning your own dinner parties doesn't have to be such an overwhelming experience, it can be fun and stress-free. You can orchestrate an entire evening full of delicious food, good people, and interesting conversations.
Jump to:
Pick a dinner party style that you are comfortable with
There are so many dinner party styles to choose from when hosting your dinner party. From a 10-course meal that takes you an entire week to prepare or set up your BBQ grill in the backyard to a simple pasta meal, you make the call. So, make sure you think about what kind of dinner party you want to throw, the mood you want to set, and decide your menu that goes with it.
Or host your own mystery theme party where you can choose a mysterious menu like zombie cocktails, whole bar-b-que as a main course, or different meal ideas to attract your guests with a wonderful theme. Even though you can play a murder mystery game with your friends to experience some more fun and excitement.
Focus on the decorations
The decor and decoration of your house when you are hosting a dinner party are a big element in setting up the mood for the party. Whether you are going for a fine dining experience, a cause dinner party, a game night, or another specific theme, you can take your dinner parties to the next level with the right decoration.
Make sure you have the right plates, and utensils, as well as the centerpieces and other home accents that can help elevate the environment of the party. Some simple and effective party decorations include vases, fresh flowers, scented candles, string lights, tablecloths, and some art to hang on the wall.
Plan the perfect menu
Delicious food is the only way to make your party more memorable. Make sure you plan the entire menu in advance, down to the ingredients that you will be needing for each food item. From the appetizers, the main course, and dessert, make sure the entire menu goes really with each other and compliments your dinner party style and the mood you want to set.
Stock up on beverages
Beverages go through dinner parties faster than you think. So, make sure you stock up on wine, cocktails, soft drinks, and other beverages that you think your guest will enjoy and go well with the flavors of the food you are serving. A good welcome drink such as a delicious white gummy bear shot helps everyone unwind, feel more comfortable, and feel more social. If you like you can also set up a drink section where your guests can help themselves and get the beverage of their choice.
Shop in bulk and from local markets
Cooking dinner for your guests will require a lot of ingredients and hosting the dinner within the budget can become a challenge if you are careful. Make sure you visit local farmers' markets to buy fresh and local produce, along with other ingredients at good prices. If you have a large guest list, it might be a good idea to buy ingredients in bulk for better prices.
Meal prep as much as possible
The more meal prep you can do the more you will thank yourself on the day of the party. Did you know that you can make a lot of food items weeks in advance and freeze it? Dinner parties are a lot of work beyond cooking the food, that's why it is the best idea to get as much work done in advance as possible. Just a few hours before the guest arrives you can heat up everything, and serve it with fresh garnishes.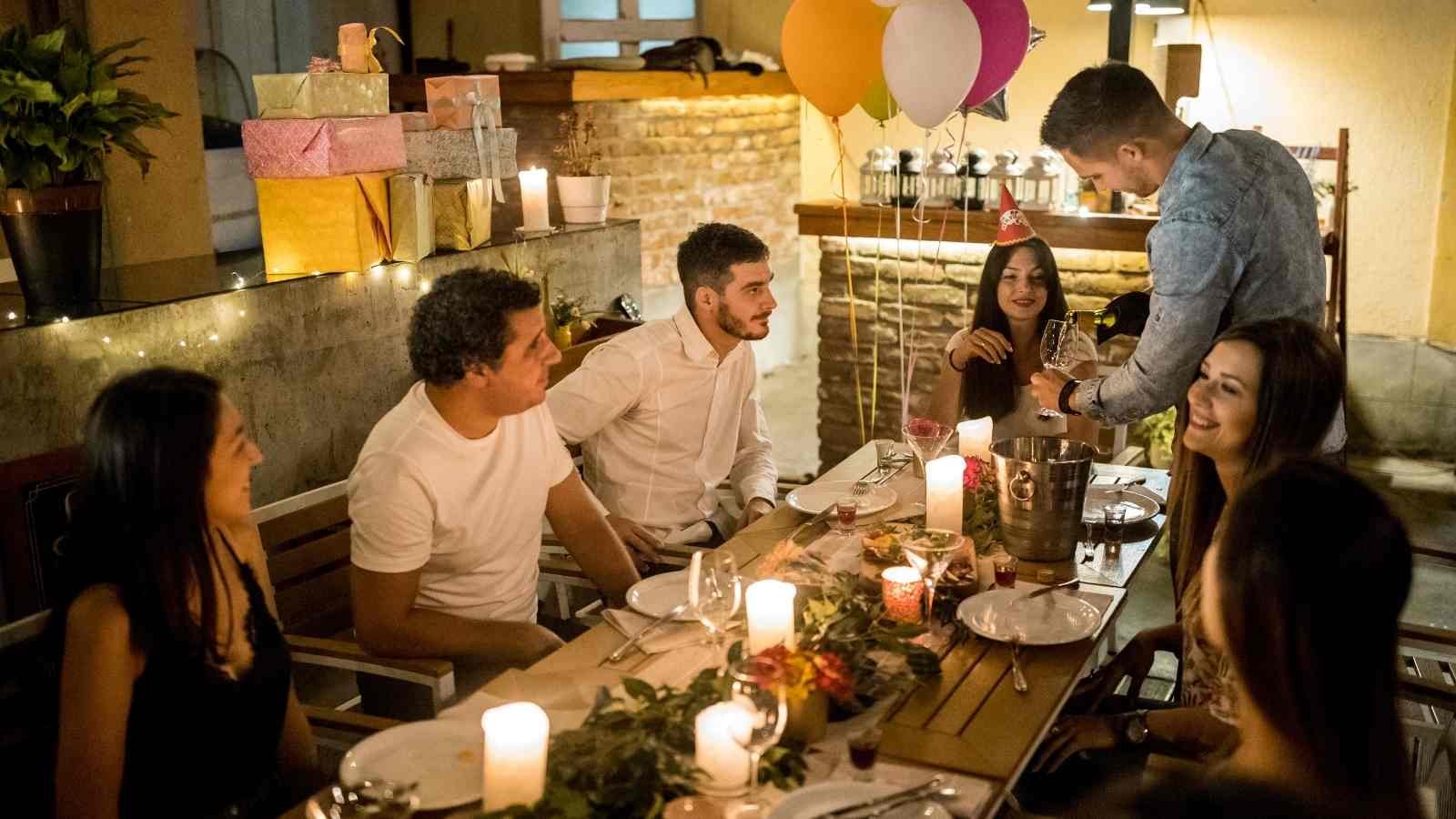 Dress up for the party
How we dress tends to affect our mood and how we feel. Dressing up nicely for the party can help put you in a good mood. It may even increase your excitement for the party and you might be able to relax and enjoy your party. Besides, when you make an effort to look good, it will show your guests that you are happy about hosting them and help them feel more welcomed.
Create a party playlist
After enjoying hours of good conversations with delicious starters and beverages, the chatting tends to slow down when the meal is served. A good way to keep people entertained during the meal and not feel like they need to participate in a conversation, the music would be perfect. So, make sure you prepare the playlist for the dinner.
Plan how you are going to serve your guest
You can save a lot of confusion on the day of the party by making a plan of how you are going to serve the guest. You can set up a separate appetizer and refreshment table where guests can easily help themselves. For dinner, you can tell your guests to serve themselves, this makes them feel at home and takes off the pressure of plating the food elegantly. However, if you decide to serve the food make sure you are prepared accordingly.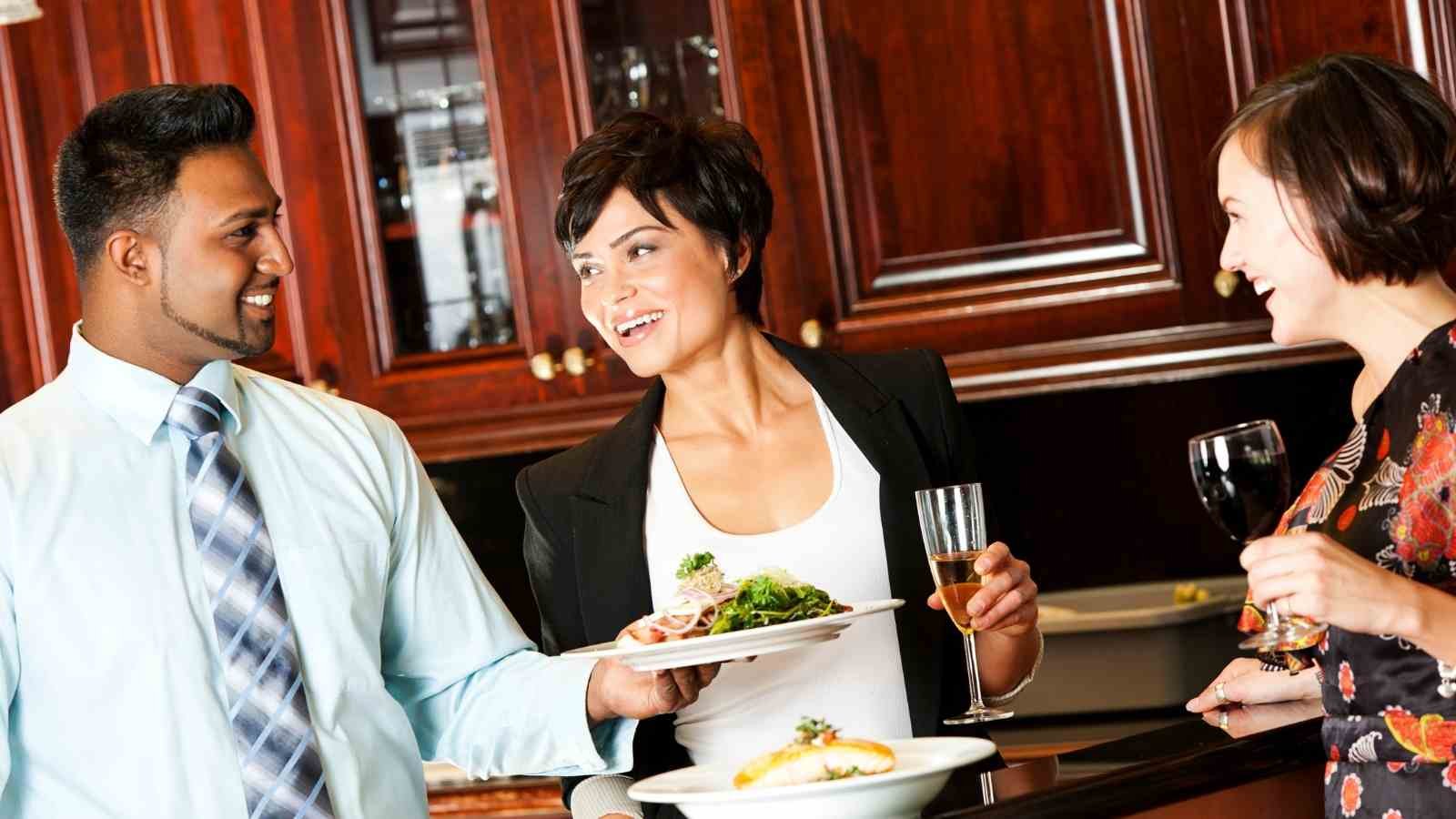 Prepare conversation starters or entertainment
This tip is very important especially if your dinner party guests are from different backgrounds and they will be meeting each other for the first time. While you should let the conversations flow naturally from one topic to another, but it's a good idea to keep a few conversation starters and topics that can work great as icebreakers. Some basic ideas that are likely to go well with everyone include pets, vacation plans, and people's jobs.
Read also: