Enjoy delicious air fryer chicken tenderloin recipes in minutes! The best ingredients and recommend the use of our special air fryer to achieve the best results. Learn how to make the most delicious chicken tenderloins with our easy-to-follow instructions and recipes. Try it today!
More collections: Thanksgiving Appetizers, Thanksgiving Cookies, Thanksgiving Crockpot Recipes, Vegetarian Thanksgiving Recipes, Thanksgiving Pie Recipes, Christmas Spritz Cookies, Christmas Chocolate Chip Cookies, Christmas Filled Cookies, Christmas Cut-Out Cookies, Air Fryer Tater Tots, Air Fryer Frozen Veggies, Air Fryer Country Style Ribs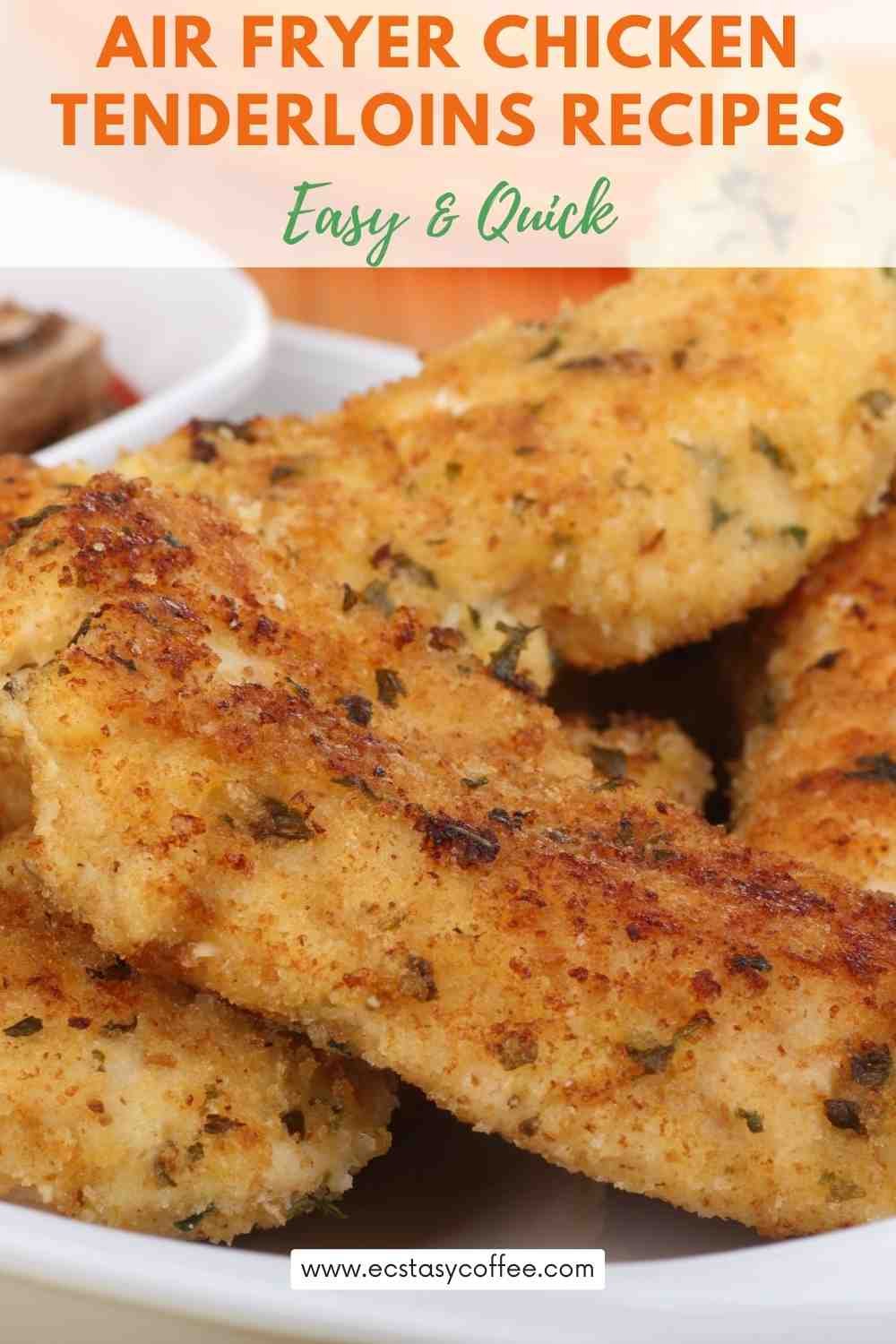 Well, now that you have brought home an air fryer, the next question is to learn to use it right! Of course, tenderloin chicken is fascinating to suit every mood! From main course to appetizer or snacks, there is no time you won't crave tenderloins but what if you make a mess with the device itself?
Well, not anymore! You do not have to worry about tackling your air fryer with the tips and hacks that we have listed below for you! Let's get started then?
How to cook right with an air fryer?
Maybe it is simple but you are missing out on it! Even the most minor error can prevent your food from turning crispy and juicy! Every expert suggests that you are expected to bring out the basket once in a while from the air fryer, give it a good shake, and then restart cooking again. Shaking enables the heat to spread uniformly around the pieces and prevent them from sticking to each other. If you want your food to be crispy and evenly browned, the more shakes you give the better.
Why do you need a foil?
Some of the air fryers have a wire rack instead of solid bases as a result which, you need to lay a foil at the bottom so that the juices do not spill over and create a mess. In case of crumbled or sticky food, it is essential for you to use a piece of foil to cover the base properly! Unless you want to indulge in a very messy cleaning right afterward, this is highly important. However, you should not cover it end to end and leave some space for the air to pass! Make sure that the foil does not cover the food or come anywhere near the fan.
When should you preheat
While some recipes advise you to preheat, many recipes will state that it is not necessary in case of an air fryer. Let us clear your doubts today. Except for meat, there is no need for you to essentially preheat the air fryer! This is because the device is designed in such a way that one does not have to do the adjustment of timing and temperature as the appliance creates the right ambiance for the food on its own. If you are cooking crumbling food or crispy chips, then preheating is a process that you can skip. However, in the case of meat, you should let the air fryer heat up for about five minutes before the pieces go in.
Why should you add water to the drawer while cooking fatty food?
Good question! You have come across this hack in many places but are you aware of the exact reason behind adding water to the drawer when cooking fatty food? This is because chicken wings or bacon grease can drip into the drawer and later make it hard to remove. And gradually the fat will turn to smoke and create a total mess! To avoid such a situation all you need is a little water in the drawer.
Should you avoid the dishwasher?
Although most parts of your air fryer are dishwasher friendly and even the companies will vouch for it, it is better to clean them by hand. This way you can remove every stick portion and give it a good wash without harming its internals. If you wish to make the nonstick surface last then you have to make an effort to clean them all by yourself.
Delicious Air Fryer Chicken Tenderloin Recipes - A Delicious Meal In Minutes!
You will be amazed to find out that there is no need for you to use bread for this recipe!
Hence this dish is completely gluten-free too! Healthy and tasty, enjoy this whole 30 recipe with a dip.
If you are fond of meat then the chicken tenderloins are exactly what you need!
Delectable and flavorful, these crispy chicken strips are perfect to munch on as a hearty appetizer.
These are in fact so crispy and ready in no time! Delicious with a crunchy coating outside and succulent meat inside, you are certainly going to enjoy them with some seasoning and dip.
Do not forget to add some fresh veggies on the sides as well.
There is no need for you to bread the outside with this recipe right here!
Delicious and succulent, every bite will make you crave more and more. Shall we try it then?
Delectable and succulent, you will surely enjoy this dish! Crispy and flavorful, you should indulge in its blissful taste!
Smooth and crunchy, this idea is excellent and perfect to make when you are having guests over. Shall we?
You will not believe in your own eyes how fast the chicken tenders get cooked in the air fryer!
That is right! Crispy, crunchy, and juicy, these are a sheer source of temptation in every bite. Thank us later for the idea.
Well, if you wish to season your chicken tenders then perhaps here is the recipe that you would like to make at home!
Adorned with hearty ranch seasoning, this recipe is excellent and leaves you with a craving for more!
If you are fond of the tender meat of chicken then perhaps you should make these extraordinary tenderloins at home!
With an air fryer, your job is done in a jiffy. Do not forget to share your feedback with us!
It is so easy to come up with the sweet and savory honey mustard chicken!
Cooked in an air fryer, the process becomes so much more hassle-free and easy to conduct. Do give it a try!
This recipe takes the game of tenderloin to the top-notch! Wrapped in bacon strips, these succulent tenderloins are a great treat to the taste buds.
Delectable and crispy, enjoy it with some greens on the side.
Well, well, well! If you are a fan of tenderloins then do not miss out on this recipe.
It is just you and your succulent chicken tenders on the plate and no one coming in between. Totally worth your time and effort!
If you can not keep your hands off the tenderloin cooked in the air fryer then it is understandable!
Hardly anyone can resist the temptation of succulent meat strips with dips on the table. The guests are sure to praise.
Ah, of course, why not? If you are looking for something spicy then the sweet honey-infused gravy smothering the tender chicken strips are exactly what you need for a treat!
Delicious and simply the best to indulge in this season.
The combination of cheese and chicken is a match made in heaven! Extraordinary and crunchy, you are about to drool!
Drizzled with some herbs and served with a spicy dipping sauce, the appetizer is ready to adorn the table.
As if parmesan wasn't already enough, this recipe helps you to make the classic air fryer garlic Parmesan chicken tenders!
Succulent, rich, and cozy, you can enjoy this one over the weekends with your entire family gathered around the table.
Zesty and flavorful, the lemon pepper chicken is exactly what you need for a treat!
Delicious and succulent, this is simply the best to admit the truth. Succulent and rich, you will certainly thank us later for the idea.
Like we always say, when you combine two kinds of meat, the results are always beyond your estimation!
Here in this recipe, the chicken tenders are wrapped in bacon and taste extraordinary. Do give it a try for sure.
Here is something to make your boring weekends extraordinary! Try out these sweet and bold chicken tenders soaked in honey and the richness of mustard sauce.
No wonder, you will be craving for more after the first bite.
The presence of parmesan over the chicken gives it a gorgeous charm! Drizzled with some herbs and crunchy in every bite, this one has got it all!
From ideal texture to flavor and appealing to the eyes, you must give it a try!
Smokey and succulent, you are certainly going to enjoy the amazing blackened tenderloins!
Delicious, smooth, and savory, this idea is what you need if you are having a bad weekend and want something nice to eat.
Other ideas you should check out: Delicious Christmas Prime Rib Recipes, Thanksgiving Air Fryer Recipes, Rib Tattoo Designs For Women, Prime Rib Recipes, Perfect Christmas Beef Tenderloin Recipes, Healthy Air Fryer Recipes, Instant Pot Pork Tenderloin Recipes