Discover how to make delicious Country Style Ribs quickly and easily in your Air Fryer. From marinating to serving, this guide has all the tips you need for the best juicy ribs. Try it now!
More collections: Halloween Cake Pops, No-Bake Halloween Treats, Thanksgiving Appetizers, Thanksgiving Cookies, Thanksgiving Crockpot Recipes, Vegetarian Thanksgiving Recipes, Thanksgiving Pie Recipes, Christmas Spritz Cookies, Christmas Chocolate Chip Cookies, Christmas Filled Cookies, Christmas Cut-Out Cookies, Air Fryer Tater Tots, Air Fryer Frozen Veggies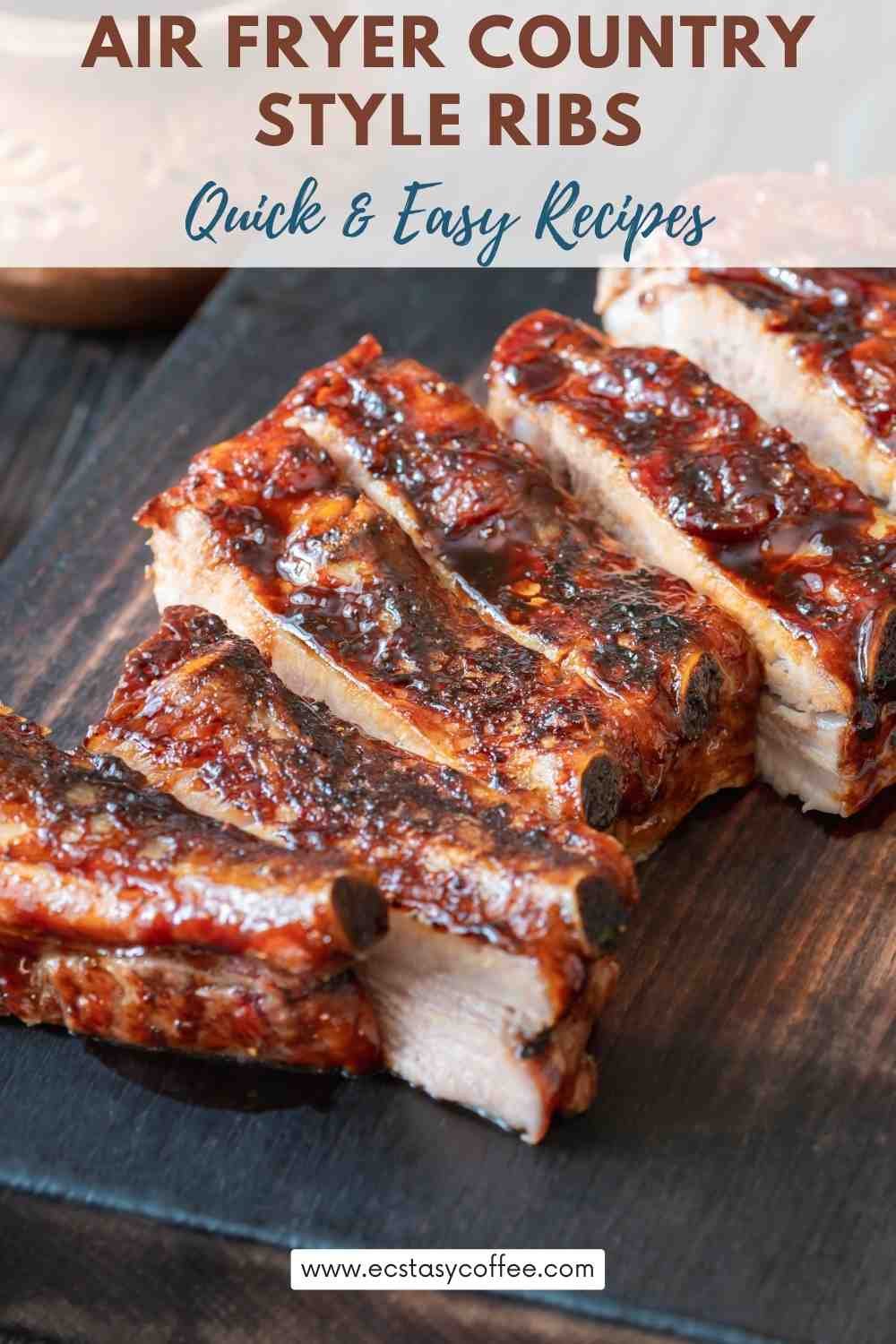 If you are wondering how to tackle the new appliance in the house then we can certainly help you out with that! After all, an air fryer is something that will save you time and effort! Plus, even as a beginner, you will hardly have trouble! In short, it is safe to say that absolutely nothing can go wrong with an air fryer in the house! In fact, you will soon see how useful it is!
If you are planning to make country-style ribs at home, this is the right place you are looking at!
What are some of the preparations you need to make for air frying?
Of course, there are some preparations that you need to make when it comes to air frying. You first need to find a suitable place to keep the air fryer properly! Make sure that it is present at a level, heat-resistant countertop, and make sure there are at least five inches of space behind the air fry! This ensures that there is enough space for the ventilation of high heat.
Preheating is essential when it comes to air frying! Yup, that is right! This ensures that the food is not subjected to a certain transition of temperature and cooks fine. All you need to do is set the timer at two to three minutes and preheating is done in no time. As the time goes off, it is an indication that your air fryer is ready to be loaded with food!
And of course, you need a kitchen spray bottle! If you already do not own one then you need to buy one now. Whether you are drizzling or brushing oil, if you want any more effective technique then spraying is your only option.
A proper breading technique is also essential as you cook in an air fryer. First, you need to coat the food with breadcrumbs or flour. Eggs are also needed to act as an adhering agent. Breading can blow off due to the high-speeding fan and hence it is important that you use eggs to hold them together.
What are some of the measures to be taken during air frying?
Now that we are done with the preliminary measures, let us go ahead with the process of air frying! While initiating the task, there are a couple of things that you need to know. If you are cooking any fatty food then it is essential for you to add some water to the drawer. This is to be noted that adding water to the drawer underneath the basket helps prevent grease from getting too hot and smoking. If you are cooking sausages, bacon, or patties, this method is going to prove highly useful.
You might be restless and wish to get done with the process of cooking faster but you cannot simply overcrowd the basket or the items will not turn out to be crispy inside. Cooking in batches is the ideal situation and plus, air fryers are pretty quick so even batches won't take that long. As you are halfway through the process of cooking, you are expected to flip the food inside so that both sides get cooked evenly. Just as you do it in a grill or a skillet, one must do it for air fryers as well. This helps the food to brown. The best thing about these appliances is that you can open the air fryers as many times as you want and draw out the basket to check for doneness.
Delicious Air Fryer Country Style Rib Recipes | Easy and Healthy
Drizzled with a sufficient amount of sauces and seasonings, you are certainly going to enjoy these extraordinary country-style ribs!
Ready in less than an hour, these are too tempting to miss out on.
The succulent meat soaked in rich gravy and served with a crispy layer outside is a dream come true for any meat lover.
Delicious and sticky, there is sprinkle onions sprinkled on top for extra flavoring! So when are you planning to make this one?
If you are fond of ribs then this recipe is certainly going to make you drool for more!
Succulent and chewy, the outer crispy layer is what we wanted and that is possible only with an air fryer.
Here is something incredibly yummy for beef lovers! Enjoy the sticky and saucy country-style beef ribs which are going to make you drool for more. Good luck!
The succulent and juicy ribs are something that will certainly make you drool for more!
Delicious, saucy, and served with a flavorful dip, your main course is sorted! Prepare a platter and see how delighted everyone shall be! Let's go!
If you wish to keep it simple then you have to go ahead with this air fryer recipe right here!
Succulent and chewy, this one is good for beginners as well. Delightful and ready in no time, you are up for a surprise soon.
Ready in minutes, the country-style ribs are flooded with great taste and one-of-a-kind!
Delectable and juicy, you can offer it as a side dish and see how quickly it disappears from the table.
Making country-style ribs in an air fryer is super easy if you are aware of the right methods!
And nothing better than an appliance like this one. Super easy to tackle, your meaty ribs are ready in no time.
If you want something unique and flavorful then you have to go ahead with the air fryer country ribs right away!
Delicious and succulent, as a beginner, we can guarantee you will have no trouble. Shall we then?
Coming up with an air fryer rib is super easy as long as you are aware of the right method!
Flavorful and succulent, this one is going to leave you tempted for more. So what are you waiting for?
Are you in the mood for elaborate Sunday brunch? Well, then you have to try out this extraordinary air fryer counter-style rib right here!
Delectable and easy to make, you ought to give it a try!
If you are a keto dieter then the air fryer country-style rib recipe is meant for you!
Succulent, juicy, and flavorful, you will certainly thank us later for the idea! Do not forget to share your feedback with us.
Well, well, well! For the pork rib lovers, we have good news for you! Enjoy the keto pork ribs which get done in no time.
Flavorful and saucy, you ought to give it a try! Shall we get started with the preps then?
Well, soon you will come back thanking us for the idea and looking for new ones like these!
Easy to make as a beginner, you should go through this recipe if you are planning to cook ribs at home.
Here's to add the old-school charm, why not try out keto pork ribs in an instant pot?
Of course, you will no longer have to monitor the dish and enjoy it with your guests without any hindrance.
Ah, another recipe to make your pork ribs without any hassle! That is right! Do you not believe us?
Well, then you have to give this one a try at home and find out for yourself. Shall we then?
Well, you must try out this exclusive keto country-style ribs at home! Delectable and juicy, you ought to indulge in its blissful taste!
Easy to cook and the crispy coating around the tender meat makes it so hard for one to resist at all.
The classic air fryer country-style ribs are exactly what you need for a treat! Delicious, succulent, and cozy, this idea is fantastic and leaves you craving for more pieces!
So make enough because in a jiffy everything will be done and dusted.
Ah, how can we miss out on this recipe? Easy to follow and accomplish, you ought to give it a try!
Rich and scrumptious, this one is a lovely choice of meaty platter to have on the table.
You have to try out this extraordinary country-style rib at home this time! Why rush to the restaurants to enjoy them when they can be cooked at home with so much ease?
Other ideas you should check out: Delicious Christmas Prime Rib Recipes, Thanksgiving Air Fryer Recipes, Rib Tattoo Designs For Women, Prime Rib Recipes