Dive into a world of swirling eddies, standing waves, and rippling white water by jumping from the riverbank. We've put together a list of 10 of the top white water rafting excursions in America, ranging from California gold country to deep Appalachia—enough white water thrills to last a lifetime on the river. What is the appeal of white water rafting? Splashing across rapids and riverbank picnics aren't the only attractions (though we think that sounds pretty nice).
White water rafting offers a unique viewpoint on some of the country's most remote locations, with opportunities to see animals and breathtaking landscapes far from any road. That's why some of the greatest whitewater in America can be found in these little towns and mountain wildernesses—a taste of the nation at its purest.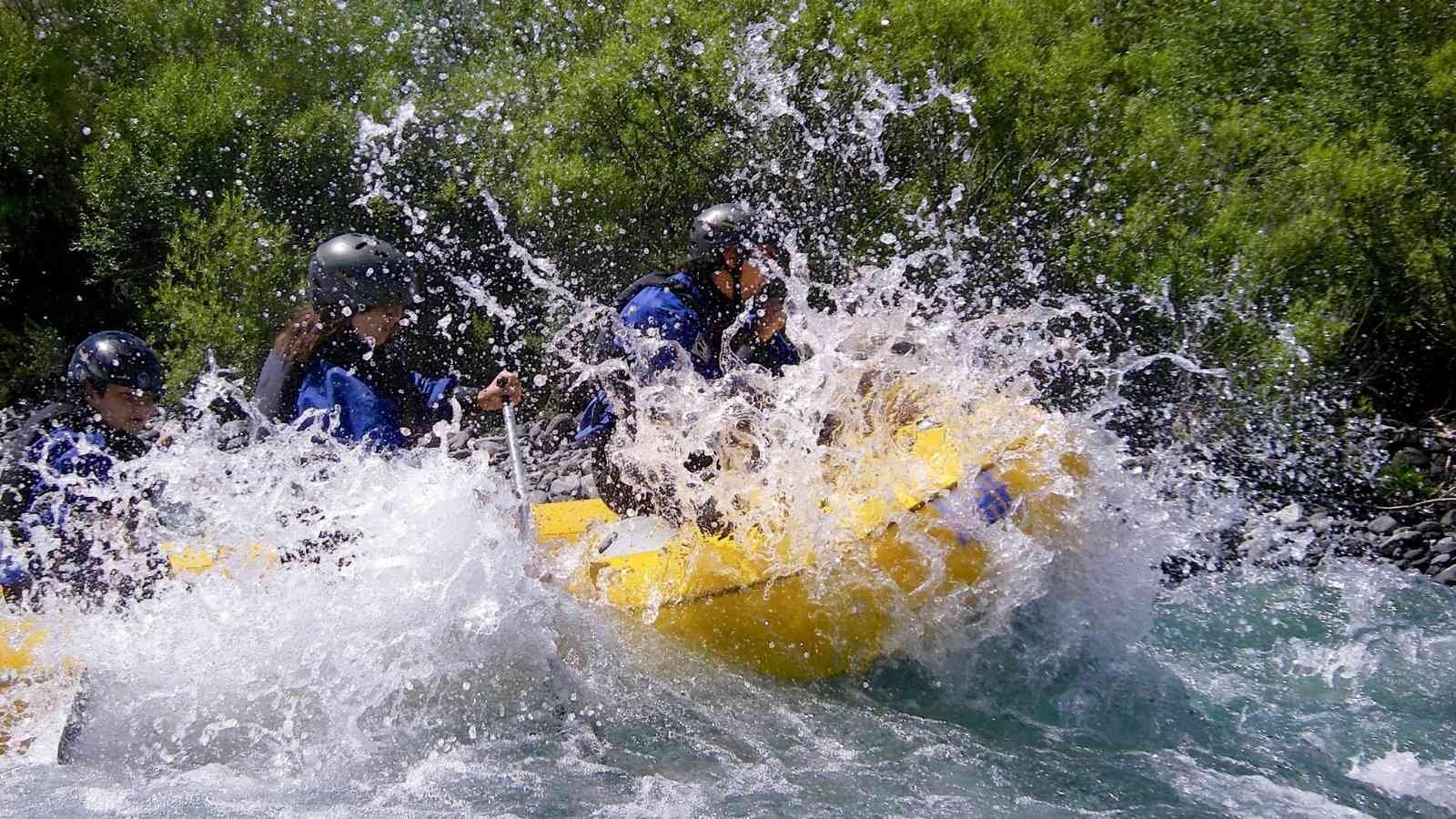 Jump to:
1) Alabama: Chattahoochee River
A 2.5-mile section of the Chattahoochee River between Phenix City, Alabama, and Columbus, Georgia, is home to the world's longest urban whitewater rafting adventure. When city officials wanted to redesign the Chattahoochee and turn the industrial urban canal into a leisure zone, the Chattahoochee Whitewater Park was born. Within the river, river engineers fine-tuned rapids that vary from Class III to IV+, depending on the water flow, which is regulated and may reach 13,000 CFS at its peak.
2) Alaska: Tatshenshini River
A multi-day trip on Alaska's Tatshenshini gives a quintessential Alaskan wilderness experience and is perhaps the roughest, isolated, and raw rafting adventure in any state. A rafting excursion on the "Tat" is unrivaled, with glacial moraines and floating icebergs, as well as bear sightings and float aircraft transports. On this excursion, be prepared to experience "Scenic Overdose Syndrome."
3) Arizona: Colorado River through the Grand Canyon
If a two-week rafting expedition down the Grand Canyon isn't already at the top of your bucket list, it should be. Any rafting fan should not miss the sensation of plunging down layers upon layers of old rock while being transported to your next ideal campground by massive, exciting whitewater rapids. Floating the river, when combined with side trek options, provides a more intimate and thorough experience in the Grand Canyon than any other kind of leisure.
4) Arkansas: Mulberry River
Get the kids out on the Mulberry River in Arkansas' Ozark area for a family-friendly float. Gentle rapids allow you to steer your own raft without the assistance of a guide, making for a memorable bonding experience and customized day on the river. The river takes you through the classic Ozark landscape, including small valleys, lush woodlands, and tree-lined cliffs. The Mulberry River was classified as a State Scenic River in Arkansas, which led to its inclusion in the Federal Wild and Scenic Rivers System, which will safeguard this rafting recreation resource for future generations.
5) California: Tuolumne River
According to Tyler Wendt, who grew up on California rivers and is now the general manager of OARS, "the greatest rafting trip in California is the Tuolumne River in the Stanislaus National Forest just outside of Yosemite National Park." "This beautiful stretch of designated Wild and Scenic River runs through 18 miles of undisturbed wilderness and offers action-packed Class IV whitewater excitement from start to finish, as well as numerous options for side-canyon exploration, and fantastic fishing, and consistent summertime flows due to releases from upstream reservoirs."
6) Colorado: Yampa River
The Rocky Mountains of Colorado provide a plethora of whitewater rafting opportunities that would take years to complete. The Yampa, on the other hand, has a unique feature that no other river in the state can match. "While other rivers in the Colorado Basin have been dammed and channeled, the Yampa continues to flow freely," explains Amy Kober of American Rivers. A journey down the Yampa River is one of the top multi-day rafting adventures in the nation, with exciting Class III rapids, vibrant canyon hues, and rumors of bandit hideouts. "It's a unique experience to be able to float a genuinely wild river," Kober explains.
7) Connecticut: Housatonic River
Canoers and kayakers will love Connecticut's native name, "Quinnehtuckqut," which means "country of the flowing tidal rivers." While whitewater is scarce, there is a brief but exceptional springtime rafting season on the Housatonic River in northeastern Connecticut, where paddlers may discover a 2-mile Class IV section of tough whitewater. The more dependable 10-mile length of gorgeous, do-it-yourself rafting in the picturesque New England town of West Cornwall, however, is preferred by most paddlers.
8) Florida: Suwannee River
While Florida ``rafting excursions' ' or more float trips may lack mountain ranges and associated whitewater, the state does provide the breathtaking landscape with the occasional hot whitewater for kayakers and canoeists. Take the Suwannee River via Big Shoals State Park, which has some of the state's most impressive rapids. Most river users choose languid glides through the state park and picnics on riverbank sandy beaches, as well as a portage over Big Shoals rapid. This Class II-III rapid, on the other hand, provides a great whitewater punch for paddlers.
9) Chattooga, Georgia
Georgia provides excellent river running opportunities near the southern end of the Appalachian Mountains. A vacation to the southeast, however, must involve a descent of the famed Chattooga River, which flows along the Georgia-South Carolina border. Whitewater rafting along with the Chattooga's boulder gardens, rock slides, and waterfalls produced Olympic paddlers and sparked rafting's popularity over the last four decades. Bull Sluice, Woodall Shoals, Five Falls, and Sock-em-dog are among the rapids in Section 4 of the river, and their names are familiar to practically every whitewater paddler in the country.
10) Middle Fork of the Salmon River, Idaho
The Middle Fork Salmon River rafting trip through Idaho's Frank Church Wilderness has long been regarded as the country's and undoubtedly Idaho's most stunning multi-day rafting excursion. Exhilarating whitewater rapids connect for an unforgettable trip through Idaho's most beautiful alpine scenery. Hiking in the neighboring alpine woods or bathing in various hot springs will immerse you even more in this renowned environment when you're not enjoying the river's pure water and paddling delights.
Read also: