Choosing your go-to coffee haunt is no easy task, given that the world is swarming with unique coffee brands. But if you've already found a couple of favorites, you'd know that not all coffee was created equal.
From instant coffees to premium specialty-grade coffee available online and in stores, there is a perfect coffee for every coffee lover. And in addition to coffee giants enjoying a slice of the market, there are quite a few boutique coffee brands that also deserve our attention.
Hence, to save you from the hassle of looking for them, we have put together the ultimate list of the top 10 coffee brands in the world in 2023. Each brand on this list brings its powerful twist to coffee and deserves a shot at being your next choice for a morning pick-me-up.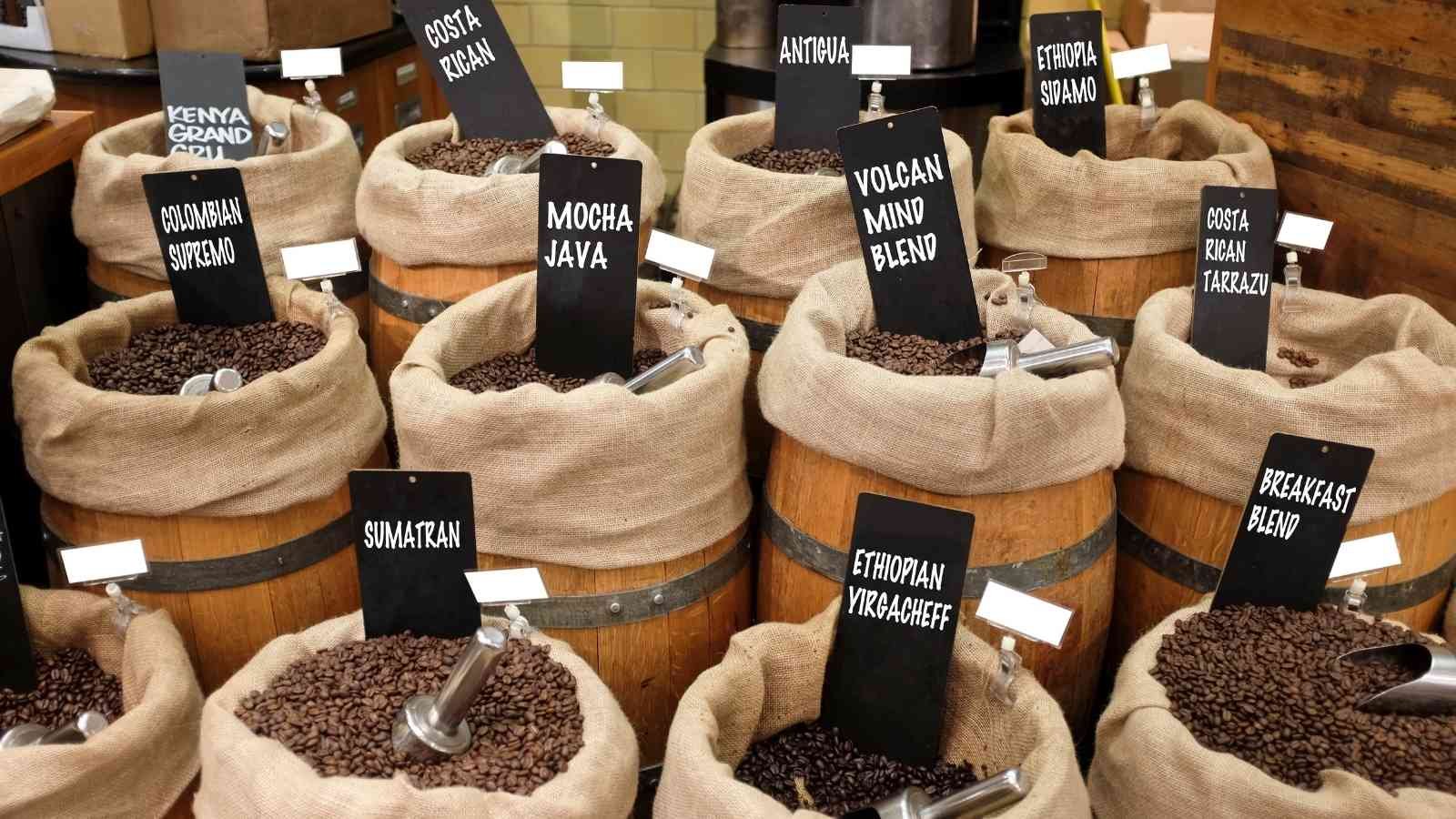 The Top 10 Coffee Brands in the World 2023
So without further ado, let's jump straight into the list and see what the world of coffee has to offer.
Jump to:
1. Peet's Coffee
Founded in 1966 by Alfred Peet, Peet's coffee has established itself as a household coffee name over the globe.
What started small has now grown into a company offering coffee, tea, hot beverages, and food items. So what makes Peet's Coffee so special to be on the top? It was the first coffee brand that started offering coffee beans and brewed coffee.
But that's not the reason for it earning its way to the top of the ladder. What makes Peet's Coffee so special is the fact that it offers rich, complex, and deeply-flavored coffee by providing wholly fresh and premium quality beans in small batches.
2. Balance Coffee UK
If you've been on the hunt for a coffee brand that provides magic brown beans that make you feel more alive, it's time to set your gaze on Balance Coffee UK.
Set up in 2020 during the raging pandemic by James Bellis, this online boutique brand offers specialty-grade, organic coffee that is not only delicious but also healthy.
Balance Coffee has quickly become a favourite in the UK, supplying freshly roasted, healthy, and sustainable coffee UK-wide. It also pays multiples of standard commodity coffee prices to its farmers to ensure quality.
But what makes them stand out is that they provide naturally clean coffee free from nasties like mould, mycotoxins, and pesticides. Balance also houses unique and rare flavours from all over the world, with zero compromises on quality.
Once you try one of their blends, there's no turning back. It literally has the best coffee beans UK citizens dream about.
Check out the Balance speciality coffee store here now!
3. The Barn Coffee Roasters
Based out of Berlin, Germany, The Barn is known for its array of unique coffees. The brand focuses only on single-origin coffees and steers clear of coffee blends.
The Barn has successfully managed to curate a lineup of coffees that highlights different growing regions along with rich flavour profiles. The coffee beans are processed using a proprietary process at the Barn, to ensure quality.
A hot favourite from the Barn is their Finca Juan Martin which features bright, bold tastes of cherry and cacao. Pair this coffee with a freshly made plate of fudge using these best coffee recipes, and you have yourself the perfect cheat meal for the weekend. 
4. The Coffee Collective
The Coffee Collective is known for its innovative and modern light roasts in Denmark. The Daterra, a hot seller from the Coffee Collective, is full-bodied yet low acid and comes packed with notes of chocolate and pecan.
This is a hard-to-miss coffee and should definitely be added to your list of must-haves. The Coffee Collective has also gained traction owing to its emphasis on sustainability.
5. Mount Hagen
Not everyone has the luxury of brewing fresh coffee in the morning. So if you're one of those people who are always pressed for time in the morning but can't function without the first sip of coffee, Mount Hagen is the answer. 
In fact, Mount Hagen's Organic Cafe Liofiliza Cafe Instantaneo is quick, easy, efficient, and absolutely delicious. The velvety mildness and complex taste of this coffee can be attributed to its fair-trade and single-origin beans.
All you have to do is add boiling water or cream, depending on your taste and you have yourself a toasty mug of coffee.
6. Starbucks
Well, Starbucks coffee needs no introduction. With thriving operations all over the world, Starbucks has for a long time, managed to top the list of coffee brands.
Headquartered in the US, Starbucks is also the world's largest coffee retailer. The stark feature of Starbucks that makes it stand out is also its focus on quality coffee.
When they serve customers, Starbucks ensures that each cup is 'brewed for those who love coffee.' Some of Starbucks's top sellers are Vanilla Latte, Iced White Chocolate Mocha, and Chai Latte.
7. The Koffee Kult
If you're a dark roast enthusiast, then you should add Koffee Kult's dark roasted coffee beans to your list.
The Koffee Kult has become popular with coffee enthusiasts for its gourmet coffee beans. Their Arabica beans are robust, clean, smooth, and perfect for those who love hard-hitting coffee.
The beans are sourced from Colombia, Guatemala, and Sumatra and are freshly roasted at the Koffee Kult's family business in Florida.
While their dark roasted blend is ideal for espresso shots, it's just as rich and flavourful when combined with milk for steamy lattes. 
8. Lavazza
One of the oldest coffee brands in the space, Lavazza was set up in 1895. It started off through a small grocery store in Italy and has now expanded its operations to over 90 countries.
However, it's not just Lavazza's scale of operations that have made it a big hit in the coffee world. Lavazza is better known for offering premium quality coffee, that is reminiscent of a lavish Italian lifestyle.
It offers various blends that can be pulled into a toasty cup of Joe but some of its best-sellers include the Lavazza Super Crema, Lavazza Gran Espresso, and Lavazza Dek.
Many coffee beginners also love to try their hand at coffee, by using one of Lavazza's blends.
So if you're also just starting out in coffee, get yourself the Lavazza Super Crema and learn more about how to make a mug of steaming coffee using this guide.
9. New England Coffee
You need to try one of New England's delicious coffee blends, especially if you have a sweet tooth. Made from 100% Arabica beans and the same proprietary process used for 100 years, each batch has the right consistency to make the perfect cuppa.
One of their best offerings is the Butter Pecan blend which is the perfect choice for casual drinkers. Filled with notes of butter pecan, blueberry cobbler, donut shop, and pumpkin spice, this blend is rich, creamy, and addictive.
So if you're a lover of creamy coffees, you'll quickly become a New England Coffee fan.
10. Davidoff
Davidoff is better known for being a luxury coffee brand. Davidoff coffee is made using 100% Arabica beans which are considered the best coffee beans in the world.
Moreover, Davidoff coffee is roasted in a well-balanced environment in order to preserve the maximum flavor of the beans during the roasting process. The Davidoff brand is also a popular choice for coffee aficionados who love intense espressos.
Wrapping it Up
Coffee has had an interesting journey all over the globe. From bean to cup, all the coffee brands in our list of top 10, tell a beautiful story through every sip of coffee that you drink.
In fact, these truly are the best of the best coffee brands in the world that you must try if you're a coffee lover!