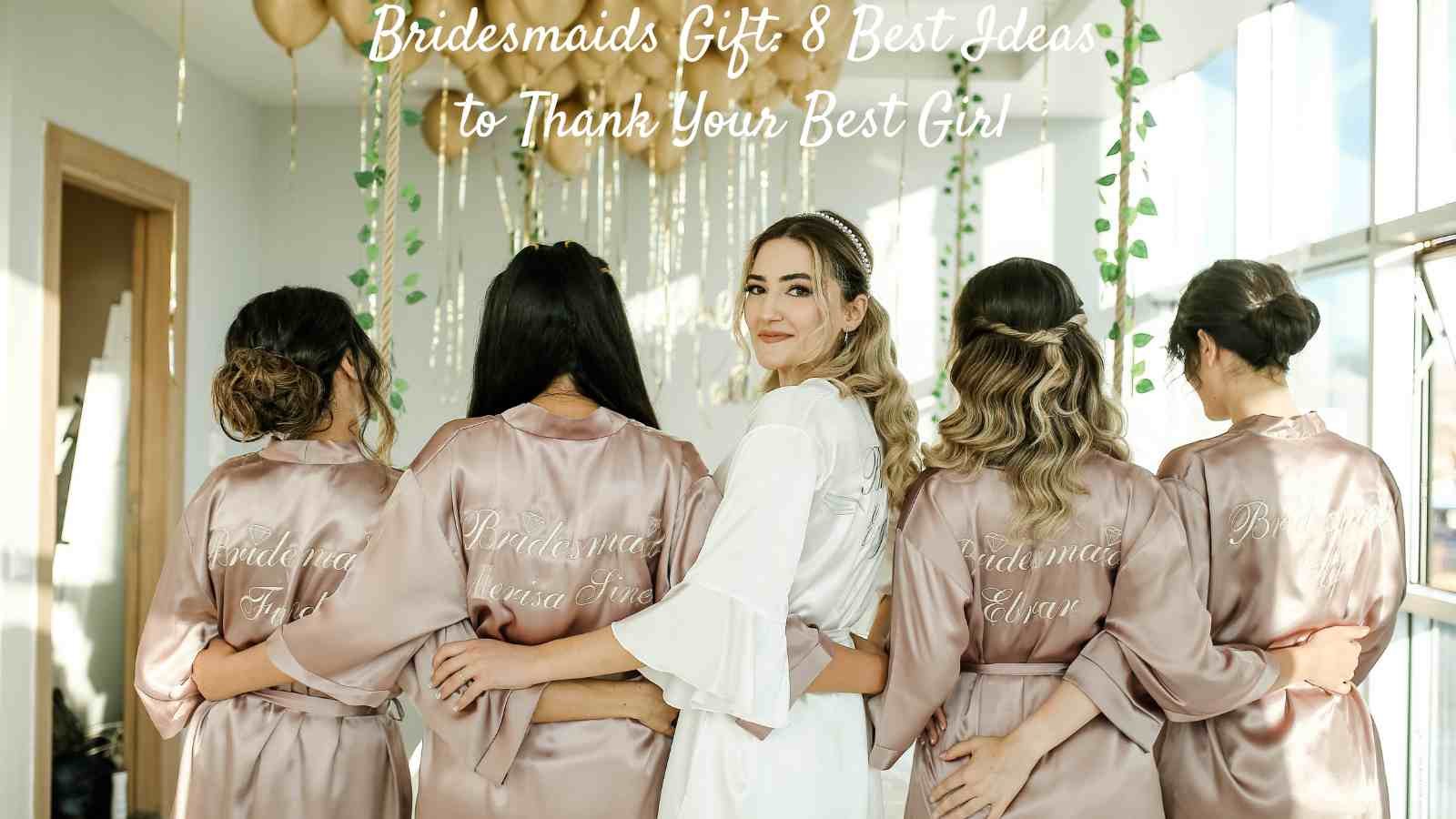 Your bridesmaids are girls that have stood by your side through thick and thin. They have supported you all along, know your deepest and darkest secrets, and what makes you happy. So when they have done so much for you, isn't it your responsibility to thank them for it?
When it comes to giving a thank-you gift to your bridesmaids, you often search for things that would give them comfort and bring a smile to their faces. With this thought in mind, we have put together the best gift bridesmaids will love, and that can help you thank them.
Jump to:
1. Tote Bag
This gift would be the favorite of your bridesmaids. First off, don't most of us gals have a weakness for bags of some description? Um…totes! Your girls will love using this sweet white and gold bag every day! It's ideal for a long day of shopping, a day at the beach, or even a sweet dinner date! So remember to buy one at the handbag shop.
2. Floral Gowns And Robes
Floral bridesmaid gowns and lace bridal robes are probably not new to you considering how popular they are right now. They can be worn frequently long after the big day and are a lot of fun to get ready in the morning.
Your girls will like receiving a present that is so adorable and snug, and it comes in several colors and designs! And the bridesmaid gowns are quite reasonably priced.
3. Makeup Kit
Makeup products make a great gift for any occasion. Whether it's a birthday, anniversary, or even a special thank you, giving makeup products is sure to be appreciated. Not only are makeup products fun to use, but they can also be a great way to help show your appreciation for someone special. From popular palettes to skincare sets, there's a wide variety of makeup products to choose from and many of them come in beautiful packaging, making them the perfect gift. Medusa's makeup is the perfect choice for it, as it provides a wide range of natural beauty products. Makeup products can help someone feel special and show them that you care.
4. Gold Jewelry
A gold bar necklace is easy, charming, and meaningful to wear. And if you want something sophisticated, you can gift your bridesmaids gold chains or gold statement necklaces. They are incredibly customized and a piece that your bridesmaids can wear repeatedly. These bars can be engraved with Roman numerals, letters, and numbers, so be sure to include something special like a birthday, name, or a brief statement.
5. Handcrafted Wooden Frames
A creative method to express gratitude in a friendship is to frame a cute photo of you two. You could put a photo of you and one of your bridesmaids, or even the entire wedding party, in one of the unique wooden frames and give it as a gift. These frames can also have gorgeous bows on top that come in four different colors and are fully customizable!
6. Tanzanite Or Jade Pendants
Tanzanite jewelry is a lovely way to appreciate your girls because it is understated and stylish. The tiny initial charm is a sweet, unique addition that your bridesmaids will enjoy.
You can also dress up your bridesmaids with vibrant and fashionable Jade jewelry that they may wear on the wedding day and for years to come. It has just the right amount of sparkle, yet is still delicate and simple enough that they'll want to wear it every day.
Other ideas you should check out: Christmas Punch Recipes, Hocus Pocus Quotes, Traditional Christmas Cocktails, Christmas Cocktail Recipes, Thanksgiving Dessert Recipes, Christmas Sticky Buns Recipes, Healthy Late Night Snacks, Christmas Candy Recipes, Healthy Salty Snacks, Best Sheet Pan Recipes
7. Bride And Bridesmaids T-shirt And Hoodies
Want the world to know about your bridesmaids? Go on, tell the world by wearing a collection of bridesmaid hoodies that match each other! You all can match because there is, of course, one for you as well! These hoodies with front zippers make them simple to change without messing up your hair or makeup, making them ideal for getting ready. And your bridesmaids can continue to wear them after the ceremony!
Or if you don't want to wear hoodies perhaps the loose-fit identical t-shirts are a better option. These are still a sweet, enjoyable way for you and your bridesmaids to coordinate!
8. Personalized Accessories
Give your bridesmaids this adorable "best friends for life" mug if you think they have a great sense of humor; it will become a mainstay in their house. On the morning of the big event, give it to them and start brewing coffee and mimosas for a picture-perfect occasion! In case you want to gift personalized jewelry, don't forget to encrust them with the ladies' birthstones. For instance, for a December-born, a stack of Tanzanite rings would be so adorable.
You can also give your ladies cute hats that you can all wear long after the big event! Your squad will stand out thanks to their trendy initials made of sparkling sequins!
9. Comfortable Shoes
When getting ready for the wedding, especially on the big day, comfort is vital. Get your team some cozy slippers that will look nice in all the pictures of the bridal preparation.
Speaking of comfort, if wearing heels is against the dress code, you are free to provide them with some flip-flops to wear to the reception. Their dancing feet will undoubtedly be grateful.
End Note
These 8 ideas will surely help you find the best gift for your bridesmaids. If you still don't know what to buy, consider the needs that your bridal party members may have over the wedding weekend. Perhaps it is a tumbler to keep you hydrated, hand cream or cologne to make you feel rejuvenated, a gorgeous robe, or your go-to munchies. Additionally, it's a smart idea to give them a gift that will stand the test of time. Consider giving them custom jewelry or a stylish clutch.
Read also: