Onions, a key ingredient in many recipes across various cuisines, add a unique depth of flavor and sweetness when cooked. With the plethora of onion varieties available in today's market, culinary professionals such as caterers and chefs often face the challenge of deciding between dried and fresh onions to use in their dishes. This in-depth article will delve into the advantages and disadvantages of bulk dried and fresh onions to aid in making the best choice for their businesses. By providing a detailed comparison, culinary professionals can make well-informed decisions that will ultimately enhance their culinary creations and support the needs of their establishments.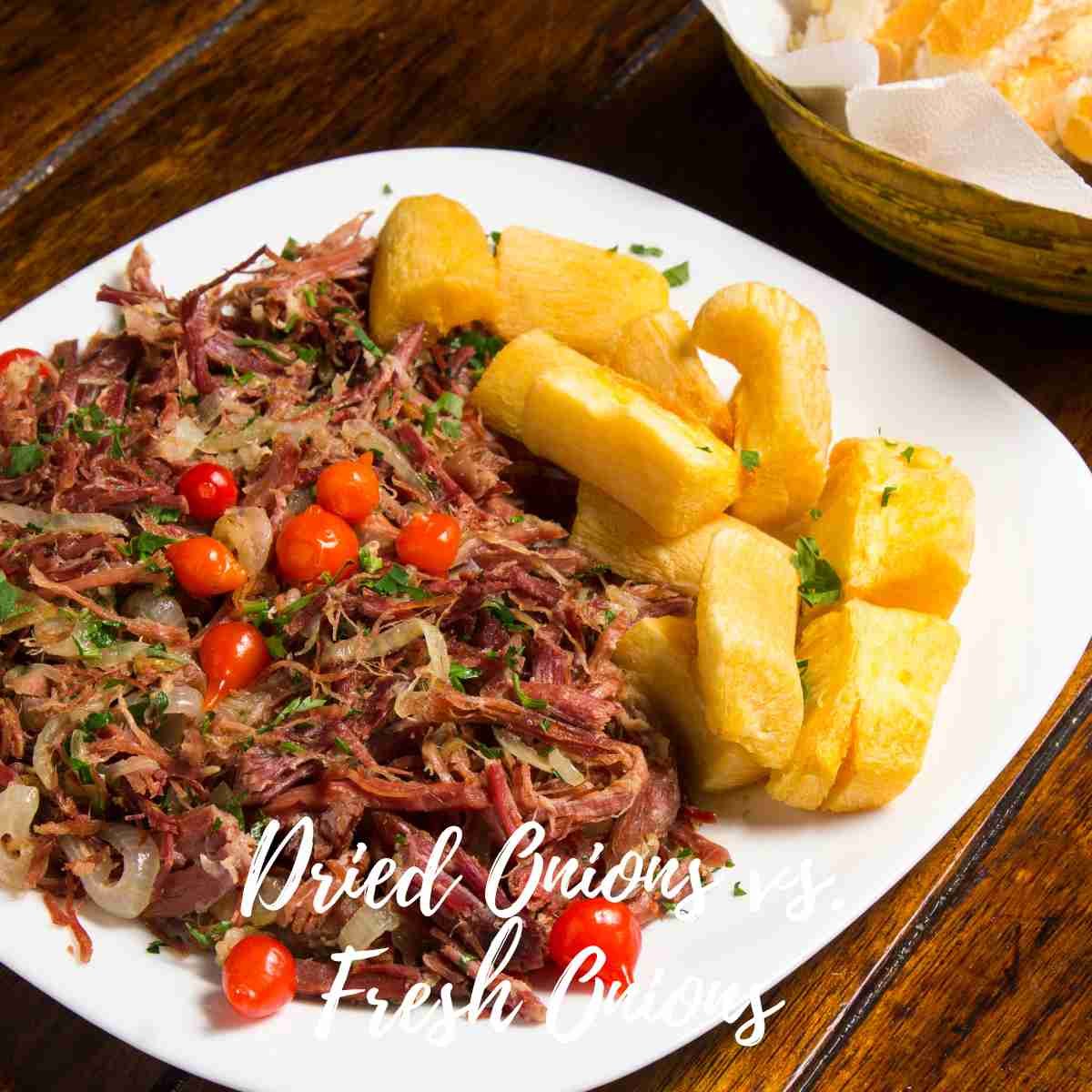 The Benefits of Dried Onions
Storage and Shelf Life: One of the most significant advantages of bulk dried onions is their extended shelf life compared to fresh ones. Dried onions can last up to a year when stored correctly, allowing chefs and caterers to plan menus and dishes without worrying about spoilage.
Consistency: Dried onions provide a consistent flavor profile, ensuring that every dish tastes the same, regardless of when it's prepared. This consistency makes them appealing to caterers and chefs who want to maintain a uniform taste.
Cost Efficiency: Purchasing onions in bulk is a cost-effective option for businesses that use them regularly. Buying in large quantities reduces the cost per unit, leading to significant savings over time.
Space-Saving: Dried onions require less storage space than fresh onions. They can be stored in airtight containers or vacuum-sealed bags, freeing up valuable kitchen real estate for other uses.
Ease of Transportation: Dried onions are lighter and easier to transport than fresh onions. This benefit is precious for caterers transporting ingredients to offsite events.
The Drawbacks of Bulk Dried Onions
Lack of Freshness: One major downside of using dried onions is the loss of freshness. Fresh onions have a unique flavor, texture, and aroma that cannot be replicated in their dried form.
Limited Variety: Bulk dried onions are typically available in only a few varieties, such as white, yellow, or red. This limitation may be a problem for caterers and chefs who require a diverse range of onion types for their recipes.
Rehydration: Dried onions must be rehydrated before use, which can be time-consuming and may not always produce the desired consistency. This extra step can be a hassle for busy chefs and caterers.
Nutritional Differences: Dried onions may lose some of their nutritional value during the drying process. Fresh onions generally retain more vitamins and minerals, making them healthier.
The Advantages of Fresh Onions
Flavor and Aroma: Fresh onions boast a vibrant flavor and aroma that are unmatched by their dried counterparts. The intense, sweet, and sometimes spicy taste of fresh onions can elevate a dish, making it more appealing to diners.
Versatility: Fresh onions come in a wide range of varieties, including sweet onions, red onions, shallots, and scallions. This diversity allows chefs and caterers to experiment with different flavors and textures in their dishes.
Texture: Fresh onions have a crisp texture that can satisfy dishes' crunch. This is especially important in salads, stir-fries, and other recipes where texture plays a crucial role.
Visual Appeal: Fresh onions can provide a pop of color to dishes, making them visually appealing. The bright hues of red, white, and yellow onions can enhance a dish's presentation, enticing diners to dig in.
The Disadvantages of Fresh Onions
While fresh onions are a popular choice for their vibrant flavors and crisp textures, they also come with their own set of drawbacks that culinary professionals should be aware of when making decisions for their businesses.
Short Shelf Life: Fresh onions have a relatively short shelf life, typically lasting between two to three months when stored properly. This shorter lifespan can result in increased food waste if onions are not used in time.
Storage Requirements: Fresh onions require specific storage conditions to maintain their quality. They need a cool, dry, and well-ventilated space, which can be challenging in some commercial kitchens.
Cost: Fresh onions can be more expensive than bulk dried onions, especially when considering the cost of storage and potential food waste. Fluctuating market prices may also impact the overall cost of fresh onions.
Seasonal Variability: The availability of fresh onions can be affected by seasonal changes and weather conditions. This variability may result in fluctuations in price, quality, and access to specific onion varieties.
Factors to Consider for Your Business
When deciding between bulk dried onions and fresh onions, caterers and chefs should consider the following factors:
Menu requirements: Assess the role of onions in your menu. If your dishes rely heavily on the taste and texture of fresh onions, it may be worth investing in them. However, if onions are used primarily for background flavor and aroma, dried onions could be a more practical choice.
Storage space: Evaluate the available storage space in your kitchen. If space is limited, bulk dried onions might be a better option, as they require less room for storage.
Budget: Weigh the costs of both options, taking into account factors such as storage requirements, potential food waste, and the price per unit. Determine which choice is more cost-effective for your business.
Availability: Certain fresh onions may be limited depending on location and the season. In such cases, bulk dried onions can offer a reliable alternative.
Preparation time: Consider the time required to rehydrate dried onions and whether this extra step will affect your kitchen's efficiency. Also, factor in the time spent peeling and chopping fresh onions.
Nutritional value: If nutrition is a priority for your business, fresh onions may be more suitable due to their higher vitamin and mineral content.
Tips for Using Dried and Fresh Onions in Your Kitchen
Regardless of your choice, here are some tips to make the most of both dried and fresh onions in your culinary endeavors:
For dried onions, ensure proper rehydration by soaking them in warm water or directly adding them to dishes with sufficient liquid.
Store fresh onions in a cool, dry, and well-ventilated area to prolong their shelf life and maintain quality.
Be mindful of the different onion varieties and their unique flavor profiles. For example, red onions are typically sweeter and milder, making them suitable for raw applications, while yellow onions have a more robust flavor, ideal for cooking.
Conclusion
Both bulk dried and fresh onions offer unique advantages and drawbacks, catering to various culinary needs and preferences. By carefully evaluating menu requirements, storage space, budget, availability, and preparation time, caterers and chefs can decide which option best aligns with their business objectives. Of course, the ideal choice will depend on the specific needs of a kitchen and its clientele, considering the desired flavor profiles, texture, and presentation of the prepared dishes.
Additionally, culinary professionals need to consider the versatility of onions when choosing. While some dishes may benefit from the consistent flavor and convenience of dried onions, others may require the fresh, crisp taste and texture that fresh onions can provide. This understanding will enable chefs and caterers to strike the perfect balance, ensuring that the onions they choose will enhance their culinary creations and satisfy the diverse palates of their guests.
In conclusion, the choice between bulk dried and fresh onions should be based on individual requirements and the specific needs of your establishment. By comprehending the pros and cons of each option and considering the factors that affect your business, you can optimize your onion usage to create delectable and memorable dishes for your guests. This informed decision-making process will lead to better quality food, improved customer satisfaction, and, ultimately, a thriving culinary business.
Read also: