Get creative with your decorations this Halloween! We've got plenty of DIY Halloween candle holder ideas to make your home look spooktacular. From kid-friendly crafts to eerie displays - choose the perfect project and create a spirited atmosphere for your Halloween party!
More collections: Halloween Pumpkin Bread, Halloween Pumpkin Pancakes, Halloween Pumpkin Cheesecake, Halloween Pumpkin Bars, Halloween Pumpkin Soup, Halloween Potluck, Halloween Whiskey Cocktails, Pumpkin Decoration Ideas, Kids' Halloween Makeup Ideas, Halloween Decor Ideas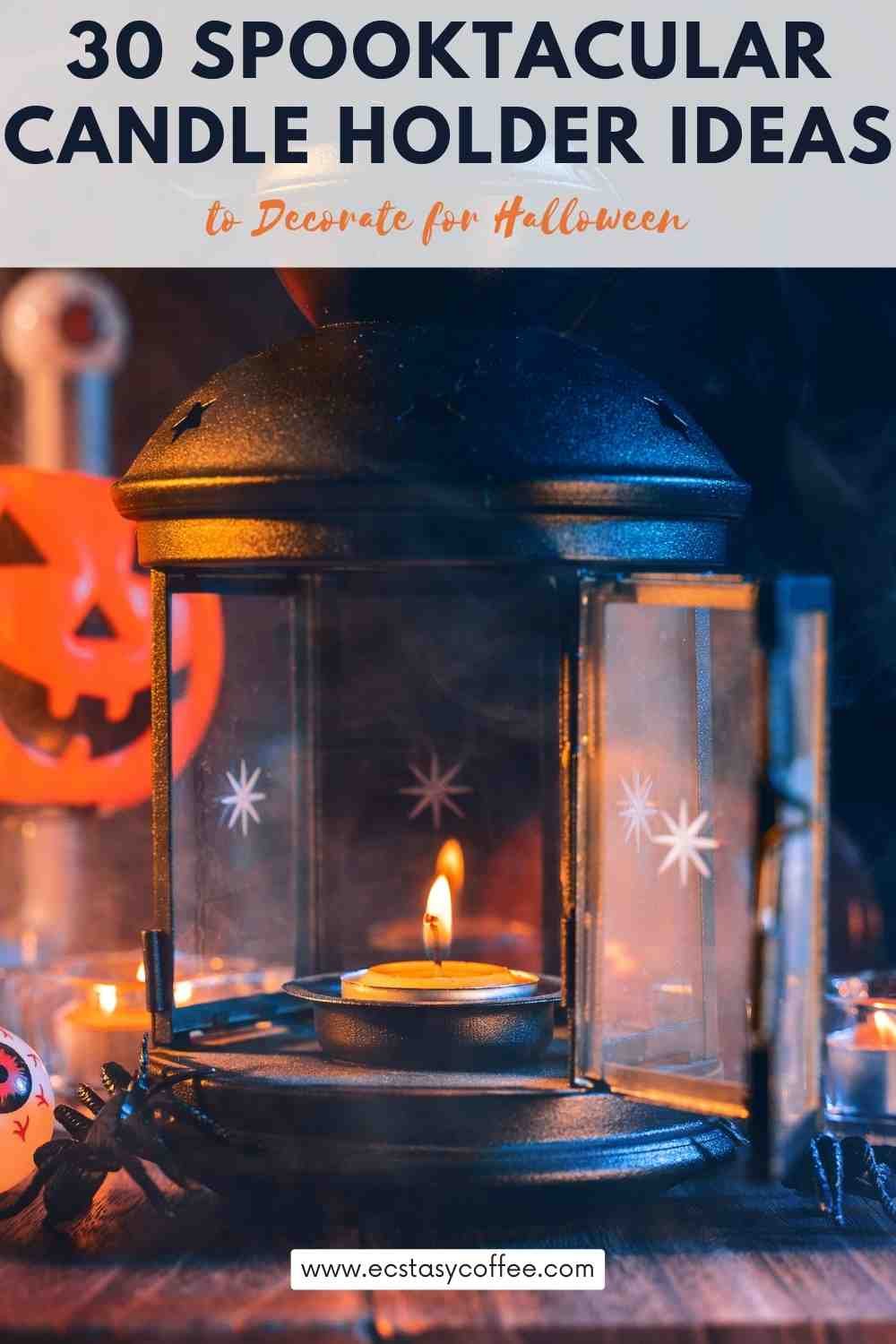 As you undoubtedly already know, candles are used in a lot of Halloween décor. It's not only traditional jack-o'-lanterns that utilize them, but also all those scary luminaries you may or may not be acquainted with, creepy candle holders that are nothing without the candles, and a whole lot more. That's why, today, we're going to look at several DIY Halloween candle projects to discover what they're all about.
Jump to:
1. Candles with a spooky theme for Halloween
Making scary candles for Halloween is really very simple, and there are many different options to explore. You may, for example, put several nails into a pillar candle in various places and then paint it crimson to make it seem like blood is pouring down. So basic, but so effective…
2. Styled like a birdcage
A birdcage with a candle inside doesn't look very frightening, but wait until you see this. This is a Halloween chandelier constructed out of a black birdcage with green branches. Display this in a dark place to get the full impact.
3. Holders for Halloween candles that are black
You may build something unique if you need some black Halloween candle holders and don't want to spray paint your current ones. Although the supply list for the project is odd, it all makes sense in the end.
4. Candlestick with a skull
If you wish, you may also create these plaster skull candlesticks from scratch. Plaster, water, a bowl, a plastic spoon, a skull mold, a candlestick, and thread are all required materials. You may also opt to color the skulls individually or the whole candlestick.
5. Jack-o-Lanterns
Another great idea is to make scary cauldrons and jack-o'-lanterns out of some inexpensive glass candle holders. Round candle holders, paint, stickers, black thread, and a hot glue gun are all you'll need. If you want to go very creative with this project, you can.
6. Skeleton
Check out these amazing Halloween lanterns while we're on the subject of scary Halloween lanterns. You may try a few different approaches, but our favorite is the one that uses transparent printed labels and vellum paper. It looks eerie, but not in a corny, cliched manner.
7. Cinnamon pumpkin
Turning pumpkins into candle holders is another adorable idea. For a lovely autumn scent, use genuine pumpkins. Soy candle wax flakes, cinnamon stick candle fragrance (or your favorite scent), natural candle wicks, bamboo skewers, and adhesive are also required. In no time, you'll be able to create beautiful pumpkin candles.
8. Tone of Jewels
You may also create pumpkin votives, which are as lovely. These are constructed from tiny pumpkins that can be spray-painted in whatever color you choose. For example, these blue ones are very elegant and would look wonderful on the fireplace or on the Thanksgiving table.
9. Mason jars that glow in the dark
If you have any empty mason jars hanging around, now is the ideal time to put them to good use. You may make scary lanterns out of them for your Halloween decorations. You'll need the following items: Acrylic paint, black felt, a hot glue gun, fairy lights, and googly eyes were used to make this project.
10. Candles with a frosted finish
The frosted Halloween candles shown on the fashionable are a sleek and scary combination. This idea is really very inspirational since you can use the same method to make personalized candles for a variety of events other than Halloween.
11. Candles and nails
This Halloween, you may want to torture some candles. That's a simple task. All you'll need are some nails and a lighter to get started. Heat the nails and put them one by one into the candles. If you like, you may use a hammer to complete the task. This is essentially the same as the first concept we discussed earlier today, except without blood.
12. Candleholder made from a wine glass
Did you know that wine glasses may be used as candle holders? All you have to do is turn them around. You may dress up the glasses and transform them into scary figures for Halloween. Mummies, pumpkins, Frankenstein's monster, and a variety of other symbols may be used.
13. Candles with blood on them
The crimson candles seen at birds' parties are very simple to create. Only white pillar candles, a red taper candle, and a lighter are required. The aim is to melt the red candle and spill it over the white candle's edges, making the wax appear like blood.
14. Pots for flowers
It's also feasible to go in the other direction. That is, you may drop some wax from a white candle over a different-colored candle to make it shine. This method allows for a wide range of color combinations. Make a Halloween centerpiece with dripping candles. 
Halloween time is the most thrilling and bizarre of all festivals. When it's Halloween, we inevitably trade our worries for an evening of pure ecstasy and merriment, letting loose of all inhibitions. Halloween Decorations are a major part of the festivities of the season. You look around and you'll find everyone doing some decorations for Halloween. If you want some offbeat and unusual decorations, then you can look down below.
Here is a list of some frightening and scary candle decor ideas and candle holders, which can help transform the decor of your home into the most exciting and gory scary house and the loudest screams are going to be heard from your apartment. Candles anyway do the work of working up the ambiance into an eerie and atmospheric one, here, the candle holders also some spooky tricks up their sleeves!
15. Creepy and Disturbing Candle Holder Ideas for a Scary Halloween
Halloween is a favorite holiday for young and old! We decorate the house, we dress in scary or funny costumes, and eat candy. lots and lots of candy! The small problem is that if you want to be original, you should imagine something different every year, and this can sometimes be a bit difficult.
If you have not yet decided to decorate your Candle Holder, in this article you will find 30 fun ideas for decorating a candle holder for a scary Halloween.
Beautiful DIY Halloween Candles And Candleholders
#1 DIY Candle Holders
Get the tutorials at passionshake.com
#2 Mummy Candle Holders
#3 Beautiful Halloween Candles Holders
Get the tutorials at todayscreativeideas.com
#4 DIY Black Lace Halloween Candles
Get the tutorials at thesweetestoccasion.com
#5 Easy diy dollar tree skull candleholder.
Get the tutorials at rainonatinroof.com
#6 DIY candles that look as if they are dripping with blood.
Get the tutorials at diynetwork.com
#7 DIY Concrete Skull Candle Holder
Get the tutorials at thenavagepatch.com
#8 DIY Skull Candle Holder
Get the tutorials at abeautifulmess.com
#9 Glam Halloween Skull Candle Holders.
Get the tutorials at ohmy-creative.com
#10 Delicate votive holder is easily made from doilies.
Get the tutorials at ehow.com
Candle Holder Photos Collected via pinterest.com
Other ideas you should check out: Thanksgiving Candle Decor Ideas, Halloween Decor Ideas, Christmas Candles Decoration Ideas,  DIY Outdoor Halloween Decoration Ideas, Girls Group Halloween Costume Ideas, Natural Thanksgiving Decorations, Delicious Halloween Cakes, Halloween Costume Ideas, Creative Halloween Makeup Ideas