If chicken is your favorite dish then you are at the right place. The gorgeous chicken skewer recipes are here to leave your mouth watering at the sight of the dishes. Delectable and juicy, these skewers are awesome as you are organizing some parties or events. Great to serve as appetizers, these homemade recipes will simply make the party even more lit.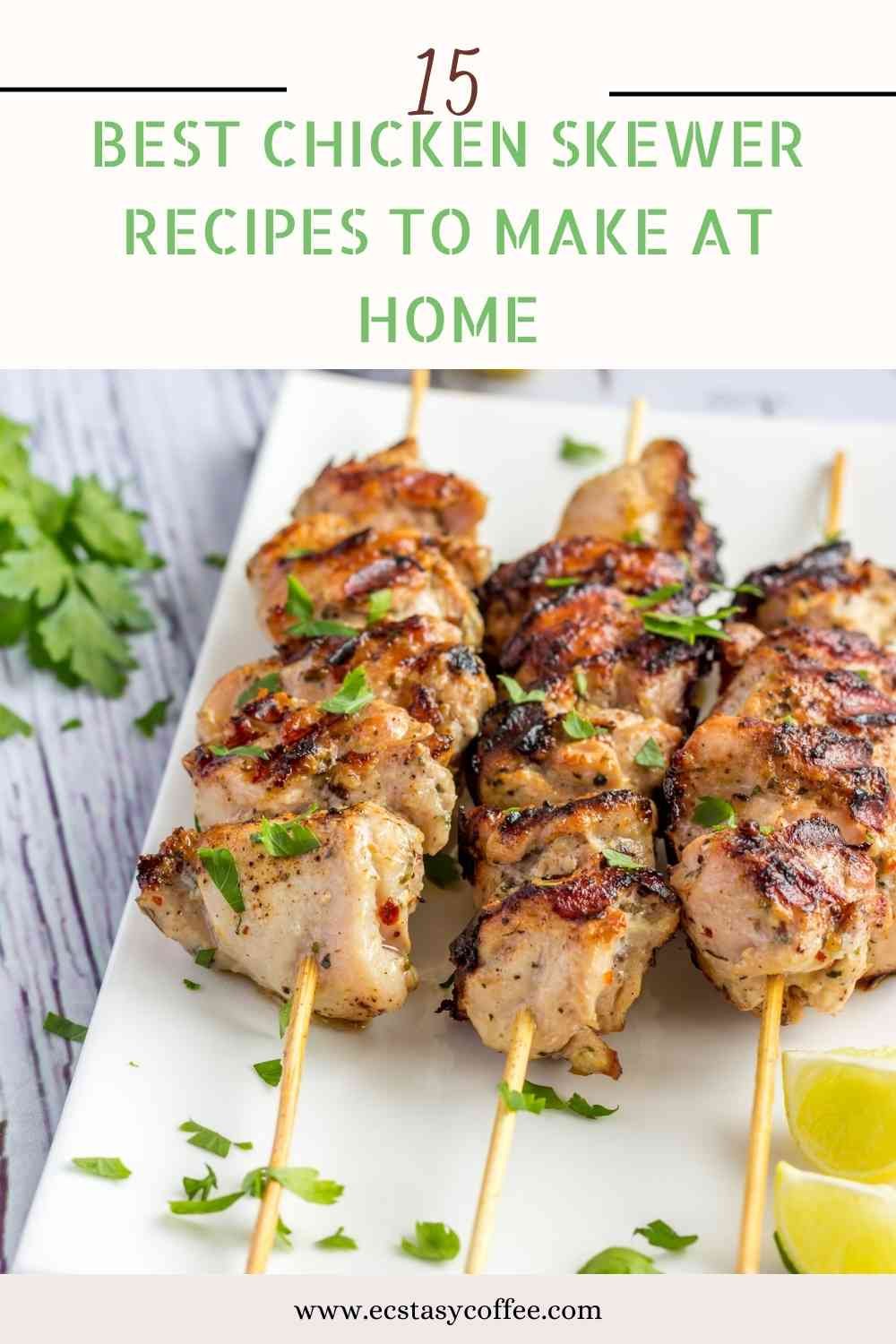 The best part is that the chicken skewer recipes are very easy to make with the right recipes that we have listed below for you. If you are up for some delicious treats then let us try out these awesome skewer dishes that are waiting for you to get discovered. Studded with roasted and fresh veggies, the chicken skewers are the literal show-stoppers at parties and events.
If you are planning for brunch on Sunday and wish to make it special then try out these lip-smacking recipes that we have got for you here. Even beginners will not find it tough to create these dishes that are so ravenous and tempting to relish.
1. Kung Pao Chicken Skewers
Packed with pepper, onion, chicken, and pineapple, the recipe of the king pao chicken skewer is simply outstanding. The recipe is available at Food Lovin Family and marinated in kung pao sauce which is an authentic Asian delicacy.
Recipe - Food Lovin Family
2. Best chicken kabobs ever!
Perfected with BBQ sauce, the chicken kabobs are made with the sweet presence of bell pepper and onions diced together, the recipe is available at The Chunky Chef! The classic chicken kabobs are awesome for you to savor with veggies and tender meat!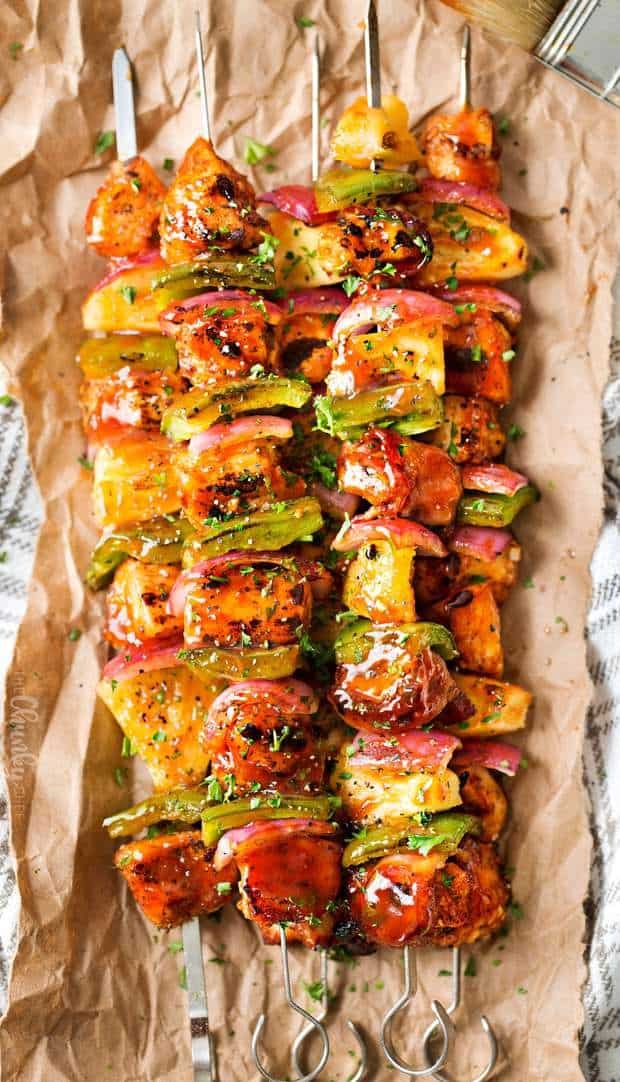 Recipe - The Chunky Chef
3. BBQ Chicken Kabobs with Bacon and Pineapple
The chicken kabobs grilled with pineapple and bacon is a recipe made by Butter With A Side Of Bread! The juicy and meaty kabobs are gorgeous and one of the most exotic recipes that you can prepare as an appetizer for parties or gatherings you are hosting.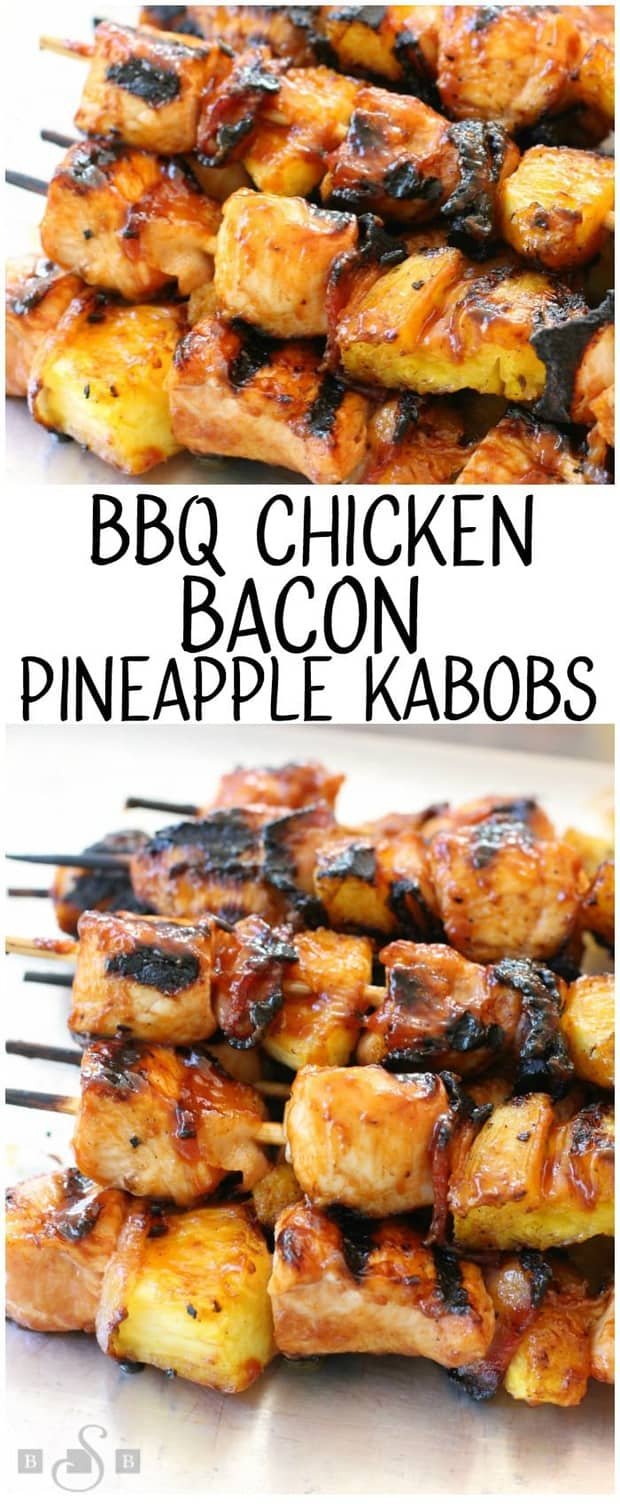 Recipe - Butter With A Side Of Bread
4. Grilled chicken kabobs
Threaded with veggies and chicken cubes, the grilled chicken kabobs are a classic recipe by Dinner At The Zoo which is even healthy for the kids. With honey garlic marinade, the taste of the kabobs is escalated manifold. Try it out for sure!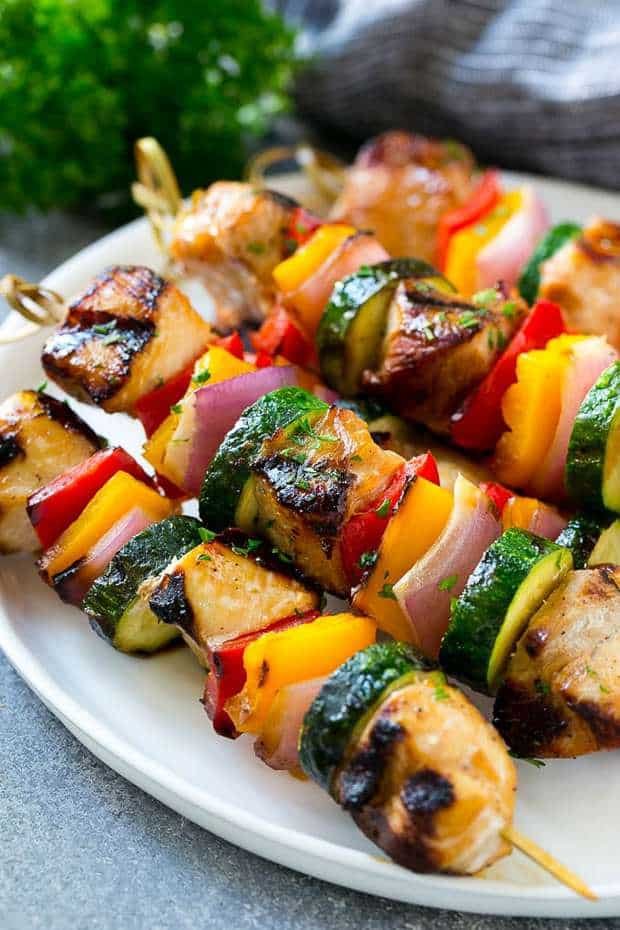 Recipe - Dinner At The Zoo
5. Mediterranean Grilled Chicken Kabobs
Chicken cubes marinated in gravy and served with fresh green and vibrant veggies are a delight to savour in every bite. The recipe is available at The Mediterranean Dish and is such a fantastic choice of recipe indeed! Enjoy it with a bowl of mayo dip!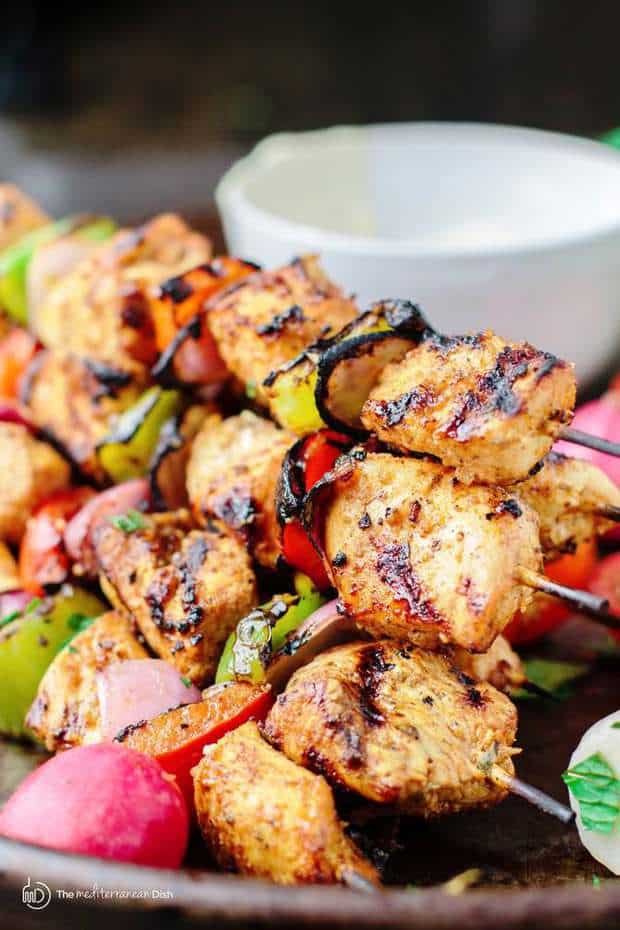 Recipe - The Mediterranean Dish
6. Balsamic Chicken Skewers
Try grilling the balsamic chicken skewers which are such delicious options to have as sides. The recipe is present at Happy Foods Tube and served with loads of dip and veggies with a smokey flavour. The skewers are awesome and great to go for BBQ sessions.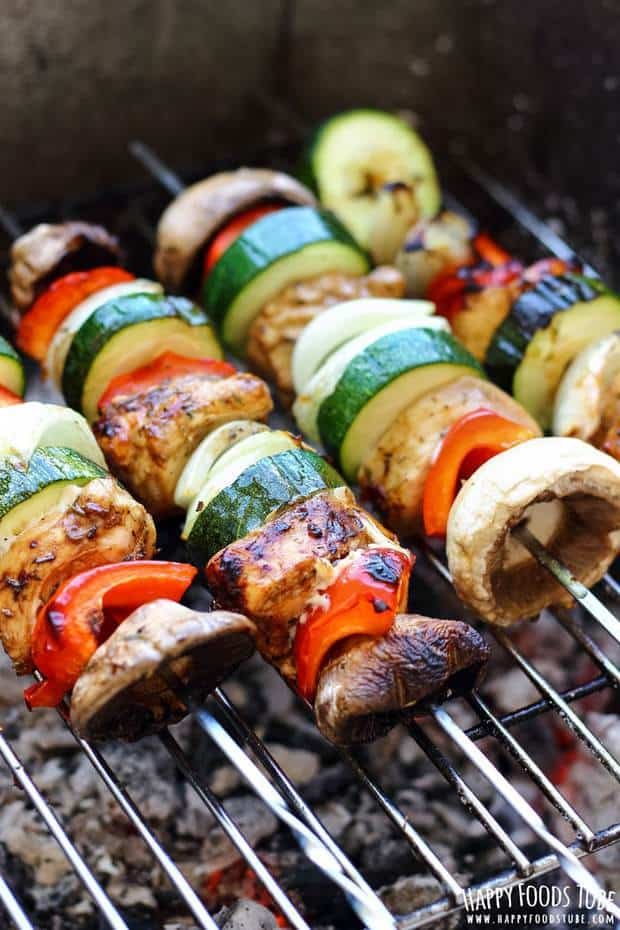 Recipe - Happy Foods Tube
7. Grilled Mediterranean Chicken Kebabs
Marinated in Mediterranean lime juice, the chicken kebabs share an authentic recipe by Delicious Meets Healthy. Delicious and juicy, the grilled kebabs are waiting for you to savour as an appetizer with a glass of refreshing drink at the party.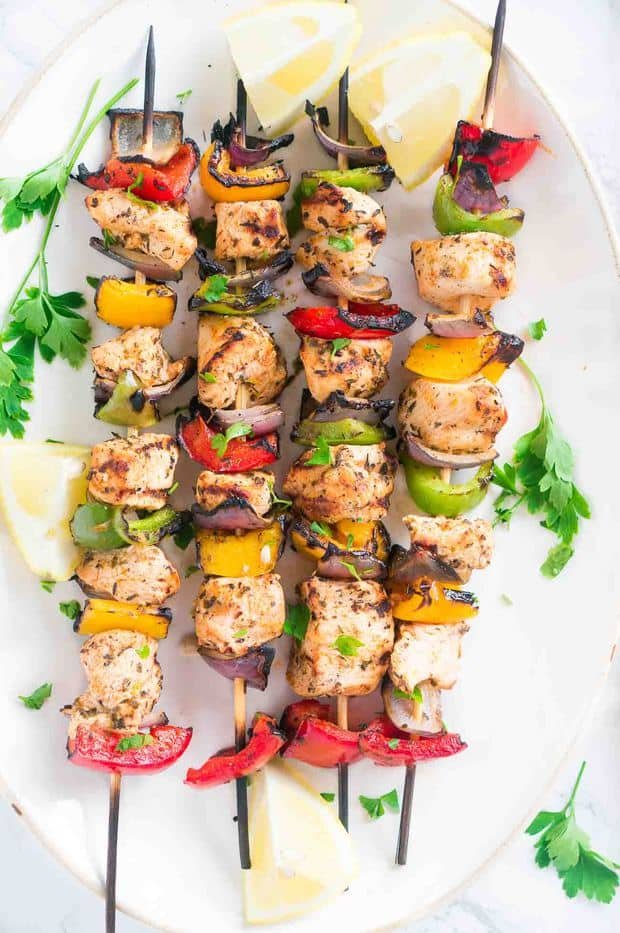 Recipe - Delicious Meets Healthy
8. Grilled Hawaiian Teriyaki Chicken Skewers
Made with bell pepper, onion, and pineapple essence, the recipe of The Recipe Critic with rich teriyaki sauce marinade is amazing and a creation that is so divine and mouth-watering. The flavor of the teriyaki chicken skewers is amazing and one of a kind.
Recipe - The Recipe Critic
9. Marinated chicken and pineapple skewers
The sweet and spicy skewers with a tangy and citrusy flavor are right here to sway you off your feet. The recipe is present at A Southern Soul and marinated in a smokey and rich gravy that is lovely to savour.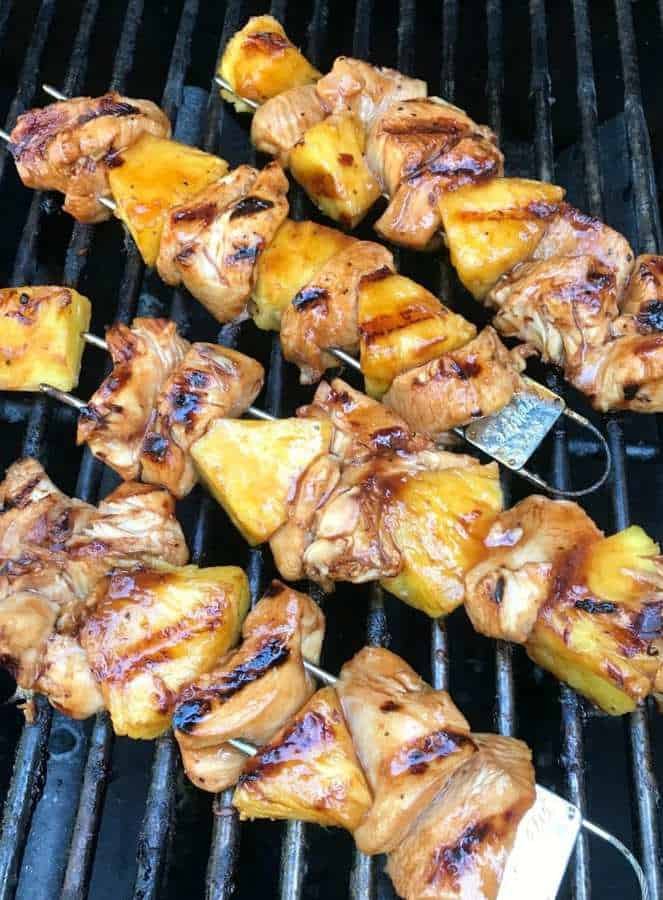 Recipe - A Southern Soul
10. Bacon Wrapped Teriyaki Chicken Skewers
Here is another classic bacon-wrapped teriyaki chicken skewer which is made by Taste and Tell and such a mouth-watering recipe indeed. If you like the combination of bacon and chicken then this is the best skewer for you!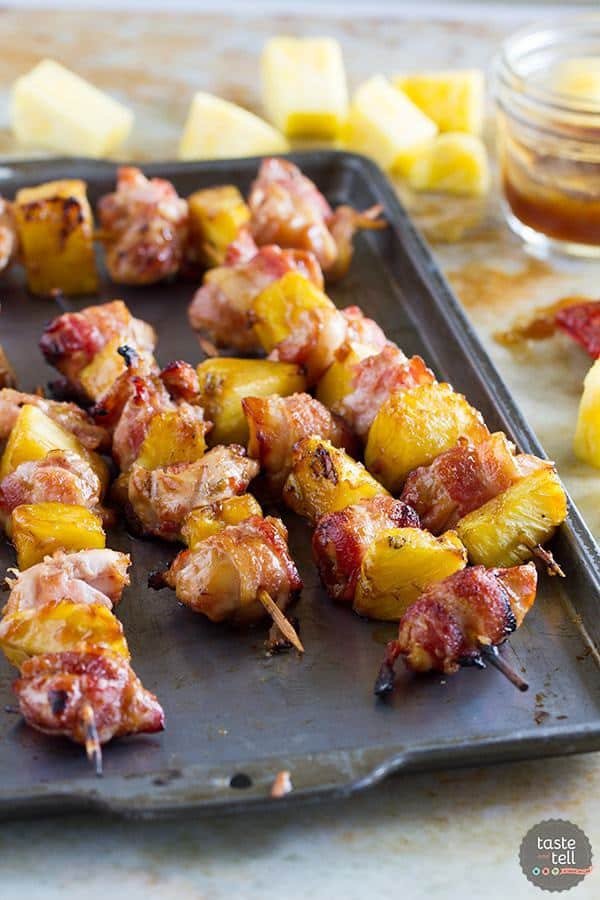 Recipe - Taste and Tell
11. Korean Chicken Skewers
The Korean Chicken skewers are fabulous and a creation exclusively by Chef in Training for you to follow! The dish of the skewer is ideal for the holidays as you indulge in the magnificence of the taste of the spices marinating the meat in richness!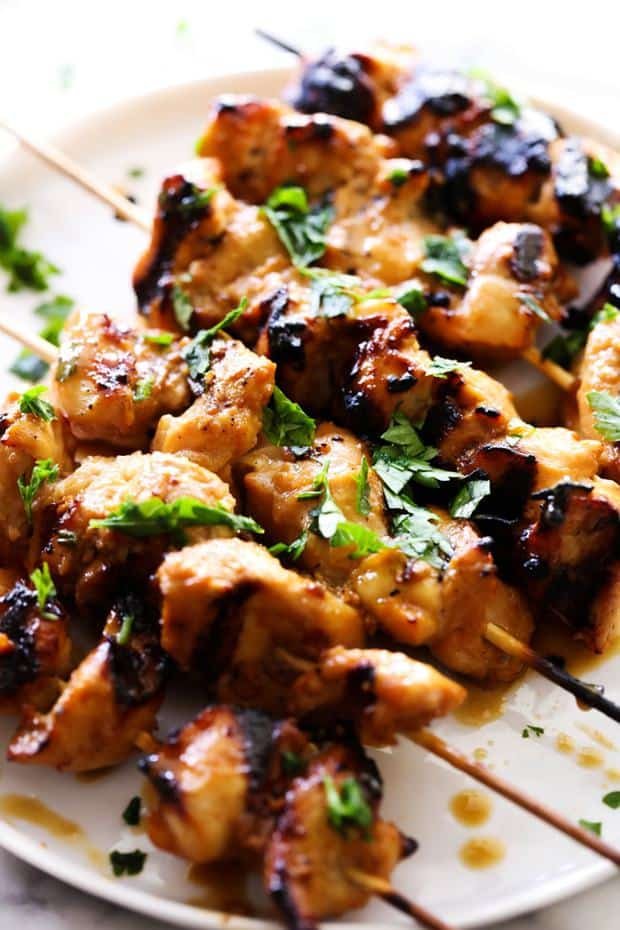 Recipe - Chef in Training
12. Grilled chicken skewers
Filled with authentic Indian flavors, the recipe of Taste and Tellis is simply marvelous! We are absolutely a fan of the dish and such an awesome recipe that you must try out. Delicious and lip-smacking, the grilled chicken skewers are so tempting in every bite!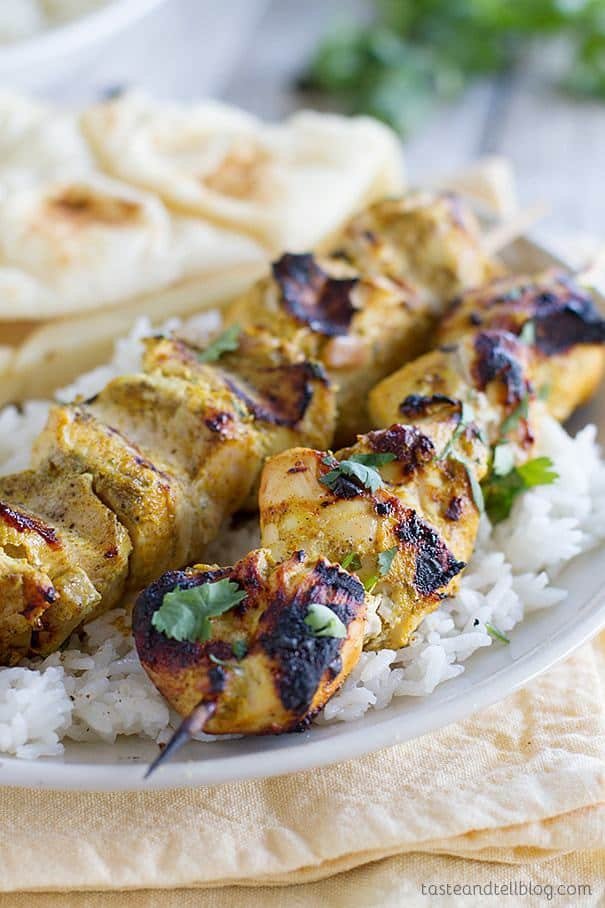 Recipe - Taste and Tell
13. Dijon chicken skewers
All you need are five basic ingredients to make this recipe of the dijon chicken skewer by Homemade Hooplah. The presence of dijon mustard, creamy onion, and parsley with breadcrumbs simply works wonders. All you need is thirty minutes to prepare this dish!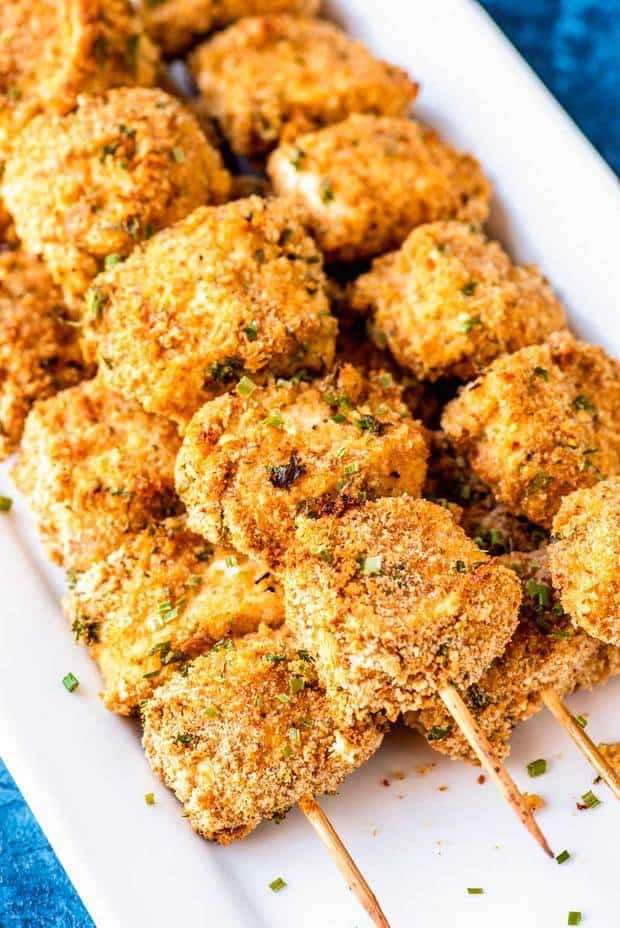 Recipe - Homemade Hooplah
14. Thai Chicken Skewers
The fun and exciting Thai chicken skewers with rich coconut milk are a creation of The Recipe Critic. Marinated with spices and gravy, the recipe is so awesome for you to try out this season. Served with lemon juice, the Thai chicken skewers are simply amazing.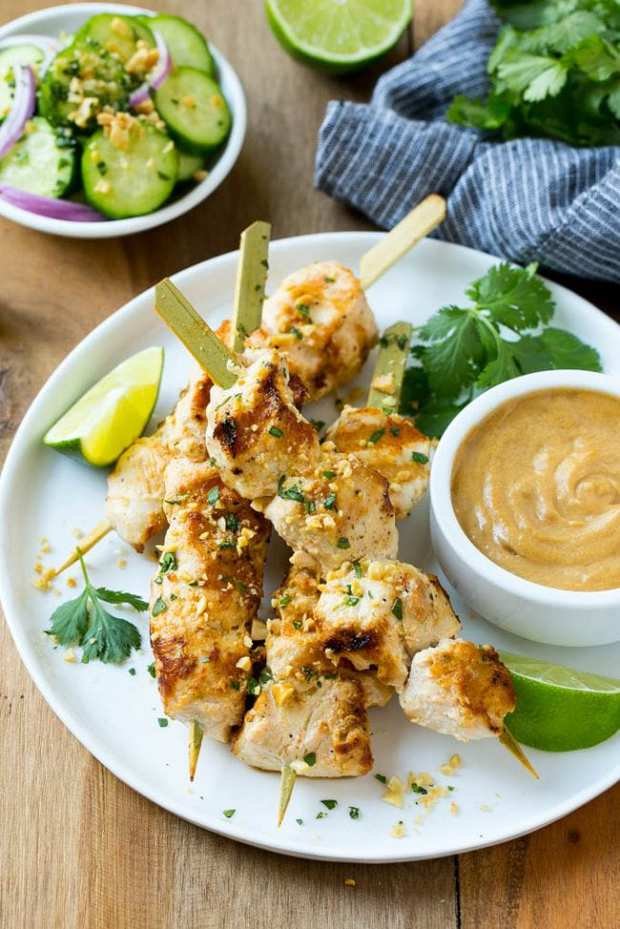 Recipe - The Recipe Critic
15. Greek-inspired Lemon Chicken Kebabs
The paleo-friendly recipe of the Lemon chicken is gorgeous and a creation of A Saucy Kitchen. Cooked in authentic Greek style, the lemon chicken kebabs are amazing and certainly a great choice of the recipe to indulge in for party appetizers and starters.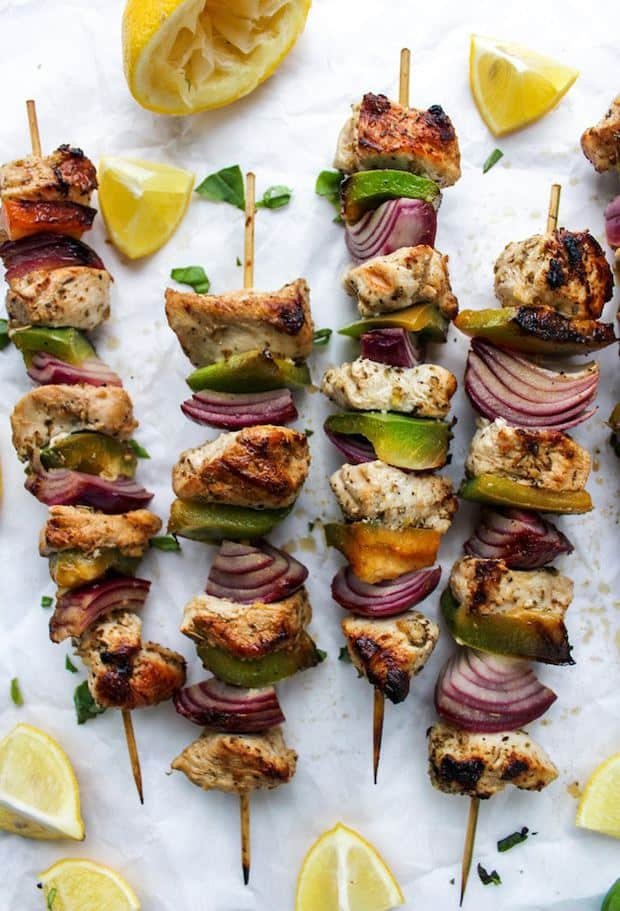 Recipe - A Saucy Kitchen
Read more: