Chocolate is the ruler in the kingdom of flavours and you all will agree to it, don't you? These recipes are incredible when it comes to enjoying the richness of chocolate and indulging in the pool of choco chips. Now as kids we all have dreamt about a world that is entirely made of chocolate and here the time has finally come to make your dream come true. The chocolate chip recipes that are here will make your mouth water instantly at the sight of the dish. With so many choices waiting for you to discover, the recipes are amazing and you will surely fall in love with the dishes.
Best Chocolate Chip Recipes
From bite-size desserts to yummy treats, you can put choco chips in anything you want. If you are excited about the season of holidays then desserts are going to be your best companion. Learn to make these exotic recipes that are gorgeous and the best for you to indulge in. The sumptuous choc chip dishes are fantastic and waiting for you to unravel. With so many options waiting for you to make for the little ones.
Making desserts is an enjoyable hobby on the weekends as you are sitting idle and relaxing with your family. The best part is choco chips go with any kind of flavors and you can enjoy them with all deserts.
1. Chocolate chip muffins
The decadent chocolate chip muffins are so yummy that you will hate to share them with anyone. The recipe for the ravenous and classic chocolate chip muffins is present at Baking Moment! So what are you waiting for?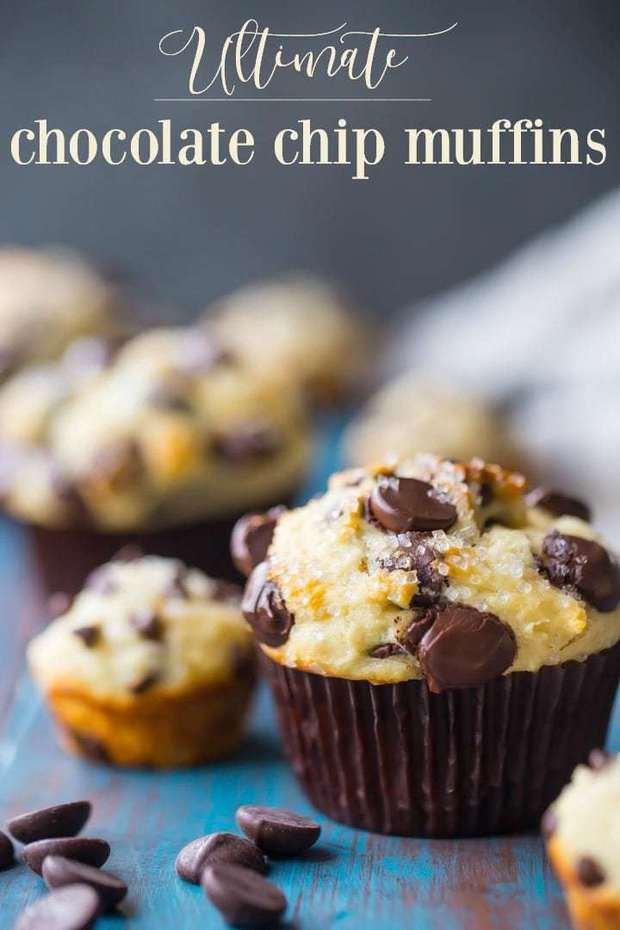 Recipe – Baking Moment
2. 5 Ingredient Energy Bites
We have made energy bites with maple syrup and rolled oats. The recipe is present only at Life Made Sweeter and all you need is five ingredients in total to make this dish is absolutely vegan and uses nut butter and loads of chocolate chips.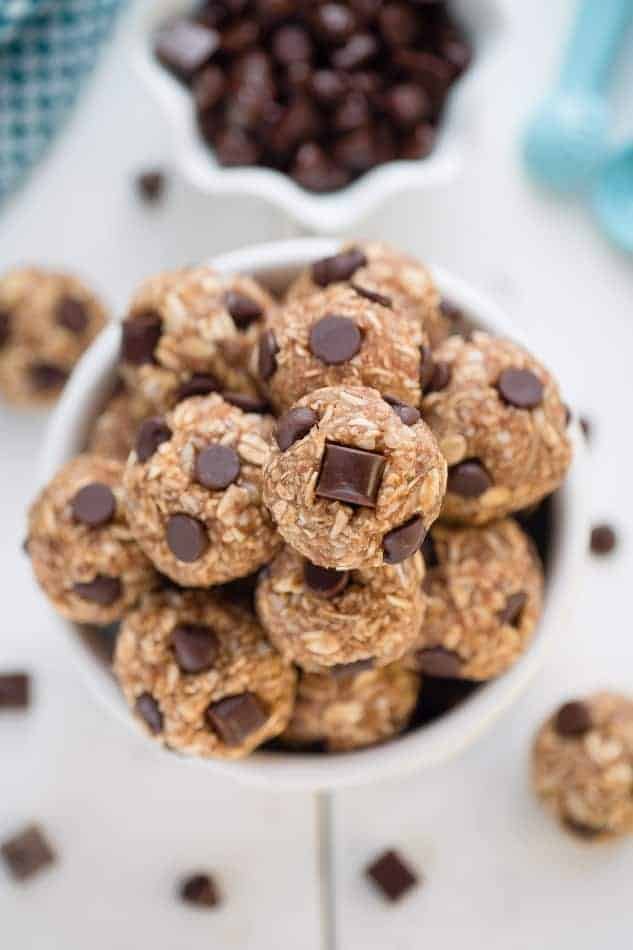 Recipe – Life Made Sweeter
3. Chocolate Chip Cookie Layered Delight
The chocolate chip cookie layered delights are marvelous and a great choice of dish that you can make in the holidays. Topped with sweet cream cheese and chocolate pudding it is one of the best.
Recipe – Tidy Mommy
4. Chocolate Chip Sweet Rolls with Peanut Butter Icing
The decadent sweet rolls were showered with chocolate chips and the rich peanut butter flavor. The recipe is present at Miss In The Kitchen! You can enjoy the creamy delight with a glass of milk in the morning. So shall we?
Recipe – Miss In The Kitchen
5. Chocolate Chip Pancakes
The fluffy chocolate chip pancakes are drizzled with honey and are such a splendid option for breakfast in the morning. The recipe is available at Just So Tasty and is such a gorgeous dish that is scattered with choco chips and a dollop of ice cream on top.
Recipe – Just So Tasty
6. Chocolate Chip Zucchini Banana Bread
Pick from the garden fresh zucchini and banana to make the banana bread, the recipe is available at Spend With Pennies and is one of the most delicious options that you can make this season. Do not forget to put a cube of butter on top to escalate the taste of the zucchini bread.
Recipe – Spend With Pennies
7. Soft-baked chocolate chip cookie
The warm and gooey chocolate chip cookie is a wonderful recipe by The Food Charlatan that melts in your mouth and leaves a divine experience. The recipe for the soft baked cookies is uniquely drizzled with loads of chocolate chips to your delight.
Recipe – The Food Charlatan
8. Nutella Chocolate Chip Pumpkin Bread
Packed full of flavors, the recipe for Nutella chocolate is a classic one that you will surely fall in love with. Showered with an abundance of chocolate chips, the dish is a creation of My Baking Addiction.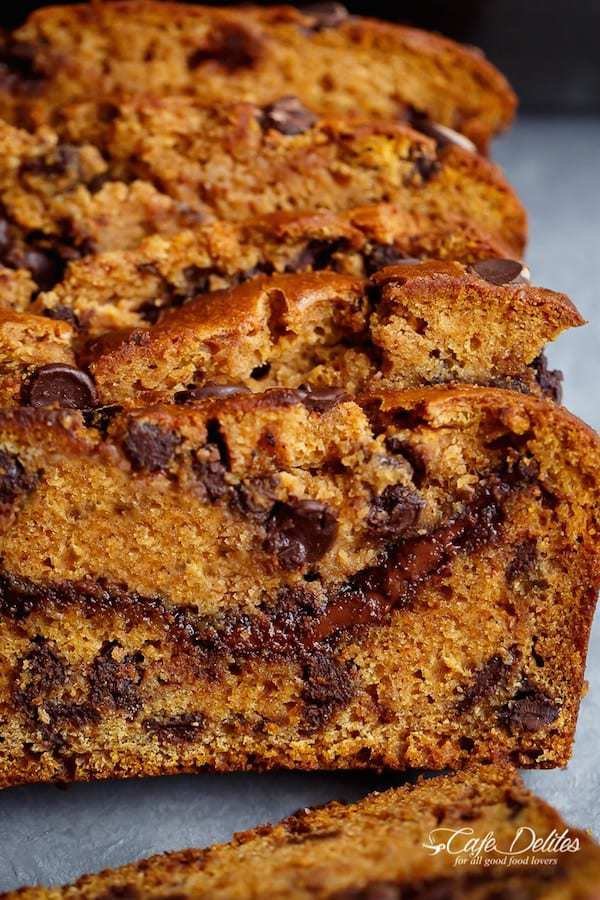 Recipe – My Baking Addiction
9. Cheesecake Chocolate Chip Muffins
Breakfast has never been so thrilling! The recipe for cheesecake chocolate chip muffin is fantastic and sheer bliss in every bite. The recipe is present at Mom On Timeout and is one of the most amazing recipes of all time.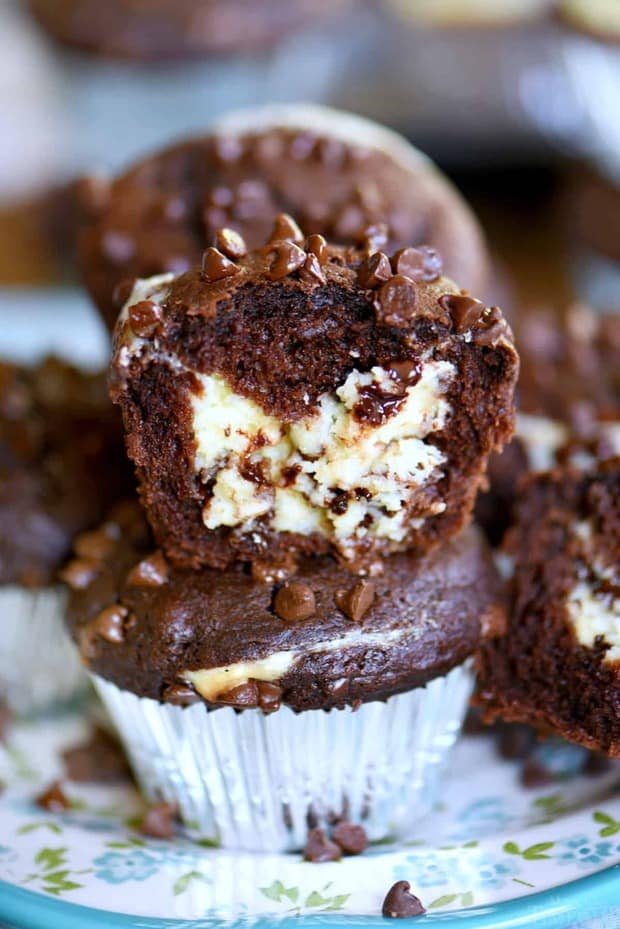 Recipe – Mom On Timeout
10. Banana Chocolate Chip Sheet Cake with Cream Cheese Frosting
The sheet cake is rich in cheese frosting and then garnished with choco chips on top. The recipe is present at A Family Feast! Tender and sweet, the banana sheet cakes are brilliant and made for the holidays to your delight.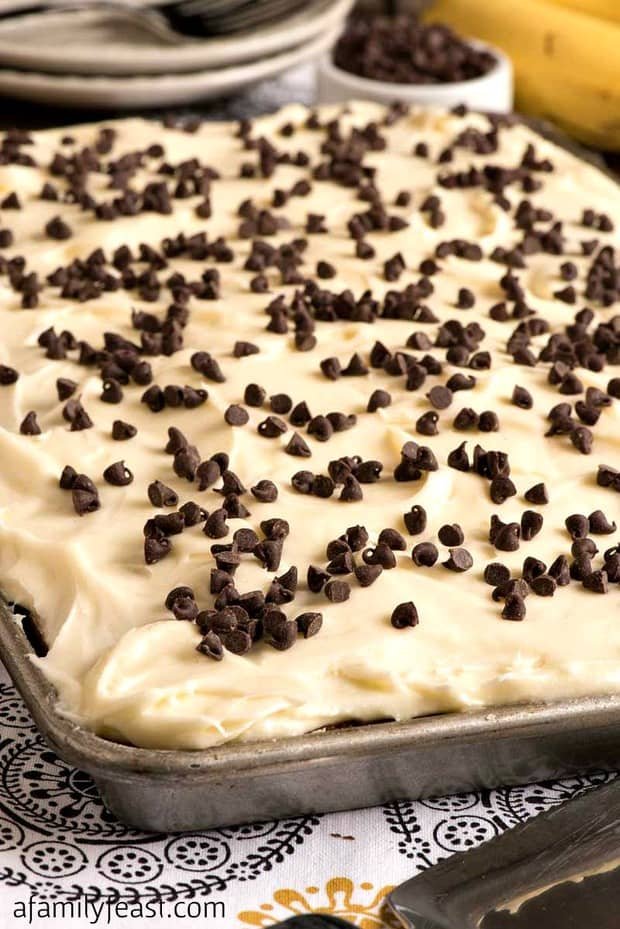 Recipe – A Family Feast
11. Chocolate Chip Coffee Cake
The crumbly and gooey coffee cake is the best choice when you are a fan of the rich coffee flavor along with the smoothness of cocoa. The recipe is available at The Salty Marshmallow and is one of the most exotic recipes for choco chips ever.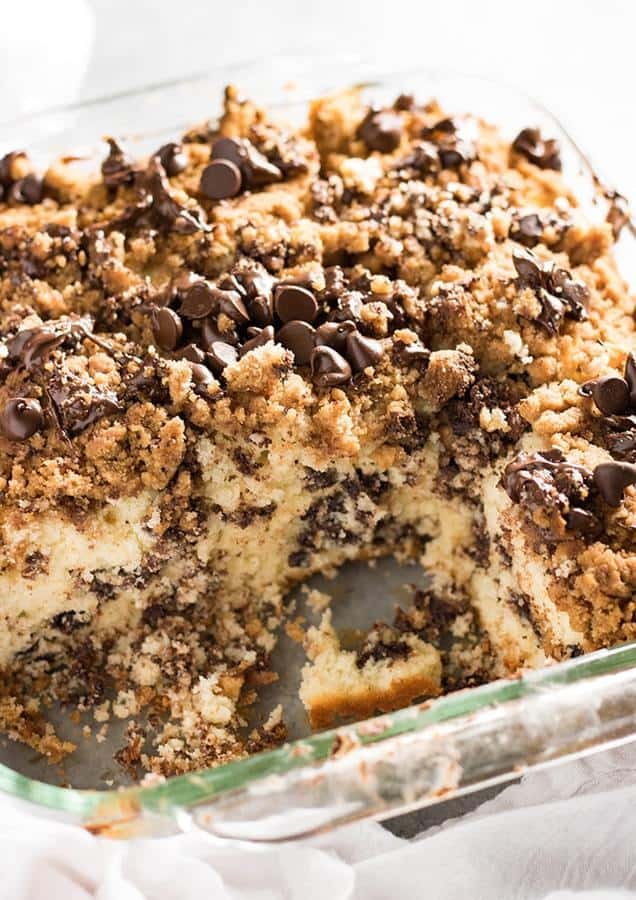 Recipe – The Salty Marshmallow
12. Soft and chewy oatmeal chocolate chip cookies
Chewy and soft, the oatmeal chocolate chip cookies are refreshing to enjoy with a cup of tea. We have converted the boring oatmeal cookies to something gun with loads of choco chips!
Recipe – Liv for Cake
13. Cheese chocolate chip cookies!
The classic cream cheese chocolate chip cookies are a marvelous one as you wish to explore the flavours of sweetness in the holidays. The recipe is present at Sugar Spun Run and is such a brilliant recipe that you can explore indeed.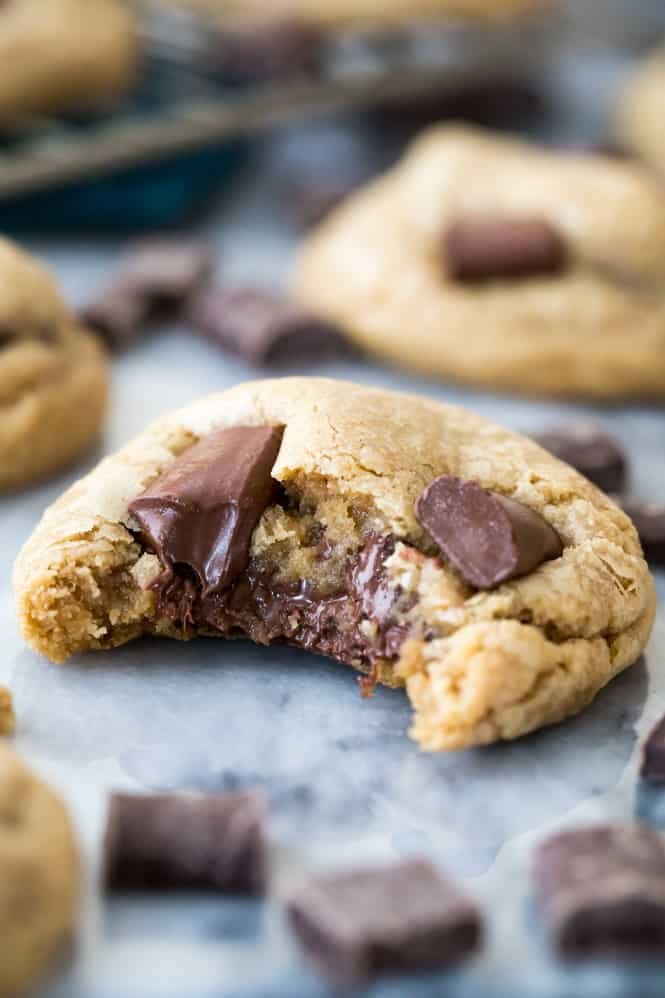 Recipe – Sugar Spun Run
14. Chocolate Chip Banana Bread
Scattered with peanut butter icing, the banana bread is made by A Latte Food. The bread is tender and fluffy in texture and topped with chocolate chips. This recipe is extremely easy and made with tea for breakfast or an evening indulgence.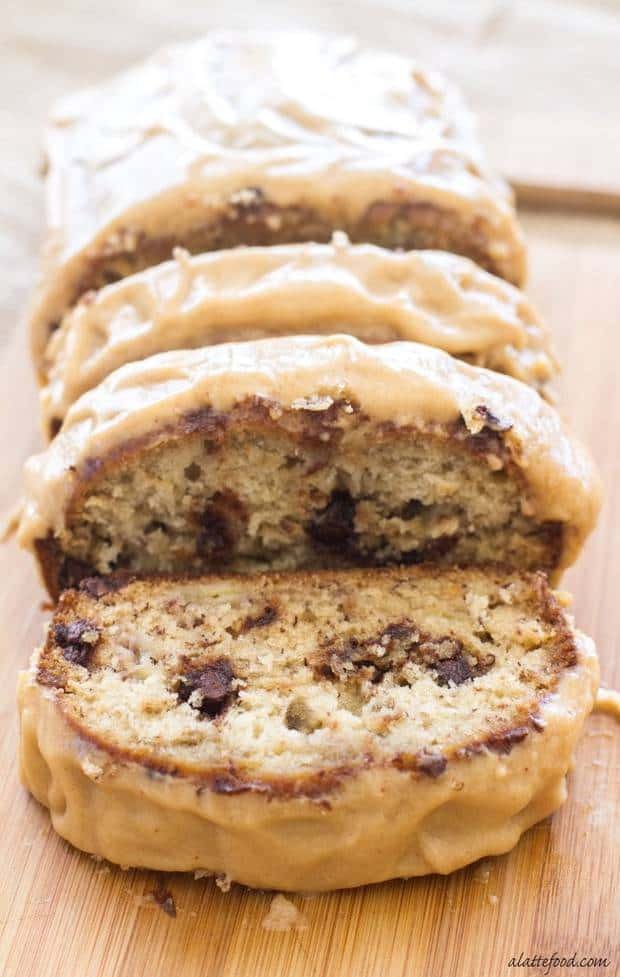 Recipe – A Latte Food
15. Oatmeal Chocolate Chip Cookie Bars
A huge crowd-pleasing recipe that it is, the oatmeal chocolate chip cookie bars are wholesome and yummy to enjoy as many as you want. The recipe is present at Tastes Better From Scratch if you wish to make the most fantastic chocolate chip cookie bars ever.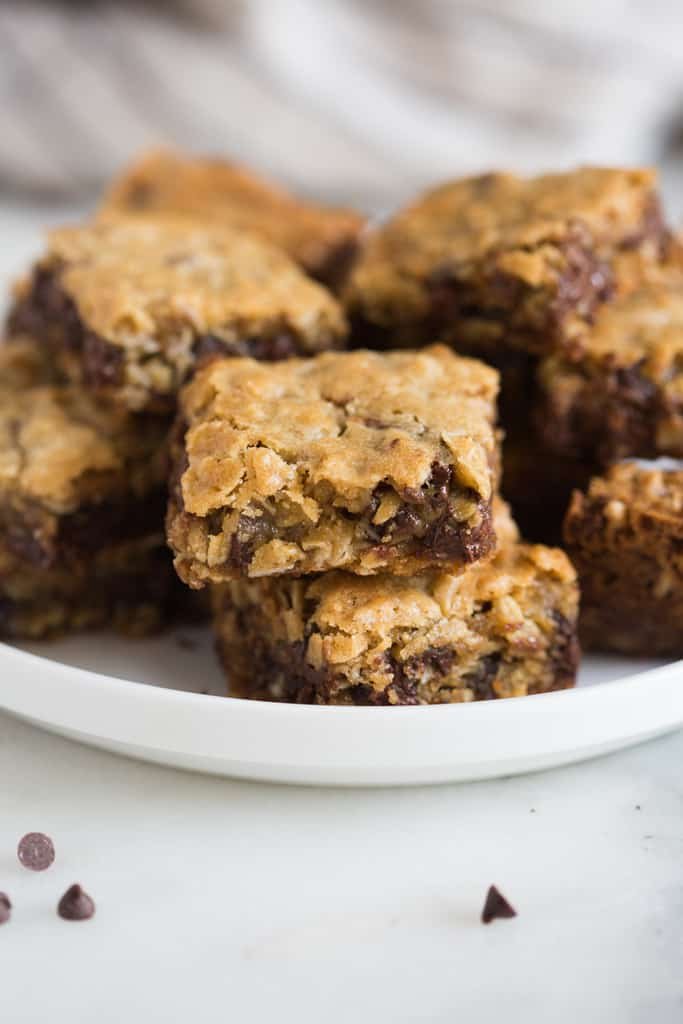 Recipe – Tastes Better From Scratch
16. Pumpkin Chocolate Chip Baked Oatmeal Cups
The oatmeal cups are crispy and a creation of The Recipe Rebel. The combination of flavors of seasonal pumpkins and chocolate chips is a highly recommended one that you should relish as a sweet and healthy treat.
Recipe – The Recipe Rebel
17. Coconut Toffee Chocolate Chip Cookie Bars
Here is a toffee that you will absolutely fall for! The wonderful flavor of coconut and the drizzle of chocolate chips make the cookie bars such a delicious option to explore. The recipe is present at Mom on Timeout for you to emulate.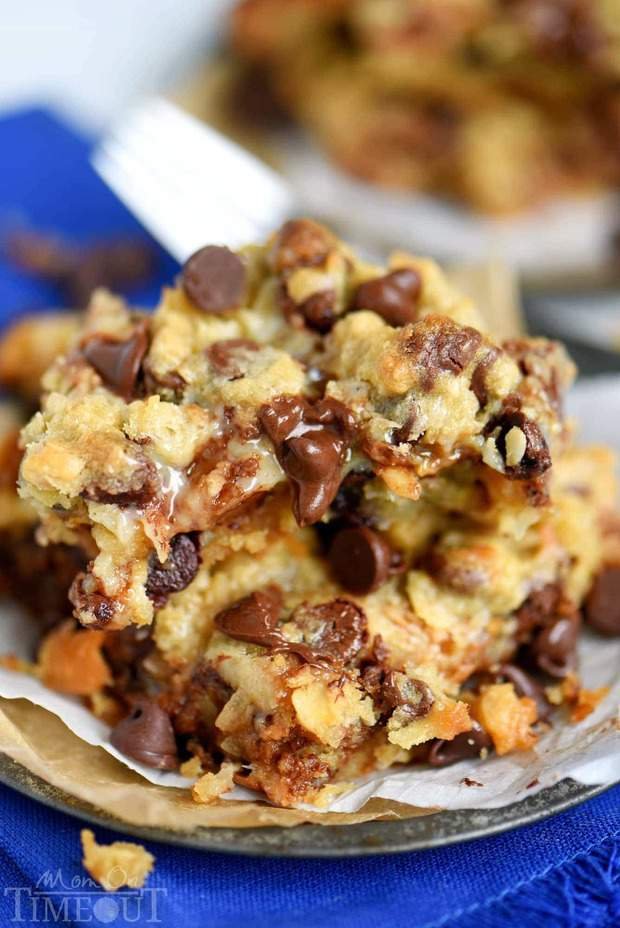 Recipe – Mom on Timeout
18. Chocolate Chip Cookie Cheesecake Bars
All you need are five ingredients to make the cheesecake bars with loads of chocolate chips of course. The recipe is present at Mom on Timeout for a wonderful experience indeed. A perfect crispy delight in the holidays for the guests.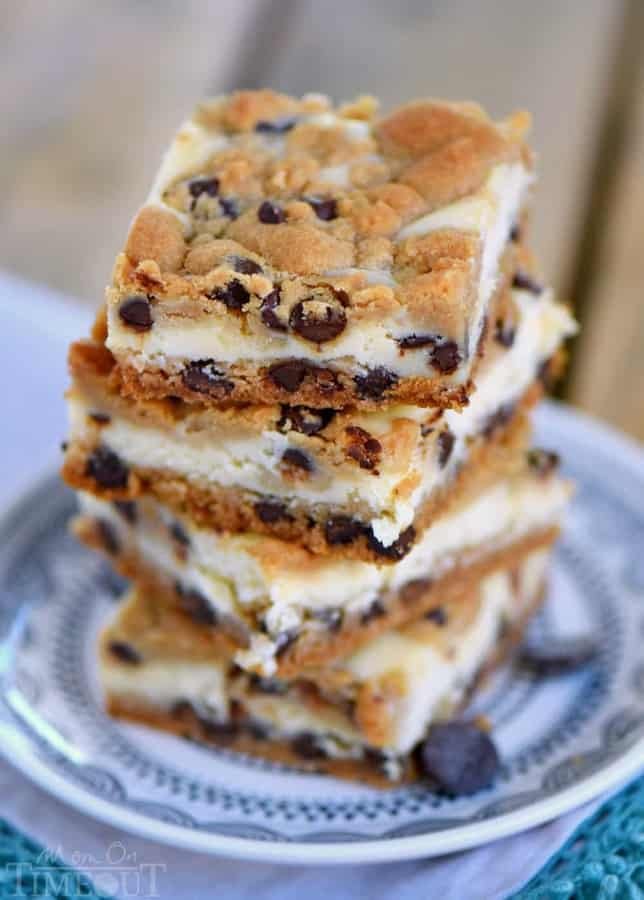 Recipe – Mom on Timeout
19. Banana Chocolate Chip Cheesecakes
The homemade chocolate chip cheesecakes are tender and flavorful! The recipe by Inside Bru Crew Life with the combination of banana and chocolate chip is fantastic and you will certainly fall in love with this amazing dessert. Check out this dish for sure!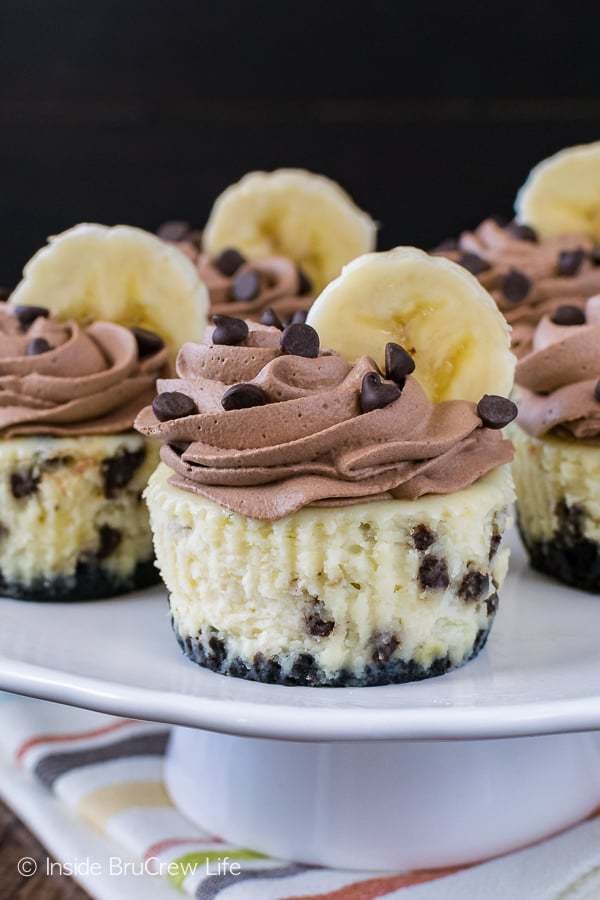 Recipe – Inside Bru Crew Life
20. Brown butter chocolate chip cookies
Sweet and salty, the brown butter chocolate chip cookies are gorgeous and made by Liv for Cake. Nutty and drizzled with sugar dust, the dish is crispy and fabulous to go with a warm cup of beverage in the winter. So are you ready to bake some?
Recipe – Liv for Cake
Read more: