Potatoes are something that is universal and can be cooked with anything you want! From mashed potatoes to baked recipes, the options are simply endless! If you are fond of potatoes then there is nothing better than beginning your day with them! A wholesome and yummy breakfast marks a great start to your day! Whether you want gluten-free or vegan dishes, the options are all lined up here. So read on to find out some of the benefits you can enjoy with the Christmas breakfast potatoes recipe!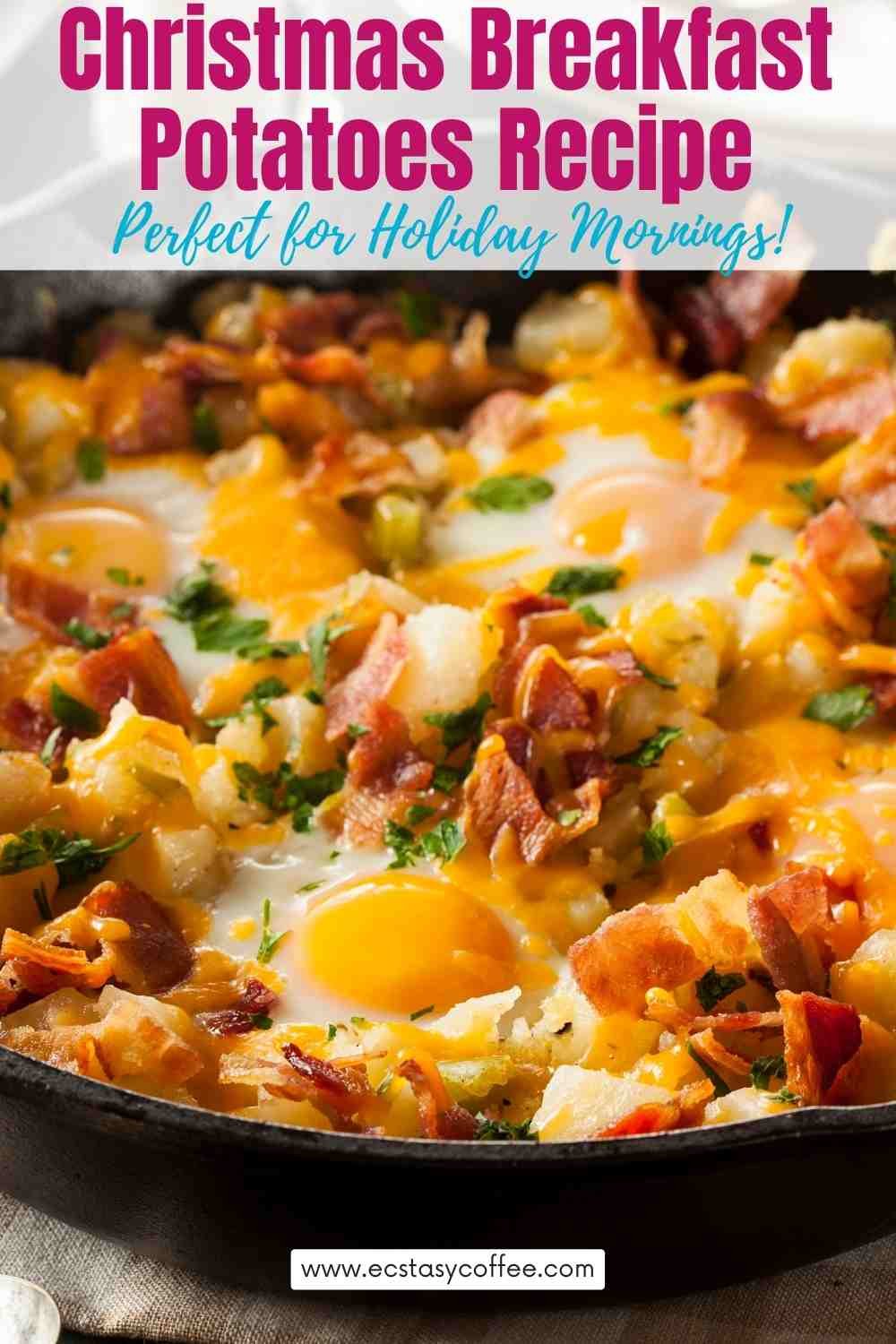 Everything you need to know about making and enjoying potatoes for breakfast
Potatoes are more or less healthy to consume for breakfast but it depends on how you consume them and what determines whether the recipe turns out to be a good option for you or not. For example, deep-fried potatoes in oil are simply not the best option for you when you are cooking them for breakfast! You do not wish to feel bloated, do you? Similarly, too much cheese is not good either!
It is the simplicity that you maintain with your potatoes for breakfast which determines how healthy they shall remain! Nutritious and yummy, the simplistic approach for potatoes works out the best!
What are some of the tips that you must follow if you are making baked potatoes for breakfast -
If you are baking potatoes for breakfast then it is a two-step process! First, you need to half boil the potatoes so they end up turning tender and then you can go ahead with baking them in the oven.
Get large-sized potatoes so that one is enough to feed each individual around the table.
First, make sure that your potatoes are cleaned well before you boil them! Steaming is a better method than boiling! This will take about twenty minutes generally under high heat!
Drain the potatoes while they are still warm and then you can use gloves as you transfer the potatoes to the oven tin, getting it ready to be baked.
Baking will also take about twenty minutes after which you can pierce a fork into the potatoes to check whether they are ready or not.
If you want you can get your potatoes baked in the evening and warm them up the next morning if you are running short of time during the holidays!
What are the major health benefits of consuming boiled potatoes-
Baked potatoes are a rich source of soluble dietary and insoluble dietary fiber! And you are already aware of the health benefits of fibers, isn't it? They will regulate your digestion and maintain the microbiome environment in your gut. Potatoes are also a good source of Potassium, Iron, vitamins B6, and C along with high iron content essential for blood formation.
Iron is mainly found in the skin and hence you are expected to never peel them off while you bake the potatoes. Potassium, on the other hand, maintains your heartbeat and proper functionality of the nervous system along with ensuring strong and sturdy muscle growth. Sodium and potassium balance in the cells is essential for the uptake and elimination of water and other fluids.
There are several antioxidants in baked potato dishes that help your body to combat the toxins which are released and need to be eliminated soon.
All in all, we can say that baked potatoes are a great source of nourishment for the body, and here are some breakfast dishes that you can try out during the Christmas break!
Delicious Christmas Breakfast Potatoes - Quick and Easy Recipes
This potato recipe for breakfast is super rich in flavors and packed with herbs and seasonings!
From parsley to garlic and other spices, the diced potato cubes taste so good!
They are simple and yet so yummy!
Serve the crispy potatoes with eggs and veggies for the holiday season!
Perfect to tempt you in the morning as well as fill you up for the day until breakfast is served, the roasted potatoes taste so marvelous indeed!
The luxurious and crispy potatoes with egg poach on top taste so excellent!
Rich and topped with herbs, the juicy baked potatoes will make you crave more and more.
Are you ready to make them during the holiday season? Shall we then?
Escalate the flavor of the potatoes with some pepper and onions tossed into the pan!
Stir-fry the dish and serve it with buns on the side or as filling for the sandwiches, whichever way you wish to consume them!
The Southern fried potatoes are an excellent creation that will keep you hooked to breakfast!
Crispy and flooded with rich seasoning, you are definitely going to thank us later for the idea!
So without wasting a minute more, let us get started with the preps then!
Cheesy breakfast potatoes with crispy bacon are a wonderful and succulent dish that leaves you craving more!
Smothered with cheese, this dish turns out to be an incredible choice for the taste buds!
Shall we try it then?
Drizzled with sweet apple sauce on top, the German potato pancakes are the best, to be honest!
Flooded with great flavors, you are definitely going to enjoy this hearty treat!
Are you ready to enjoy its blissful taste?
The luxurious and tempting parmesan hash brown is a traditional recipe that combines the best of the two!
Potato and cheese is a match made in heaven! What an incredible idea to begin your day with!
Shall we try it then? Let's go!
The tempting breakfast baked potatoes are right here to sway you off your feet!
The classic twice-baked potatoes are so easy to bake and hence we knew you had to try it out! Are you ready?
Drizzled with cheese and herbs, the baked potatoes are simply the best!
The crockpot breakfast potatoes are another incredible choice of the dish which you can even serve for brunch!
Comfort and cozy, if you want something light then you know where to look! Shall we?
The crispy skillet potatoes are great to go with eggs on the side!
Wholesome and yummy, the recipe can be easily prepared by tossing everything in the skillet!
Rich and cozy, the skillet potatoes are indeed an excellent option when you want something nice for the morning!
Classic potato pancakes are another incredible treat if you are in the mood for crispy and tender bites in the morning!
Simple to bake in a jiffy, the potato pancakes are so yummy!
See how delighted the kids will be when you present them with potato pancakes!
Steak and potatoes breakfast hash is a great choice filled with all your favorites!
With the holidays around the corner, you ought to give it a try for sure!
Have you tried the breakfast totchos yet? Then you should try out the wonderful bacon egg totchos for sure!
Drizzled with cheese, the recipe turns out to be a wonderful choice!
The combination of eggs and cheese always tops our chart!
Well, why not try out something traditional so we decided to let you know about the country potatoes that you can bake in the oven!
The recipe is pretty simple so you do not have to go through much hard work right in the morning.
If you are in the mood for something nice and luxurious then try out the fried potatoes with chopped sausages!
Tempting and delectable in every bite. What a splendid treat indeed!
The classic Mojo potatoes are a great choice of dish which makes you feel so tempted to head for breakfast in the morning!
If you are in the mood for something light and crispy, this potato recipe is perfect to opt for this season!
The cheesy breakfast potatoes are a great way to kick-start your day! Drizzled with crispy bacon, you are definitely going to fall in love with it!
So now you know what to make for breakfast tomorrow morning.
The lovely skillet potatoes and egg hash are another wonderful creation that you should indulge in this season!
Drizzled with herbs of your choice, the potato breakfast is one of the best we must admit! Shall we then?
The sweet maple essenced potato hash is a wholesome choice that will fill you for long hours!
Succulent bacon crunches are amazing as well! Breakfast, dinner, or lunch, you can prepare it as a side whenever you want to enjoy it!
Conclusion
Christmas breakfast potatoes are the perfect way to start your holiday mornings! Not only are they delicious and hearty, but this easy-to-make dish is also a great way to bring everyone together. With a few simple ingredients and a little bit of time, you can serve up a side dish that will have everyone asking for seconds. Whether you are serving a big family or a small crowd, this festive dish is sure to please. So, whip up a batch of Christmas breakfast potatoes and get ready for a delicious holiday morning!
As we've seen, Christmas breakfast potatoes bring festive flavor to your holiday morning. They can be easily adapted to any size crowd and are sure to keep everyone full and happy. As the great chef Julia Child once said, "You don't have to cook fancy or complicated masterpieces – just good food from fresh ingredients." So why not step away from the traditional and start your morning with this easy and delicious Christmas Breakfast Potatoes Recipe?
In conclusion, Christmas breakfast potatoes make for the perfect holiday morning side dish that is both festive and easy to make. This dish is sure to bring everyone together in the spirit of the season and keep them full and happy. So why not add this festive dish to your holiday morning menu today?
Read also: