Once you are sorted with meat, next comes your turn to indulge in making something for the sides, something vegan but refreshing! And what can be better than Brussels sprouts! So if Christmas meals are almost about to begin then this article is what you need! Before you buy your sprouts, let's get started with the preps! Christmas is the season of indulgence and merriment while also keeping in mind that greens are healthy and the more the better. Here are some facts and tips that you didn't know about Christmas Brussels sprouts.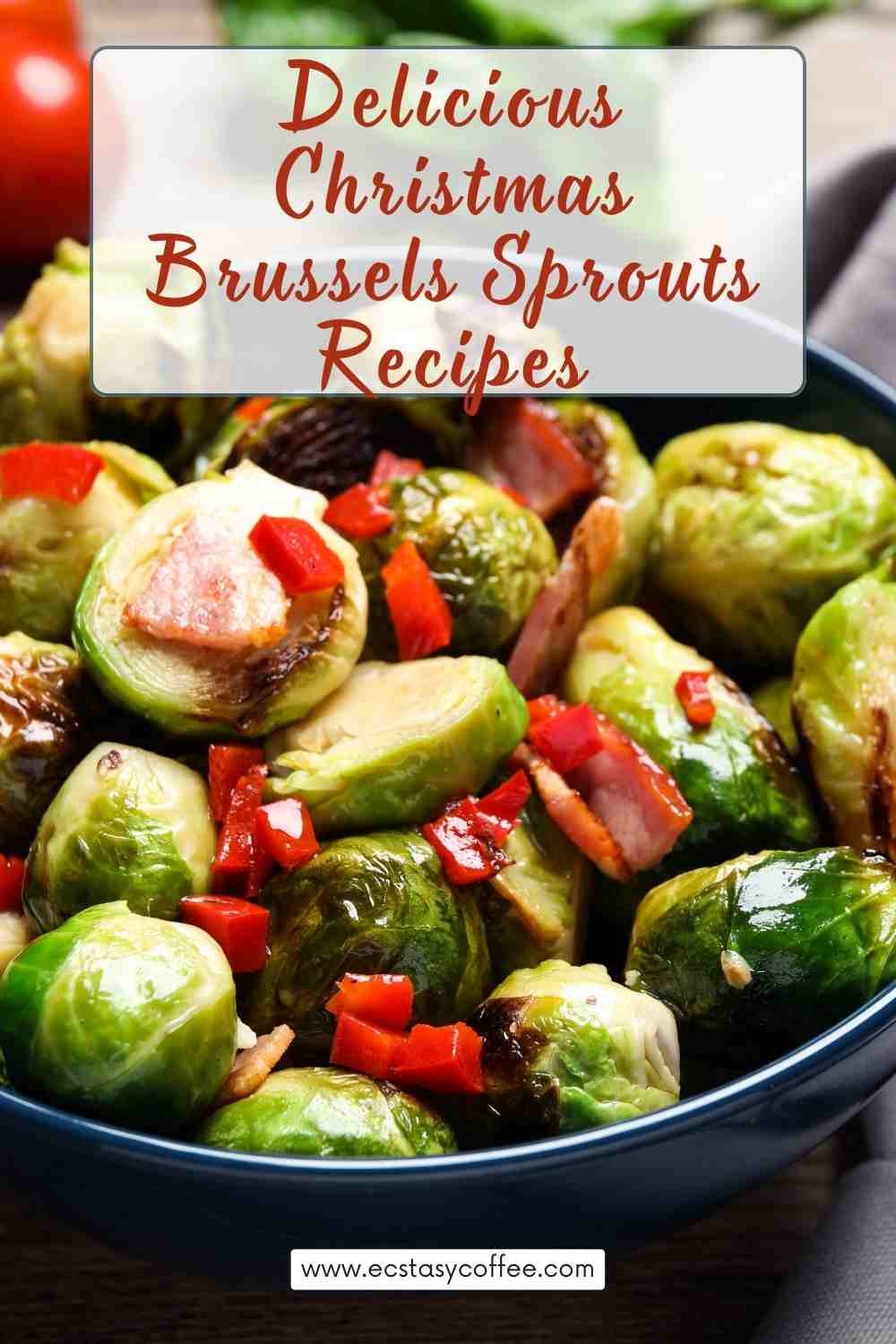 Awesome things to learn about making Brussels sprouts
1. So how do you know the right way to select your Brussels sprouts -
Well, let's get done with the first thing first! Of course, if you do not know the right way to buy them then what is the point at all? You have to learn the technique to select a couple of good and fresh sprouts and to do so the next tip is going to come great in handy. The smaller sprouts are more delicious and juicy!
Well, this is a tip that works with most veggies. You must also make sure that there are no blemishes on the surface of the sprouts. Try to select all the sprouts of the same size or you will have difficulty in even cooking style. While some will get cooked faster others will still remain raw.
2. What is the technique for storing Brussel sprouts-
Once you have bought Brussels sprouts next you need to think about the proper way to store them! Of course, you cannot finish everything in one day or make them right after you bought them, so you have to wonder about the ideal way to store them so that the Brussel sprouts last long. Here is the solution to your problem.
Remove the outer leaves and store them inside a plastic bag! Next, you need to store the plastic bag inside the coolest part of the refrigerator. This way you can store your extra Brussel sprouts for at least a few days! However with time as the sprouts age, the taste factor reduces and the bitterness becomes strong! So we recommend you buy them small and fresh and consume them in a couple of days.
3. What is the method of trimming Brussels sprouts-
Well, now that you are prepared in your mind to make Brussels sprouts for Christmas let's quickly learn the technique of how to trim and chop the veggie. You need to cut the base of the sprout and give an incision in the shape of an "X". Then remove the outer leaves and your brussel sprouts are ready to be cooked.
There are several techniques in which you can make Brussels and we will soon discuss the recipes! But before that, let's find out some tips that will come great in handy as you make the sprouts this season.
What are some of the tips for making Brussels sprouts
Before you jump into the process of making Brussels sprouts, here are some top tips which will come great in handy. So without any more delay, let us begin as with Christmas around the corner, we are truly running out of time.
1. Begin with buying compact, green sprouts-
Well, as we already stated, it is not only the best idea but also crucial for one to invest in compact and green sprouts. These should resemble a tight green ball! You do not want the leaves to be falling off! That isn't a great idea when buying sprouts. Smaller ones have a sweet and juicy taste but the ones which have slightly matured turn bitter.
On a day of occasion, you do not want your salad or bowl of baked veggies to taste bitter, do you? If there are brown spots on the leaves or the leaves themselves have turned yellow, you should not purchase such sprouts. The soggy and wet ones have a lot of moisture trapped in them because of being bagged for too long! These tend to have more brownish spots and must be avoided.
2. Size can affect the flavor of the Brussels sprouts -
As the Brussels sprouts continue to grow in size, they acquire the taste of cabbages more or less! Some might even taste slightly bitter. All of this can be avoided if you are careful about the size of the Brussel sprouts. In case, you have already bought the larger ones then store them away for roasting! A combination of high heat and fat adds some juicy and sweet flavors to the Brussel sprouts. Keep the smaller ones for salads or stir-frying where you are planning to eat them raw or slightly cooked.
3. Allow the Brussel sprouts to roast a little longer than you think you need-
Next comes the most important step to keep in mind! The technique to roast your Brussels Sprouts properly! And how do you think that should be done? Well, here is the way out of it! You need to roast the Brussel sprouts until and unless they turn out crispy and sweet!
The Brussel sprouts express their flavors well when roasted slightly more than the time mentioned in the recipe. The leaves eventually turn smokey and brownish which simply tastes so divine.
4. Raw Brussels sprouts are as good as they are roasted, to be honest -
Since we were stressing the fact that raw Brussel sprouts raw Brussels can taste bitter you might discard the idea of eating them raw completely but that should not be the case. Instead, you can opt for both! Raw is as good and juicy as roasted sprouts if you are aware of the size of sprouts that you must choose. The smaller ones taste sweet while the larger and the matured ones may not be as good as you imagine. Hence smaller ones should always be stored away for eating raw with salads while the larger for roasting crisp and brown.
5. Trim and cut them properly-
Depending on the kind of recipe you choose, the cutting and trimming style for Brussel sprouts will be quite different. There is no hardcore in the case of sprouts as there is in cabbages. Hence there is no need to remove them as well! However, the stems are often trimmed as they are hard and take time to be cooked. The yellowish leaves on top are removed. If you find some blemishes, chop them off as well.
Delicious Christmas Brussels Sprouts Recipes | Unlocking the Flavors of the Holidays
Delicious and crunchy, you will simply be amazed by the taste of the refreshing Brussels sprouts! Glazed with honey, the sweet Brussels sprouts dipped in stuck sauce taste so awesome indeed! Go for this dish right away! Shall we begin then?
The recipe for garlic-infused parmesan roasted Brussel sprouts tastes so divine indeed! The recipe is wonderful and hardly takes any time! Let's get started with the preparations before the Christmas bells begin to ring. The presence of parmesan makes it tastes simply divine.
If you are fond of Brussels sprouts but with the advent of the holidays wish to enjoy them in a wonderful way then you must go ahead with the garlicky essenced Brussels sprouts right away! Shall we try it then?
Here is a completely vegan recipe which is indeed a mind-blowing one to keep you company during the holidays. Delectable and crispy, serve it on the sides and see how delighted everyone shall be to grab a bite.
The fun part about enjoying Brussels sprouts is that they are ready in no time. Smokey and rich, the idea is simply outstanding and such a healthy one too. So if you are having some roasted turkey then make sure you have a bowl of sprouts on the side.
Well, we have to mention the crispy roasted Brussel sprouts because they are simply the best! Rich and crispy, you must definitely give this one a try for sure. Shall we then?
The combination of sweet potatoes and Brussel sprouts always works wonders but their smokey version was a match made in heaven. Hence we knew you are definitely going to love the idea of Brussels this season! Go for them!
Here is another beautiful recipe that we are sure you are going to fall in love with! The spicy flavors of sriracha combined with the sweetness of honey leave one simply drooling for more. So what are you waiting for?
If you are fond of sprouts then this season we have brought you the scope to indulge in so many varieties and options. The idea is brilliant with the smooth essence of honey and garlicky tough rendering a sense of contentment in every bite.
If you are running short of time then thank this recipe which comes to one's rescue! Crispy and flavorful, the recipe is brilliant and renders one simply speechless. So shall we get started with the preps then?
No matter how much we describe the blissful flavor of the dish, words will always fall short! The sweet maple essence and the crunchy make it impossible for anyone to resist! Plus, the tangy essence of cranberry also leaves its mark.
You are surely going to be fond of the maple bacon Brussel sprouts which taste simply awesome. Succulent and crunchy, the best of veggies and meat is described by this dish. So shall we begin then?
You must indulge in the goodness of the Brussels sprouts which are simply lovely! Loaded with great taste, you are definitely going to thank us later for the idea! Easy-peasy and yummy, go for time right away! Are we ready for the meal?
If simply Brussel sprouts weren't enough, we have the creamier and cheesier version of the same. In fact, the kids will be the first to finish it and end up asking for more. Shall we try it then?
How lovely indeed! Minimal effort and refreshing taste! Then what are you waiting for? Go for the dish right away! Here is something which is best to go with any meaty treat on the sides. So are you going to make it this time?
If you wish to enjoy your sprouts crispy and crunchy then this recipe will certainly help you out. Delectable and perfect to enjoy as an appetizer, go for this one too! Plus, these are so super easy to pull across well.
Ah lovely! This an authentic Mexican recipe that we are sure you will grow fond of at the very first bite. The combination of sweet corn and sprouts are indeed so refreshing that you will be amazed by the flavors.
Now here is another treat for the lovers of sprouts! In fact, you will definitely regret not making this dish for the guests! Oozing with cream and meaty crunch in every bite, what a wonderful idea we must admit.
Well, here is rather a unique way in which Brussels is served and so we knew you would be delighted to find out about the same. Gorgeous and yummy, there is nothing as tempting as this one right here.
We almost forgot to mention the crispy Asian BBQ Brussel sprouts! These are lovely and bear an Asian twist! Delectable and filled with saucy essence, this is a wonderful way to make the kids have greens without throwing tantrums.
Frequently asked questions associated with making Brussel sprouts for Christmas
1. What is the nutritive value of Brussel sprouts?
If you are having Brussel sprouts then you should be aware of the nutritive values it contains. For example, this has vitamin C, A, calcium, and lots of fibers. It is also a good source of potassium and proteins too! 
2. What are some of the common techniques for making Brussel sprouts?
There is literally anything that you can make with Brussels sprouts! Baking, steaming, stir-frying with other veggies, or tossing with meat chunks, like bacon, the options are simply endless.
3. Is it alright to have Brussel sprouts every day?
It is fine to consume Brussel sprouts every day as long as you maintain moderation! This is because as we know nothing too much is good! You can combine them with other veggies and recipes to enjoy every day in some form of the other. Plus they are known for their anti-oxidative properties and hence reduces the oxidative stress in cells.
4. Why do you need to soak the Brussel sprouts in salt water?
It is always recommended to store Brussel sprouts in water and salt so that the bitterness of the leaves can be reduced. This also softens the leaves and prepares them for cooking! You will observe that leaves which are soaked in salt water turn out crispier when roasted well.
5. Should you boil or steam Brussel sprouts?
Brussels sprouts should be allowed to be steamed or boiled whichever you desire but often a quick steaming is preferred over the latter, as steaming turns the leaves sift without destroying the greenish hue.
Bottom Line:
Christmas is the perfect time for a seasonal favorite: Brussels sprouts! These recipes offer varied and creative ways to make delicious Brussels sprouts dishes that will delight and satisfy everyone this holiday season. Whether you choose an easy garlic-infused traditional side dish, a sweet and savory combination, or an unexpected flavor twist, Brussels sprouts recipes for Christmas will be a hit and please even the pickiest of eaters. As Julia Child once said, "Find something you're passionate about and keep tremendously interested in it." So why not get passionate about Brussels sprouts for Christmas dinner? Cheers to a delicious holiday season!
Read also: