Croutons dipped in liquid cheese are something that can make one go weak down one's knee! If you find cheese fondue fascinating then the recipes and the hacks will come to great use. Whether you are hosting an event or enjoying a great time with your family then here are some things that you must take into account! This is to be noted that fondue used to be a very popular recipe in the 50s and the 60s for parties and several social gatherings. Although they lost their popularity and got it back after a while, they keep featuring and then going off the table from time to time.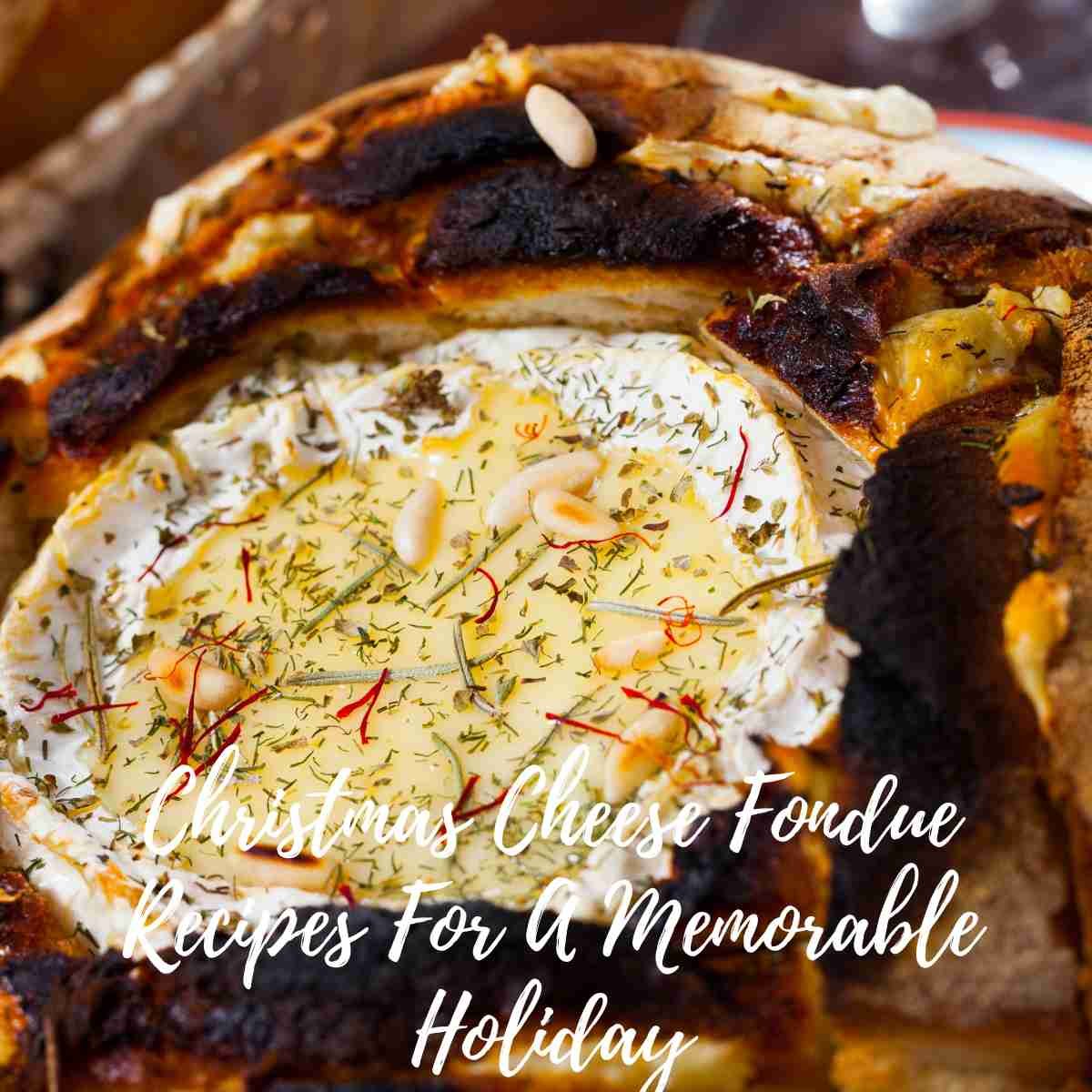 Tips for making cheese fondue recipe during the holidays
1. Add some alcohol to the fondue- if you haven't made cheese fondue before then you might not be aware of adding alcohol to the fondue! But do you understand the reason behind using fondue? It is used for reducing the boiling temperature of the liquid! As a result, the protein in the cheese will not curdle. So if you want your fondue to turn out smooth and gooey then you must go for some boozy essence in the dish.
2. The cheese mixture must be heated slowly- you should allow the cheese mixture to be heated slowly instead of too fast! Do you know what happens if you do the latter? The texture of the cheese mixture becomes completely rubbery. Here is another thing you have to be careful about! Heating them on high and fast will only be detrimental to the cheese and its texture. Unless you want chewy cheesy, do follow the rules.
3. Be careful when you are handling a large amount of liquid for the fondue- when you are making fondue for a large crowd, the liquid will be in huge quantities and that can be something difficult to handle when you are organizing a party! Safe to say so, you are expected to be double careful this time that you are handling something bigger. Although fondue looks simple, they are not. One must take care of how much liquid should be handled at each go or the cheese will turn too runny.
4. What is the substitute for white wine- you may opt for cider and juice, whichever you think is right for you! I'm case, at the moment, cider is not available, you can indulge in champagne as well. As we said, liquor is a very vital component of making fondue and you should be careful about which variety you choose to add to your cheesy sauce.
5. Consider the quality of cheese- next comes the quality of the cheese that must be taken into account. You have to take measures that the cheese you use should be fresh and taste good. Depending on your preference again, you can choose the variety that you want.
6. What can be done about a fondue which turns out to become too thick?
If you wish to deal with the fondue which turned out too thick, you can certainly deal with the situation! All you need to do is use some more wine and increase the heat so the consistency of the cheese fondue becomes thinner. However, pour small quantities of wine at a time so you do not drop extra.
7. Then what can you do about a fondue which is too thin- now that we have dealt with the situation where the fondue turned out to be too thick, here is something you can do if exactly the opposite happens. So if your fondue turns out to be too thin then you can opt for half a teaspoon of cornstarch or flour to the fondue. Combine it with an equal amount of wine. Stir the fondue properly until it thickens up and acquires the consistency it needs.
8. What is the kind of vessel that you need- if you are making fondue and serving it during the holidays there is another pointer that needs to be understood well. The vessel in which you serve the fondue. While metal pots are better for oil-fried fondue, hot pots are a great idea too! In case, you have ceramic, then opt for making the chocolate or cheese version.
9. Is there a way to keep the cheese fondue hot- if you plan to make the fondue ahead of time then you can opt for a crockpot! This way you can store your fondue for a long time and it will continue to remain warm and cozy. This idea is perfect for parties when you do not want to spend your whole day in the kitchen.
10. What are some of the beverages that you can consume with fondue- wondering what can accompany a good fondue on the table? Well, you have to try out something luxurious and fine too. Black tea or wine are recommended as the best ones that go with fondue well. Some experts suggest one won't consume water on the side with fondue as this has unwanted effects on your stomach and you tend to have digestion problems. Drinking water with cheese, makes the latter congeal, as a result of which, leads to indigestion.
11. What can you do with the leftovers- if you have too much fondue in the refrigerator and are wondering what to do the next day? Then here are some ways in which you can use the leftovers. You can drizzle the fondue on potatoes, veggies, and eggs and witness how gorgeous each of them begins to taste.
Summarising what a fondue should taste like-
1. What are the common seasonings which are used with fondue- if you are making fondue then you must learn about some of the seasoning options for making fondue. These include, garlic, nutmeg are some of the common options which enhance the taste of the recipe. You should also opt for chopped onions, shallots, or tomatoes along with paprika, green pepper, chili, or curry powder.
2. Let's learn the starters that you can go with- if you wish to serve some starters with fondue then you can opt for some dried meat like Bündnerfleisch, Walliser jerky, or Mostbröckli), raw vegetable sticks with a light quark dip, or a fresh, crunchy salad and so on. If you do not want to share your fondue with any other starter then go for it directly.
Here are some cheese fondue recipes for the Christmas season.
Delicious Christmas Cheese Fondue Recipes For A Memorable Holiday
Good and smooth, the cheese fondue is made with the richness of cheddar cheese and tastes so good indeed. Delectable and rich, you are definitely going to fall in love with the same. Shall we then?
How can you not have a recipe for a cheesy treat during Christmas and especially when it is the season of Christmas? You will be surprised to find out that the croutons are the first to disappear from the table with the bowl of cheese sauce rendered empty.
Well, if you did not try the chocolate fondue first then you must go ahead with the rich and luxurious essence. Delicious, lovely, the recipe is wonderful and flooded with the taste so divine.
Gorgeous and graceful, the creamy and delectable fondue is the most amazing treat for desserts. We can guarantee you can not wait to dip your fingers into the fondue. So are you ready to surprise your guests with this one?
Are you craving something nice and luxurious? Well, then why not make the Copycat melting pot beer cheese fondue at home? Magnificent and rich, a single bye is enough to sway you off your feet. Shall we try it then?
If you wish to make your fondue taste better then you have to go for the roasted garlic broth recipe! This escalates the taste of the dish manifold. Rich and flavorful, the dish is super exciting and yummy once you blend the two.
Here is a great dish that we are glad to introduce you to! The cheese fondue is a classic from the 60s and we are sure you will have a great time enjoying it. Serve it at a gathering if you are having one this season.
The salted caramel fondue is another fantastic dessert that you must indulge in! Rich and luxurious, if you haven't tried out salted caramel before then all we can tell is that you are majorly missing out on something good.
How lovely is the idea of candy bar fondue which is packed with wonderful crunchy crumbs! Syrupy and sweet, the dish is excellent and one can serve it at the gathering to the delight of the visitors.
All you need are five ingredients to come up with this wonderful recipe! Gorgeous and rich, you are definitely going to fall in love with this one at the very first bite. Shall we try it then?
Whoever likes the taste of gouda must go for the smoked gouda cheese served in the fondue! Why make the same old recipe for fondue again and again when you can give a try to the smoky gouda fondue instead? Shall we?
The old-time, classic cheese fondue is loaded with flavors so enriching! Juicy and smokey, there is no way you can resist this treat. From kids to adults, do not blame us, if everyone starts quarreling for their share. Let's make it then?
The creamy and flavorful chocolate fondue recipe is brilliant and calls for you to indulge in something fascinating like this one. So if you have some marshmallows and strawberries on the plate, go ahead and get this one ready in a jiffy.
Dip your strawberries in the rich and smooth chocolate fondue and see how good they turn out to taste. Lovely and enriching, you are definitely going to fall hard for this one. Shall we begin to make it then? We can guarantee you will thank us later for the idea!
Christmas dinner parties are grand, isn't it? Well, you can make them bigger and better with such a fondue platter. Easy-peasy and cheesy, everyone will be instantly drawn toward the table.
Luxurious and creamy, the thick chocolate fondue is absolutely the best that one can think of. Flavorful and yummy, there is no way you should miss out on this one. So are you ready to indulge in its blissful taste? Go for it right away!
We have the wonderful garlicky essence cheddar fondue which indeed turns out to taste so divine. With the presence of herbs and the subtle essence of cheddar, there is no way you should miss out on this one.
Here is another exciting cheese fondue recipe that we are sure you will be tempted to enjoy! The recipe is very simple to follow even for a beginner! Go for it right away! Make the holidays special!
That reminded us that Christmas is just around the corner and there is no way we are going to miss out on a marvelous fondue recipe. If you like cheese then you should learn to make the fondue too. Let us know how this turns out!
The sweet and creamy apple cider fondue with loads of cheese is the best option to make this season. Packed with flavors so enriching and the smooth consistency, makes you crave more and more.
Frequently asked questions associated with making fondue for Christmas
1. What are some of the things that you must avoid while having fondue?
There are some rules while you make fondue and even while you are consuming them! Do not eat fondue from the pot directly with your hands or you might end up with burnt fingers. No matter how tempting it seems, you cannot lick the pot.
2. What are the common types of fondue which are available in restaurants?
Fondues can be of different styles and you can consume them during a gathering or a festival, celebration, or small hang-out, as an appetizer. The different types of fondue include cheese, chocolate, oil, and broth fondue.
3. What do you mean by a fondue?
A fondue is a recipe with liquid cheese, which is served hot in a pot with croutons or bread pieces. The French used to serve Swiss melted cheese with some wine to make the cheese thin and smooth! A lamp is lit at the bottom and one can enjoy the liquid cheese with some bread or meat strips on the side.
4. Why is it called a fondue?
The fondue came from the word fondre, which means to melt in. This is a French word as the recipe originated in France.
5. What is the temperature at which fondue is served?
Fondue is served at 140-150°F. The boiling temperature is reduced so that the protein in the cheese does not curdle.
6. Is fondue a meal or an appetizer?
If you have a very small appetite, you can enjoy fondue as a meal and then find yourself filled or if you have hogged down enough cheese.
Bottom Line:
Christmas is the perfect time to try something new, and cheese fondue is the perfect way to make this holiday season extra special. We've shared some recipes to give you a delightful holiday feast that's sure to become a family tradition. From smoky gruyere and creamy gouda, to the unexpected flavors of blue cheese, each recipe can be altered to suit your tastes. So gather around the table and let the Christmas cheer begin.
At the end of the day, it's not just about the food. It's the feeling of being together that makes a Christmas gathering so special. As the beloved author T.S. Eliot wrote, "The purpose of life is to be, to be the intention of the love that created us." By creating a delicious and memorable Christmas cheese fondue, we can bring that intention to our holiday celebration and be a part of something truly special.
So let's join hands, break some bread, and cheers to a Christmas full of joy and laughter. Gather around the fondue pot, take a dip, and enjoy the season of love and giving.
Read also: