Indulge this holiday season with these easy-to-make Christmas Chocolate Bark recipes! From classic treats to more creative flavors, you'll find something to please everyone. Treat your loved ones to homemade holiday style and add festive cheer to your celebration with these delicious recipes.
More collections: Christmas Baking, Christmas Main Dishes, Christmas Vegetable Salads, Canning Christmas Recipes, Christmas Ham Recipes, Christmas Mulled Wine, Christmas Candy Brittle Recipe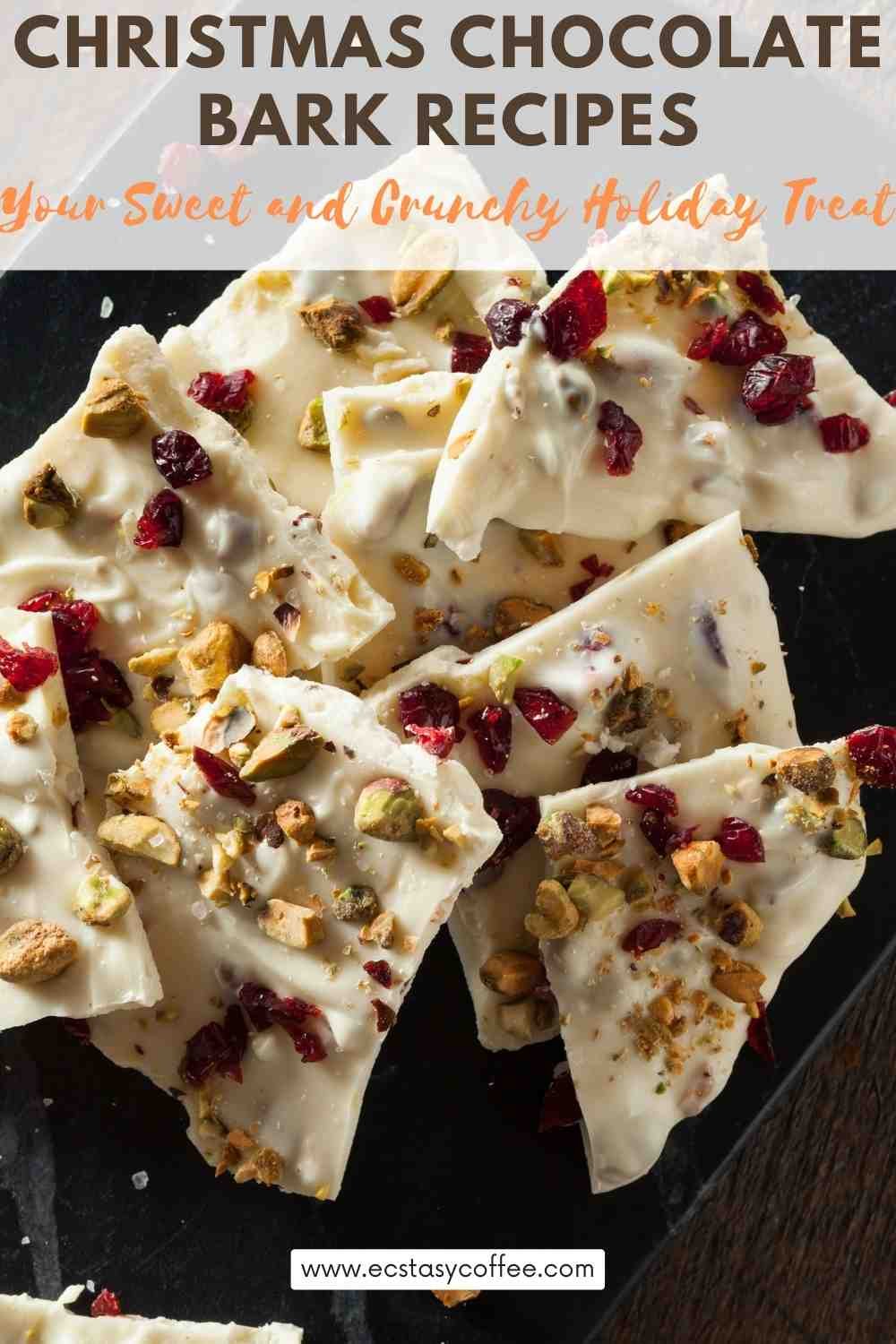 Christmas is the season of joy and celebrations! It is the time of the year when you can engage in fascinating treats and adorn the how to represent the high spirits you are in! And what is even Christmas without some chocolate barks to keep you company? But if you are trying this for the first time, then go ahead and read what we have got for you! So are you excited to see what we have got for you? Yes, twenty Christmas chocolate bark recipes and some tips to keep you company!
Useful tips and hacks to make Christmas chocolate barks at home
So, what is chocolate bark?
If you have heard about chocolate barks for the first time or you are baking it for the first time in your life, then you first need to know what this consists of! This is a thin layer of chocolate chip that resembles a sheet or a mosaic tile! It is filled with treats like nuts, cookies, candies, pretzels, dried fruit, toffee, and so on. Probably the reason why it is called a bark is due to the presence of an irregular surface studded with ravenous treats.
The best part about chocolate bark is that they are extremely easy to make. All you need to do is melt the chocolate in a pan as it turns out to become smooth and then stir the mix-ins to allow the chocolate to cool down as it is laid on a flat surface. Once hard, you can break it into irregular shapes and sizes.
It is interesting to note that back in those days, around the 80s, the only chocolate bark that you would find in the shops was filled with almonds and then made with white chocolates.
White chocolate and almonds were very popular options during those days, but now the options for mix-ins have increased, so you can enjoy myriad flavors. These days dark chocolates are also used for the preparation of bark!
So, what chocolate should you use to make barks?
If you are wondering what chocolate you can use for making barks, then here is something that shall prove useful for you! Both pure chocolate and compound chocolate are good enough when you are making bark.
Pure chocolate- this is to be noted that pure chocolate contains cocoa butter which needs to be melted at room temperature first. The texture is smooth, and the flavors are highly luxurious.
But why is there a need for you to temper the pure chocolate first?
There are crystals in pure chocolate which stabilize at a certain temperature! When you are heating the chocolate, make sure that the temperature is not so hot that such a phenomenon occurs. However, this is to be noted that tempering your chocolates is essential, or they will not harden while making the barks. It is quite tricky to temper the chocolate, so you need a lot of practice and effort, but slowly, you will learn to do so.
Is it possible to make chocolate bark with chocolate chips?
In the presence of cocoa butter, chocolate chips need to be tempered. This is required so that your chocolate barks harden well enough. But is it possible to melt the chocolate without the use of an oven?
That is a rather good question to ask yourself! And the answer is yes! If you want to check whether the chocolate has been tempered well, here is what you need to note. Dip the spatula or knife into the chocolate. Shake it and remove it to be placed aside and then allow it to cool down at room temperature. Three to five minutes is all that you need to let the chocolates cool down.
Christmas Chocolate Bark Recipes - Celebrate the Holidays with Delicious Treats!
Making bark for the first time in your life, then go ahead and try out this recipe for sure!
The rich and gooey chocolate bark is one of a kind.
Criosy, delicious and crumbly, the sweet M&M pretzel bars are the best treats for the little ones! Make it this season.
The crunchy Rocky Road chocolate bar is yummy and flooded with great flavors.
Delectable and rich, there is nothing as good as this one! Smooth and savory, you ought to try it out!
If you are fond of minty essence, then the grasshopper mint chocolate bark is the best to relish this season.
Savory and rich in flavors, you will come back thanking us later for the idea! So shall we try it then?
We can't imagine Christmas without the presence of chocolate bark on the table!
Crispy, crumbly and rich, crackling barks like these will leave you tempted for more.
This is an extraordinary creation leaving you with a temptation to have more. Let's go!
Dark chocolate barks with fruits and nuts are an incredible creation! This is a brilliant idea if you are looking for inspiration to make barks!
What a creation to escalate the joy of the Christmas holidays! The presence of fruit and nuts does justice to the barks.
If you are a fan of Oreos, then you must try out the delicious Oreo Christmas barks!
Delicious and crumbly, the outer white chocolate layer contrasting with the Oreo crumbs turns out to be an exciting idea to indulge in!
Have a great baking session.
You are going to fall in love with the dark chocolate bark! Exclusively here so you can serve the little ones with a wonderful treat, we will make you the favorite aunt to your nephew and niece!
So shall we get started with the preps already?
The sweet and healthy apple barks are the perfect treat for the season!
So if you are in the mood for something crunchy and rich, then you should go ahead with this one.
What a wonderful creation to leave one asking for more! Delectable and flooded with nuts and dried fruits, the caramel turtle barks are one of a kind. Make it today!
The homemade salted caramel barks are wonderful and flooded with great flavors!
Rich and crispy, the gooey chocolate barks adorned with pretzels look so ravenous that you can hardly resist yourself.
So let's get started with the preps already, shall we?
That's right! The best part of making the chocolate barks is that you do not have to indulge in baking them at all!
Rich and crumbly, the barks are delectable and look so tempting! This Christmas season, do not miss out on this one.
The simple and cozy chocolate bark turns out to be an incredible idea! Loaded with all the mix-ins that you can probably think of!
The chocolate bark is a marvelous treat for the season! Shall we, then?
The raspberry dark chocolate is another brilliant creation that shall leave you with such an extraordinary aftertaste in your mouth!
Perfect for making your holidays even special, we are sure you will find this one such a wonderful idea to cherish on the table.
Delectable and crumbly, the smooth chocolate pretzel rugelach bars are yummy and leave you tempted for more.
Are you trying out barks for the first time? Then get started with the idea already! So what are you waiting for?
Flooded with the essence of peanut butter, chocolate, and almonds, there is no way you can resist yourself!
Savory and packed with dark chocolate, this is an exciting one to bake during the holiday season. Let's go!
Dark chocolate almond bark is right here to sway you off your feet! Sweet and savory, the presence of almond bark turns out to be an outstanding candy for the holidays.
Drizzled with sugar dust, you will definitely thank us later.
Colorful and vibrant birthday chocolate bark is an incredible recipe and is flavored with nuts!
Packed with rainbow sprinkles, the idea leaves you asking for more. In case your birthday coincides with the holiday season, then go ahead with this chocolate bark!
Packed with great flavors, the chocolate raspberry bark is a source of sheer delight for the taste buds!
Sweet, tangy, and savory, you ought to indulge in its blissful taste! So what are you waiting for?
Make it today and surprise everyone in the house.
Mint chocolate swirl barks are so elegant to look at that you will take a moment to admire them first!
And then, coming to taste, mint is best suited for the Christmas season. Give it a try!
Other recipes you should check out: Easy Christmas DIY Recipes, Halloween Treats, Christmas Candy Recipes, Halloween Caramel Apples, Instant Pot Pork Tenderloin Recipes, Instant Pot Recipes For Beginners, Christmas Beef Tenderloin Recipes