Celebrate the holidays with these unique and delicious Christmas Chocolate Fudge recipes! With detailed instructions and photos, you'll be sure to make the perfect treat this season.
More collections: Christmas Main Dishes, Christmas Vegetable Salads, Canning Christmas Recipes, Christmas Ham Recipes, Christmas Mulled Wine, Christmas Candy Brittle Recipe, Christmas Chocolate Bark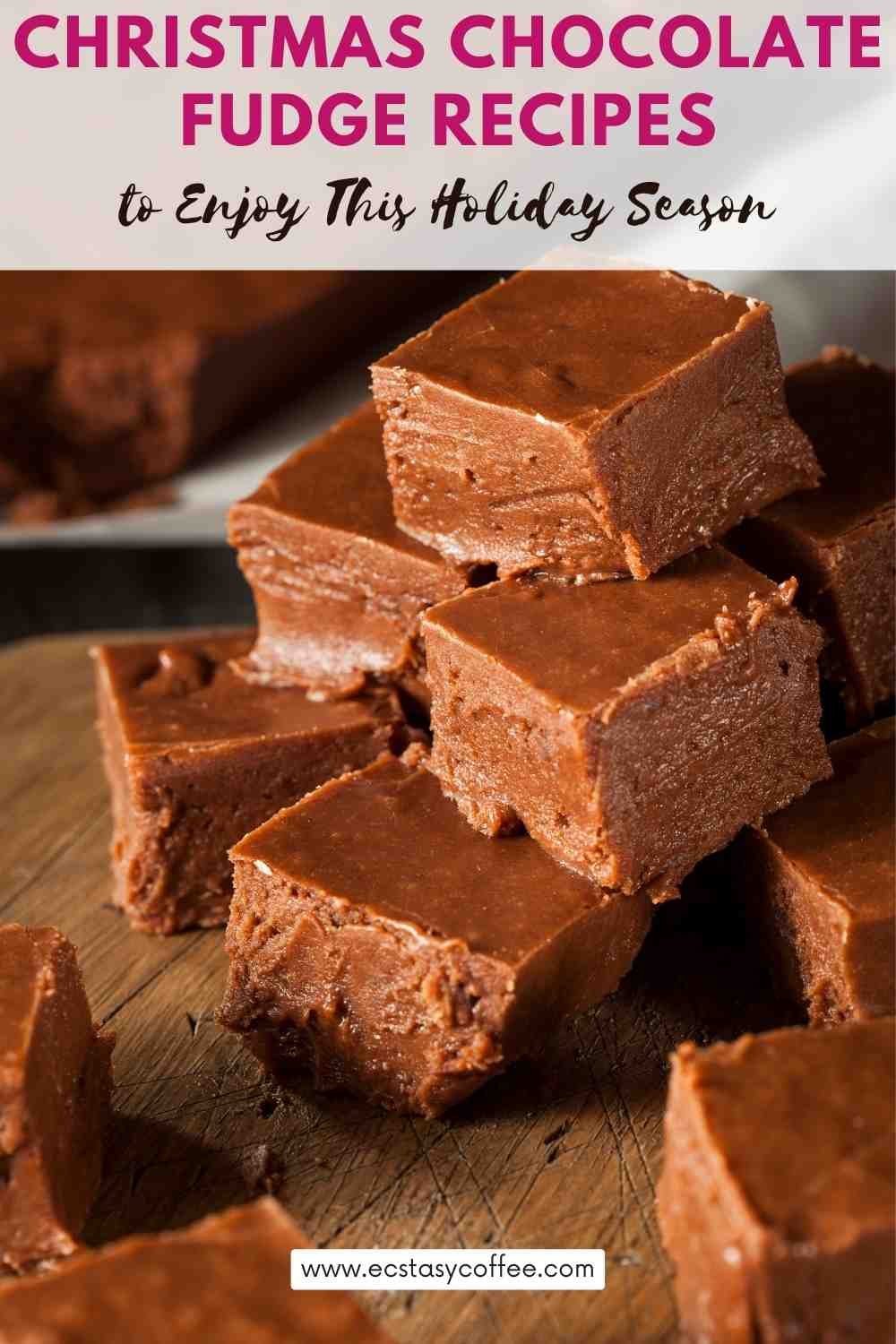 Christmas is the season of celebration and wonders! The closer it gets, the more excited we become. And amidst all, if you feel like indulging in something nice and sweet, then fudges are the best thing to prepare! Holidays can get overwhelming at times, and you might need some things to cheer you up! That is what Christmas chocolate fudge making is all about! Stealing a few moments of relief and joy amidst the hectic preparations and festive arrangements. Here are some Christmas chocolate fudge recipes for you to follow!
Useful tips for getting your fudges right during the holidays
So, how can you make a fudge?
First of all, you need to know how to make a fudge! Let's get started with that first! Making fudge is very easy as long as you know the right ways and tricks. You basically need three ingredients to come up with your delicious Christmas chocolate fudge! These include sugar, butter, and milk! However you can use condensed milk, but a fat-free variety is always better. Other ingredients for making fudges include maple syrup, chocolate, or vanilla!
The ingredients may vary depending on the recipe that you choose to follow, but the process of making fudge more or less remains similar. First, the ingredients are required to dissolve the sugar, and then this ends up with a homogenous mixture. Then the mixture is allowed to grow thick before it is removed from the heat and allowed to cool down at room temperature.
What are some of the tips and hacks to keep in mind?
If you are wondering if there is still something for you to find out about making fudges, then let us tell you, there is!
1. You need a candy thermometer to monitor the temperature
Of course, you need a thermometer to estimate the temperature of the fudge syrup so that the fudges do not turn out too soggy or even too hard! Both extreme results are undesirable and can be handled if you have a thermometer in hand.
The maximum temperature of the liquid should be around 234-237°F. That is rather a very short range, and you have to be careful with the temperature so that you do not end up with either runny or too brittle fudges. You also need to make sure that the thermometer does not touch the bottom of the pan or the sides, which will result in inaccurate readings.
2. Once the mixture comes to a simmer, you are expected to stop stirring
This is to be noted that stirring is not good when it comes to making the syrup for the fudge, especially when the solution has been brought to a simmer! You are expected to let the ingredients settle down with one another so that consistency can be maintained.
At this point, stirring may not be an effective solution, and you are expected to avoid it at all costs. Stirring is vital, and when to do it determines the success of your fudge! When the sugar needs to be blended with milk, the syrup for the fudge needs to be stirred.
3. And finally, beat thoroughly
Here is the final tip for you but equally important, we must admit. You should beat the mixture once the solution is removed from the heat and allowed to cool down. This should be done when the mixture reaches a temperature of 110°F once it tends to cool down a bit.
Now, here are some recipes for Christmas fudge recipes to indulge in!
Delicious Christmas Chocolate Fudge Recipes
Ah, huh! The peppermint bark fudge is an incredible creation! Made in double layers, the top consists of mint, while chocolate is present at the bottom.
So let's get started with the preparations already! Shall we?
With four ingredients, the Christmas sugar cookie recipe turns out to be an exclusive treat to indulge in this season.
Scrumptious and chewy, the sugar cookie fudge is a combination of the two. So what are you waiting for?
The delicious and chewy fudge is a wonderful recipe that turns out to be gorgeous!
Rich and luxurious, the eggnog fudge is amazing, and what you are left with is a craving for more.
The creamy texture of the fudge is the main highlight of the recipe.
Milk and cookie fudge Christmas is delightful and packed with great taste!
Delectable and luxurious fudges like these definitely make it a sweet treat to the Christmas party.
So what are you waiting for? Make it today!
Ah, huh! You must have tried hot cocoa in a glass, but did you try hot cocoa fudge yet?
If not, this is the right opportunity for you to indulge in something chewy and rich at the same time.
Delectable and juicy in every bite.
It is the taste of almonds that is palpable in every bite! Delicious and smooth, you should prepare it as a treat if you have kids coming over to your place along with the rest of the visitors during the holidays!
They will love you and present you with them!
The gorgeous triple chocolate fudge is an incredible creation and leaves you tempted for more.
Gooey and rich, the three layers of chocolate with pecan on top make it a scrumptious treat for dessert lovers.
Grab a bite any time of the day.
One bite or a single piece will simply not be enough when it comes to making the gorgeous Paula Deen fudge!
And the best part is that it is ready in just five minutes.
The rich and luxurious cranberry fudge is flooded with a tart essence!
Smooth and sweet, there is a pecan on top, leaving you with an ultimate sensation of bliss!
Try it out and thank us later for the idea.
Cozy and creamy, the butter pecan fudge melts down your mouth and leaves a profound impact on the taste buds!
Fudges are the best treats for Christmas, and you should give it a try for sure.
All you need is five minutes! Yup, exactly that to come up with the gorgeous gingerbread fudge!
Rich, cozy, and tender, the small gingerbread men look so adorable indeed. So what are you waiting for? Make it today!
There is something as comforting as the sensation of the white chocolate fudge melting upon your taste buds.
Your holidays are incomplete if you haven't tried out the white chocolate fudges yet! So shall we make them this time?
Have you tried the candy cane fudge yet? If not, then you definitely have to try out this recipe which is right here for you!
Scrumptious and creamy, the vibrancy of the fudges makes you drool at the very first sight.
Ah, the ones who are in love with fudges should go ahead with the rich and tangy cranberry-flavored ones!
Savory and creamy, the fudge recipe is excellent and leaves you tempted for more. What we say is, do not resist that craving!
Making Grinch fudge is no big deal as long as you have these recipes at your fingertip!
Smooth and flavorful, there is no way you can stop yourself from picking one up from the bowl at the sight of the fudges. Shall we, then?
If you are looking for something unique to try out, then go ahead with the gorgeous red velvet fudge!
Creamy and chewy, there is nothing as lovely as this one. So what are you waiting for? Grab your share quickly.
What a divine creation to make our Christmas even more fascinating and gorgeous!
Rich and gooey, you should definitely indulge in the brilliance of the homemade fudge! So shall we then? Tell us later how it turned out to be!
The gorgeous cherry fudge with dark chocolate is an extraordinary creation and leaves you with a temptation so divine!
Creamy and prepared in two layers, this is nothing but a recipe curated in heaven. So what are you waiting for?
What an extraordinary creation if you are looking for something nice and rich to munch on!
Perfect for escalating the joy of the occasion, the presence of butter with the infusion of rum makes it too hard for anybody to resist hogging them down.
Eggnog fudge is simply lovely, and we have to end this list with something like this!
Classic and gorgeous, make your holidays special with such an extraordinary treat to keep you company at all times.
So let's get started, then!
Other recipes you should check out: Delicious Chocolate Cake Recipes, Christmas Candy Recipes, Peanut Butter Desserts, Unique Whiskey Recipes, Easy Fudge Recipes, Halloween Caramel Apples, Instant Pot Pork Tenderloin Recipes, Instant Pot Recipes For Beginners, Christmas Beef Tenderloin Recipes