Well, with Christmas around the corner, we are super excited, to begin with the celebrations and indulge in its brilliance! After all, this is the time of the year when we can let go of all the stress, forget about the worries, and give a fresh start to our lives. That is how we define Christmas. A wonderful farewell to the bygones. Today we are going to discuss cider drinks and how you can make them at home. Here are some tips that you can follow to make the best of the season!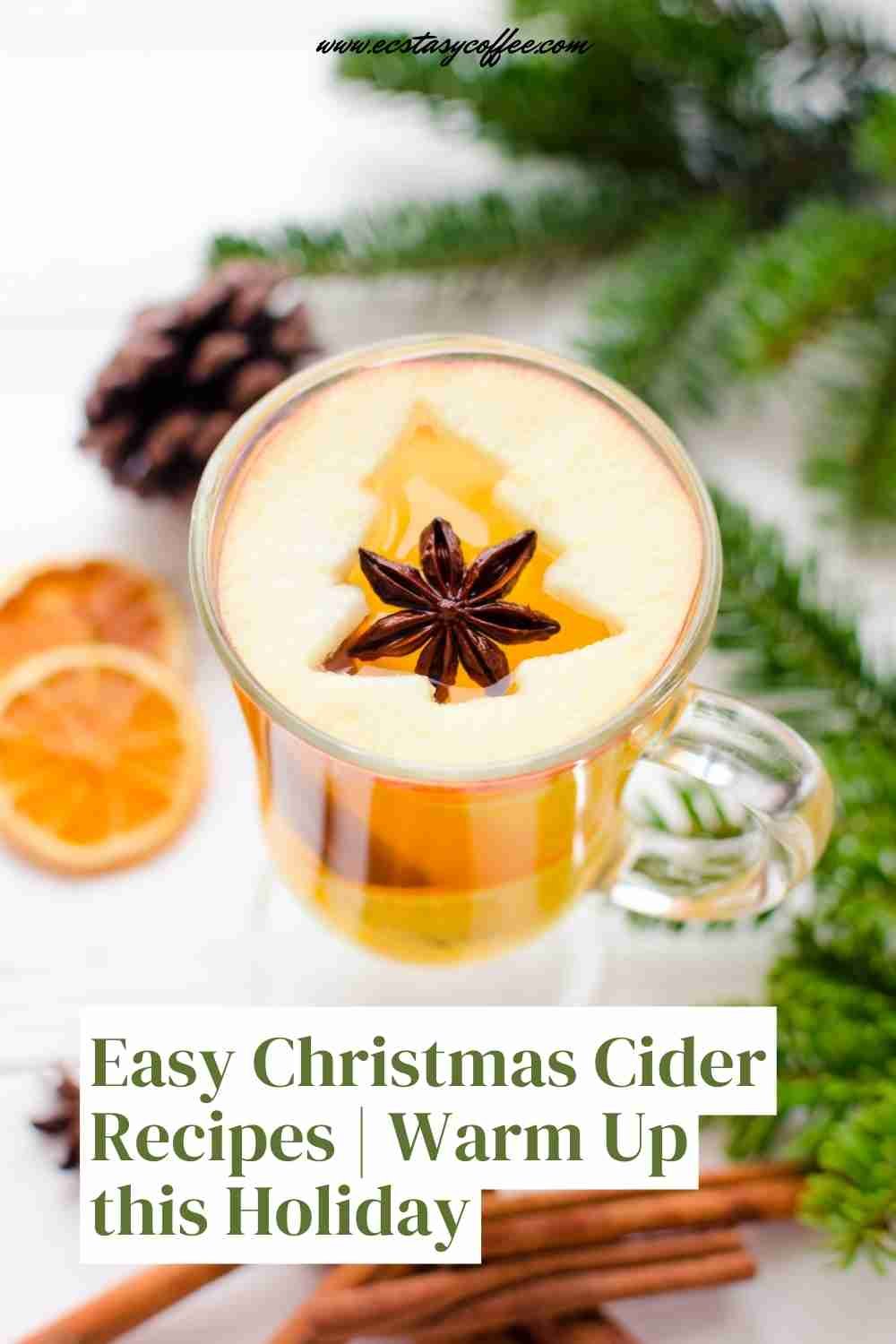 Tips for making cider drinks from apples( easy hacks to keep in mind)
How to make apple cider juice-
Of all the drinks which are fermented, Apple cider juices are the most wonderful of them all. So during the holidays if you are in the mood for something nice and light then go for Apple cider juices already.
Falls are the ideal time of the year when the apples are nice and red, hanging from the branches. This is the time the ripened apples are picked and then converted into cider juice through a series of steps that are involved! However, that does not mean you can't enjoy cider juice any other time of the year! Of course, you can!
Supermarkets are flooded with sweet apples on the racks and hence it is wise to say that all year round you can indulge in cider juices. You will be amazed to find out that a single tree of apples can provide several gallons of cider juice. It is indeed a great and exciting activity to involve in apple picking, with your kids, partner, friends, or family. Those of you who have orchards or have had in the past, know what we are talking about!
However, once the apples are picked, they are allowed to relax for one to two weeks in the basket! Certain changes are observed in the apples like the cell walls soften and so on. If you see a waxy layer developing on the skin of the apples, it is an indication that your apples are ready to be squeezed, crushed, and pressed to release the juice. This process is called sweating the apples and sweated apples produce 25% more juice than the fresh ones. Hence it is an essential step in making cider juice.
Extracting the juice-
Now there are several methods of extracting juice from the sweated apples! Depending on which you find suitable to work it, this goes as Hand mashing, manual presses, electric presses, and so on.
Pressing apples is one of the most fun-filled activities where you can even gather your friends and pals to join you in the task! It is truly wonderful and renders your day with a sense of excitement too! However, amidst all the fun and excitement, do not forget to check for rots and damage in the apples! Such apples need to be discarded as you need only fresh ones for your quality cider drink.
Minor blemishes are acceptable as they are not much harmful to the quality and the taste of the juice. But if you observe some soft spots then know for sure that it is the breeding spot for Acetobacter! You should cut and remove that part of the apple! These bacteria are required for making vinegar and not alcoholic cider. So we do not need them here.
Crushing the apples-
Next, you need to place all the apples in a big bucket and pour a mild and weak sanitizer solution. Then crush your apples first before they are moved onto the next step of pressing. As we said, there are several methods to accomplish the job! For instance, you can opt for a cast iron wooden manual cider press. It is a toothed drum with a hopper above it to feed apples into, one or two at a time, which is powered by a hand-turned crank.
But you can also opt for an electric crusher or bladder press. Acting as a wood chipper, the electric crusher is highly useful. The cleaned apples are fed down a tube to the sharp blades, powered by a strong motor. The processed apples are at the end dumped into the waiting pot. Then the crushed apples are crushed apples in cheesecloth or nylon fruit-pressing bags to be ready for pressing.
You should put a few apples at a time so that more juice is released. The greater the pulp, it acts as a shock absorber and prevents the center of the pulp from releasing all the fluids. Eventually, all the fluid collects as the entire pulp is processed and pressed. That is how one usually extracts the juice from the apples for cider.
Why do you need to use a hydrometer?
As you measure the concentration of the cider and whether it is too thin or the consistency has become thicker than required, a hydrometer is a machine that is put to use. The density of the liquid is measured with the aid of a hydrometer. A sweetened and unfermented juice certainly has more density than the fermented cider version. You can also measure the alcoholic potential of the liquid with the use of a very accurate and moderated hydrometer.
Sanitation and cleaning-
This is to be noted that sanitation is a very highly crucial step in fermenting a drink. Even with the slightest contact with air, the liquid can get contaminated with dust and dirt particles. Hence you must maintain a clean environment as you ferment your drink.
You must ensure that the exposure of liquid to air is minimal as the apple juice is undergoing the process of fermentation to become cider juice. As you are brewing the drink, make sure that the windows and doors are shut down so no incoming wind flow can enter. Do not vacuum in the same room or dust where you are making the drinks. All the equipment that you use for making the cider juice must also be sanitized from time to time. Also, the bottles where you are going to store the drink must be sanitized beforehand. Hence it is safe to say, the cleaner the environment the better is the quality of the drink.
There are several other small to big steps involved in the process of fermenting your apple cider drink and hence you should follow a trustworthy recipe or cookbook as you prepare the drink during the holidays! All the effort will be worth it as you enjoy the sip of it at the end.
Delicious Christmas Cider Recipes for the Holidays
So, we are about to make a wonderful boozy drink for parties and gatherings! Known as the Winter Wassail hot mulled cider, this is indeed a brilliant option.
Ah, we have come up with another gorgeous drink infused with the flavors of richness. The sharp cranberry essence with a smooth touch is indeed such an excellent option we must say. Try it out by yourself to find out and let us know how it turned out to be!
What a lovely drink to indulge in during the holidays! Delicious and refreshing, you are surely going to fall in love with its magnificent taste and wondrous flavors.
This drink has got it all to make your winters even more refreshing and cozy! Seasoned with cloves, cinnamon, ginger, and the subtle essence of orange renders this drink with a brilliant taste. So are you ready to experience its blissful taste?
Perfect to serve during Thanksgiving and Christmas, the hot spiced mulled apple cider drink is suited to the wonderful season. Gorgeous and grand, you will thank us later for the idea! So let's make it right away, shall we?
Yes, you heard it right! The Apple cranberry cider here is brewed in the slow cooker and tastes so divine. Fascinating and rich, you are definitely going to fall in love with its extraordinary taste! Thank us later for the idea!
Well, how can we miss out on this one? The gorgeous Spiced mulled apple cider tastes so brilliant that you will be completely swayed off your feet! If you are making this for the first time, then go for this one right away.
The smooth and enriching cranberry and apple cider punch is the best of both worlds! Refreshing and rich, the drink is lovely and the guests will truly appreciate your effort once they take a sip! So what are you waiting for?
Yes, we are talking about the Holiday winter sangria as Christmas is just around the corner. Light, boozy and flavorful, there is no way you should miss out on this gorgeous treat. Go for this one already and tell us how it was!
Gluten-free and rich, the old-fashioned hot apple cider tastes so good indeed! So if you are in the mood for something luxurious and essenced with cinnamon, the recipe is wonderful and leaves you completely swayed off your chair.
With Christmas almost knocking at the door, we can't wait to enjoy the mulled cider recipe which is ready in just a jiffy. Delicious and smooth, you are definitely going to fall hard for this at the very first sip.
The cozy spiced cider is wonderful and packed with great taste. Smooth and refreshing, the recipe turns out to be a wonderful one, and since you are a fan of refreshing drinks to accompany you at the gathering, there is nothing better than this one.
Yes, we are talking about the gorgeous Mulled apple cider! Depending on how wonderful this tastes, we can't wait for you to indulge in it. Smooth and refreshing, if you like to make a quick drink for the guests at the party then go for this right away!
We have this amazing mulled wine recipe for Christmas that you should try out during the holidays! Loaded with warm spices and brewed to perfection, the recipe is one of its kind.
When you are running out of time but still wish to make something smooth and gorgeous then for the crockpot apple cider recipe that we have for you right here. What an amazing choice to make your holidays special!
The luxurious and flavorful apple cider mimosas are lovely and loaded with great taste. Enriching and lovely, this is an amazing treat that leaves you completely swayed off your feet! Are you ready to enjoy the feels of the holidays? Shall we then?
Well, the hot buttered apple cider with rum is simply outstanding and you will in fact, not expect it to be so good! Served with the hint of rum, the recipe turns out to be indeed so good! So if you are in the mood for something unique and rich, go for it already!
Here is another recipe that we are sure you will definitely find interesting! Try it once and there is no way you can stop yourself from making it again and again even after the holidays are long over.
The red hot cranberry cider is another recipe for cider juices that will confer you with the ultimate sensation of refreshment! Perfect to try your hands at as a beginner, do give it a try for sure.
The combination of cranberry and orange is equally good and you should give it a try for sure. Delicious and smooth, the recipe is wonderful and definitely a must-have! Give it a try for sure!
Frequently asked questions associated with making cider juice for Christmas
1. Is there a way to make cider stronger when you are brewing it at home?
There is definitely a way to make your cider taste better! Do you know how to do so? Well, by adding 17 grams of sugar you can increase the ABV value by 1%.
2. What are some of the ways to make your cider taste good?
If you are wondering whether you can enhance the taste of your drink then we have got multiple solutions for you. From adding warm spices to chilling the drink, these are some of the effective measures one can take to enhance the taste of the cider drink.
3. What is the sugar which is best for making cider?
Liquid sugar is the best option which works with cider! It is perfect when you are making the drink! It also has a high sucrose content which goes up to 67%. The viscosity is low and it enables one to dissolve all the ingredients properly in the solution.
4. Should you add sugar to the cider solution?
Cider is obtained from apple juices and other fruits! These are already rich in sugar and contain enough to sweeten your drink! On the other hand, you can choose to add some more if the apples that you used were more sour than expected.
5. Is there a way to increase the level of alcohol in the juice?
If you want the content of alcohol to increase in the juice then the only way you can do so is to add some sugar before you ferment the dish.
Bottom Line-
This holiday season, why not make it extra special with one of our easy Christmas cider recipes? We've highlighted four recipes that are sure to keep your family and friends coming back for more. From Slow Cooker Apple Cinnamon Cider to Apple Cinnamon Cranberry Fizz, these recipes are simple yet delicious. Not only will your loved ones be filled with holiday cheer, but they'll also be thanking you for a memorable evening. So, put on your Santa hat and get ready to warm up this holiday with these easy Christmas cider recipes.
Read also: