Christmas is the season of joy and jubilance! Fascinating and gleeful, the season calls for you to celebrate and have a great time! But how can you if the desserts and the savory dishes are not good enough? Well, we can make sure that they are with the amazing cinnamon rolls that you may indulge in! But halt! Are you making it for the first time? Then you must follow the tips which we have listed below for you! Conveying the warmth of the season, the Christmas cinnamon rolls will be ready in no time.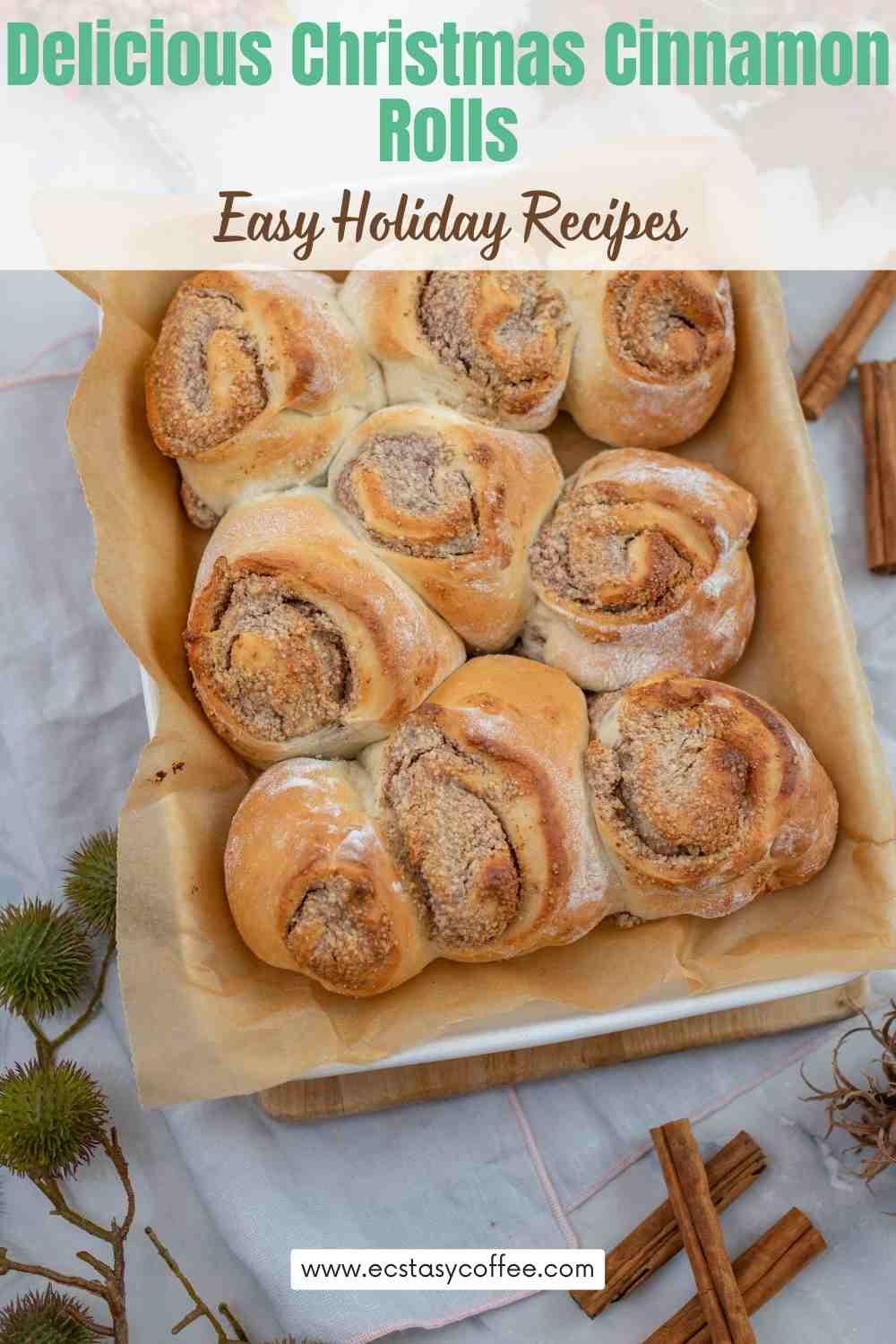 Tips for making gorgeous cinnamon rolls for the holiday season
There is no issue if you are making cinnamon rolls for the first time! Here are some tips that you must keep in mind!
1. Don't let the yeast die
Allow the yeast to remain alive! Having said that, you need to discuss the condition where the yeast can stay activated! You should not heat the milk more than 110°-115°F or the yeast shall be destroyed! However, if the temperature is too less then the yeast can remain dormant which is something we do not want either. Hence maintain an optimal temperature for yeast to remain active!
2. Allow the ingredients to come at room temperature
The first and foremost rule to making cinnamon rolls is to bring the ingredients to room temperature! Otherwise, they will simply fail to aid the texture of the cookies!
Eggs and butter are two common ingredients that one needs to definitely place at room temperature or the eggs will fail to raise the dough while cold chunky butter will be difficult to blend!
3. Do not overmix the ingredients
This is to be noted that a tough cinnamon roll can be a great bummer during the holidays! Do you want that? Of course, not! After so much effort and hard work, you do not want your cinnamon rolls to go down the drain! Instead, you may opt for blending just as much as it is needed. Over-mixing can activate the gluten and destroy the texture of the rolls completely!
4. Next you need to be easy with the dough
There is another thing that needs to be taken care of! Do not let the dough roll too much and too many times! This can indeed ruin the texture of the cinnamon rolls again! Add the flour accordingly! Too much flour can make the cinnamon rolls dry and hard while too less can make it soggy! Add a little every time, so you do not make a mess!
5. Now you need to let the dough rise in the bowl which has been oiled
The yeast needs time to get activated and make the dough rise! In the meanwhile, you need to store it well! Slightly grease the bowl in which you are placing the dough and then let it remain covered while it rises. The ideal temperature for allowing the dough to rise maximum is between 75-95°F.
6. Now allow the dough to rise overnight
If you have time before you serve the guests, why not give the cinnamon roll the best treat? Overnight is ideal, allowing the dough to rise. The cold fermentation process in the refrigerator is perfect to do the job.
7. Chill the dough before you give the shape
Before shaping the rolls, you need to ensure that the dough is cold! And for this, you need to place the dough in the refrigerator for about an hour! This will let the dough become firm and tight to provide the shape!
Delicious Christmas Cinnamon Rolls - The Perfect Holiday Treat
The moist and tender cinnamon roll is a brilliant idea and is flooded with the essence of rich cinnamon cream! If you are looking for something savory, go for it right away!
The warm seasonal flavors of the cinnamon roll are indeed a great treat for the taste buds! Rich and luxurious, there is nothing more tempting than this one! Packed with cinnamon essence, the recipe is one of a kind.
The combination of zesty lemon with the tartness of blueberry renders one simply speechless! Detectable and tender, the recipe turns out to be a great idea! You shall be smitten by this one at every bite. Shall we try it then?
The rich strawberry cinnamon roll is right here to leave you craving for more! Sweet and savory, there is nothing that can stand parallels to the classic sweet dish for Christmas. So are you ready to make it this season?
The rich and luxurious peach cobbler cinnamon rolls turn out to be an extraordinary treat for the taste buds! It is a combination of sweet peach with luxurious cinnamon essence that turns out to be a wonderful idea for the holidays! You must indulge in this one!
If you are in a hurry and still wish to try out something nice and rich then you must go ahead with the one-hour cinnamon roll which is indeed so easy to make! Easy-peasy and yummy, you must give it a try for sure.
Well, there is something definitely amazing about the cinnamon roll recipe that we have here! This one went viral for a cause and you will soon find that out! Go for it today!
The gooey and gorgeous cinnamon rolls are exactly what you need to feel content in every bite! Fascinating and flavorful, there is nothing as good as this one! Delicious and tempting in every bite, go for it already! Shall we get started then?
Here is something twisted and experimental with the cinnamon roll pancakes! Tender and sweet, there is nothing as gorgeous as a multiple-layer pancake waiting for you at breakfast! Your partner will surely be impressed with the holiday surprise.
The rich and creamy cinnamon roll bakes and is flooded with great essence! Delicious and containing seasonal bliss, the recipe for the baked cinnamon rolls is right here to sway you off your feet! So let's get started with the preps then!
How can we miss out on the classic apple and cinnamon roll cake? It is not your same ordinary cinnamon roll but a flavorful treat of chunky and sweet apples as well. So are you ready to give it a try then? Go for it already!
The luxurious chocolate cinnamon rolls bring water to our mouths at the very instant! If you do not believe us then you must try out all by yourself and let us know! You will not regret your decision.
How can you not try out the cinnamon rolls yet? Why buy them from the stores and bakery when you can make them right at home? Delectable and crumbly, the rich frosting on top is simply out of the world.
What an exciting treat for dessert lovers! Gorgeous and gooey, the apple butter cinnamon rolls are infused with the best! Luxurious and smooth, you must give it a try for sure! Shall we get started with the preps then?
Did you try out the Pillsbury casserole for cinnamon rolls yet? If not then you should definitely try it out this season! Packed with enriching frosting, there is nothing as good as this one we must admit!
The biscoff cookie butter cinnamon roll is a wonderful treat for the little ones! In fact, they will not be able to keep their hands off the cinnamon rolls as you make them in the kitchen! Allow them to dig in soon!
The homemade cinnamon roll bread is super rich in flavor and such a delicious treat for the season! Fabulous and creamy, the cinnamon rolls are the best choice for the season! Go for it already and let us know how this turns out to be!
The hot cocoa-cinnamon roll is a tempting idea and if you have not made it at home this weekend then you probably should give it a try now! You are simply going to love it, believe us!
We are talking about the extraordinary pumpkin cinnamon rolls! Make your Christmas special with the sumptuous treat that is right here for you! Enticing and yummy, you must give it a try for sure. Go for this one already!
An all-time classic, this recipe is never going to get old! We have this awesome cinnamon roll recipe which turned out to be a splendid treat for the holiday season! So are you ready to give it a try then?
Conclusion
We all want something delicious to serve throughout the holidays, and a batch of cinnamon rolls is a cozy, comforting, and easy-to-make option. They're an ideal treat for holiday breakfasts and make a great treat for Santa. With a few basic ingredients like store-bought biscuit dough, butter, sugar, cinnamon, and cream cheese, you can make an unforgettable treat that will leave family and friends wanting more.
Making cinnamon rolls from scratch can be time-consuming, but when you use pre-made biscuit dough, it's a breeze. Not only is it a quick and simple way to bring extra joy to your holiday season, but it's also an inexpensive option that everyone can enjoy. So this year, make the holidays merry and bright with a batch of these delicious Christmas Cinnamon Rolls. The holidays will be even sweeter!
So don't miss out on the opportunity to spread some holiday cheer and make a batch of these delectable, easy-to-make cinnamon rolls. Everyone knows the holidays are all about creating memories and gathering with loved ones around a festive meal. And delicious Christmas Cinnamon Rolls are the perfect way to do just that!
So try out this simple and scrumptious holiday recipe this year, and start a sweet new holiday tradition. Don't forget to share the love by passing this recipe along and watch the smiles come around!
Read also: