Get ready to impress your guests with these delicious Christmas filled cookies! Perfect for holiday parties, these festive treats are sure to be a hit. Get creative and explore different flavors -- from classic chocolate to peppermint and more. Try them today!
More collections: Christmas Toffee, Christmas Truffles, Homemade Christmas Marshmallows, Christmas Springerle Cookies, Christmas Pizzelle Cookies, Christmas Biscotti Butter Cookies, Christmas Shortbread Cookies, Christmas Spritz Cookies, Christmas Chocolate Chip Cookies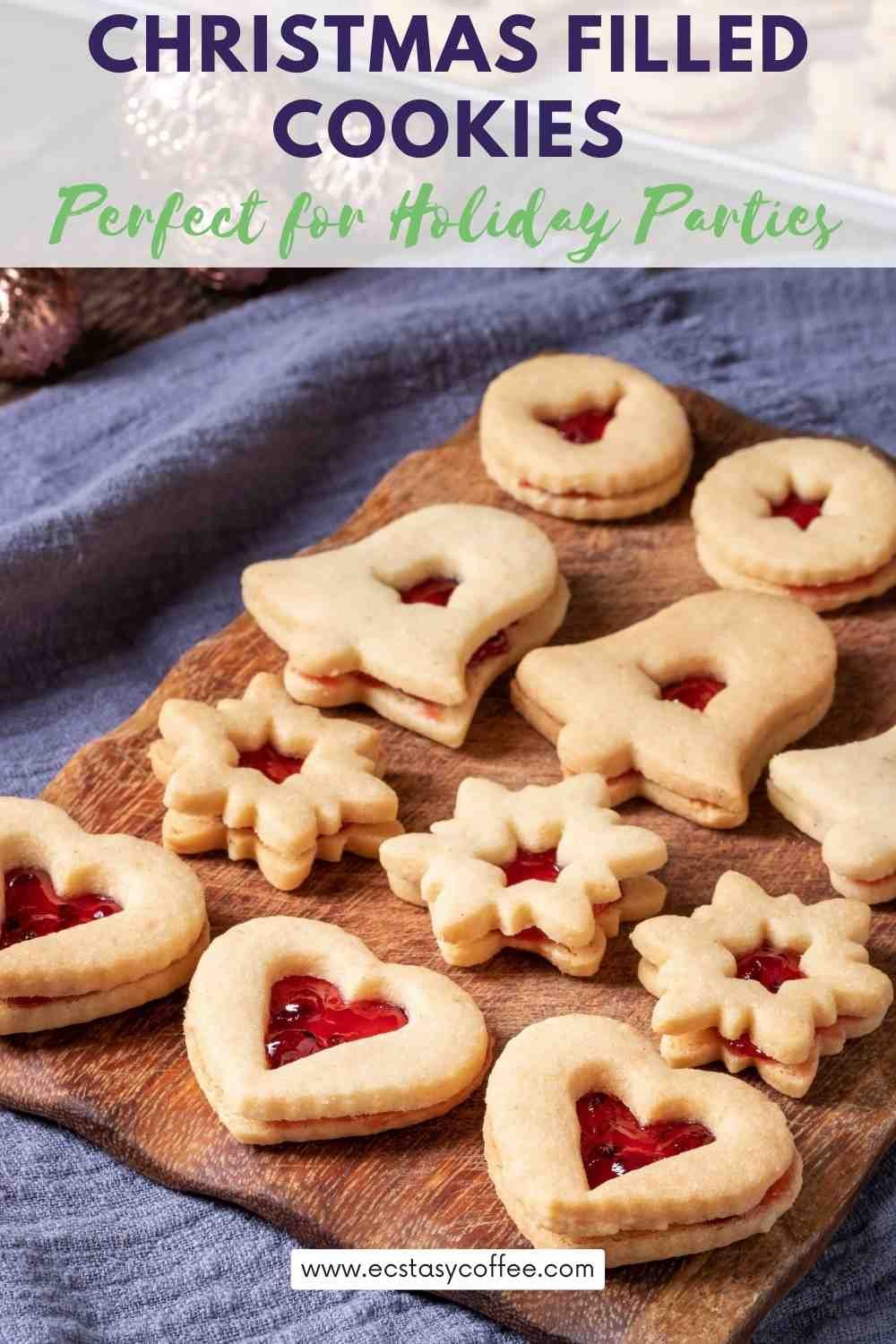 Cookies are synonymous with Christmas! The more you make, the more you want! With guests flooding into our house during this time, the demand for snacks, appetizers, sweet treats, and cookies is endless! Whether you want them with tea or any other warm beverage, the fan following of homemade Christmas filled cookies is simply something no other dish can beat! So today, we decided to try out something new in case you have a plan to bake this afternoon! Christmas filled cookies it is! Let's find out some of the wonderful Christmas filled cookies that you can indulge in this season. Let's go!
Some common tips while you bake Christmas filled cookies at home
1. Make your cookies even more delicious with some seasonings
If you thought sweet dishes and desserts could not be seasoned, then you were absolutely wrong about this one! Seasoning the cookies is the best decision that you can make! Cookies should be seasoned with a pinch of salt, and then you will instantly observe the difference in taste and how escalated the flavors turn out to be!
2. Invest in purchasing the baking sheets
This is to be noted that parchment papers are not completely non-stick, as a result of which they can absorb oil and become soggy! But you can definitely prevent this one from happening with the aid of baking sheets! Most professional bakers have shifted their choice to baking sheets and have already replaced parchment papers!
Imagine yourself working on a batch of cookies, and then suddenly, in the middle of the process, you run out of them! Are you going to rush to the stores to get them again? What a hassle! But you can skip the extra job with reusable baking sheets! Buy a couple of them next time you are planning to bake.
3. Now let's move on to the addons
From chocolate chips to chunky pieces of chocolate, dried fruits, nuts, pecans, seeds, and many more, to be honest, the options are simply endless! Depending on your preference and the recipe you are following, you can upgrade your add-ons! A cookie is simply not complete without the presence of vibrant sprinkles on them!
Having said that, you can mix and match them but remember that putting all of them together in a single recipe might create a mess and prevent you from experiencing the true taste of the cookies! So be careful with the kind and amount of addons you use.
4. How can you prevent the cookies from spreading
It might happen that in the first batch, the cookies spread a lot and become completely flat! Are you wondering what was the deficit in the first attempt? Well, let us tell you then!
You probably did not refrigerate the cookie dough after kneading! Allow the cookie dough to chill in the refrigerator for about an hour! This gives a sense of firmness and tight texture to the dough, preventing them from spreading on the plate.
5. But what if your cookies are not spreading at all?
Just like how it is not right for the cookie dough to spread too much, the cookies remaining completely tight and tough is not good either! Then what can we do about it?
All you need to do is beat the cookie tray on the kitchen counter a couple of times while you are baking to make the dough spread. In conclusion, we can suggest that both over and under-spreading is not good for the dough, and hence, precautions and steps must be taken accordingly.
Delicious Christmas Filled Cookies - Easy Recipes
If you are trying out filled cookies for the first time, then you are up for a surprise!
Delicious and packed with jam, this is an extraordinary creation. So what are you waiting for? Make them right away!
The caramelized cookies are gorgeous and flooded with great taste! Creamy and sweet, these recipes are wonderful and flooded with great taste!
Savory and crunchy, these cookies are simply the best to relish this season. Shall we, then?
The rich and creamy shortcake cookies are the ultimate source of delight for the taste buds!
Crumbly and gooey, there is no way you should miss out on these. Let's try them out this season and indulge during the holidays. Shall we, then?
Enriched with a tempting and scrumptious filling, the coffee cake cookies are simply outstanding!
Sweet, rich, and savory, you must give it a try! This is a call for all coffee lovers; try these out and tell us how much you loved them!
Stuffed with rich frosting, the Funfetti cookies are meant to escalate your joy during the holidays!
Smooth and enriching, the vibrant sprinkles on top make them taste even more crumbly and fascinating.
So what are you waiting for? Bake them right away!
If you are looking for something traditional and authentic, then you should go ahead with the gorgeous Polish kolaczki cookies!
Enriching and packed with yummy jelly, the cookies are both a great treat to the eyes and the taste buds.
Have you tried a cookie recipe before where there was cheesecake stuffing? If you haven't, then we know you will fall in love with the treat!
Delicious and crumbly, enjoy them with breakfast in the morning and start your day on a delightful note.
Well, you have to try out the thick Oreo-stuffed white chocolate cookies, or else you will regret missing out on something really good!
Delicious and enriching, this is a wonderful idea that leaves one craving for more.
We have the all-new blueberry pie cookies! This is the one where you can experience both the crunch and the yummy berry filling!
Savory and rich, you ought to indulge in its blissful taste. So what are you waiting for? Make them right away!
The more you eat, the more you want when it comes to making lovely pistachio shortbread cookies!
Filled with gooey icing, there is no way you should miss out on this one. Before the holidays run out, quickly make them!
The wonderful apricot sugar cookie pies are a combination of both! Savory and crumbly, these cookies are simply the best!
So if you do not wish to invest much time but still enjoy something sweet and nice with tea in the evening, this is the right one for you.
Well, this will give a completely new definition to the classic chocolate chip cookies you used to have!
Filled with liquid chocolate in the center, every bite will offer you a sense of fulfillment.
You must try out the exclusive Dulce De Leche cookies! Flooded with your favorite flavors, the sandwich cookies are simply the best!
The guests shall marvel at your creation if you serve these with tea! Shall we?
You ought to indulge in the blissful taste of gooey peanut butter cookies! In fact, it is the sight of the cookies that will make you drool at every bite.
These cookies will win the award of being the best!
The gorgeous Linzer cookies are exactly why Christmas is so special! The wonderful cut-out on the top with a jelly filling inside, you must try it out.
Thank us later for the idea! Now it is your turn to bake them!
Loaded with jam, the Pizzicati is an amazing treat that we are sure you will find tempting in every bite.
Gorgeous and exclusive, make them and surprise everyone with a recipe that is so rare, and yet you curated it with perfection.
You ought to indulge in the blissful taste of the sweet and gorgeous almond-stamped cookies!
Enriching and flavorful, these cookies turn out to be an incredible idea that you can hardly miss out on! So what are you waiting for?
You must have tried carrot cake cookies, but did you try a stuffed version of the same?
If you haven't, then this recipe is perfect for you! Delicious, gooey, and crunchy all at once, these are one of a kind! Did we mention how healthy they are?
You must have enjoyed them as you visited your grandparents during the holidays!
These cookies are simply the best and render you speechless. Enjoy the whiff of nostalgia with the exciting treat that we have brought for you right here.
Making chocolate chip cookies is delightful, but to make them even better, we have brought you the one which is further stuffed with cheesecake.
Yup, you heard it right! So what are you waiting for? Bake them today!
Other recipes you should check out: Christmas Cookies Recipes, Spooky Halloween Pumpkin Cookies, Valentines Day Cookies Recipes, Halloween Cookies, Christmas Potatoes Au Gratin Recipes, Christmas Scalloped Potatoes, Christmas Sticky Buns, Christmas Banana Bread Recipe, Christmas Pumpkin Bread Recipes