Christmas is not complete until and unless there is a fruitcake recipe on the table. Irrespective of which part of the world you live in, this is a tradition of Christmas celebration no one can deny. So if you are baking fruitcakes this season we would like to help you with a couple of tips that will enable you to bake them better. If this is your first time making Christmas fruitcake recipes and you are worrying that you will commit a mistake then let go of that fear because we are right here to help you out.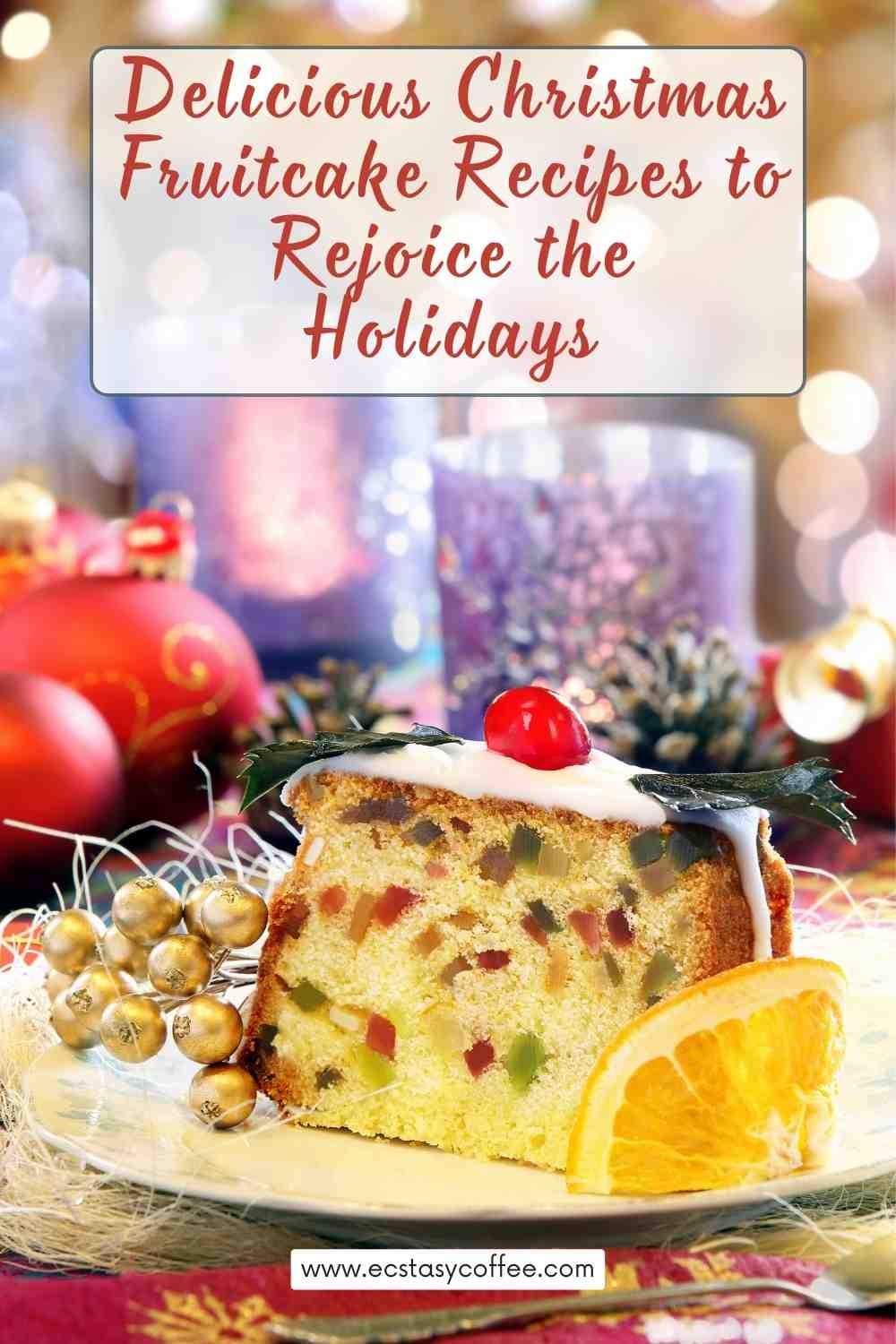 Tips to making amazing fruit cakes
1. Swap the type of brandy which you will use for making the fruitcake-
Brandy gives a sense of sweetness to the fruitcakes and makes the recipe even better! But if you do not like the taste of fruitcake with brandy then go for some other choices like red wine. Although alcohol is an integral part of making fruit cakes you can choose to make it alcohol-free with the aid of some other alternatives. You can go ahead with a non-alcoholic fruit juice option as well and we can guarantee that the taste of the fruitcake will not be varied.
2. Coat the mix-in with some flour-
There is a specific way of making the batter for your fruitcake! And if you know the steps then there is not much that you will make. Before you add some dried fruits and nuts to the batter, you should add some flour to the mix first. This will enable your fruit cake mix to turn out better. As a result, the flour will be able to balance the treats on top and they will not sink to the bottom. This will help you to spread the dry fruits evenly into all the parts of the cake with the top layers having the most of it.
3. Be careful of the kind of spice you use-
Cinnamon, ginger, and cloves are some of the options that you can put into the cake. It is the presence of the spices in the cake which renders a taste of wholesomeness to the dish. Always opt for a quality spice that is good and refined! Remember that depending on the fragrance and essence it is going to impart to your fruitcake, you will be able to make sure that the cake turns out well!
4. If you substitute with any other ingredient, make sure that the substitution is of equal weight-
Candied fruits are the most common treat which goes into a fruit cake but if you are not a great fan of them then don't worry we have other options for you that you can purchase from the market which include golden raisins, cranberries, dates, and figs and so. However, there is one thing that you need to be careful about! It is the number of ingredients that go into the fruit mix bowl. Make sure when you swap items, an equal amount of the same is used for substituting. So if you are swapping one cup of cherry with cranberries then make sure you have exactly one cup of cranberry.
5. Don't overfill the pan-
Here is another mistake that you can end up making and ruining the entire texture of the cake. The cake pan should be filled one-third up to its height with the cake mix so that when the cake rises while baking, you do not end up with the entire thing overflowing! This will not only lead to the top of your cake having a mushroom top but also get flattened.
6. Allow the oven to be set at room temperature -
This is to be noted that you should not allow your oven to be hotter than 325°F. Try to maintain the temperature between 250-325°F so that you do not end up with a fruit cake that is overbaked and burnt. If you bake your cake for a longer duration at room temperature then the entire sweet dish will be baked evenly and turn out tender. This also prevents the cake from drying out too much. If you wish to be sure at the end of the baking round whether the cake is ready or not then you go ahead and use a toothpick. Pierce it into the cake and check whether it comes out clean and if it does then the cake is ready!
If crumbs tend to stick to the surface then you can send it inside the oven for another couple of minutes and recheck again as the timer beeps. However, give time for the cake to bake and do not continuously open the door as this may lead to the cold air rushing in and dropping the temperature of the oven and the cake top to sink.
7. Always learn to make your cake moist and rich in taste-
If you tried to make fruitcake in your house several times but often noticed it turns out dry then there is a major problem that needs to be fixed. Even when you buy cakes from the shop and bakeries, a similar situation of dryness has been observed. But if you are baking it at home then go for adding some maple juice or applesauce to the cake. You can also keep hot water at the bottom rack of the oven. This also adds some moisture to the cake as well.
8. Prevent it from burning at all times-
The scariest part of making a cake is that the cake can get burnt if you are not baking it right! This is to be noted that the fruit cakes take longer time than usual to get baked so what can you do about it? Line the fruitcake with a double parchment paper sheet! You can opt for browned paper or wax paper as well. This way you can prevent the cake from getting burned and the edges will remain crisp and tender at the same time.
9. Always try portion control as you bake the cake-
If you feel that you are baking too many cakes during the holidays and that is affecting your diet then you can opt for making small fruit cupcakes instead of a large cake. This way you will not hog down large portions! One cupcake each day will not impact your health and you can still indulge in something rich and yummy. The effort needed during making a cupcake is also comparatively less as compared to a large cake.
Now that we have done much discussion about making a fruit cake let us find out about some wonderful Christmas fruitcake recipes.
Delicious Christmas Fruitcake Recipes: The Best Holiday Treats
Old-fashioned fruitcake is a classic for the holidays! Packed with cherries, berries, and other dry fruits, the recipe is a super exciting one. What a great idea to try out this season!
The combination of dry fruits, candy, and walnuts renders this fruit cake with a wonderful taste that you can hardly resist. A single bite will compel you to eat more and more. Shall we then?
This is a last-minute recipe if you have forgotten to pack any dessert for the grand meal! It is so easy to pull across this recipe in such a short time. The flavor of glazed cherries and lemon rind tastes so divine.
The best-ever fruit cake recipe is right here and there is no need to thank us! Your wish for our command! Drizzled with all sorts of fruit, there is no way you should resist a bite. Shall we make it then?
The holiday fruitcake is packed with great treats like apricot, raisins, and so on. Rich and luxurious, are you ready to give it a try? Let us know how this turns out to be for sure.
All you need are just three ingredients to come up with this extraordinary recipe! We can guarantee that you will fall in love with it at the very first bite. And the best part is how simple this is to bake even for the beginners.
White fruitcake is another extraordinary recipe loaded with great taste and wonderful treats. So if you are in the mood for something nice at the end of a meal then go ahead and make this right away!
Topped with toasted pecan and jelly, Cardwell's holiday fruitcake is simply so easy to make. Do you believe it? We challenge you to make it on your own and find out. This recipe is simply one of a kind. Go for it!
If fruitcake is not enough then go for this cookie version of fruitcake if you are fond of it so much! The recipe is pretty easy and you can get it done with perfection in no time. Crumbly and utterly sweet.
The fruit cake is flooded with great taste and ready with just three easy steps! Moist and tender, the fruit-filled cake is lovely and you can serve it to the guests at the party. They will definitely appreciate your idea of desserts.
The gorgeous modern fruitcake with vanilla glaze tastes so good indeed! Wonderful and sweet, the recipe is meant to render the holidays with a sense of comfort to the taste buds. Smooth and crumbly, the recipe is one of its kind. Shall we then?
The aged Brandy fruitcake is another marvelous recipe that you can take into account when the holiday is just around the corner. Drizzled with fruity treats, you go for the idea right away! Make the cake batter readily and enjoy it during the holiday season.
The spice-less fruit cake with a sweet and crumbly essence tastes so brilliant indeed! Rich and tender, there is enough apricot for the apricot lovers. This is a traditional fruit cake recipe that leaves you completely swayed off your feet.
The fruit cake is a great idea and packed with wonderful taste! Sweet and served with cherries and so on, the recipe is outstanding and leaves you completely swayed! Cakes that can be put into cookie form.
The combination of pineapple, cherries, raisins, and dates tastes so gorgeous indeed. Mixed with a crunchy pecan and infused with rum, the recipe tastes so divine indeed. With the Christmas season around the corner, the fruitcake tastes so wonderful. Shall we try it then?
Here is a boozy fruitcake that you try out with the Traditional Irish Christmas cake! Rich and gooey, the cake is wonderful and ready in no time! So if you are in the mood for something nice then go for it already!
Tender and filled with fruits, the traditional fruitcake is ready in no time. Light and drizzled with walnuts, glazed cherries, and oranges, the recipe is one of a kind. The presence of butter and sour cream makes it taste so brilliant!
The cherries, currant, and golden raisin infused in the Old English fruitcake taste so gorgeous! A stylish English fruitcake tastes fascinating. Delectable and crumbly, you will thank us later for the idea. Go for it right away!
Crumbly and rich, this is an exotic recipe that you must indulge in! Delicious and infused with fruit chunks, this is a no-candied fruitcake that you can make this season. Toasted with cream cheese, the recipe stands out among all.
Coconut, pineapple, pecan, and peach, the recipe is outstanding and packed with great taste. Served with condensed milk, the fruit cake is so rich and luxurious indeed. Ideal for the holiday season, the recipe is such a marvelous idea for you to relish.
Frequently asked questions associated with making fruit cakes during Christmas
1. How can you keep the fruit cake moist?
If you wrap the fruit cake in parchment paper or foil paper then it is possible for you to keep the cake moist. Sprinkled with apple sauce in the batter you can turn your cake even more moist and tender.
2. What are the two ingredients that can make your cake last longer?
The use of sugar and low moisture ingredients enables the fruit cakes to last longer. You can store them for about two weeks.
3. What is the ideal temperature of the oven when you are making fruit cakes?
The temperature of the oven should be low as a fruit requires low heat for a prolonged duration of time to turn out best. Ideally, the temperature of the fruit cake should be around 250-325°F for baking it well.
4. What is the tip for you to make your cake turn out to be great and mature?
Two factors are ideal like time and temperature for your cake to bake well. After the cake has been soaked and wrapped, let it sit at room temperature for about another week.
5. What makes your fruit cake turn out dry?
If your fruitcake turns out to be dry then it is a result of over-baking your cookies. Allow the cookies to turn out tender and smooth with slow baking at low heat.
6. Which is the best alcohol for making your fruit cake?
You can make use of brandy or red wine to make the fruit cake! Strong flavorful spirits with high ABV % should be taken into account.
Bottom Line:
From a classic recipe to a unique and daringly tasty option, we've provided you with the best Christmas fruitcake recipes to ensure that your holiday celebrations will be remembered for all the right reasons. Of course, nothing says "Happy Holidays" like gathering around an exquisite, homemade fruitcake and sharing stories with loved ones. So whatever recipe you choose, make sure to enjoy the special moments with friends and family, and savor the delicious flavor of tradition.
The holidays are the perfect time to take advantage of all the wonderful flavors and colors of Christmas fruitcake. So get creative, delight in new and innovative dishes, and bask in the joys of the season. Our recipes have made it simple for you to spread the spirit of the holidays with some truly scrumptious desserts.
As Albert Einstein once said, "There is no better way to express our feelings than with sweet treats." So, this year, make your celebrations extra special with these delicious Christmas fruitcake recipes. Don't forget to share the love with friends and family, and make sure to save a slice for yourself!
Read also: