Get inspired by these delicious and easy Christmas main dishes. From traditional turkey and ham to vegetarian mains - find the perfect dish for your holiday feast!
More collections: Christmas Cookies, Christmas Eggnog, Christmas Baking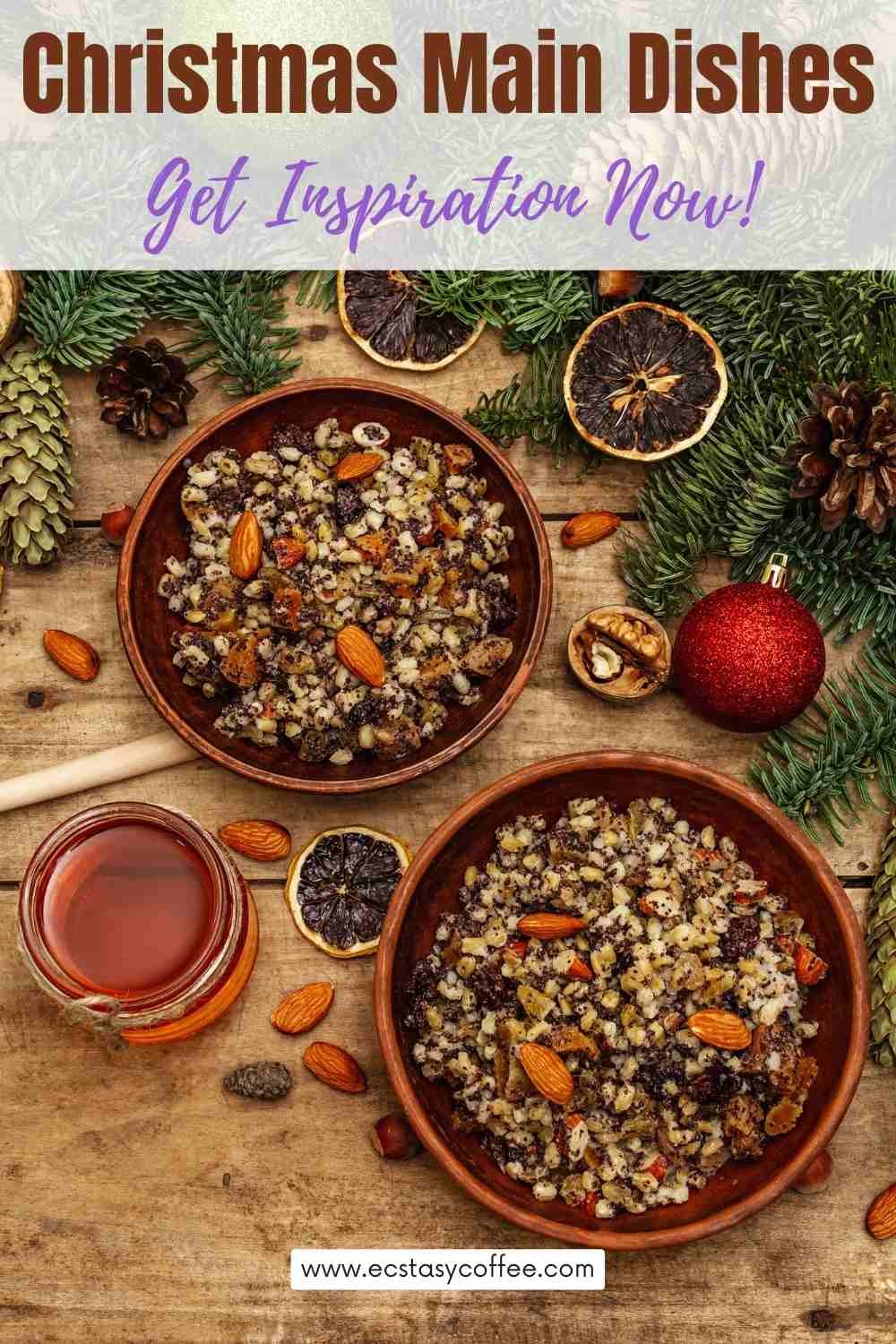 It can get overwhelming at times to make meals for every holiday! There are so many things that one can think of! So much to indulge in and explore, then what can you do? Sometimes with so many parties, hangouts, and gatherings, you simply seem to run out of ideas but that is okay! Whit force your brain to come up with ideas when we have made an entire list for you? But that is not all! We will also teach you to make your meals healthy and nutritious as well! So to learn more, read on.
Everything you need to know about making a healthy meal for Christmas
Eating healthy food as a part of your diet is highly essential so that your body can stay fit and combat all diseases and chronic illnesses! A balanced diet is what you are expected to consume at all times! Of course, that does not mean you need to have something boring! Let us tell you that being healthy can be yummy and interesting as well. Even during the holidays, you can plan your meal in such a way that all the required nutrients( vitamins, fats, minerals, proteins) are available in plenty. So there should be meat( or any other protein substitute), veggies, and so on.
Eating healthy does not imply that you are giving up on something nice or even your favorite recipe! Healthy simply means you are more cautious while choosing the right dish!
1. Always begin with the shopping
Only if you shop for healthy food, you will end up with healthy food on the table. Hence the next time you are in the supermarket, be careful that you choose what is permitted in your diet instead of indulging in anything that you find. Being healthy is a choice and a conscious decision that you have to make every day.
To shop carefully, you will first need a shopping list! If you have a record of exactly what you need then you will never overindulge. Try to stick to the things you need so that you do not end up with something which may not be good for you. Always keep your pantry stocked with whole grains and nuts so that you can make your cereal bowls at home! Quick and readymade snacks are something that you should always avoid.
2. Switch to healthier fats when you are making the main course
It can be a bummer if you have to give up on everything that is nice only because you are following a diet! But we can definitely help you out with that! Always opt for lean meat so that the fat content is less!
Instead of whole cream dairy products, you should opt for the slimmer version. There are several ways to include good fat in your diet and if you are thoughtful then instead of giving up on something that is nice you can indulge in good stuff.
3. Learn how to retain the nutrients
This might seem pretty obvious but we would like to state that as well! Cooking vegetables for too long can be detrimental to the nutrients it contains! Plus there are also water subtle vitamins that can get washed off or destroyed in high heat or excess boiling.
Stir-frying your veggies or simply simmering and then serving as sides is the best option! There is a specific reason why we ask you to make your veggies this way so you can enjoy the true authentic flavors while at the same time not overcooking them!
Easy Christmas Main Dishes to Wow Your Family
Perfect to enjoy as sides with the main course, the zesty lemon roasted potatoes with the essence of herbs turn out to be an incredible idea we must admit!
Tender, juicy, and succulent, the brown sugar-glazed pork loin is flavored with a sense of richness and turns out to be the best side one can ask for as a companion with the main course.
Words always fall short when it comes to describing the brilliance of the buttery-rich prime rib!
Packed with a garlicky essence, you will definitely fall in love with it at the very first bite. Shall we then?
How can we miss out on the sheet pan herb-roasted turkey?
It is further flavored with the rich essence of cranberry and crunchy pecan stuffing!
So what are you waiting for? Make it today!
Of course, this will give a feel of strong nostalgia as you bite into the meatloaf for dinner!
Delicious and perfect to pair with mashed potatoes on the side, there is no way you should resist yourself indulging in this marvelous treat!
Shall we try it then?
We are talking about the lovely beef tenderloin flooded with a succulent essence!
The detectable and yummy mushroom sauce served with the beef is the main highlight of the dish! Make it today!
You will be missing out on something good and ravenous in the absence of the apple and bacon herb dressing!
Packed with great taste, the sweet and succulent bacon dressing is waiting for you right here. Shall we try it then?
Ah, huh! The classic French onion stuffed pork loin is an incredible creation packed with gravy which leaves you craving for more.
So if you haven't tried something like this in a while, give this one a try already!
The combination of chicken and stuffing turns out to be an extraordinary treat for meat lovers!
Packed with veggies and gorgeous seasoning, you are definitely going to thank us later for the idea! Shall we try it then?
The mild citrusy essence of the turkey breast is flavored with herbs and turns out extraordinary!
Serve the classic turkey recipe on the table in a unique way and surprise everyone waiting for the meal. So what are you waiting for?
The herb-crusted beef tenderloin is a classic recipe leaving you with a temptation for more.
So if you are craving meat for a while, we cannot think of anything better than the beef tenderloin!
What an excellent idea we must admit!
The wild rice pilaf is a great source of content and delight for the taste buds!
Packed with cranberries and pine nuts, you ought to make it for brunch this holiday season.
Let's make it!
The combination of mushroom and sage turns out to be a brilliant option!
Packed with veggies and of course, mushrooms, you can enjoy the stuffing as a side dish!
Such an incredible creation that leaves you with a temptation that is so hard to resist.
What? Are you serious? Didn't you try out the beef brisket yet? Then you must before the Christmas holidays run out. And the best part is you can make it ahead of time and still serve warm and sizzling.
The holiday honeycrisp salad is healthy, tasty, and crispy at the same time.
The sweet honey essence topping the apples tastes so divine!
There is dried fruit, cheese, and nuts to make it even more delicious before the meal begins.
Ah, what an incredible idea we must admit! The holiday salmon is a dream come true for seafood lovers!
So in case, you are wondering what to do as something unique for the main course, we have the best option for you.
The delicious and tangy brisket with cranberry tastes so fascinating indeed!
Packed with great flavors, make the most of the holidays with the recipe that is right here waiting exclusively for you.
Well, once you make it, don't worry it will not last long.
We are talking about the gorgeous and gooey beef that you can enjoy during the holidays!
This tenderloin recipe is prepared with the infusion of rosemary and turns out to be an incredible idea.
Go for it today itself!
Indulge in authentic Tuscany meat with the baked chicken recipe that we have brought for you right here.
Savory, rich, and succulent, this is a brilliant choice leaving you with the ultimate sense of contentment!
So what are you waiting for?
There is no way, we will let you miss out on the best of both worlds!
The presence of cranberries and beef turns out to be an extraordinary choice.
This is a wonderful idea that leaves you with the ultimate temptation.
Conclusion
Christmas is a time to enjoy the flavors of the season and to have a good time with family and friends. With so many delicious Christmas main dishes to choose from, it's easier than ever to get inspired and create a festive meal that will please everyone. Choose from classic dishes such as roasted turkey and ham, or if you want to be adventurous, try something more unusual like wild mushroom risotto or vegan chili. Let your imagination be your guide and create a meal that will bring joy to your holiday table. After all, the main dish is the star of the show, so it is worth the time and effort to cook something special. Let's get cooking!
As we have seen, the main dish is the highlight of Christmas dinner, so make sure to choose something that is both delicious and festive. With the right ingredients and a little bit of creativity, you can craft a memorable culinary experience. This holiday season, have some fun in the kitchen and cook up a dish that will bring joy to your loved ones. So what will it be? Get inspired and start cooking your Christmas meal today!
More collections: Christmas Pork Roast Recipes, Thanksgiving Leftover Recipes, Instant Pot Pork Tenderloin Recipes, Instant Pot Recipes For Beginners, Christmas Beef Tenderloin Recipes