This is an article about food which is simply indispensable in our lives! Yup, we are talking about mashed potatoes! This is a universal dish that can be coupled with literally anything you want! Whether you have a chicken or turkey roast on the table, soup or stew, mashed potatoes can go with anything you want. But if you wish to level up your skills in making mashed potatoes then go ahead and read on! So let's waste no more time and get started with the preps already!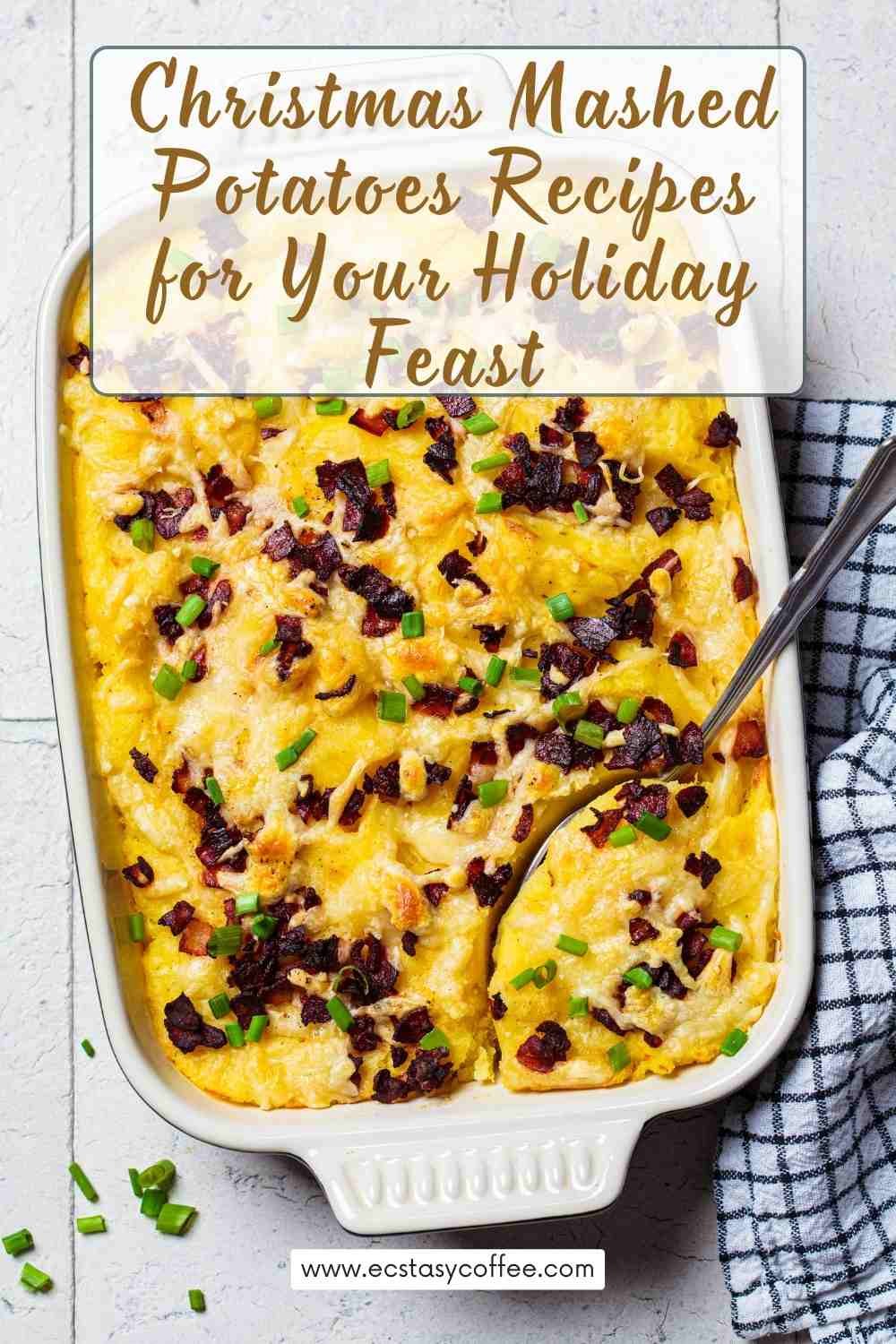 Tips for making the best-mashed potatoes during Christmas
1. Always choose the right kind of potatoes-
Depending on the quality of the potatoes you choose, the flavor of the mashed potatoes is going to be determined! Not always are seasoning and spices enough to render the right taste into the potato mash! Yukon gold, Idaho, or Russet potatoes are used for making mashed potatoes and the texture generally turns out to be mushy and creamy at the same time. But if none are available you can go with what you have in the shop! Just make sure the potatoes are fresh and starchy.
2. Cut all the chunks of potatoes into equal sizes-
Before you mashed the potatoes, they are sliced into halves or chunks! Make sure that all the potato cubes are of equal size! Irregularity in size can affect the rate of boiling! While some will still remain hard, the rest will turn tender! Equal size ensures that all the chunks are ready at the same time. You can drop them in cold water and then allow the potato pieces to simmer until all the pieces turn tender and mushy! You can choose to peel them before or after boiling although we recommend the former.
3. Never make the mistake of adding flavors at the end-
Nobody likes the taste of raw garlic while taking a bite of mashed potatoes! And do you know how you can encounter such a situation? When you add the herbs and the garlic pieces at the end. Instead, you should always add the seasoning right when the dairy like milk or cream is being put into the mashed potatoes and blended smoothly! If you want you can take a pan separately and roast the garlic to enhance the taste of the dish.
4. Embrace the tangy presence of cheese and cream-
There are plenty of options like Sour cream, buttermilk, and crème fraîche which has an innate savory and smooth texture with a tangy flavor and if want your mashed potatoes to taste tangy and sour then you can go ahead with the given choices. It completely depends on your preference for the kind of cream or cheese you wish to mix in your mashed potatoes! There are plenty of ideas we have shared below for you! But let's learn about the tips first!
5. How can you maintain the fluffiness intact without retaining the business and wet texture-
If you are concerned with the mushy texture of the mashed potatoes and wish to retain it without retaining the water then you have to go ahead with this technique which always works for us! Drain the water from the pot and drop the potatoes in the pot and cook for about two to three minutes on medium flame! After that, you will observe that slowly the moisture is evaporating and only the tender potato skin shall remain. Next time you are making mashed potatoes and observe that there is too much water in them do not forget to use this process.
6. Never add cold liquid to the mashed potatoes-
Whether it is molten cheese, cream, or milk, that you are adding to the mashed potatoes, they should always be warm! This makes it easier for the mashed potatoes to absorb the liquid better and at a faster rate. Cold liquid takes a much longer time to get absorbed or turn too thick! To make the job of blending easier, you need the liquid warm. But never make the mistake of overmixing and if you wish to know why, read on!
7. Do not be a miser about the seasonings -
You can not add a small amount of butter to your mashed potatoes and end the dish! Especially on Thanksgiving, you have to be generous about the amount of seasoning you use! The more the better! Remember to season the water with a pinch of salt where you boil the potatoes! This infuses flavor into them and compensates for the bland taste! Be careful that you add an ample amount of cream or milk so that the mashed potatoes are tender and gooey instead of dry and tasteless.
8. Do not engage in vigorous mashing-
The main constituent of potatoes is starch and you must know that starch does not tolerate overhandling! As a result, you can even end up with gooey and extremely mushy potatoes! If you wish to avoid that then go ahead with a mixer or a ricer to mash the potatoes and if the quantity is less then you can even manage with your hands. A good processor is simply not the right thing to use when you are mashing potatoes! This can affect the texture of the mashed potatoes and ruin them completely. If you do not want soggy and runny mashed potatoes heed what we say!
9. You should not leave your mashed potatoes alone-
Of course, mashed potatoes are great when you serve them on their own! But do you know what can make them better? A little topping here and there! Maybe some crispy shallots or French onions! A dollop of butter or cheese shredding. It is up to you to decide which is the kind of shaving you want for your mashed potatoes but it is always better to serve them as a side with some gravy or meat to escalate the taste of the overall arrangement.
10. Do not reheat them-
Mashed potatoes taste best when they are served fresh! You can not make them ahead of time and then reheat them! The original flavor of the recipe will be ruined this way! You can instead boil the potatoes and store them in the refrigerator for a day and collect your ingredients aside! On D-day mix them all together, mash, and serve fresh and flavorful.
So, that's all you need to learn about making mashed potatoes! Here are some recipes for you to indulge in this season!
Delicious Christmas Mashed Potato Recipes - A Perfect Holiday Treat
Topped with cheese and perfect seasoning, the lovely mashed potato bake is such a wonderful treat! Drizzled with spring onions, the baked gooey cheese treat renders one simply speechless! Shall we try then?
Delicious and smooth, the creamy red-skin mashed potato recipe is one of a kind! Rich and sumptuous, the buttery essence is felt in every bite. What an excellent treat for the Christmas holidays! Go for it already!
The roasted garlicky essence of the mashed potatoes tastes so divine! Wonderful and rich, there is no way you should resist yourself! This is an excellent idea that leaves one simply speechless! Perfect to make your holiday season even more special!
Whether you are roasting a turkey or creating something simple like a stew or a soup, the best creamy mashed potatoes are extraordinary and render one with the ultimate craving. So what are you waiting for?
Wonderful and sumptuous, the herb-infused mashed potatoes taste so luxurious and creamy! If you are tired of the bland mashed potatoes with salt and pepper then you must go ahead with this awesome dish! Shall we then?
Red potato mashed is another excellent idea which is simply the best to relish this season! And the best part is that the mashed potatoes are so easy to make with a wonderful garlicky essence. Go for this one already!
The Steakhouse mashed potatoes are simply the best! Delectable and creamy, the mashed potato recipe is wonderful and why do you need to go out to enjoy the Steakhouse mashed potatoes when you can make it at home? Get it done today!
The infusion of rosemary in the mashed potatoes tastes so divine and gorgeous! Packed with a creamy essence, it melts in your mouth at every bite. Fascinating and rich, the luxurious recipe turns out to be the best for the holiday season!
The combination of garlic and chive is always the show-stopper! The creamy texture is equally commendable. Flavorful and luxurious, the recipe is one of its kind! This is a great choice when you wish to level up the game of mashed potatoes!
Smooth and savory sour cream turns out to be an extraordinary treat that one can serve as a side with the meat! The presence of chives and herbs leaves one tempted for more and more.
We have brought you another delicious treat for the holidays! Delicious and fancy, the recipe is extraordinarily infused with subtle seasoning and creamy essence! So are you ready to indulge in its blissful taste? Shall we then?
There is nothing as comforting as the presence of roasted garlic mashed potatoes! Delectable and rich, the recipe renders you with an urge to make more and more! All we have to say is do not resist that craving! What a brilliant idea we must admit!
The recipe for mashed potato is pretty simple and that is what makes it even more awesome! If you wish to infuse some flavors in your bowl of mashed potatoes go ahead with this one with a dash of seasoning and plenty of herbs.
The best part about this mashed potato recipe is that it hardly requires any effort! Toss all the ingredients into the slow cooker and enjoy your meaty treat for a while.
If you are in the mood for something crispy and you think that is absolutely not possible when it comes to mashed potatoes, then this recipe is right here to change your thoughts about this one.
Baking mashed potatoes with a layer of cream tastes so magnificent indeed! Enriching and luxurious, there is no way you should resist the temptation of this one. Lovely and gooey, you are definitely going to thank us later for the idea!
Drizzled with sweet and savory caramelized onions, the garlic mashed potatoes are further adorned with something so luxurious and crispy! Now dive deep into the world of comforting and cozy mashed potatoes, save this recipe for the Christmas holidays. Let's go!
Yup, you heard it right! The crockpot version of mashed potatoes is indeed so good! Delectable and fancy, the mashed potato recipe is awesome and leaves you tempted for more! This idea poses the perfect blend of seasoning and spices.
We have come up with the recipe for the ultimate cheesy mashed potatoes! Delectable and smooth, there is no way you should stop yourself from indulging in more and more until the entire bowl is empty! Holidays come once in a while and you should make the most of it!
Here is another recipe with which we would like to conclude! It is always best to end on a good note and hence here we have the creamy classic mashed potato for you!
Frequently asked questions associated with making mashed potatoes for Christmas
1. What is the common mistake that you must avoid while making mashed potatoes?
The most common mistake one commits while making mashed potatoes is baking different kinds! You are expected to not mix up the varieties as this can not affect the taste of the recipe but also impact the texture of the dish! While some will overboil, many will remain undercooked too!
2. Why are my potatoes not boiling properly?
Sometimes it might happen that your potatoes take longer than usual or turn out to be hard as you mash them! And do you know what can be the reason behind it? Maybe you are adding the potatoes to boiling water which is not the right technique to boil them! You should always drop the potatoes in cold water and then allow both to reach the boiling point simultaneously!
3. Is it required to soak the potatoes in water before you mash them?
Yes, you can soak the potatoes in water before you mash them but the process is not necessary! If you choose to soak them then do not exceed the time more than five minutes.
4. Why do you need to add milk or cream hot to the mashed potatoes?
One needs to add milk or cream to the mashed potatoes hot so that they are absorbed well. You can find it hard to blend the cold cream or milk!
5. Which is better for mashed potatoes, milk or cream?
The cream gives a more smooth and gooey texture to mashed potatoes although whole milk can also do the job well.
Bottom Line-
Christmas mashed potatoes are a delicious holiday side dish that can be enjoyed year after year. There are a myriad of recipes to choose from, ranging from indulgent and classic to light and healthy. Whether you choose a cheesy version or a creamy parsnip-based recipe, make sure to enjoy the festive flavors this holiday season. Plus, mashed potatoes are a snap to make and can be served to both vegetarian and omnivore family members alike. So don't wait for a special occasion to give one of these delicious recipes a try. Indeed, there is no better way to bring everyone together than around a holiday feast featuring these scrumptious potato dishes.
In conclusion, Christmas mashed potatoes are a beloved part of the holiday feast enjoyed by many. With tasty and varied recipes available, everyone can enjoy a festive and comforting side this holiday season. As a final note, "the best meals are those shared with family and friends" - an old proverb that is made true with the perfect Christmas mashed potatoes.
So, spread the holiday cheer with a festive feast of Christmas mashed potatoes, and create a warm and memorable holiday for everyone.
Read also: