Celebrate the Holidays with delicious and easy-to-make homemade Christmas mulled wine! It's the perfect drink for a Christmas party or gathering. Enjoy this festive beverage with friends and family this Christmas season and make lasting memories.
More collections: Christmas Cookies, Christmas Eggnog, Christmas Baking, Christmas Main Dishes, Christmas Vegetable Salads, Canning Christmas Recipes, Christmas Ham Recipes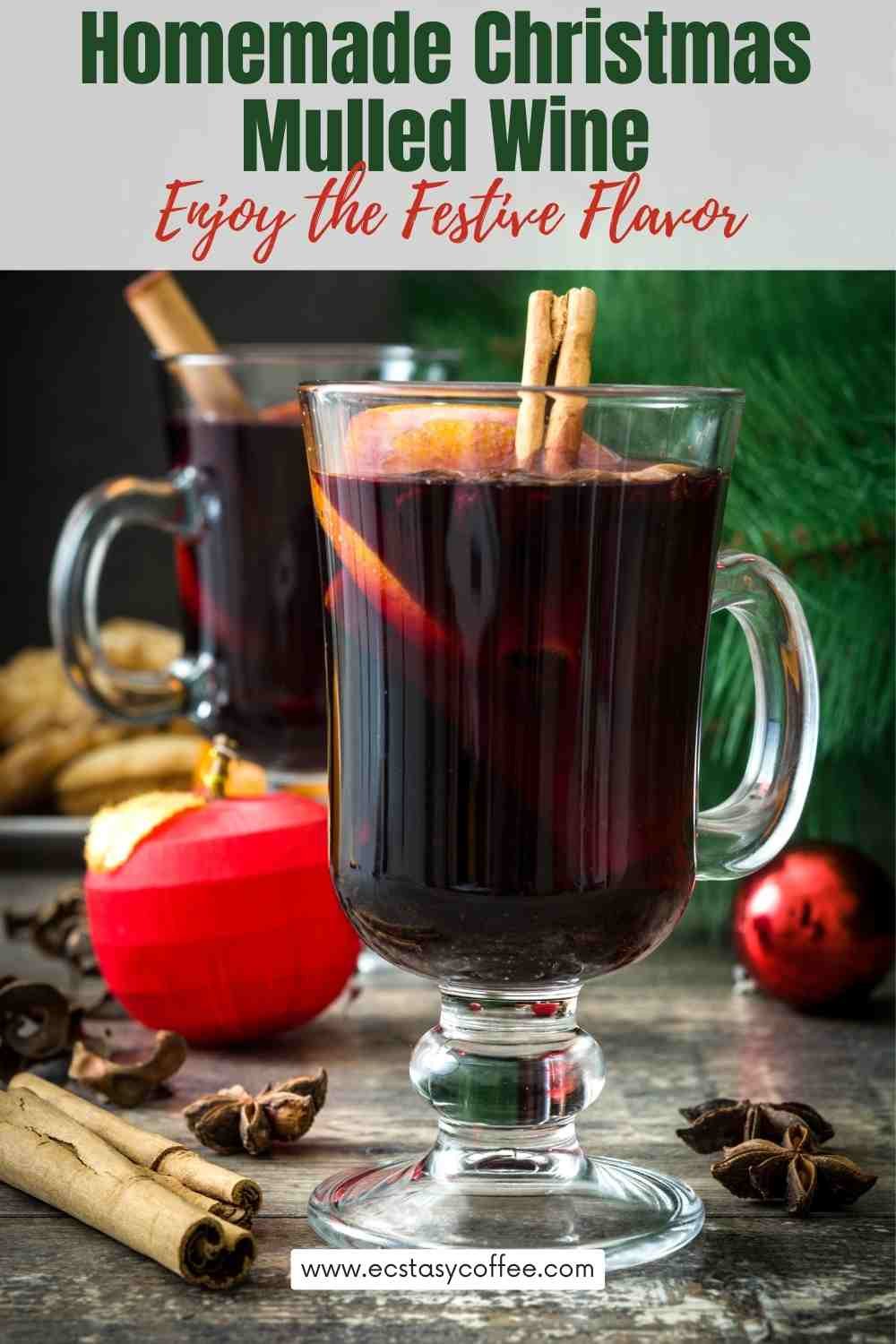 Making mulled wine_ Christmas cocktails and booze for parties
Well, we simply cannot think of a party without some sort of booze or jello shots to keep everyone company! After all, holidays are all about indulging in something nice as you relax your day away! Hustles and hard work shall prevail, and there will be duties too, but holidays are when you are free to give up on everything that bothers you and let your mind relax and feel calm!
And do you know what you can have during those long hours of rest and conversation with your loved ones? Of course, mulled wine. We have discussed some tips with you so that you can get them right!
Tips to keep in mind while you make mulled wine for the season
1. Keep things simple and pretty basic
If you are making a mulled wine, then the first thing that you have to ensure is that your wine is ready! Now a good question! What kind of wine can you use? When you are preparing a Mulled wine, do not go for something that is too raw and ugly because the real taste of the wine can still be felt in the drink!
However, you should not use anything too expensive either, as you will not be able to sufficiently experience its real taste when the punch is added. So the best thing to do about it is that you get done with a basic and standard wine from the supermarket instead. It is neither too expensive nor too cheap in quality.
Read also: Beginner's Guide to Meat and Wine Pairing
2. What kind of seasoning is needed
When you are making mulled wine, several seasonings can go into the wine, but what exactly and how to know which spice or seasoning is right? This is to be noted that Light-bodied wines go with green spices like cardamom and basil, and fuller-bodied wines go with baking spices like nutmeg! That is exactly what the experts suggest in case of seasoning your mulled wine right.
3. White wine is a better option than red wine
It is often commonly believed and also applied while making mulled wine! One adds red wine as the base for the drink rather than white wine! But here is a fun fact for you! To make your mulled wine taste better, you need to opt for the dry and acidic essence of mulled wine instead.
The flavor of the punch and the other ingredients seem to blend surprisingly well with white wine, even better than it does with red wine. So next time you are at the supermarket picking up a bottle of wine for your drink, make sure it is white, not red! And why, you know that by now.
4. Mulled wine should never be too hot
When you are making mulled wine, often some of us end up with a glass of wine that is too hot! But that is not the case, isn't it? You should always have your wine lukewarm when it comes to mulled wine! Simmer the drink but do not let it boil ever! Do you know why? This is because the sugar in the drink can caramelize at high temperatures! Ten minutes is all that you need.
Gift Ideas: 5 Spins on Traditional Alcohol Gifts
5. Be free to experiment with all the garnishes
From nuts to dried fruits, the options are simply endless! From sweeteners and all other treats, options are endless when it comes to garnishing your glass of mulled wine! Get creative during this season.
Here are some recipes and ideas that will help you to make your mulled wine perfect! Let's go!
Warm Up with a Delicious Christmas Mulled Wine
If you are preparing mulled wine for Christmas, then this recipe is perfect to indulge in!
Easy for beginners to try their hands at, the homemade recipe is so simple to grasp.
Are you looking for something comforting and warm for the holidays? Then you must go ahead with the spiced mulled wine!
Rich and savory, here is something that you must serve with dinner as a source of refreshment in every sip.
Here is another wonderful drink that you must try out! Rich and smooth in every sip, you will definitely thank us later for the idea!
So what are you waiting for? Get it done today!
Prepared with a handful of ingredients, the simple mulled wine is what you should try out!
In fact, you can get it done within ten minutes on a stovetop and enjoy it to your heart's content. Good lunch with your drink, then!
Making mulled wine is not rocket science, and as long as you have such an easy-peasy recipe to keep you company, you can quickly make the drink ready for the party.
If you like spices in your drink, this recipe has got that for you too!
If you almost forgot to make the wine before the party, then here is a recipe that can help you out!
Ready in less than half an hour; if you have all the ingredients ready, then be prepared to enjoy your cocktail right away!
The classic mulled wine recipe is here to make your holidays even more special!
The traditional German touch on the table of drinks turns out to be an extraordinary creation indeed.
We are talking about the extraordinary mulled wine recipe! Gorgeous and smooth, you will simply not be able to have enough of it!
The more you sip on, the more you will crave for. Yup, you read that right!
If you are looking for something nice and cozy, then you should go ahead with the mulled wine recipe, which is warm and cozy!
Fuzzy and Ideal for winters, the recipe turns out to be an incredible choice. Shall we, then?
We are talking about the exclusive mulled wine recipe that you can learn in a jiffy!
Flavorful and rich, the recipe is a creative one to make your holidays a special one.
Enjoy with your friends and make sure there is enough for everyone as the drink will be in high demand.
Ah, did someone say apple cider mulled wine? Well, that is exactly what it is!
The gorgeous mulled wine recipe is what you need to feel tempted and stay hooked to the party spirits.
Getting your mulled wine ready on a stovetop is pretty easy!
So if you are looking for something nice and luxurious for the party drinks, here is exactly what you should indulge in.
If you want a little variation with the classic mulled recipe, then you should go ahead with the strong citrus essenced mulled wine!
Rich and smooth, there is pomegranate and oranges to your delight, all brewed together in the pot.
We have brought you the recipe for the classic mulled wine!
Easy to make and ready in no time, Christmas calls for you to indulge in a light boozy drink as you relax with your friends and family at the gathering.
How can we miss out on the winter spiced mulled wine?
Warm, cozy, and a sheer source of contentment for the taste buds, you must try it out for sure.
The recipe is right here, so before the holidays get over, make yourself a glass!
Well, in the case of mulled wine, the more you sip, the more you crave! And why not!
When it comes to making crockpot mulled wine, no one will deny a glass of it with dinner this season!
The simple mulled wine is a great choice if you are having a heavy meal!
This will ensure that you are not thirsty in the middle of the dinner while also sipping on something nice.
So what are you waiting for?
The mulled wine, which is slowly simmered in a slow cooker, turns out to be a gorgeous recipe!
It is the low and simmering heat that brings out the best of flavors!
What an incredible option as a choice of drink this season!
Here comes the slow-cooker mulled wine! Savory, smooth, and enriching, the recipe is amazing, as even a novice can gain expertise in the job of making mulled wine if they follow the instructions well. Make it today!
20. Homemade mulled spice mix
Mulled wine tastes best when you serve it with the right dose of spices and seasonings!
Ready in no less than half an hour, gather all the ingredients quickly before the holiday season runs out.
So what are you waiting for? Make it right away.
Conclusion
Christmas mulled wine is a timeless tradition that can add a special flavor to your holiday festivities. It's a simple recipe that serves up a lot of flavor and a unique aroma that can make your guests feel the spirit of the season. Whether it's enjoyed by the cozy fire or shared amongst friends as part of a holiday gathering, homemade mulled wine is an easy and delicious way to spread holiday cheer. So, have your mulling spices and oranges at the ready, and let's all come together to celebrate the festive flavor of homemade Christmas mulled wine!
"Christmas is all about having a good time with special people and mulled wine just adds to that," says Ben Williams, an avid home chef. So this holiday season, let's toast and savor the warmth of family, friends, and homemade mulled wine!
Other Christmas recipes you should check out:
Easy Christmas Cider Recipes, Best Mulled Wine Recipes, Healthy Thanksgiving Recipes, Green Salad Recipes, Potato Side Dish Recipes, Thanksgiving Leftover Recipes, Instant Pot Pork Tenderloin Recipes, Instant Pot Recipes For Beginners, Christmas Beef Tenderloin Recipes