Ah, finally! Christmas is almost on its way and we can wait to begin with all the preparations! After a long and tedious year, we finally get the chance to rejoice. Work shall remain, but holidays are meant for you to rewind. With food and decoration, we are all gearing up for the season. And amidst all the arrangements, if you are simply stuck with a pork roast then we can't let that happen! Here are some Christmas port roast recipes which will come in handy at the last minute.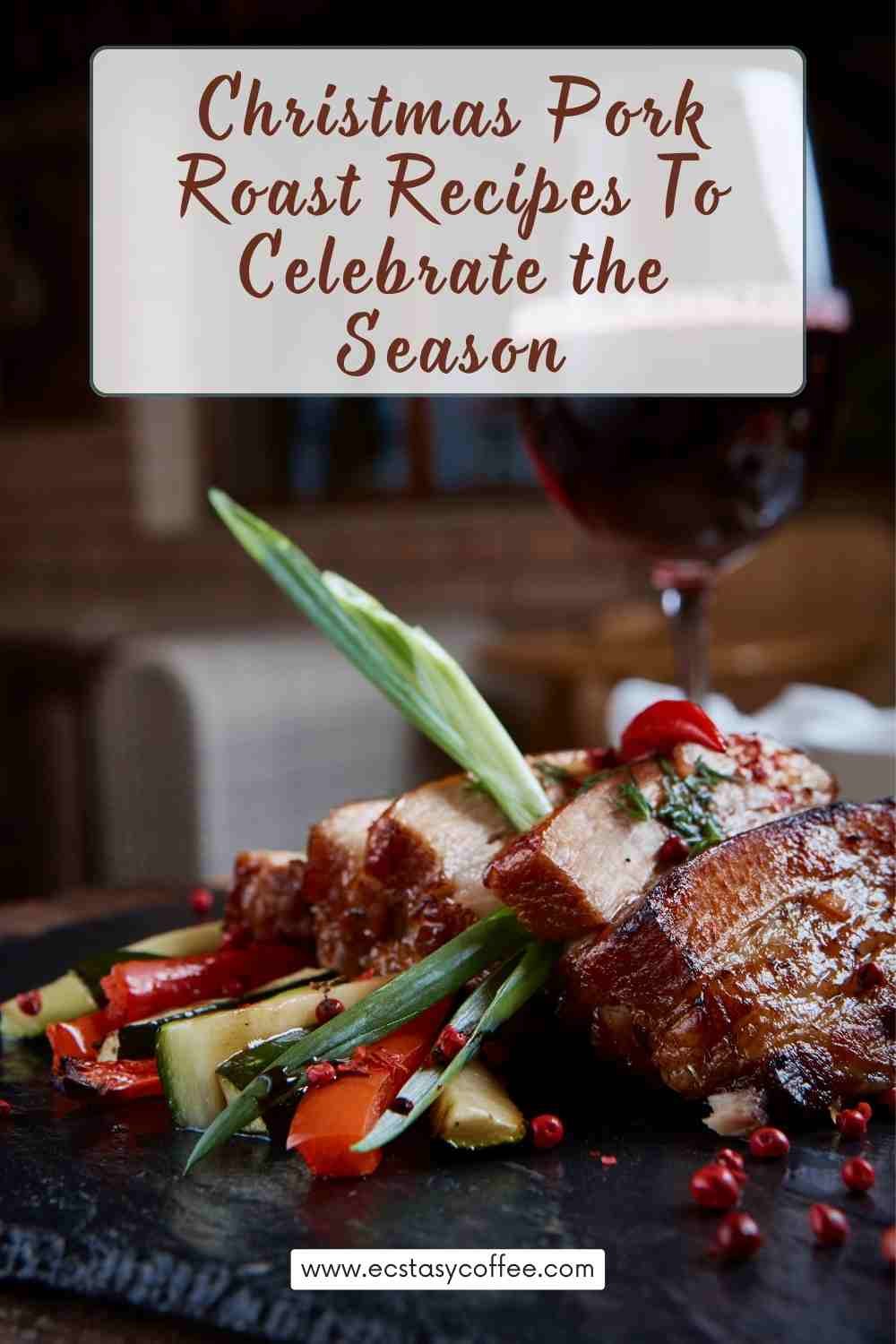 Useful tips to perfect your Christmas pork roast recipe this season
So if you are making pork roast for the first time in the house and are a little apprehensive about how to get it right then here are some tips that you should read about!
1. Always opt for a good stuffing-
A taste of the stuffing absolutely matters! You simply can not opt for anything ordinary! Be careful about the seasonings and the herbs that you use in this one! It is the quality of the stuffing which matters the most! You do not want the guests to dig into a roast and then encounter pale and bland stuffing! Although you will find ready-made stuffing in the store, it is always ideal to opt for a good stuffing that you can generally make at home. This way the stuffing can complement the flavor of the roasted meat well and bring out the best.
2. Scoring the meat-
Unless you score the meat, the juice, and the seasonings will not seep in! As a result, the skin of the roast may turn crispy and flavorful but the meat inside may taste bland. Scoring the meat implies making a criss-cross pattern on the meat with a knife and cutting slits. These will enable the skin to turn even more succulent and absorb the juice well. Do you know what the perfect picture of roasted pork is? One with the proper scoring.
3. Roll the pork meat-
Another essential step in processing pork meat is through rolling them well! The pork meat should be rolled first and then pat dry with a towel so that the excess water and fluid from the meat pour out. This way your meat will not become too pale and watery when it is cooked. Especially when the pork meat is vacuum packed, the process of scoring becomes even more vital.
4. Next comes salting and seasoning the meat-
The process of preparing any sort of meat is simply incomplete without salting and seasoning the meat well! So once the pork meat has been rolled and the excess moisture has been removed it is time for you to now season the meat well.
Rub the salt in the cuts that you made while scoring the meat, this will enable each portion of the meat to carry the essence of seasoning through absorption. Hence marination is regarded as an important step in meat preparation.
5. You have to allow the meat to relax!
Once all the marinade has been applied and the seasoning has been done, you simply cannot transfer the pork to the oven! The flesh will take a considerable amount of time to imbibe all the juice, flavor of the marinade, and salt. Hence the meat needs to be quickly popped into the refrigerator to soak the ingredients that are applied on the surface.
A few hours is perfectly alright but if you have some time on the clock then allow the meat to sit in the cool environment for an entire night. The latter will definitely taste better when roasted we can guarantee.
6. Maintain the proper temperature of the oven-
Another crucial factor for pork to cook well is to maintain the ideal temperature in the oven! Hence we recommend you preheat the oven before you set the stuffed pork inside. If the temperature of the oven is low( that is if you have forgotten to preheat) the ambiance is ideal for the growth of microbes on the raw meat! You do not want food poisoning during the festive season! Do you?
7. Savor it at the end-
In the end, it all boils down to enjoying a great meal! All the efforts and hard work come to aid as long as you can enjoy the succulent meat at the end! Depending on the kind of seasoning that you choose, there are so many options that you can explore. From simple to elaborate, there is one thing for sure! You are never going to run out of ideas! And if you do then the good old traditional pork roast will always save your day. So get ready to enjoy the roasted pork.
8. You may use apple cider juice for braising the pork-
We have often seen cartoons where the pork is served with a large apple stuffed in the mouth but since we do not make it quite often now, there is no need to forget about the classic duo! Here is a way to indulge in a lovely treat as long as you braise your meat with Apple cider. The recipe always turns out to be so good.
9. Pair your pork with peaches and butter-
Next, we need to discuss pairing peaches with butter and pork! Ah, lovely! You will be rendered simply speechless. Then roast it for five to six minutes and see how the pork sizzles. Spicy peach salsa tastes so good indeed. This is often regarded as a pan-Asian combination and if you are fond of pork then there is no way you can resist this trio at all.
10. Pork shoulder cuts are ideal for pulled pork-
Pulled pork is the most versatile meat that you will come across but the pulled pork shoulder is what you cannot overcook. Whether you are roasting, stir-frying, or cooking in a slow cooker, the options run endlessly with pulled pork we must admit. And the best part is you can serve pulled pork literally with anything! From nachos to buns, the options are simply endless.
11. Pork loins can be seasoned with literally anything you want-
The taste of the pork loin is very subtle and hence you can combine any sort of seasoning with the pork! This is an excellent idea if you want to indulge in something out of the ordinary. This festive season, make your pork special with these myriad options.
Well, now let us go and indulge in making some of these wonderful Christmas pork roast recipes, shall we?
Delicious Christmas Pork Roast Recipes - Perfect for any Holiday Gathering
Delicious and rich, pork tenderloin is a brilliant idea that you must indulge in! Flavorful and enriching, the recipe is so easy to make, that you will not believe in your eyes how quickly this gets done with perfection.
If you are fond of roasted pork then this recipe will only enhance your obsession for the dish! No, we are damn serious if you think we are just kidding! Try this one on your own and find out.
Cuban roast pork is an incredible idea that you must indulge in! Delectable and crumbly, this roasted pork recipe turns out to be extraordinary! So what are you waiting for?
If you are in the mood to make your family dinner a little more fancy and whimsical then seek out this recipe. The sweet and savory meat recipe is easy to make and ready in a jiffy. The garlicky essence is palpable.
Recipes like these will restore your faith in the Grand holiday dinner and how much they are required. Smooth and succulent, the dish is brilliant, so give it a try for sure. Let us know how this turned out to be!
A Cuban tradition, the Lechon Asado is a wonderful recipe that we are sure you will grow fond of! Juicy and flavorful, this is a brilliant choice for roasting the pork! Shall we try it then?
Here is another exotic recipe that you must take into account! Delectable and fancy, make your holidays exciting and yummy with such delicious meat recipes on the table. The guests will surely be impressed with your excellent cooking skills!
The combination of Dijon mustard and brown sugar creates magic in the taste buds! Delicious and smooth, the succulent meat is a treat to the taste buds with chunks of apples on the side. Shall we then?
Imagine a meat roast that is juicy and succulent on the inside and so crispy on the outside! That is exactly what we are talking about! This recipe will enable you to enjoy the best meat in the world with the perfect smokey essence.
You wish you came across this recipe before! But the holidays aren't over yet, so you can indulge in something so nice and gorgeous! Let's not waste a second and get started with the preps.
If you want something soupy and smooth, then dive into the bowl of pork medallion with mushroom gravy! Yes, it is indeed the most exciting treat that leaves you simply content. Sumptuous and rich, you can enjoy it with a bowl of rice on the sides.
Here is another exotic recipe that we are sure you would love to try! Gorgeous and gooey, there is nothing so comforting as a pork roast placed on the side during a family gathering on a lazy holiday night.
The fascinating Brazilian pork roast is indeed the most sumptuous treat of all time. Loaded with great flavors, you are definitely going to come back with a sense of gratitude! Orangish and zestful, the recipe is one of its kind.
Here is another exotic option that renders you simply speechless! Gorgeous and flooded with rich seasoning, the traditional Pernil-style roasted pork is such a brilliant dish for one to indulge in! Make your holidays happen and have fun with this idea!
Cranberry and orange pork roast are super rich in flavor and ideal to make your holidays even more exciting and wonderful! We are not just saying for the sake of it! Give it a try and then find out on your own.
Well, with Christmas just around the corner, dinner has become more elaborate and fun-filled. The classic Apple cider braised pork shoulder is lovely and such an exotic recipe indeed. Let's not waste a single minute and get started already!
As if the pork meat itself wasn't enough, this recipe tells you to stuff it with cheese and dried tomatoes, and spinach! Roll it over and roast it fresh! Yum! The stuffed pork will bring water to your mouth at the sight of the dish.
Well, what can we say about the crispy roasted pork shoulder? The dish will speak for itself! Gorgeous and gooey, let's not waste a single second and get started with the prep if you are planning an outdoor event with friends and family this weekend.
Christmas just got better and bigger with the garlic rosemary pork shoulder which is simply incredible. In fact, even the most beautiful word in the dictionary will fail to express the goodness of this dish.
What an excellent creation we must admit! The garlic essence of the meat in every bite renders you speechless and then hits the succulent meat upon your taste buds before you are swayed off your chair.
Frequently asked questions associated with making pork roast for Christmas
1. What is the secret to making succulent pork roast?
The secret to juicy pork roast lies in monitoring the temperature and time of roasting! You should never overcook them or the meat will turn out to be dry and chewy. It is to be noted that 145°F is chosen as the ideal temperature to make the pork roast.
2. How should you serve the pork roast?
When the internal temperature of the pork meat reaches 145°F, it is safe to say that your pork meat is ready! You need a meat thermometer to record this temperature! After that, bring it out of the oven and allow it to rest for about five to ten minutes before you carve the meat. This gives time to the pork to absorb the liquid and imbibe the seasoning well once the heat source is removed.
3. How long do you need to invest in roasting pork?
When you roast pork meat you shall require about forty-five minutes for every kilogram. And then a resting period of five to ten minutes is needed for the meat to rest and then serve it fresh.
4. How can you roast the pork without drying it up too much?
If you want your pork to taste good after roasting and not very dry then here is a trick to manage that. Place the pork loin fat alongside the meat on its pan.
5. What is the technique for roasting pork?
You should roast your pork slowly and low so that the meat does not turn chewy.
Bottom Line-
Christmas is a time for family and celebration, so why not make your holiday dinner something special with a pork roast? Pork roasts can be prepared in a variety of ways, with endless flavor variations. Whether you choose a classic slow-cooked roast, a glazed oven-roasted cut, or a spicy rubbed roast, a pork roast is a great way to bring the family together this holiday season. So gather around the table, enjoy a hearty pork roast, and cherish the special moments these holiday recipes can bring. Let's make the most of this Christmas season and create memories that last a lifetime.
As we close, let's remember the words of Alfonso Rivas, a well-known chef from Colombia: "A family that eats together, stays together." So, as we celebrate this holiday season, make pork roast recipes part of your family's ritual and create a special bond that will last for years to come.
Read also: