Well, with the holiday season almost knocking at our doors, it is likely that you feel a sense of madness with so many preparations and arrangements lining up! Amidst all the decor work and the cleanups, you also need to think about the food! There will be gatherings, feasts, cozy family dinners, and so on! This article is going to help you out if you are making potato au gratin for the first time in your life. So read on because we certainly have some fun facts lined up for you!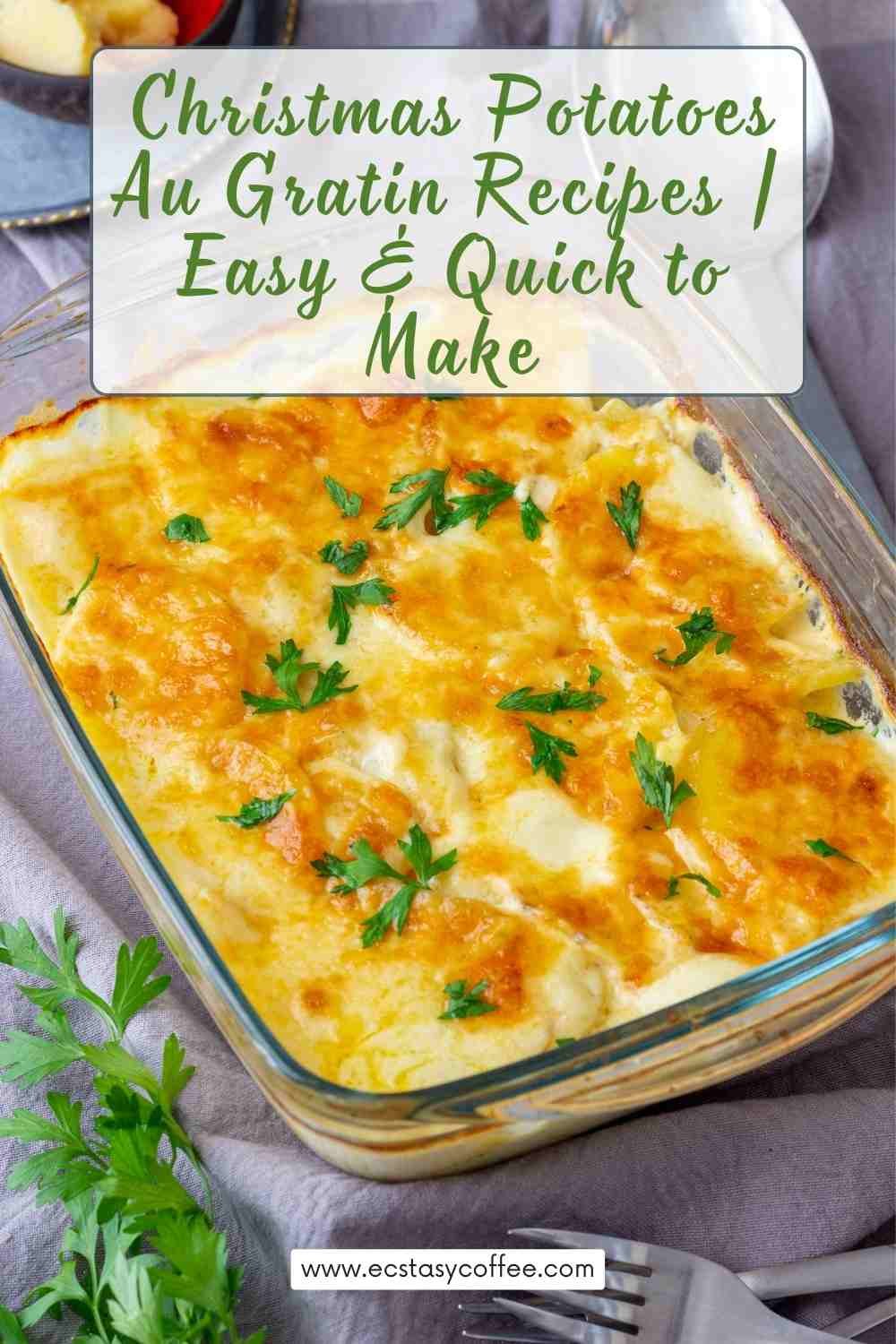 Everything interesting that you didn't know about potato au gratin
The word potato au gratin definitely sounds fancy, doesn't it? Well, it does! Imagine yourself sitting on the couch in your pjs having au gratin. It seems a little out of place isn't it? Now imagine yourself out for a fancy dinner with your family and the waiter serves you the steaming bowl of potato au gratin! Ah, that fits the picture, isn't it? To be honest, that is what au gratin is! It is a fancy version of a potato-baked dish! So if you are fretting about whether you will be able to pull it across at the party, you can, do not worry! Just remember! Fancy always does not have to be hard! A little bit of attention can help you to render an elegant charm to your parties and gatherings as well.
So what does au gratin mean?
Now let's talk about some basic facts that you ought to know if you take an interest in cooking! Au gratin simply means a dish that is baked and served with a cheesy topping or even crispy bread crumb! There is some butter and the dish is mainly prepared in the oven and even at times in the broiler! Until the baked dish is hot and steaming, you need to cook it! Finally, serve it when brown and crispy!
The funny part about the whole thing is that to come up with something as fancy as an au gratin all you need is some breadcrumbs, cheese, butter, and an oven! Pretty much the basics isn't it?
A competition between scalloped potatoes and potato au gratin!
To be honest, there is a massive point of similarity between scalloped potatoes and au gratin, to be honest! But are they the same thing? It is the presence of dairy which distinguishes scalloped potatoes from au gratin! Generally, scalloped potatoes are served in a casserole bowl with a layer of milk, cream, and cheese being baked in the oven. And there are some herbs obviously, which are needless to mention! On the other hand, potato au gratin is fully dependent on cheese for its creamy texture. Cheddar is commonly used to top the potato slices in an au gratin.
There are other points of difference between the two as well! For example, potato au gratin consists of a layer of breadcrumbs on the top to give a layer of crispiness to the dish which is absolutely indispensable in this case. On the other hand, you may or may not layer on top of a scalloped potato with breadcrumbs. For both dishes, the potatoes are sliced into circular shapes; however, in the case of scalloped potatoes, the slices are comparatively thicker than in an au gratin.
From where is the word au gratin derived?
Now if you are wondering who gave birth to such a unique term then we have to thank the French for their marvelous creation! To summarise what an au gratin mainly consists of, thin slices of potatoes are cut in circular sections and laid at the base of the au gratin tray! A layer of your favorite cheese and some bread crumbs are added to finish off the topping! The dish is generally baked for an hour until the breadcrumb topping turns crispy and the potatoes tender.
In French, the term gratin stands for " to grate" with a crust!
So what is the technique to make gratin?
If you are making a gratin for the first time then this section is going to be highly useful! With the season of Christmas celebrations around the corner, let's try out au gratin and surprise everyone at the table! Here is the technique that you need to learn when making gratin! Read on to learn more!
1. Thinly slice your potatoes first- When you are making potato au gratin, the best variety is Yukon gold which has a creamy and mushy texture. These potatoes are sliced into very thin sections and then laid on the buttered baking tray! You can choose to season with salt or pepper and at the end sprinkle some herbs and seasonings too!
2. Next you need to make the sauce- once the layer of potato slices is laid you need to make the sauce! A combination of milk and cream is used for laying the sauce! As a whole, you need two whole cups of both! For seasoning, you should simmer the sauce separately with some garlic and cloves! Roasted garlic essence is the best when it comes to making white sauce. Do not forget to add some nutmeg and herbs into the sauce as well! Finally, your sauce is ready and you can pour it on top of the sliced potato layer sitting at the base.
3. Finally you need the topping- to get the classic au gratin topping, you need something which can turn crispy and brown on being baked in the oven! Some butter, breadcrumbs, and shredded cheese are ideal to confer a sense of crispiness and browning at the same time. We would recommend you opt for Gruyere cheese which gives a melted texture and appearance although if it is not available you may go for any option you want. You may also opt for parmesan for enhancing the taste of the baked potato recipe. As we say, the more the better!
4. Conditions for baking the au gratin- you should bake your potato au gratin at 400°F. This takes about thirty minutes to one hour for the veggie to turn tender and the toppings to become crispy and brown. Once the top starts to bubble, you can poke a fork to check whether the potato slices are ready or not. This helps you to check for doneness!
5. Fillings that you can add- here are some additional filling options that you can try out-
Caramelized onions, sweet potatoes, and sage!
Toasted pine nuts, cauliflower, Brussels sprouts, parmesan cheese
Parsnip, turnip, thyme, gruyere, apples!
Delicious Christmas Potatoes Au Gratin Recipes - Perfect for the Holidays!
Creamy and luxurious, the potato au gratin recipe is one of a kind! Luxurious and juicy, this is definitely a wonderful recipe to keep you company during the holidays.
The classic potato au gratin never fails us! There is nothing that can go wrong with this one! Delectable and smooth, the recipe is one of a kind. Go for this one already!
Why dig a hole in your pocket heading to fancy restaurants for dinner when you can prepare something equally divine at home? The steakhouse potato au gratin is one of a kind. So what are you waiting for?
Well, if you are a fan of potato au gratin recipes then you go ahead with this wonderful treat! Delectable and smooth, the recipe is gorgeous and will flood your mouth with a sense of temptation and contentment in every bite.
Packed with ham, the simple au gratin potatoes are delicious and luxurious to make your holidays even more special. Fabulous and creamy, the gratin potatoes are lovely and render one simply speechless! Do not hesitate to make it again and again.
The cheesy scalloped potatoes are flavorful and a gorgeous treat to relish as a side dish. Drizzled with herbs, the creamy treat is outstanding and you might end up with a competition in the house! No one will give up their share!
The combination of parmesan and gruyere turns out to be an extraordinary treat for the season! Delicious and creamy, the tender potatoes leave a comforting flavor on the taste buds. So what are you waiting for? Try it out already!
The outrageous au gratin recipe is a classic holiday recipe that is right here for you! Fancy and elegant, the guests will definitely leave you with a word of praise as they embrace the dinner table. Shall we then?
That's right! You can combine three cheeses at once in the potato au gratin recipe! Delectable and smooth, the dish will flood your mouth with a sense of temptation so divine. What an exciting treat for the holiday season! Shall we then?
Gorgeous and creamy, if you wish to enjoy something terrifyingly good and enriching for the season then go ahead with the classic scalloped au gratin recipe with thin slices of potatoes! So what are you waiting for?
If you are looking for something easy-peasy and delicious at the same time then you must go ahead with the wondrous potato au gratin prepared with the essence of gruyere cheese in it! So what are you waiting for?
Sumptuous and enriching, there is nothing as good as the Dauphinoise potatoes! Creamy and fascinating, the recipe stands out to be the most remarkable option for holidays! Well, with Christmas around the corner, the season calls for you to indulge in au gratin!
Ah, the season of celebration is finally here and we are super excited to indulge in the mood for Christmas and jingle bells! Along with that, what if you would say you can make the tastiest au gratin? Yup, with this recipe, you indeed can!
Slow cooker au gratin is another wonderful recipe where the effort required is minimal! Ready in no time, get ready to enjoy something truly amazing for the season. Enriching and smooth, this is a great choice of dish!
Ah, if you are not in the mood to be in the kitchen but wish to make something nice and healthy for your family, try out the crockpot au gratin potato recipe. Such a fascinating treat to relish this season.
Did you try out the smokey gouda and garlic potato au gratin yet? If not, then we know what you would love to relish this season! Ravishing and yummy, this is a delightful one to make as a side dish to the main course.
The light and easy creamy au gratin is one of the most delicious treats of all time! Fabulous and meant to escalate one's spirit during the holidays, make sure you get it done this season.
The combination of cheese and potato always stands out for us! Especially when it is baked, there is no word to justify the magnificence of the recipe. What an amazing idea for a gluten-free and vegan side dish!
If you are in the mood for something nice and luxurious then you must try out the gluten-free potato au gratin which is not only yummy but healthy as well. Relish the delightful essence of the recipe and thank us later.
Ah, if you have to end the list here then it must get over with the classic potato au gratin! Smooth and enriching, you are definitely going to fall in love with the dish! A blissful experience indeed for both the eyes and the taste buds.
Frequently asked questions associated with making potato au gratin
1. What is the technique for making potato au gratin?
If you want your au gratin to turn out well, then you must cut thin slices of potatoes and then top it with cream and cheese! Finally, a layer of breadcrumbs is all you need to finish the dish!
2. What is the reason behind gratin turning out too watery?
It might happen that your gratin turns out to be too watery! On several occasions, you are going to notice such a situation! If you wish to prevent that from happening then you have to focus on the reason that leads to the condition. There are some kinds of potatoes which store more water in them! On the other hand, you may opt for the cream which is thicker than milk.
3. What is the reason behind gratin splitting?
When you are baking the gratin at a high temperature then it might happen that the milk will curdle and the cheese might separate from each other! The taste hardly gets affected but the look of the gratin might turn out to be strange.
4. Why is a gratin called so?
The word gratin is derived from the French dictionary! It implies that gratin means to grate, the breadcrumbs and cheese are shredded first and then added to the toppings!
5. What is present inside gratin?
If you are planning to make the gratin, there is a layer of thin sections of potatoes and a layer of cheese with cream and crispy breadcrumb toppings to finish it off!
Bottom Line-
Christmas Potatoes Au Gratin is the perfect combination of comfort food and holiday cheer. Not only are they easy and quick to make, but they will also make your kitchen smell delicious! With just a few basic ingredients, you can make this traditional dish a part of your holiday menu. Whether you're looking for something to serve your family or bring to a potluck, this classic dish will be sure to please. Don't forget to customize your Potatoes Au Gratin with a sprinkle of fresh thyme or rosemary - the possibilities are endless! So, this Christmas, why not give the gift of comfort food and share your delicious Potatoes Au Gratin with your loved ones?
In conclusion, Christmas Potatoes Au Gratin is an easy and delicious way to bring the holiday spirit into your home. Not only are they quick to make, but they can also be made with ease and customized to your liking. Bring the holiday cheer to your kitchen this Christmas and give your loved ones the gift of comfort food. As the famous chef Anthony Bourdain famously said, "How we clamor for the comforts of home, the smells, and tastes we grew up with, the flavors of childhood." Bon appétit!
Read also: