Make delicious Christmas spritz cookies in under 30 minutes! Let your creativity shine with festive shapes and flavors. Get the full recipe and instructions for this holiday favorite now and make your holiday baking special!
More collections: Christmas Peanut Butter Fudge, Christmas Popcorn Candy, Christmas Toffee, Christmas Truffles, Homemade Christmas Marshmallows, Christmas Springerle Cookies, Christmas Pizzelle Cookies, Christmas Biscotti Butter Cookies, Christmas Shortbread Cookies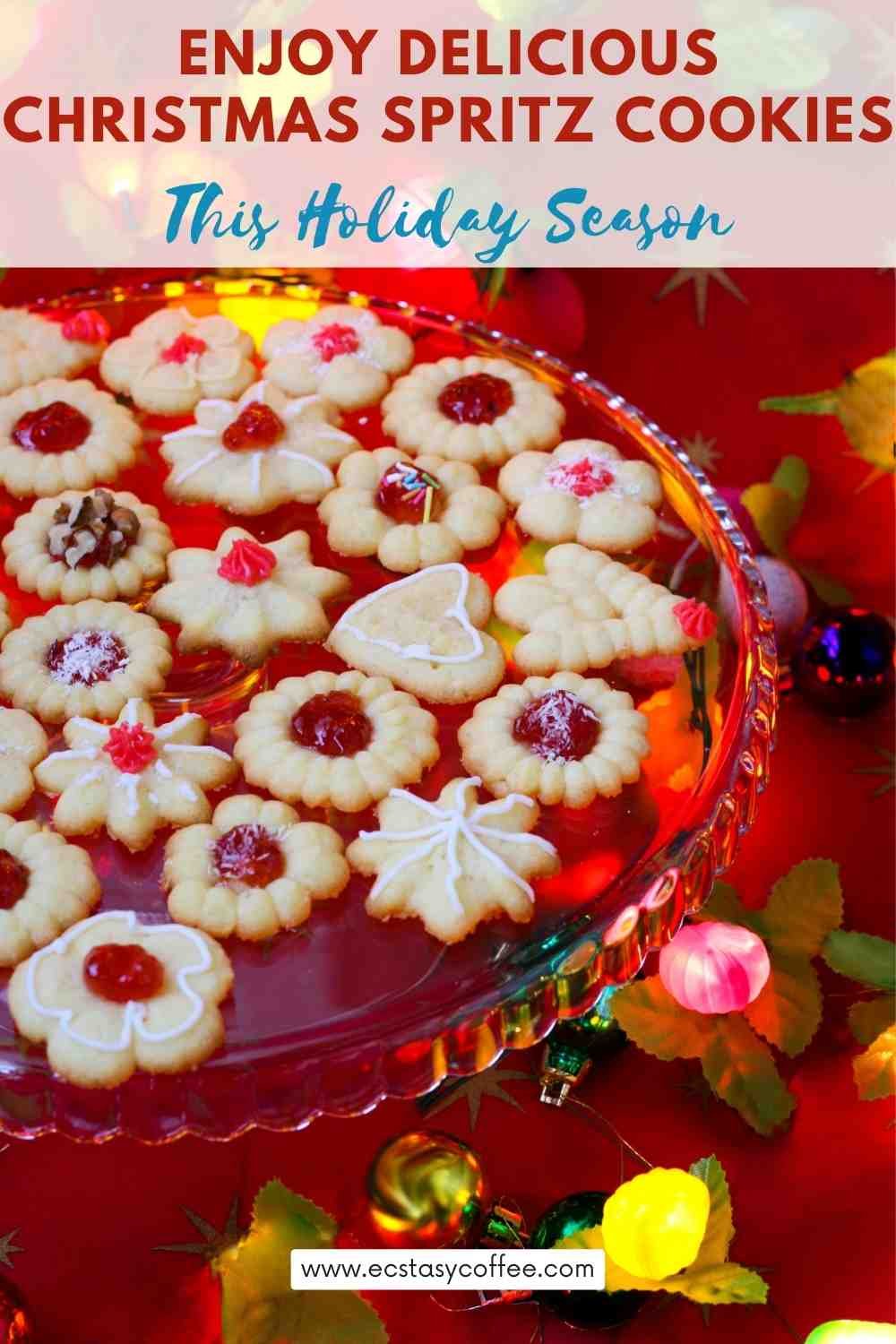 Making cookies is nothing but a rewarding job! You spread love through what you create! The warmth these coolies convey comes right from your heart; the taste is a symbol of the effort and love you have bestowed upon them! And hence we call them the best gift during the holidays! This Christmas, let's try out making spritz cookies for our near and dear ones! If you find it hard to express your affection in words, the cookies shall be your messenger. But to make them right, you need to learn the right ways! Here are some tips and recipes for making the best spritz cookies for Christmas this time.
Everything you need to know about spritz cookies
Don't you find it intriguing to learn about the magnificent past behind the origination of the cookies? Well, we do too! So here is a quick recap on the history behind the creation of the spritz cookies.
So if you were not aware, these are simple butter cookies that acquired their popularity through their wonderful appearance and the amazing imprints on the surface. Sharing the Scandinavian origin, these cookies are symbolic of the arrival of Christmas! The word spritz is derived from the German word "spritzer," which means " To squirt.". This is because the dough needs to be pushed and then squirted through the cookie press. Earlier, these cookies were made in the shape of "s" and "o" but nowadays, several Christmas customized shapes are also very common, like trees, reindeer, Santa, and so on.
So what are spritz cookies exactly?
If you are confused about which category the spritz cookies land into, then here is what exactly they are! These are basically soft butter cookies that are adorned with nonpareils, candy, sprinkles, fruit pieces, chopped nuts, currants or raisins, and so on.
To make your spritz cookies, you will need a cookie press, without which it is simply not possible to give the required shape to the cookies!
Now let us find out about the common tips that you need to follow as you initiate the process of preparing spritz cookies! Let's go!
Tips to getting your spritz cookies right
You must ensure that the butter that you use while mixing the dough is very soft, almost on the verge of melting but not totally melted! The texture should be such that it is unable to hold its shape but never too runny, like a liquid also.
Make sure that you bring out the eggs from the refrigerator about one hour before you begin the process of mixing all the ingredients together! Cold eggs will fail to make the cookies rise or become fluffy, which is the reason you are adding eggs!
In the case of spritz cookies, contrary to others where you are expected to cool the dough before baking, you must let the dough be warm and at room temperature before it is pressed! This ensures the dough sticks to the surface of the press well and acquires the required shape.
Things to know about the baking tray- you must make sure that the ungreased baking tray is cold so that the pressed dough now easily adheres to its surface. If the dough still does not stick on the surface of the tray, place the tray inside the freezer for a while. In this case, you are advised against using any baking sheet or parchment paper, which can make the cookies slide and fall off.
Now, let's find out about some gorgeous spritz cookies for this Christmas!
Deliciously Light and Crisp Christmas Spritz Cookies
Tempting and crunchy, you ought to indulge in its blissful taste! Crumby and drizzled with Christmas-customized green and red sprinkles, these edible trees and flowers look so ravenous!
Find out how they taste as well, and let us know.
The combination of gingerbread and spritz is a duo that can make anyone go weak in their knees as the first bite melts into their mouth.
Savory and chewy, you should try them out this season to lift your spirits.
Ah, what a lovely creation! Delectable and crumbly, you shall be smitten by it totally!
Rich and crispy, this is an incredible creation leaving you with a craving for more.
So get started with your baking gloves and tray before the holidays are over.
These charming petals are indeed edible! Yup, you heard it right! It will be impossible for one to believe at first sight that these cookies are, in fact, so yummy!
Bearing a charming beauty and delicious flavor, they are the best!
Preparing spritz cookies is no big deal as long as you have this recipe to accompany you!
Colorful and vibrant, these cookies shall instantly convey a sense of cheerfulness in the house and elate the spirits of the event. Shall we, then?
The delectable and crunchy spritz cookies are very easy to make! Loaded with great flavors and then drizzled with silver hues, these cookies are the best treat during the holidays!
Your guests will surely be charmed by your creation.
There is nothing so gorgeous as the snowflake spritz cookies! Customized to the season of Christmas, these are not only a treat to the eyes but also to the taste buds.
So what are you waiting for? Try them out right away! Shall we, then?
If you wish to try out something more traditional, then the old-fashioned spritz cookies are best to relish this season.
Savory and packed with flavors so gorgeous, you ought to indulge in its blissful taste. Shall we give it a try, then?
The smooth and enriching spritz cookies are exactly what you need! Crispy and gorgeous to go with a warm glass of cocoa on the sides, this is an incredible creation, we must admit.
So what are you waiting for? Go for it today!
Packed with jam in the center, the jam spritz cookies are one of a kind!
Designed as flowers, experience the bloom of spring amidst the cold winters.
Yummy and rich in flavors, you will relish it in every bite, we can assure you.
The spritz cookies are not only delicious but also a tradition to make every year!
If you wish to stick to the same old-fashioned recipe, then you have found the right one. So what are you waiting for?
The authentic Italian butter cookies are another gorgeous batch that you should try out during the holidays!
Flooded with great flavors, the smooth buttery texture will melt in your mouth and render you simply speechless!
Let's not waste a single second and get started with the preps!
Making the cream cheese spritz cookies are pretty easy, but the outcomes are always divine!
Flavorful and gooey, you will definitely find it so hard to resist! And in no time, you will begin to prepare fresh batches again! Mark our words.
Making spritz cookies is indeed so easy if you know the right techniques!
Here is a recipe for beginners; if you are trying your hands at it for the first time. Shall we, then?
Dipped in rich and creamy chocolate icing, the butter-smooth spritz cookies are indeed the best!
Packed with great flavors, you should try them out as the taste leaves you bewitched. One thing is guaranteed, these cookies will never disappoint you.
Loaded with cream cheese essence, the gorgeous spritz cookies are exactly what you need to feel satiated and content in every bite.
Crumbly and crispy, these cookies are simply lovely and leave one with a craving for more.
Don't forget to make them this time.
You will not believe in your eyes how gorgeous and charming these cookies appear on the table.
Perfect for displaying at gatherings and parties, everyone will be drawn towards the cookie counter and grab the spritz first. Let's go!
The zesty and enriching spritz cookies are simply the showstopper during Christmas!
And if you do not find our words convincing, then we challenge you to bake them and find out.
Well, then you will have no option but to agree with us.
There is no need to thank us for the next extraordinary creation of the spritz cookies!
Crumbly and rich, you must try baking them before the holidays are over!
So quickly go through the recipe and get started with the preps.
Curating spritz cookies is no big deal, but once you make them, the beauty of these cookies will leave you bewitched for a second!
If this seems like an exaggerated tone, then try them out on your own and find out.
Other recipes you should check out: Christmas Cookies Recipes, Cheesy Garlic Bread Recipes, Valentines Day Cookies Recipes, Halloween Cookies, Christmas Brownie Mix In A Jar, Christmas Green Salads, Christmas Vegetable Salads, Christmas Fruit Salads, Christmas Dessert Salads