There is something so special and affectionate about sticky buns if you have noticed! These are warm and convey a sense of love to our family as we combine our effort to make something nice for them! It somehow conveys that the holidays are just around the corner! With Christmas knocking at our doors, we can hardly wait to celebrate the season with sticky buns to suit every mood. But if you wish to learn more about sticky buns then read on. This is rather going to be an interesting article to explore the stories of the origin of Christmas sticky buns.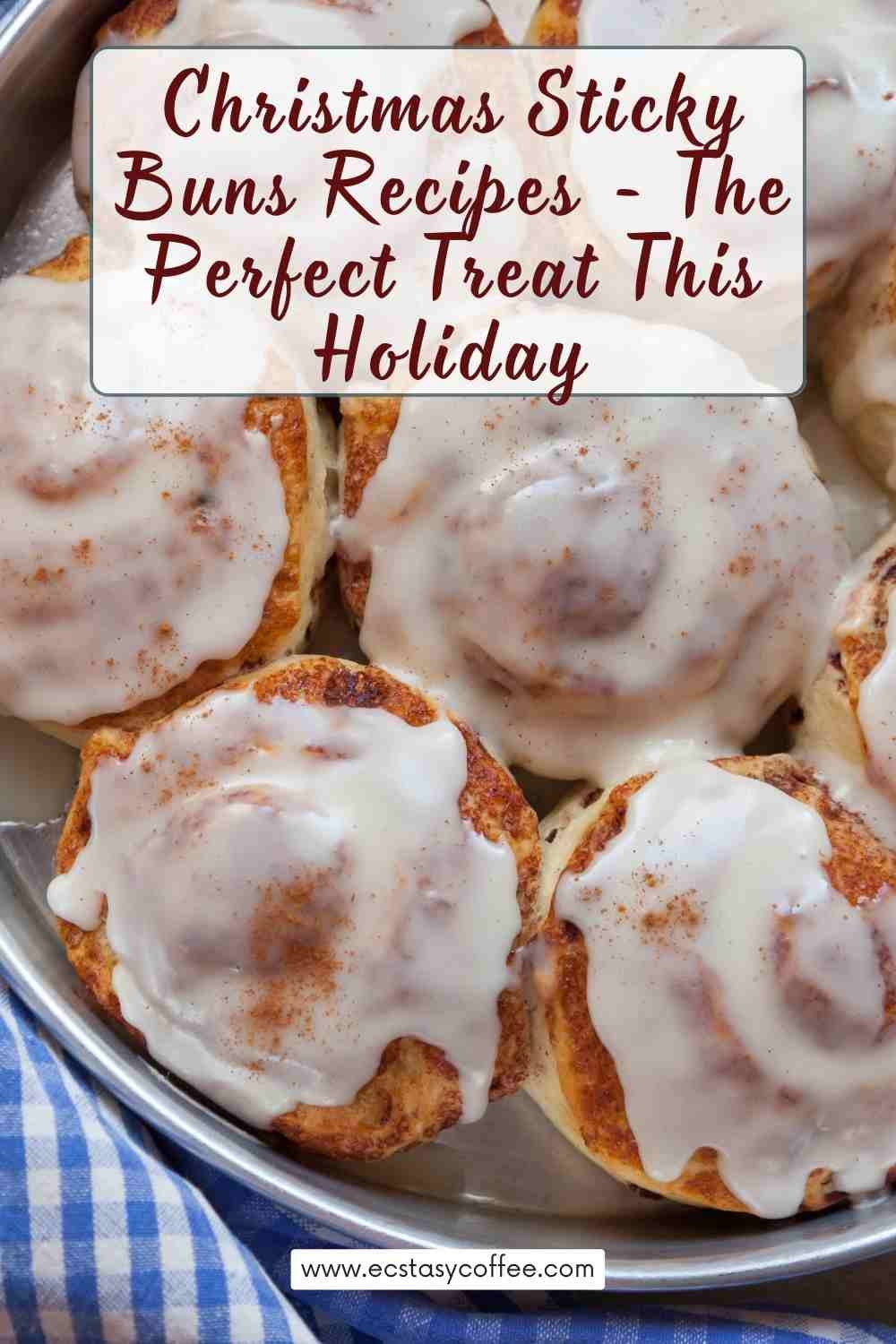 Everything you need to know about making sticky buns
There is no right time to enjoy buns, whether you are having dessert or breakfast! If you are in the mood for something sweet and savory to begin or end your day with then go ahead with sticky buns! These are easy to make and feel so comforting on the taste buds. Packed with brown sugar or cinnamon, the leavened dough is baked and then allowed to cool down. It is then flattened and shaped like the pan in which the sugar-coated dough shall be processed further! Before subjecting it to the pan, the dough is marinated in sugar syrup or cinnamon essence, and so on. Brown sugar, honey, nuts, and raisins are the common ingredients that are added to the buns. Commercially there are several brands and companies which have come up with wonderful sticky buns.
Ever since the Middle Ages the emergence of sticky buns have been very common with the discovery of cinnamon. These can also be associated with Germany where it was called Schnecken. The Pennsylvania Dutch were the ones who brought these sweet buns to America. Thanks to the German settlers in the 18th century, they spread the idea of sticky buns wherever they went! Thankfully the culture of consuming sticky buns has remained even though other traits have disappeared. If you have been to Venezuela then must have observed that they have a local variety of the same called the golfeado. The only difference between the two is that the former is adorned with ground cheese topping while sticky buns are not.
What are the common ingredients that are needed to make sticky buns-
There are only a couple of ingredients that you will need to make the sticky buns! We have listed them below!
Sugar- you need both, white sugar and brown sugar! For sweetening the dough you need white sugar while brown sugar is needed for making the caramel sauce. The cinnamon filling also needs a blend of brown sugar which gives an enticing dark hue.
Milk- when you are making sticky buns, it is essential for you to use whole milk for the creamy and smooth texture while slim milk can never give such an enriching flavor and texture to the buns.
Cinnamon- this is the most important ingredient of all! You simply cannot make a sticky bun without the cinnamon essence! Hence you need to have them in order to make sticky buns.
Honey- to give a sticky texture to the buns, you need good quality, honey! In case, it is not available in the house then you can go for maple or corn syrup or a combination of both.
In order to make the sticky buns come alive, you need to warm the milk and add some sugar and yeast to create a foamy and frothy mixture.
Here are some wonderful Christmas sticky bun recipes that you can try out!
Delicious Christmas Sticky Buns Recipes for the Holiday Season
The combination of pecan and nuts turns out to be a wonderful idea to be paired with stew or soup on the sides! Smooth and sticky, the sweet caramel buns are simply the best to opt for.
If you are in the mood for something nice and flavorful then go ahead with the big fat pecan sticky buns! It will not only satiate your craving but also render you with a sense of comfort in the taste buds.
Ah, what a lovely treat for the holidays! Delicious, tender, and smooth, the idea for sticky buns is easy to emulate and the recipe helps you to make it from scratch! Go for it already!
Yup, we are talking about the lovely sticky buns, delicious and smooth such that it slides down your throat and leaves you tempted for more! With Christmas around the corner, we cannot wait for you to try this out already!
Delicious and crumbly, the sticky buns are the perfect combination of tender and crunchy! Adorned with nuts, these are perfect to go for breakfast! You can make them during the holidays and enjoy them to your heart's content. Go for it now!
Yup, we are talking about the all-time classic sticky buns which are flooded with caramel sauce! Rich and smooth, this idea is splendid and will leave you craving for more! If you haven't tried this one yet then you should definitely now!
The classic Hawaiian rolls are marvelous and flooded with a touch of authenticity! Delectable and tender, you can pair up the buns with literally anything that you want! What an incredible idea to relish during the holidays! Go for it now!
The cinnamon essenced sticky buns are simply incredible! Ravishing and tasteful, the recipe is one of a kind. Rich and luxurious, you simply cannot stop at one! So are you ready to make it this season?
Yup! You heard it right! Five ingredients are all that you need to come up with the simple and cozy cinnamon rolls! Delectable and tender, these buns are flooded with incredible flavors! Go for this one already! Shall we try it then?
Well, here is a modern twist to the breakfast buns which turned out to become the breakfast rings instead! Delicious and smooth, you are surely going to crave more and more. If you are in the mood to bake then make a batch of these sticky buns for breakfast every day!
The combination of caramel and pecan always stands out for us! Delectable and rich, you are definitely going to enjoy this treat! If you are tired of the same old buns every day then make your holiday special with the sticky buns instead! What a sheer treat for the tastebuds.
We are talking about the gorgeous and graceful caramel sticky buns which you can present to the guests! They are assured to be delighted with the treat! Nothing is as good as handmade buns!
Perfect to enjoy the seasonal bliss, indulge in the amazing pumpkin sticky buns which you can now make at home with the recipes that we have for you! Drizzled with caramel sauce, dig in!
We have brought you the all-new salted caramel sticky buns which is indeed an innovative creation we must admit! Smooth and savory, these buns are drizzled with caramel sauce and taste so marvelous indeed.
Ah, what a lovely idea! Smooth, savory, and enriching, the recipe for the sticky buns is right here but with an innovative twist! Topped with caramelized bacon, the recipe turns out to be the best! Go for it already!
The sweet and savory maple sticky buns are an outstanding treat for dessert lovers! The combination and buns and sweetness are what will render you simply speechless. What an excellent choice for the winters to confer you with warmth!
If you are in the mood for something gooey and tender then you should try out this sticky bun made with frozen rolls! But that is not it! The recipe has butterscotch pudding inside to escalate the taste manifold.
Delicious and smooth, the sticky buns are loaded with pecan crunch! But that is nowhere the surprise ends! Flooded with caramel sauce, the recipe turns out to be an excellent choice as a side on the breakfast table! Go for it already!
Well, you need a few handfuls of ingredients to come up with the pecan buns! Delectable and crumbly, the recipe is ready overnight! So this way you can enjoy a wonderful breakfast the next morning. A great way to begin your holidays with!
The sticky buns are pretty simple as long as you follow this recipe! Gorgeous, gooey, and sweet, there is no need to thank us for the idea! We definitely want your Christmas holidays to turn out to be extra special.
Conclusion:
This Christmas season, treat yourself to some delicious sticky buns. With a few pantry staples and a couple of fresh ingredients, you can easily make these festive treats that are sure to bring a smile to all your friends and family. From the traditional recipe to the unique twists, there's something here that everyone will love. So, don't forget to bring the sweetest treat to the holiday table this year – Christmas sticky buns. Sweeten the season and create lasting memories that you'll cherish for years to come!
As Dorothy Day once said, "I really only like two kinds of buns: hot cross buns and sticky buns." Celebrate the season and bring a touch of warmth to your Christmas gathering with these delicious sticky buns. Let's indulge in the sweetest tradition of all this Christmas – make your own sticky buns and enjoy all the flavor and the feeling of comfort they bring.
Read also: