Christmas is the time of the year when we all wish to indulge in something nice, rich, and luxurious on the table! Yet such dishes are not always good for our diet, and we might end up with severe health complications! Restrictions are needed, but that can turn your meal into something really boring, which might not set the right vibes for the Christmas holidays! We will teach you to have veggies but in fun and refreshing ways, ones which you will never complain about! Here are some recipes and tips for making the best Christmas vegetable salad during the holidays! Let's get started.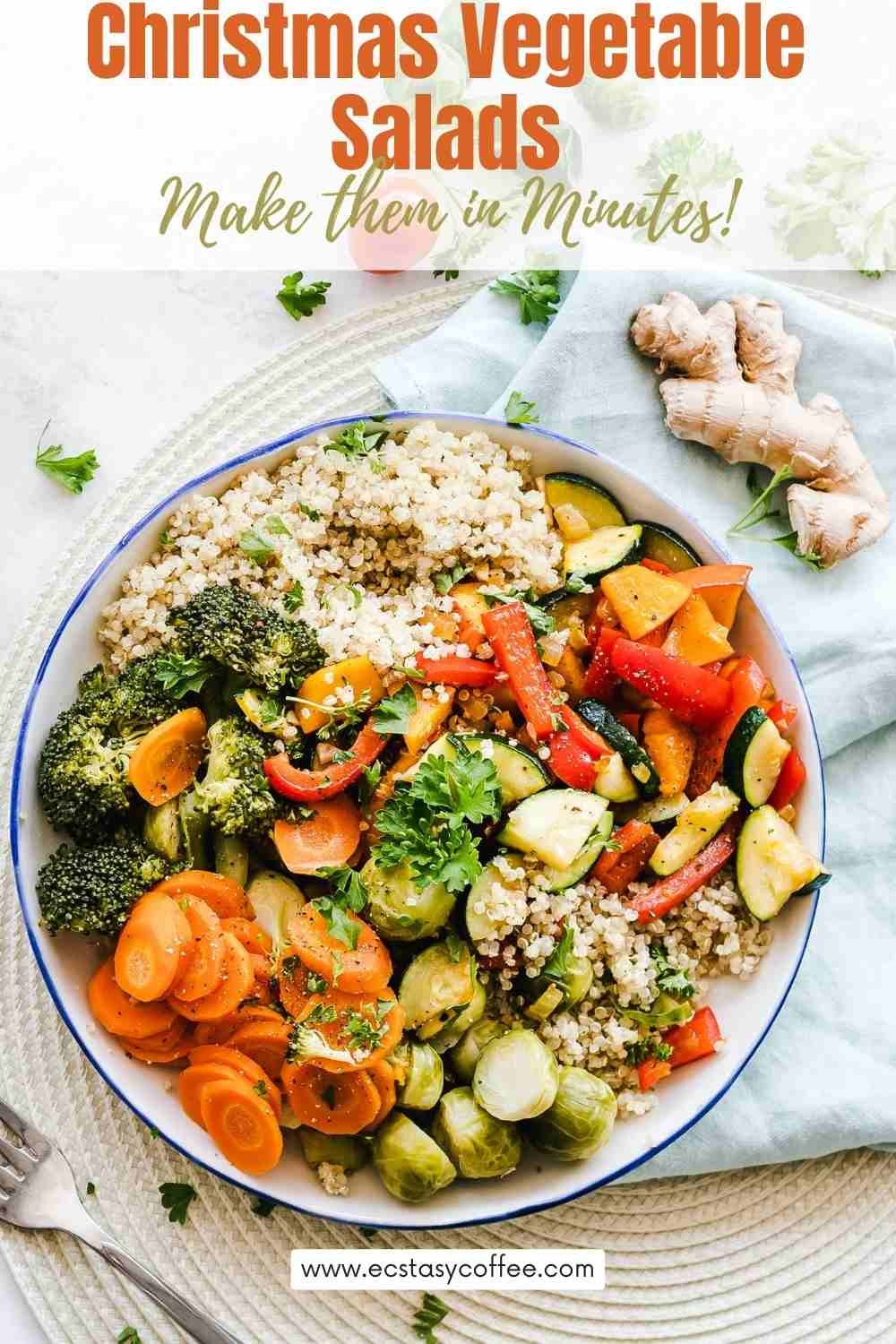 Tips for making a refreshing vegetable salad for Christmas meals
1. Always opt for fresh veggies
Whenever you are making a vegetable salad, you must opt for something which is fresh and bought from the supermarket recently! Frozen vegetables and greens are not great for salads as these can release a lot of water on being thawed and destroy the texture and consistency of the salad completely! If you do not want the fresh cream in your salad to turn runny and watery, then always opt for freshly chopped veggies.
2. Allow your greens to be completely dry
No matter what kind of salad you are making, it is expected of you that the greens should always be dry! Otherwise, they can weigh down the mixture and also turn a little slimy as you add other ingredients and some dressings into your salad bowl. You can simply opt to buy a bag of mixed greens from the supermarket if you wish to experiment and explore different sorts of ideas.
3. The greens should be chopped into small sizes
You can not add large leaves to your salad! How inconvenient it is! Also, it wouldn't taste nice as you mix the other veggies with long and tall green leaves! Hence you are expected to chop the leaves into small pieces so they are easy to nibble on!
4. Greens should be placed into a big bowl
When you mix the ingredients for the salad, make sure you have a big bowl to toss them all together. The mixing of cream and veggies needs to be uniform as you serve the salad, or it will not taste good! Mixing is one of the essential steps in making a salad, and you must have expertise in the matter.
5. Do not forget to have colorful and vibrant veggies
From bell pepper to other colorful veggies, you need to have more than just green leaves in your bowl to munch on! In fact, the more, the better! Every vegetable has a distinct taste, and if you wish to turn your salad bowl into something attractive, then do not restrict yourself to only a couple of ingredients.  And do you know what is even better? Yes, exactly! You need to have some herbs to drizzle upon the bowl as well.
6. Always dress your salad well
You must make your veggies turn out tasty and crunchy with the presence of rich, creamy dressing in the bowl. Simple veggies in the bowl are a vessel of chopped vegetables and nothing more! You can not call that a salad! A salad bowl is more organized, and there are so many other items that are added to enhance the taste and flavor of the recipe. To conclude, dressings are vital whenever you are planning to bake salad bowls!
Well, that was enough instructions for making your vegetable salad bowl, right? Now let's find out some recipes!
Delicious Christmas Vegetable Salads: The Perfect Holiday Side Dish
The cold summer salad with pasta is a refreshing dose of flavor as you celebrate Christmas this season!
Packed with veggies, this is an incredible idea to try out!
The grilled vegetable salad bowl has got it all!
From pepper, carrots, beans, squash, and so on, the options are simply endless!
Drizzled with lemon vinaigrette, this is an incredible way to begin your meal! Shall we try this, then?
Roasted vegetable salad is a gorgeous recipe topped with a handsome amount of dressing and the goodness of fresh winter veggies.
If you are in the mood for something healthy and yummy, go for this one right away! Shall we, then?
The combination of beet and potato turns out to be an excellent treat for the holiday season!
Flooded with dressing, the salad is an incredible choice that you must try out for sure! And guess what?
The recipe is so simple!
Drizzled with lime vinaigrette, the shaved Brussels sprouts are flooded with great essence!
Packed with pomegranates, the recipe is super savory and healthy for conscious dieters!
A delight for the taste buds, the recipe is one of a kind.
Packed with great flavors, the roasted vegetables are an incredible creation indeed!
Easy-peasy and drizzled with feta cheese, this one is an incredible option that leaves you with a temptation for more and more.
So what are you waiting for?
The combination of broccoli, carrots, and radish in the healthy salad bowl turns out to be a wonderful treat for the taste buds!
Dijon mustard and lemon juice are the dressings that are served with freshly chopped veggies, and they indeed taste so good!
If you want something nice and refreshing for the winter, then the bowl of salads is the right thing that you can opt for this season; packed with herbs, the dish is ready to sway you off your feet!
Beets are the best winter veggies and are packed with great taste!
Seasonal and vibrant, the recipe is an amazing treat that makes you crave more and more.
Even the kids will be impressed with such salad and never say no!
Have you tried anything with roasted veggies and orzo before?
If you haven't, then here is your opportunity to indulge in the most detectable greens of all time!
You can even serve this one to the guests and see how delightfully they will relish it during the meal!
The classic vegetable salad is packed with nuts, dried fruits, veggies, and tangy feta cheese!
If you are fond of salads with your meal, then you must get started with the preparations already!
Drizzled with Dijon mustard, vinaigrette, and pomegranate, this recipe is an incredible creation indeed!
The presence of Brussels sprouts and kale makes it even more healthy for the holiday season! So what are you waiting for?
Packed with cranberry dressings, the recipe for the winter salad is exclusively meant for the Christmas season!
Drizzled with all the wonderful treats, you ought to indulge in its blissful taste! Get started already!
Let us know how it turns out!
The combination of Apple chunks served with poppy seeds and rich dressing turns out to be an extraordinary treat for the taste buds.
Crumbly and crunchy, this is a wonderful idea leaving you totally smitten at every bite!
Cranberry, feta cheese, pecans, and winter roasted vegetables are a wonderful idea!
Tangy and savory, the salad bowl is a source of comfort as the winter chill torments you!
Serve it with dinner and enjoy it to your fullest!
The maple and balsamic dressing on the roasted vegetables escalates their tastes manifold!
There is meat and greens in the kale salad, which renders this with the ultimate taste and flavors!
Shall we give it a try, then?
Completely vegan and gluten-free, the raw vegetable salad recipe is perfect if you are on a diet and suddenly feel hungry in the middle of the day!
Munch on these green salads, which turn out to be a wonderful appetizer indeed!
The combination of the sweet essence of honey with the rich balsamic vinaigrette turns out to be an extraordinary creation during the holidays!
Served with veggies, you must give it a try for sure! Make sure you let us know how it turned out to be!
The toasted pepitas are the highlights of the kale salad!
Packed with pomegranate and citrus essence, this is a wonderful idea making you crave more and more servings of the same.
The rich salsa dressing with black beans in the classic taco salad is a wonderful creation worthy of all praise and appreciation!
No wonder this one made it to the list! If you wish to enjoy something wholesome and healthy as an appetizer or starter to the meal, then do give this one a try!
Conclusion
Christmas can be a busy time when we find ourselves short on time and energy. Luckily, Christmas vegetable salads can be made in a few minutes with minimal effort. By using different varieties of vegetables, a few key seasonings, and a festive presentation, you can complete some of the holiday cooking with ease. So go get creative, add some festive flair to the dinner table, and try your hand at making Christmas vegetable salads. It can be a delight for all, and may even kickstart your own festive cooking tradition.
Read also: