From traditional to modern, find the perfect Christmas Window Decor Ideas to spruce up your holiday! Ideas to fit any budget!
It's easy to feel overwhelmed when deciding what to do for your holiday décor since even the simplest Christmas window decorating ideas involve a lot of planning and preparation. Unfortunately, if you're anything like me, holiday decorating may be a disaster, leaving you feeling as deflated as a mall Santa in July. A little tinsel, glitter, and thread, a broken antler on Santa's reindeer, plus a couple of other diversions, and you're Scrooged.
All of those cutouts, all of those pieces, all of the clear-headedness required to create something beautiful is getting garbled and stuck in the planning of a million other seasonal tasks: what to buy, who to buy it for, where to shop, who's getting socks and who's getting gift cards, whether you want one-day or two-day delivery, what meals to prep, what diet to try, what cocktails to serve, who's hosting, who's cooking, who's driving Grandma It's enough to make you sigh and exclaim, "Bah humbug!"
Beautiful Christmas Window Decorations for a Beautiful Season
Rather than battling with the spirit, let the spirit inspire you! Allow these bright and gorgeous home decorating concepts to drive away all of your winter blues. These window Christmas decorations, which include silhouette patterns, stars, wreaths, and snowflakes, can help you visualize the décor you want to return home to.
Discover the thrill and satisfaction of entering into a beautifully adorned house and glancing out the window displays for reminders of the Christmas spirit. Take a look at these 18 unusual and wacky Christmas window decorations that are guaranteed to take your troubles off your cheerful shoulders and help you get into the spirit of the season.
1. Winter Window Wonderland in All White
Create the ideal dreamy winter scene right through your window when the weather is too cold to walk outside and install lights or any other outside holiday decorations. With some warm coffee by your side and the greatest holiday music jingling in the background, this Christmas window decoration design is simply built and finished on a quiet day.
This Christmas vision will be completed in no time. You can make a quirky window Christmas décor tableau using poster paper, window markers, tape, and craft shop lights and hooks that will get you in the holiday mood whether you're outside looking in or inside looking out!
pic source: pinterest.com
2. Home Decor: Let It Snow Indoors
It might be difficult to feel festive and cheery if you live in a tropical area like I do throughout the winter months, particularly when the temperatures exceed 80 degrees before midday! Bring the distinctive snowflakes indoors to make hanging indoor house décor to get into the Christmas mood.
To actually feel as though you're strolling through the first snowfall of the season, place these decorations near windows and around doors. This is a classic Christmas window decorating concept that never goes out of style. Use a fishing line instead of string for heavier paper options, since the thread is denser and might distract from the mystique.
pic source: pinterest.com
3. Having a Good Time During the Holidays
Nothing says "Happy Holidays!" like spending the season with friends and family you care about. You may not be the ideal hostess, but if you stick to a basic theme of winter, snowflakes, and nice lighting, your "cool" home design will speak for itself.
Clear crystal glasses, white tablecloths, adorable tiny paper snowflakes, and a smidgeon of color with peppermints may make your Christmas party truly shine. Your visitors will recall how lovely it is to spend the season with you with a little Bob Hope crooning in the background, wide-open windows, and beautifully prepared beverages.
pic source: pinterest.com
4. Window Christmas Decorations Inspired by Snow White
The most beautiful window decoration of all! This Snow White-inspired Christmas window decoration design is adorable, and it's perfect for including youngsters in the process. One of the many wonderful aspects of this season is igniting the festive enthusiasm in others. Getting others to participate in the childhood-inspired window design is likely to lift your spirits as well.
This adorable arrangement of gleaming red delicious apples in miniature pots, matched with ancient white books with gold embossing, perfectly captures the spirit of winter, thanks, and joy. This Christmas décor is likely to catch everyone's attention and be copied.
pic source: pinterest.com
5. The Brightest Star in the Sky
The stars have aligned for a traditional Christmas window decorating concept. With a little star power, your Christmas décor may be starlit, simple, and gorgeous. Place this beacon of hope in a window, inspired by the significance of the North Star.
Christmas decorations with snow-covered tree figures and the season's most essential word: love. The finest decorations are those that represent our own personal beliefs, memories, and goals for the future year. It's always about envisioning and manifesting what you want throughout the holiday season when you're making significant decorations that will inspire.
For a real depiction of the Christmas spirit, use what makes you happy and include it in your window display.
pic source: pinterest.com
6. Christmas Window Decoration with Poinsetta and Plaid
The nicest home décor is occasionally created with the most natural-looking arrangements. While it may seem to be simpler to go with an all-white Christmas décor concept, color may occasionally add that much-needed contrast.
With white-painted windows, a simple window sill arrangement of poinsettias and plaid ribbon may provide a splash of color and attract attention. Going green and red in the windows may make your pals envious, as they wish they'd thought of this unique Christmas decorating idea!
pic source: pinterest.com
7. Getting the Polar Express Off to a Good Start
The Polar Express, a renowned children's book, is a superb pick for wonderfully inspired home décor and a classic read for the holiday season. Making a Christmas window display in the style of a childhood favorite story would be a fantastic way to get everyone in the holiday mood, young and old. The simple arrangement is a little cheeky and understated.
The greatest method to rekindle those old sentiments of excitement and creativity is to use pine leaves and pinecones to signify outdoor adventure, a candle to light the journey in the dark, and the classic Santa Clause sleigh bell.
pic source: pinterest.com
8. A View of the Stars to Brighten Your Holiday
A single star isn't the only way to light up your home's decor and rejoice. You may experiment with a complete night sky to add some diversity to your window Christmas décor! Adjust the size of the lights and arrange them in various patterns to prevent monotony.
As you settle down into your jammies and snuggle up on the sofa to watch holiday classics, the gentle incandescent lighting in a bigger window provides that warm, Christmasy glow. For the ultimate Christmas window decoration idea, play about with the height to get the optimum lighting both inside and out.
pic source: pinterest.com
9. Hurry up, Dasher, Dancer, Prancer, and Vixen!
For a beautiful window, several components and effects are combined. Any ancient Grinch will be enchanted by this Christmas ornament! Mixing and combining your abilities may produce unique cohesiveness suitable to encourage delight, albeit it may take a little longer than other window Christmas décor options.
A sprig of green pine, a little tinsel here and there, a flying reindeer or two, some soft backlights glimmering in the distance, and a touch of tinsel here and there will really culminate in a magnificent and breathtaking show. Use white space, often known as window space, to accentuate each piece while also allowing it to radiate with the others.
pic source: pinterest.com
10. Illuminated Night—Home Decoration Using the Entire Window
Just because you don't have a window sill doesn't mean you can't decorate your house in a fun and festive way! The silhouette Christmas décor on the window conjures up ideas of a quiet nighttime village waiting for Santa's long-awaited arrival on Christmas Eve.
A few strategically placed string lights or flickering votive candles create swirling shadows on sheer draperies, which will pique any child's interest (or even your own). Allow the whimsical shadows to bring you delight. Silhouette designs, particularly for Christmas, are a great way to use all of your available space in your home and infuse festive enchantment into every square inch.
pic source: pinterest.com
11. Winter wonderland window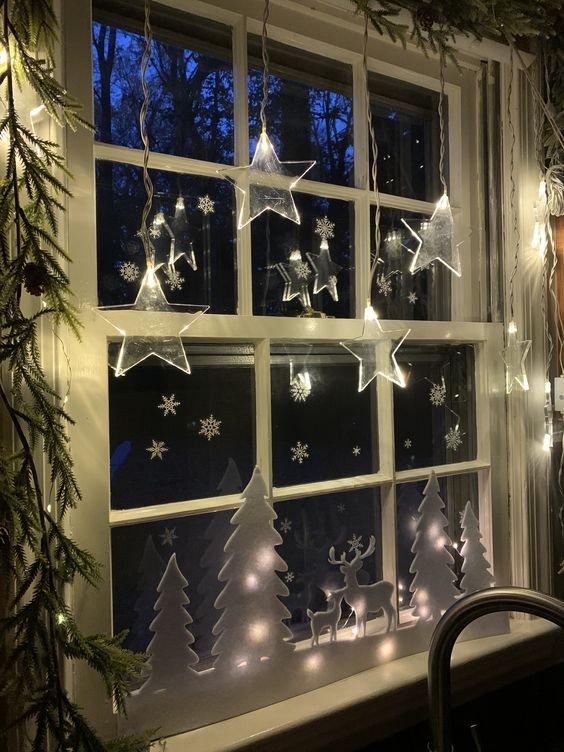 pic source: pinterest.com
12. Xmas window winter wonderland
pic source: pinterest.com
13. Fall window box.
pic source: pinterest.com
14. Holiday window boxes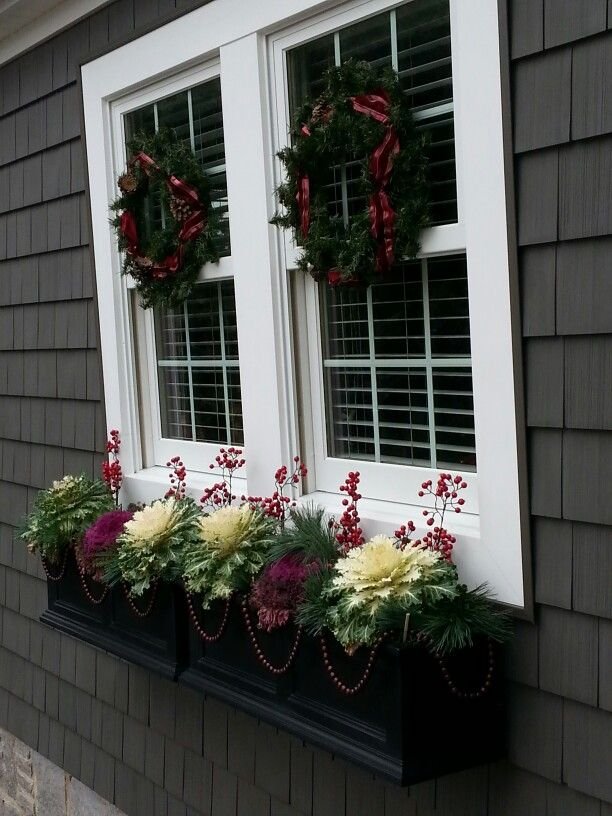 pic source: pinterest.com
15. Christmas window box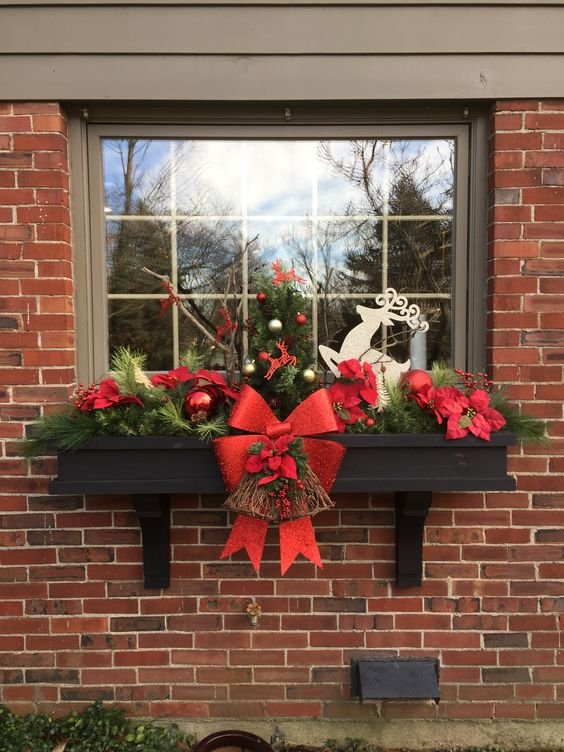 pic source: pinterest.com
16. Beautiful Christmas window box
pic source: pinterest.com
17. Lantern Winter Decor Idea
pic source: pinterest.com
18. Kitchen Window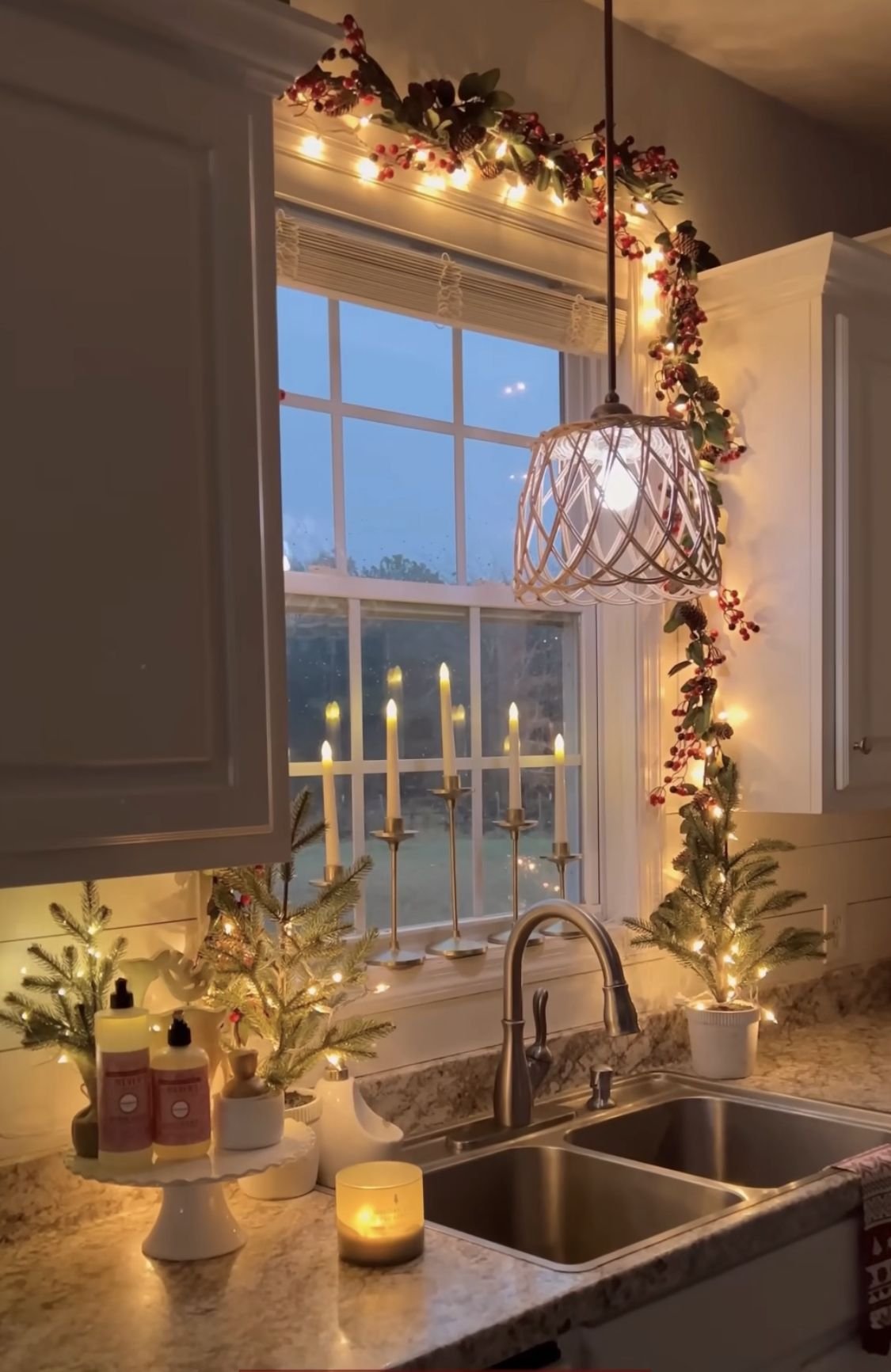 pic source: pinterest.com
19. Make your Kitchen Magical
pic source: pinterest.com
20. Beautiful Farmhouse Kitchen Decor
pic source: pinterest.com
21. Holiday kitchen window decorations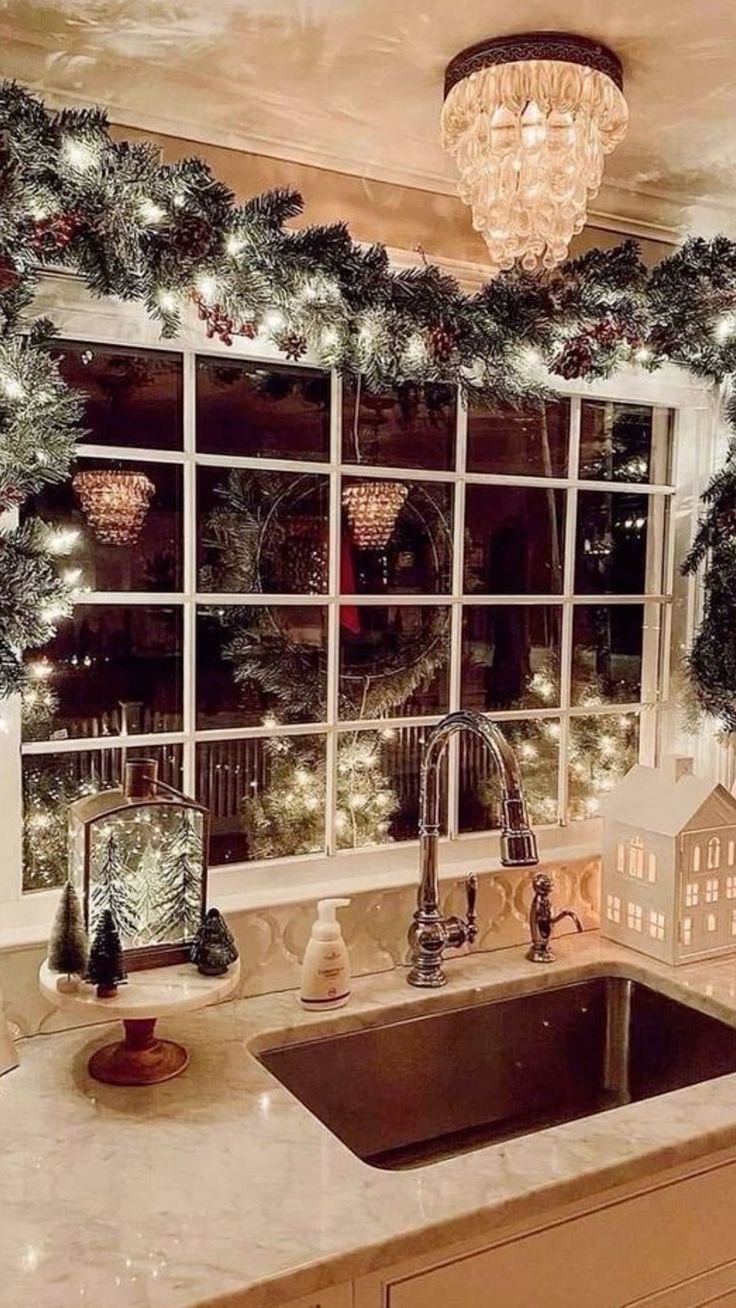 pic source: pinterest.com
22. When in doubt add more sparkle!
pic source: pinterest.com
23. Elegant Christmas Window Décor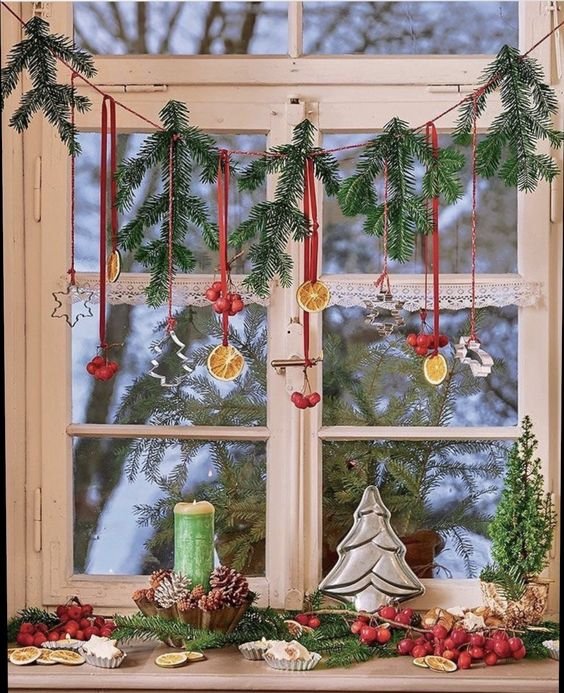 pic source: pinterest.com
24. Christmas Window Decor Idea To Try
pic source: pinterest.com
25. Bauble Window Display Idea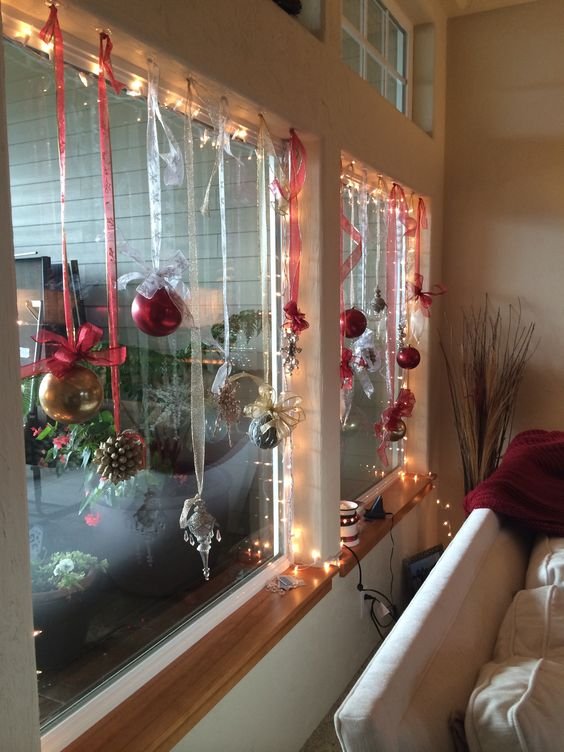 pic source: pinterest.com
26. Christmas window
pic source: pinterest.com
27. Inspired Christmas Window Decoration
pic source: pinterest.com
28. It's a Farmhouse Christmas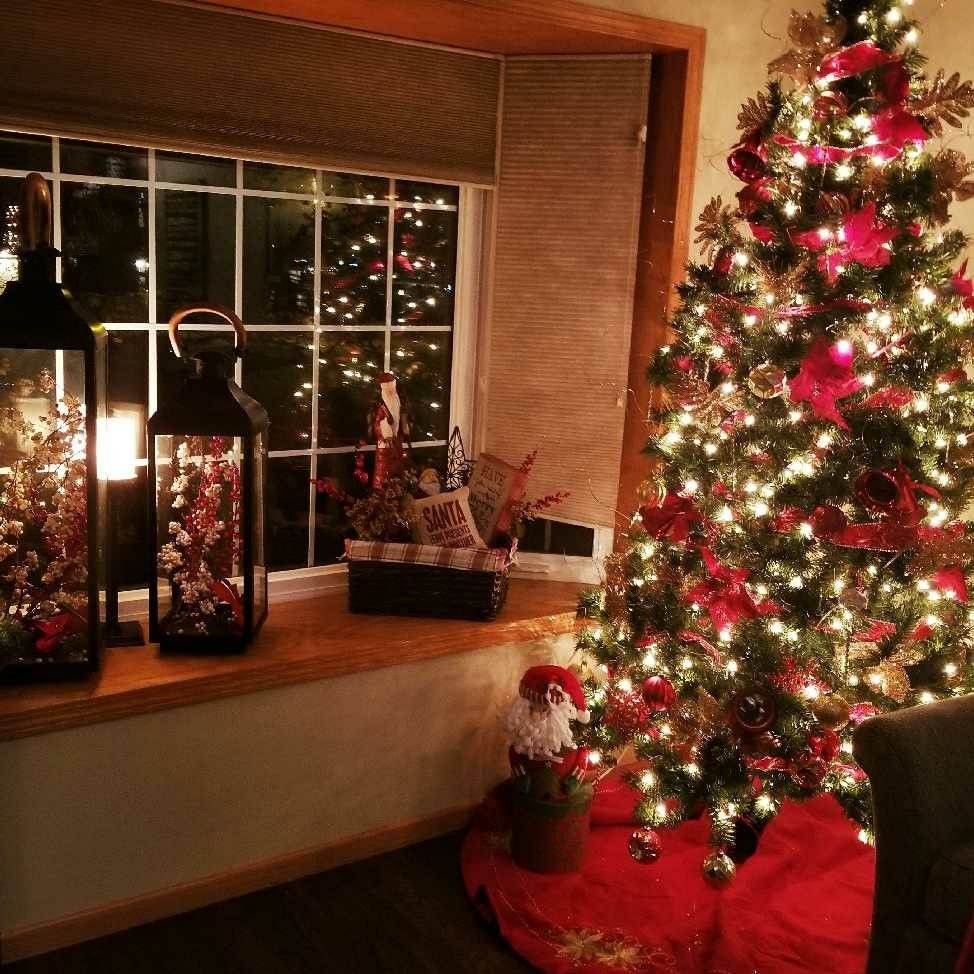 pic source: pinterest.com
29. Christmas decorations
pic source: pinterest.com
30. Like a traditional Christmas
pic source: pinterest.com
31. Favorite Sparse Christmas Tree
pic source: pinterest.com
32. Creative Christmas Decorating Idea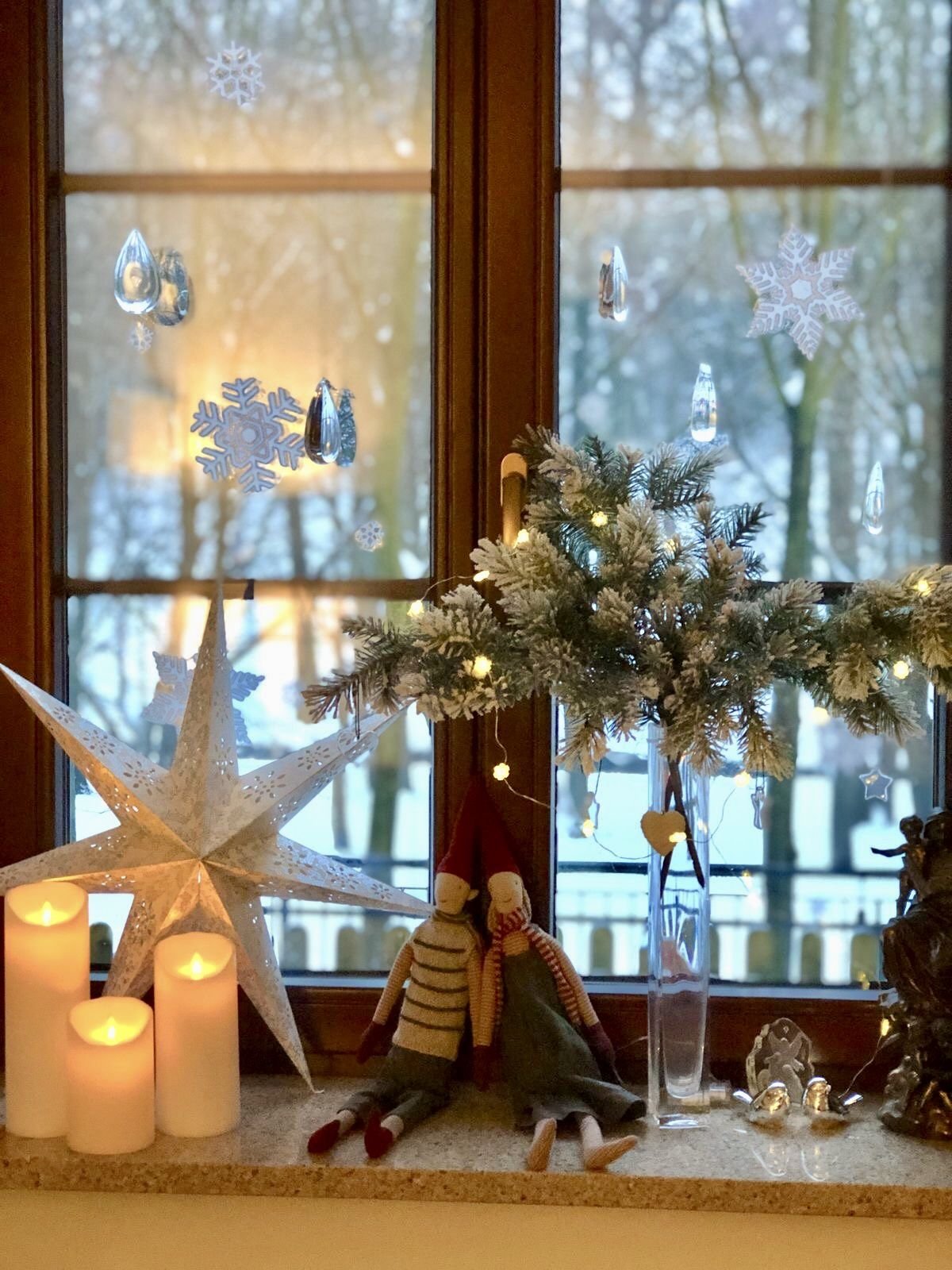 pic source: pinterest.com
33. Christmas mood decor inspiration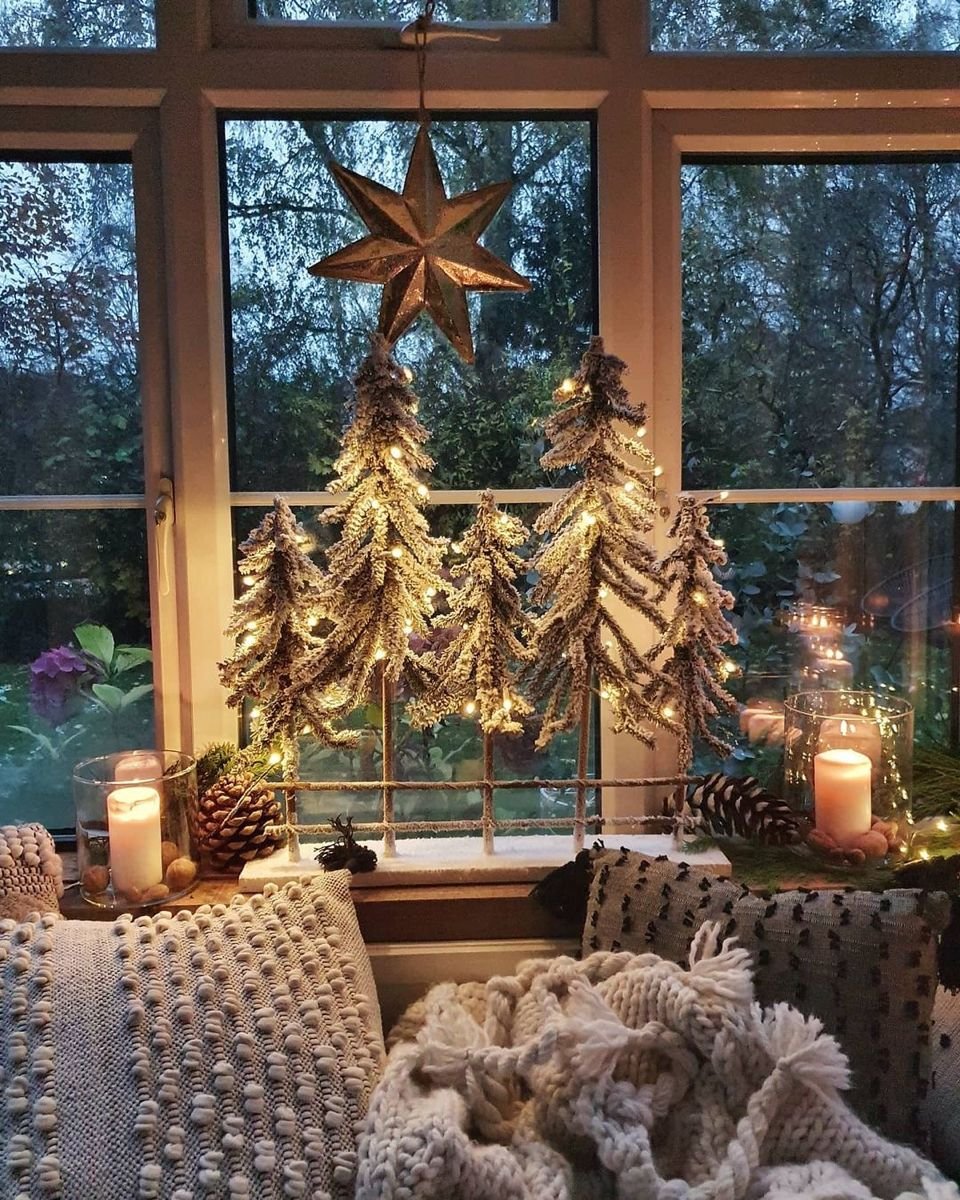 pic source: pinterest.com
34. The Magical Holidays of Christmas & Winter
pic source: pinterest.com
35. Inspirational Christmas decoration
pic source: pinterest.com
36. Royal Pic
pic source: pinterest.com
37. Striking Ways To Hang Ornaments
pic source: pinterest.com
38. Elegant Christmas Window Decor
pic source: pinterest.com
39. Christmas village bay window idea
pic source: pinterest.com
40. Window scene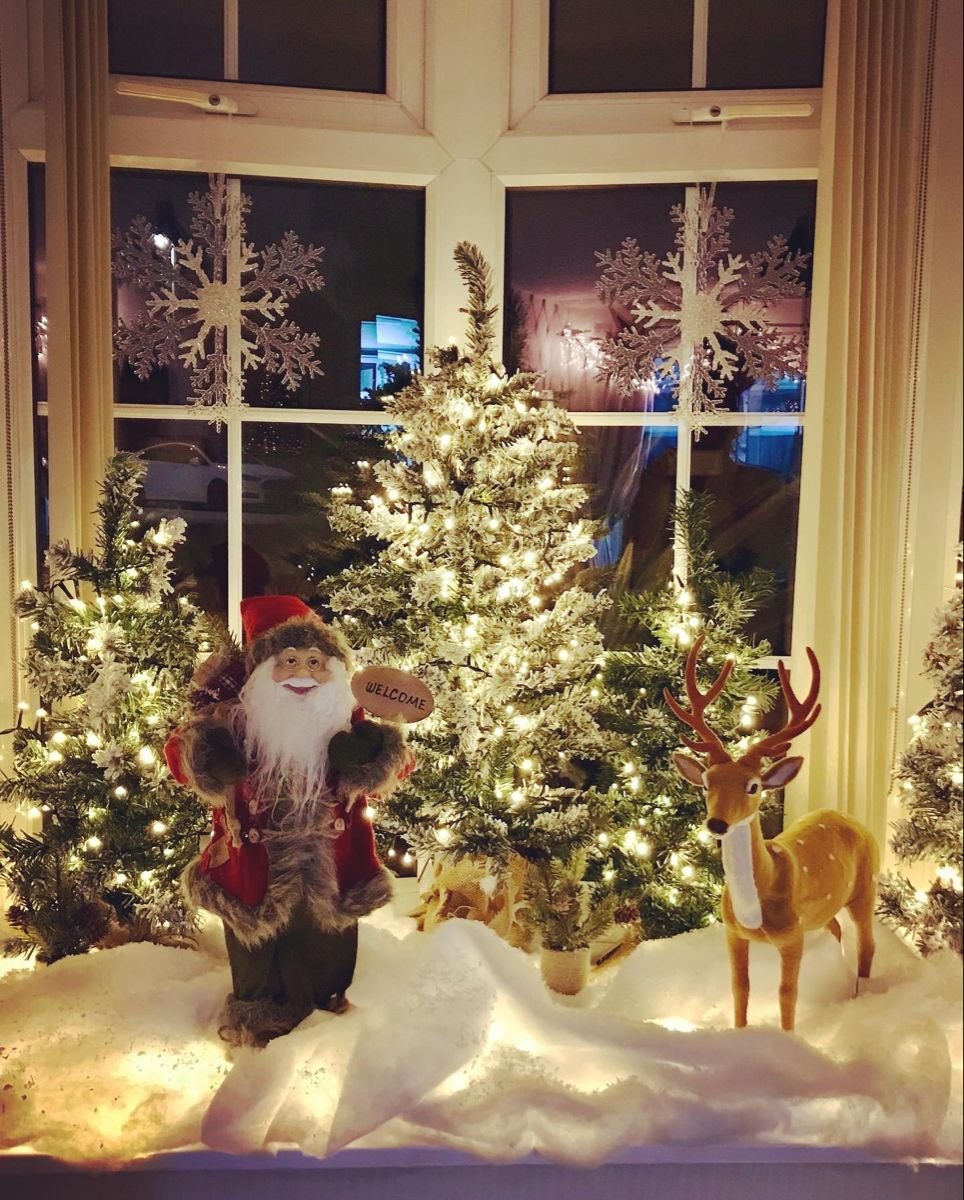 pic source: pinterest.com
41. Christmas window
pic source: pinterest.com
42. Christmas decoration window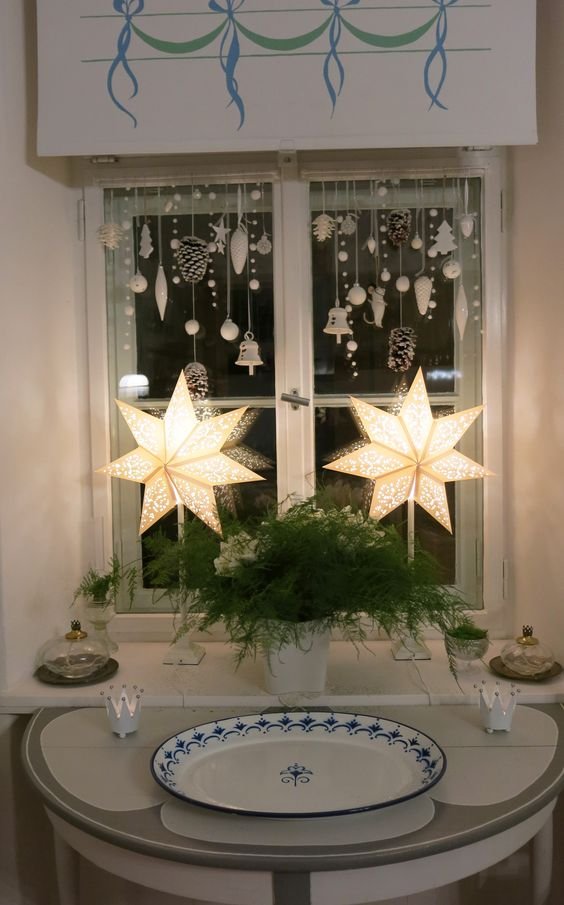 pic source: pinterest.com
43. Elegant Christmas Decoration
pic source: pinterest.com
Read also: