Cold Brew coffee is just as good if not better than iced coffee. Although it requires more time and effort to produce, it's become one of the biggest coffee trends in the past few years and is expected to continue to boom in popularity for years to come.
In this article, we'll cover 9 crazy facts about Cold Brew coffee you should know. We'll explore everything from the health benefits to the taste and texture. And, of course, we can't forget the all-important caffeine content.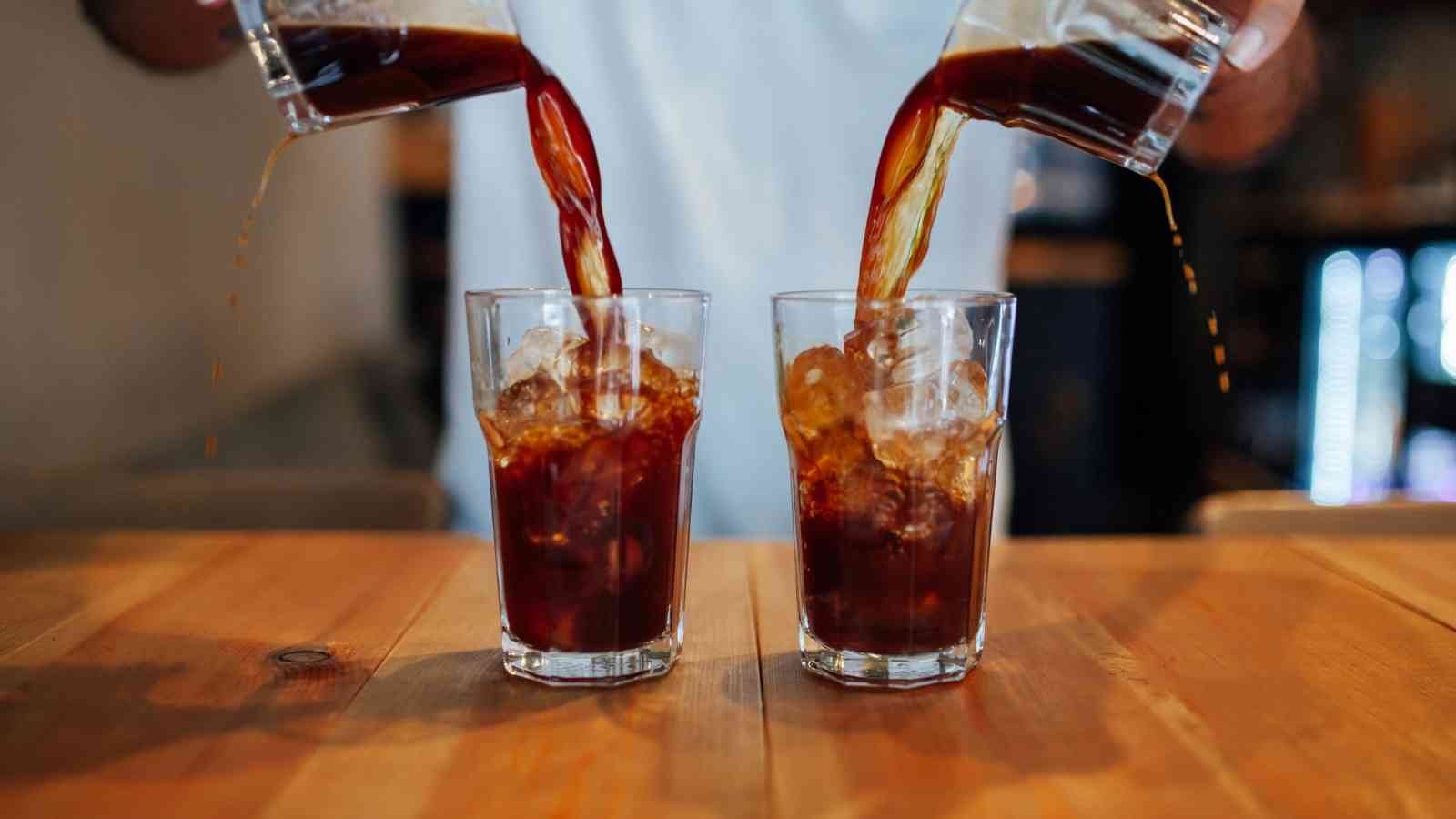 So, whether you're a Cold Brew lover or just looking to learn more about this delicious coffee trend, read on for some eye-opening facts about Cold Brew coffee.
Jump to:
1. Cold Brew Coffee Takes 12 - 24 Hours To Make
It may always be readily available at your local coffee shop, but preparing Cold Brew coffee can take up a whole day.
One of the most common ways for preparing this refreshing drink is the Immersion method, which involves steeping coarsely ground coffee in cold water for ideally 12 to 24 hours.
Typically, your hot cup of coffee takes only a couple of minutes to pull off. So why does Cold Brew take 24 hours?
This is due to the low water temperature and coarse grind size. High heat and a finer grind size speed up the extraction of flavor compounds. So Cold Brew takes extra long to effectively draw out the goodness.
But, despite the incredibly long brew time, most of the process is just wait time and pretty effortless, except for preparation at the beginning and cleaning up at the end.
So, you can just leave it, go and take care of your to-do list and go home to a fresh and flavorful batch of Cold Brew coffee at the end of the day.
2. It Has A Much Sweeter Taste Than Iced Coffee
Different from many's expectations, Cold Brew coffee actually has a much sweeter taste than your regular iced coffee.
Though the coffee grounds sit in water for an extended amount of time, the beans are coarsely ground, as opposed to the typical medium or finer grind size of black coffee.
So, only milder and less acidic flavor compounds are extracted. This results in a naturally smoother and sweeter cup of Joe.
This is why Cold Brew is becoming increasingly popular with coffee drinkers, especially those who enjoy cool drinks like iced coffee.
Iced coffee can sometimes be too acidic, bitter, or diluted for some people's taste, while Cold Brew coffee is the perfect balance of sweetness, smoothness, and concentration.
So, if you're looking for a delicious and refreshing cup of coffee that isn't as harsh as iced coffee, Cold Brew is a perfect choice.
3. Cold Brew Coffee Is Better For Your Sensitive Stomach
You likely already know of some common health benefits of coffee, but Cold Brew has something else to offer as well.
As I've previously mentioned, the Cold Brew brewing method makes it have a much lower concentration of acidic compounds than a regular Joe.
Acids in coffee can be beneficial antioxidants. But, coupled with your natural gastric acid, they can also aggravate symptoms of certain gastroesophageal reflux diseases (GERD) and related health conditions.
So, the low acidity in Cold Brew coffee is considered healthier for people who have a sensitive stomach and can't handle the high levels of acidity in black coffee.
4. It Can Be Made With Whole Bean Coffee
Usually, grinding coffee beans is necessary to ensure optimal coffee-to-water contact with any coffee brewing methods.
But, you can get away with using whole bean coffee when making Cold Brew coffee due to its day-long extraction time. The typical suggested grind size is already extremely coarse.
This should surely save some time when preparing a batch of this cool drink. And while you're at it, why not check out a subscription for whole bean coffee blends so that you can experiment with different flavors? You'd find that additional flavors are not exclusive to ground coffee.
5. The Slow Drip Cold Brew Coffee Can Take Only 3 Hours To Make
Other than the Immersion method I mentioned above, Cold Brew coffee can also be made via the Slow Drip method, which, surprisingly, takes only around 3 - 6 hours (12 hours at most).
Basically, rather than steeping the grounds in a container, a scientific lab-like device is set up to slowly drip water through the bed of ground coffee.
The water travels through the grounds and a filter and drains into a vessel below, bringing along delicious and aromatic extracted coffee compounds.
Since the coffee isn't immersed in the water, the resulting cup is a lot brighter, lighter, and less full-bodied.
The brewing process is a lot more complicated and requires more skills, effort, and money to pull off than the easy-going Immersion method, making it more popular among coffee aficionados.
So it's best to have a sip of the Slow Drip Cold Brew at a coffee shop. You may even catch sight of the beautiful brewing device in action!
6. It Has Less Caffeine Than Hot Coffee And More Caffeine Than Iced Coffee
Many believe that Cold Brew coffee has a higher caffeine content than regular coffee because of its extremely long brew time and coffee-to-water ratio.
While it's true that the longer you brew coffee, the more caffeine is extracted, the content is still limited. At some point, caffeine extraction should cease.
And, as I've mentioned, high heat and a finer grind size accelerate extraction. So you can rest assured that the majority of the caffeine content has been drawn out within the short brew time.
So, what about the coffee-to-water ratio? Cold Brew has a very high ratio of 1:4 - 1:8, compared to the typical ratio of 1:15 - 1:25 of drip coffee.
The higher amount of coffee produces a fuller-bodied brew and, naturally, boosts the amount of caffeine.
But, people also fail to take into account the concentration of the final cup. Cold Brew is hardly ever drunk on its own due to the intensity and strength, but rather "cut" with other ingredients to make it easier to consume.
So, in the same serving size, your Cold Brew likely has less caffeine than your regular hot coffee and more than iced coffee. Take Starbucks as an example:
Starbucks Cold Brew (16 oz) (Cold Brew and Ice) has 205 mg of caffeine, which is 12.8 mg/oz.
Featured Starbucks Dark Roast Coffee (16 oz) (Brewed Coffee) has 260 mg, which is 16.25 mg/oz.
Starbucks Iced Coffee (16 oz) (Brewed Coffee, Ice, and Classic Syrup) has 165 mg, which is 10.3 mg/oz.
7. Cold Brew Coffee Can Be Enjoyed Both Hot And Cold
As I've mentioned, what you brew is just the concentrate, and additional ingredients are needed, so Cold Brew coffee can be customized and enjoyed both hot and cold, suitable all year round.
For a cold Cold Brew, other than adding ice, you can leave it in the fridge before serving to preserve the full intensity. Iced coffee, on the other hand, might be too bitter or watered down (due to ice) for coffee drinkers who crave a strong and intense flavor.
Aside from that, think of the possibilities. Milk, cream, honey, syrups, chocolate, spices, and even fruits can be added to Cold Brew coffee to give it a boost in flavor and nutrition.
Check out how else Cold Brew vs Iced coffee can be different from each other!
8. Cold Brew Coffee Has Been Around For At Least 4 Centuries
Although you've only heard of it in recent years, its records can be traced back to as far as the 1600s.
The earliest known Cold Brew is Kyoto-style coffee, possibly learned from Dutch traders. This is in fact the Slow Drip method I mentioned earlier. The patience, attention to detail, creativity, and beautifully designed brewing device has turned this style of Cold Brew into an art form today.
9. It Can Last Up To 2 Weeks
Unlike your regular hot or iced coffee that should be consumed on the date, Cold Brew concentrate can be stored in the fridge for up to 2 weeks! So, you can conveniently make a large batch in advance for future daily use.
But, keep in mind that the coffee quality will likely diminish after the 1st week.
Now that you've learned these mind-blowing facts about Cold Brew coffee, it's time to give it a try, be it drinking or making it! I'm sure you'll love the simple yet calming brewing process and its smooth and velvety texture and intense flavor.
If you're curious to learn more, check out these coffee facts every coffee lover should know!