Corporate events are more than just an extension of the workplace; they're a reflection of a company's creativity, innovation, and culture. With business gatherings being a regular part of the UK's corporate landscape, the challenge lies in making them distinctive and memorable. One secret to success that an increasing number of businesses are making use of? Innovative corporate events catering.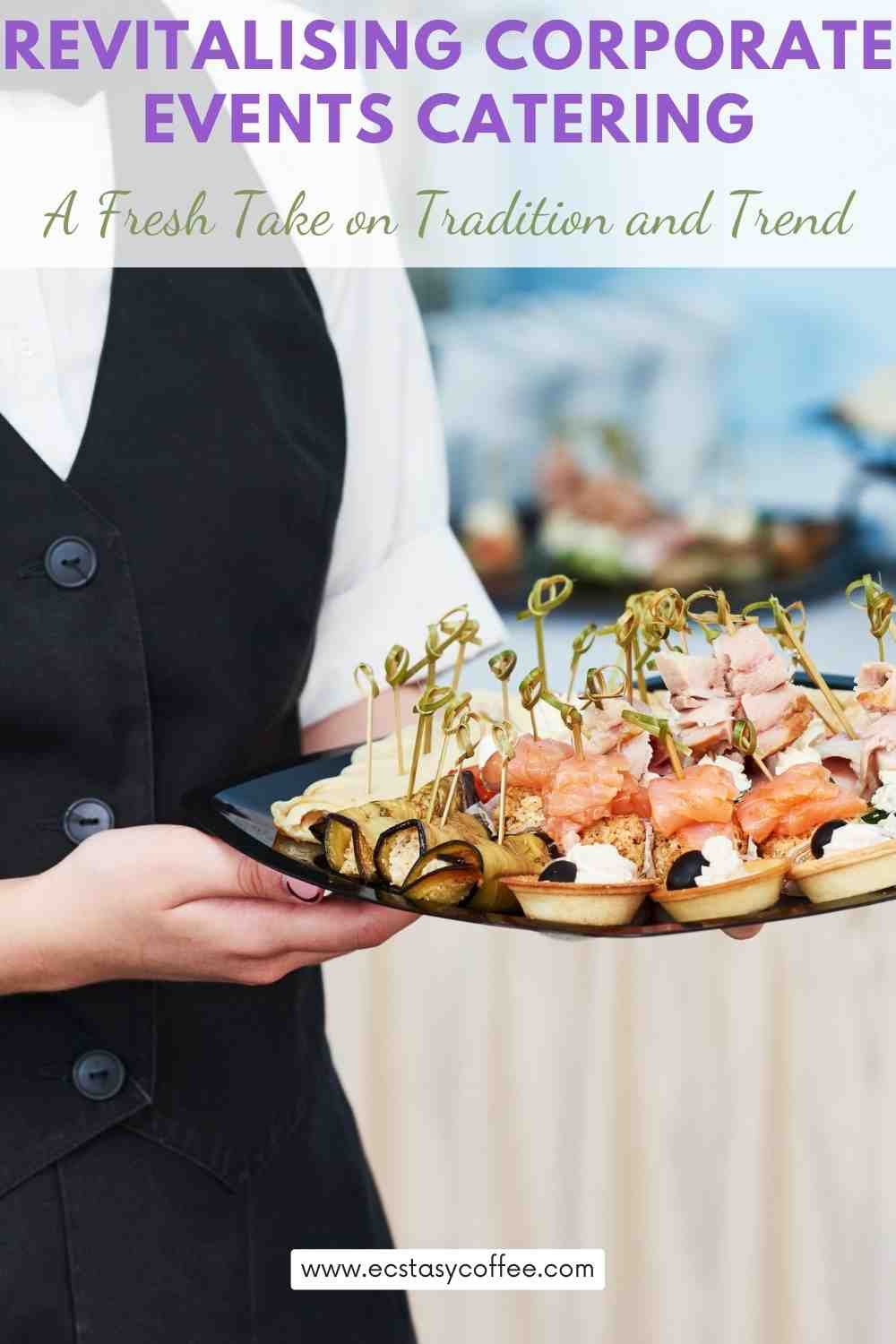 Here, we explore new ideas for corporate event catering, focusing on tradition and modernity alike.
Jump to:
1. Traditional Afternoon Tea Reimagined
In the UK, the art of afternoon tea is steeped in tradition, symbolizing class and comfort. However, corporate event catering can breathe new life into this elegant ritual. Consider infusing the classic scones and sandwiches with bold, global flavors or serving tea in artistic, handcrafted teaware. This fusion of tradition and novelty brings a sense of sophistication that resonates with the British business ethos.
2. Boba Tea Bar
Boba, the tantalizing bubble tea from Taiwan, has become a global sensation. Offering boba at your corporate event introduces a fun, interactive element. Guests can choose their flavors, adjust sweetness, and enjoy the chewy, flavourful pearls. It's a playful nod to global trends within corporate events catering.
3. Interactive Cooking Stations
Engaging guests in the culinary process adds excitement to the dining experience. From creating personal sushi rolls to blending custom spice mixes, interactive cooking stations foster collaboration and creativity.
4. Farm-to-Table Dining Options
Emphasize your company's commitment to sustainability with farm-to-table menus. By sourcing local ingredients and creating a seasonal feast, you not only support local farmers but also reduce the carbon footprint associated with transportation.
This environmentally-friendly approach can resonate with attendees who share these values, turning a meal into a statement of social responsibility. Additionally, the freshness of locally sourced products ensures a level of quality and flavor that is often unmatched, allowing for both eco-conscious dining and a memorable culinary experience.
5. Themed Buffets
Take your guests on a culinary journey through themed buffets. Whether it's a Mediterranean oasis or a bustling Asian street market, the theme adds depth and character to the event.
6. Healthy Choices
Offering health-conscious options reflects thoughtfulness and care. Pearl Lemon Catering, a leading name in the industry, is known to excel at crafting diverse menus that cater to various dietary needs and preferences.
7. Mixology Sessions
Allow your guests to become mixologists for the evening, shaking up cocktails under professional guidance. It adds a layer of interaction and offers a unique networking opportunity.
8. Gourmet Coffee Experiences
Coffee is essential in the corporate world, fueling long meetings and invigorating connections. Elevate it with a gourmet coffee bar, offering awesome brews and latte artistry. With options ranging from single-origin beans to unique blends, attendees can find a brew that resonates with their personal taste. Skilled baristas can add flair with intricate latte art, turning a simple coffee break into an experience of its own.
Companies like Pearl Lemon Catering have become innovators in the coffee catering space, introducing carefully curated selections and presentation styles that go beyond the conventional. They're transforming the ordinary coffee break into a sensory delight, offering an engaging and enriching experience. It's a caffeinated twist that pleases the crowd, turning a necessary part of the corporate event into a highlight and a conversation starter, all while embracing the rich culture of coffee.
9. Artisanal Dessert Displays
Desserts are a universal delight. Enhance the sweet experience with artisan creations like delicate macarons or hand-spun sugar sculptures.
10. Eco-friendly Practises
Adopting eco-friendly practices in corporate event catering showcases corporate responsibility. Consider reusable serving ware, organic ingredients, and waste reduction initiatives.
The landscape of corporate events catering is ripe for innovation. From embracing the timeless charm of traditional afternoon tea to capitalizing on the trendy appeal of boba, there's a world of possibilities. By weaving creativity, quality, and social responsibility, your next corporate gathering can become a standout experience, celebrating the diverse and dynamic spirit of modern business in the UK.
Read also: