Who said Halloween celebrations are limited to children? Halloween brings with it an air of magic and celebration that is meant for people of all ages, everywhere! This is why it's time to bring enthusiasm to the halls of your corporate office too. Cut off from your boring Excel sheets and wear your favorite Halloween costume. In this blog, we are planning the best corporate Halloween party ever!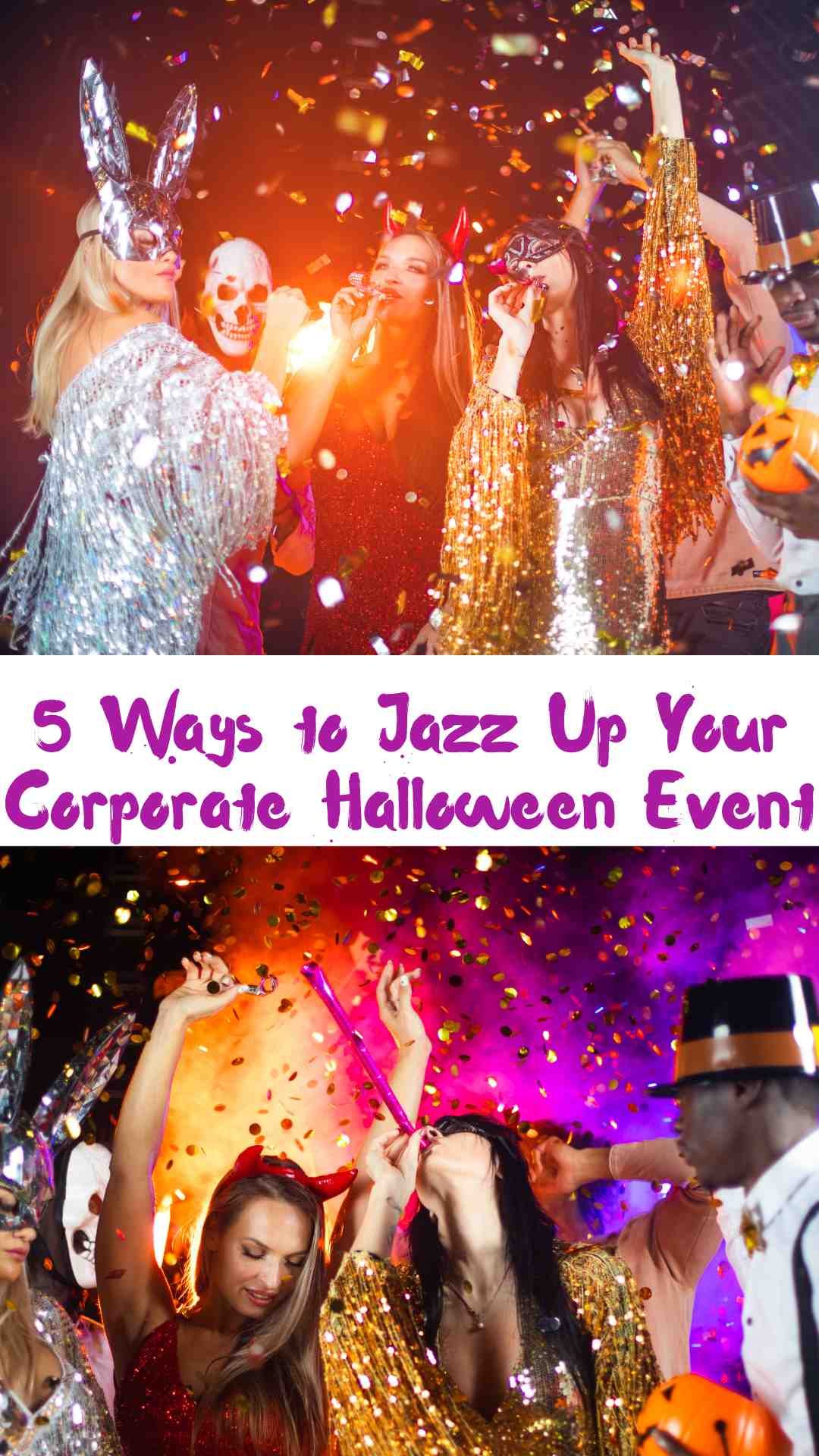 After all, wouldn't you enjoy being greeted by corners decorated with cobwebs, pumpkin spice lattes, and a sea of bespoke flags, each showcasing eerie and spooky designs from timeless horror movies and characters?
For instance, imagine flags with silhouettes of witches riding on brooms, pumpkins with your company's logo intricately engraved on it or an evil-looking ghost bearing the company's slogan. Doesn't this set the mood for a spooky event that will leave your guests petrified?
Break from the everyday monotony of your office routine and elevate the spirits, quite literally! You can create a spooktacular Halloween event that beautifully balances sophistication and whimsy, transforming your humdrum office gathering into a fun Halloween party space.
From decorating the hallways with elegant and eerie displays to dimming the lighting and adding chic black and orange tones, there are endless ways you can jazz up this event! If you are confused about where to begin, we've got you covered.
Let's dive in!
1. Spice Up The Decorations
Halloween is all about the ambiance of your party, which is why amping up your decorations is a brilliant way to begin. With the right decor and lighting, you can elevate the spirits of your party to another level.
Think foil bats, scary pumpkin carvings, and spooky spider webs! These eerie decorations are an easy way to set the tone of the party while leaving your colleagues in awe. If you are looking for inspiration, we have some suggestions.
For instance, bring in some bespoke corporate LEGO sets for your team. These bricks bring a sense of nostalgia and versatility, making them perfect for Halloween. This is especially true if you are looking for a bespoke display that highlights the spooky spirit of Halloween while seamlessly integrating your company's identity. 
From LEGO ghosts and goblins to witches brewing portions in different corners, you can easily bring in the spooktacular ambiance to your party! With a pinch of dim shades and lighting solutions, elevate the overall ambiance of your party in no time.
2. Ghost Stories and Mystery Challenges
Stir up the madness by offering an immersive experience with engaging and interactive ghost stories. Perhaps you can hire professional and talented storytellers and performers to narrate spine-chilling stories or create a suspense-filled challenge.
Give your team members a few hard-to-solve riddles as they wreck their brains to find clues around the office in search of a spooky Halloween treasure. A clue might be connected to the company's inside jokes or history, making the challenge entertaining and personal for your colleagues.
3. Signature Halloween Cocktails and Culinary Delights
A corporate event is incomplete without a food and drink menu. After all, most of us look forward to the delicious meals in corporate gatherings. With Halloween, you have the perfect opportunity to be creative and experiment with your culinary offerings.
Spice up your buffet selection with some Halloween-themed cocktails and mocktails. You can also play around with the names of the dishes by naming them after your products or services.
To spice things up, you can also match the color of your drinks with the logo and brand colors of your company or have them served to you in personalized glasses. For example, pumpkin soup in little cauldrons for a tech firm or ghost-shaped cookies for a mini bakery. The key lies in the detailing as this will leave your visitors mesmerized and boost your brand identification.
4. Pumpkin Carving Contest
One of the many examples of a traditional Halloween activity is a pumpkin carving contest. However, you can spice this up with a corporate twist. Get your team members to carve pumpkins that represent your business uniquely and interestingly.
For example, a tech company can carve a code on the pumpkin whereas a bakery would create pumpkins into the shape of their bestseller pastries. You could also involve your virtual employees and suppliers by having a live stream of the event, making it more interactive for everyone. Not only does this add a festive celebration and enjoyment to your party but it also promotes creativity and collaboration in your team.
5. Host a Costume Competition
Adding an extra degree of fun and creativity to your corporate Halloween event with a costume contest! Invite your team to put on different costumes relating to your products or services. For example, the staff of a tech company might come decked up as iconic inventors and tech marvels.
To add a touch of competition, you can give away prizes for the most outstanding, unbelievable, or funniest costumes and take photographs at a personalized photo booth equipped with a branded backdrop. This will also make it memorable with people posting their experiences on social media pages, thereby increasing your outreach.
To Sum It Up
Who said your corporate Halloween event has to be no fun? With a little bit of creativity and brainstorming, you can turn this Halloween event into one that will be cherished for years to come.
From decking up your hallways with spooky themes to participating in traditional Halloween activities with a corporate twist, there are plenty of ways to switch the horror a notch higher. The key is to create festive celebrations while building a well-knit community and collaboration with your colleagues.
Read also: