Potatoes originated in the Andes Mountains of South America, where they were first cultivated as early as 200 BC. Spanish conquistadors brought potatoes back to Europe in the 16th century, and they quickly became an important food crop across the continent.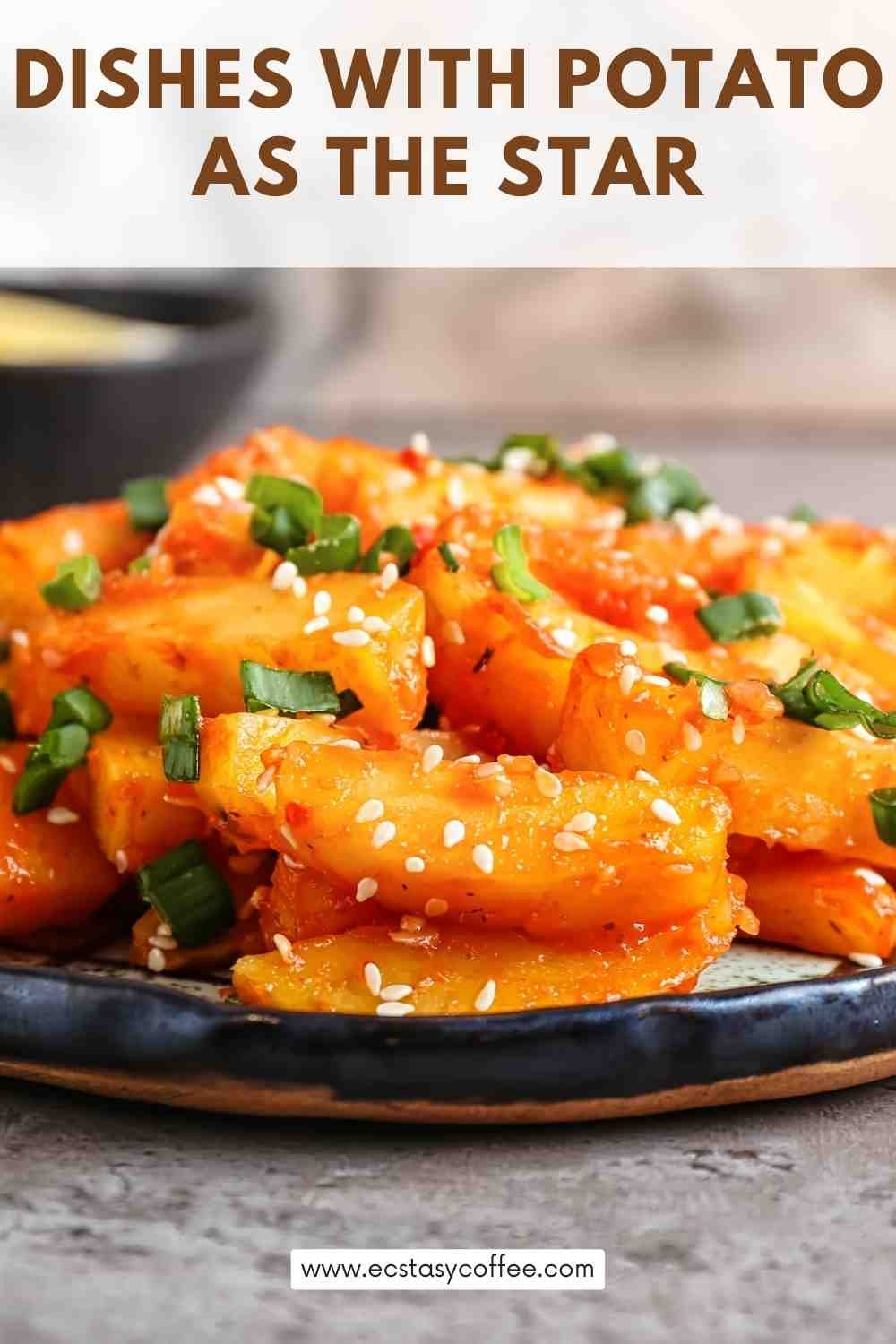 Today, potatoes are grown in over 100 countries worldwide. In fact, potatoes are the world's fourth largest food crop behind rice, wheat, and corn, making them one of the most versatile and beloved vegetables across cuisines. Packed with nutrients like vitamin C, potassium, and fiber, the humble potato has been a dietary staple for centuries.
From mashed and baked potatoes to potato salads and soups, there are endless ways to prepare potatoes and highlight their delicious flavor. This article will explore eight popular potato dishes from around the world, showing how the potato can shine as the star ingredient.
Potato Soup
When cold weather hits, warm up with a soothing bowl of potato soup. Potato soup is creamy and comforting, with potatoes lending their starchy thickness.
Sauté 1 diced onion and 2 stalks celery in butter. Add 4 cups chicken or vegetable broth, 2 lbs peeled and diced russet potatoes, 1 cup milk, salt, pepper, and nutmeg. Simmer until potatoes are tender, then purée until smooth and creamy. Garnish with bacon, scallions, or cheddar cheese.
This potato soup recipe is ideal for chilly nights, great for using up leftover potatoes, and loved by kids and adults alike.
Baked Potatoes
Nothing beats a hot, fluffy baked potato fresh from the oven. Baked potatoes are a classic comfort food, beloved for their simplicity.
To make: scrub 4 russet or Yukon Gold potatoes and pierce them several times with a fork. Rub the potatoes with olive oil and season with salt and pepper. Bake at 400°F for 1 hour, until tender when pierced. Split open and top with your choice of butter, sour cream, cheese, bacon, broccoli, or chili.
Baked potatoes are often served as a side but can also start as a hearty meatless main. Enjoy them with salad for a satisfying dinner.
Potato Salad
No summer picnic or BBQ is complete without potato salad! The classic version combines diced boiled potatoes with a creamy mayo-based dressing and mix-ins like celery, onion, mustard, and eggs.
For a tangy twist, use a vinaigrette instead of mayo. Mix in crumbled bacon, fresh herbs, or chopped pickles. Chill for at least 2 hours before serving for the best flavor.
Potato salad is easy to double for a crowd and can be prepared a day in advance. It's a refreshing, protein-packed addition to any warm-weather gathering.
Twice-Baked Potatoes
For an elegant presentation, try twice-baked potatoes. Bake and scoop out the insides of large russet potatoes, leaving a thin shell. Mash the insides with butter, milk, cheddar, bacon, and scallions. Heap the cheesy mashed potato mixture back into the potato skins and bake again until hot and browned.
Twice-baked potatoes are perfect for holidays and special occasions, delivering a decadent potato experience. Make ahead and reheat for easy entertaining.
Potato Pancakes
Also known as latkes or boxty, potato pancakes are a beloved dish across many cultures.
To prepare them: grate 2 lbs of potatoes and drain well. Mix with 2 beaten eggs, ¼ cup flour, 1 small onion, and salt and pepper. Form into patties and fry in oil until crispy on both sides. Top with applesauce or sour cream.
Potato pancakes make a hearty breakfast, snack, or side dish. The shredded potatoes soak up oil as they fry, resulting in a crispy exterior and tender, fluffy interior. Kids will love helping grate the potatoes for this fun, hands-on recipe.
Potato Gnocchi
For a gourmet potato dish, try your hand at homemade gnocchi. These fluffy potato dumplings hail from Italy.
Start by boiling 2 lbs. russet potatoes. Mix with 1 cup flour, 1 egg, and salt. On a floured surface, roll dough into ropes and cut into small pillow-shaped dumplings. Boil gnocchi until they float, about 2-3 minutes. Toss with tomato sauce or pesto and top with Parmesan.
Making gnocchi takes some effort but impresses guests. The light, melt-in-your-mouth potato dumplings are worth it!
Potato Curry
In Indian cuisine, potatoes are a key ingredient in many curries and spiced dishes. For a quick potato curry, sauté 1 diced onion in oil. Add 2 lbs diced potatoes and season with curry powder, cumin, coriander, and cayenne. Cook for 5 minutes, then add 1 can of diced tomatoes and simmer until potatoes are tender. Finish with chopped cilantro.
You can serve this dish with either naan or rice. The potatoes absorb aromatic spices and flavors, making them ultra-tasty. This veggie curry makes a fast, budget-friendly weeknight meal.
Scalloped Potatoes
For the ultimate creamy, cheesy potato bake, try scalloped potatoes. Thinly slice 2-3 lbs of potatoes and layer in a baking dish with a creamy sauce made of butter, flour, milk, and cheddar. Top with breadcrumbs or more cheese and bake at 375°F until potatoes are fork-tender.
Scalloped potatoes are a reliable crowd-pleaser, ideal for holidays and potlucks. The thin slices ensure every bite is infused with cheesy richness. Comfort food at its finest!
Potato Gratin
For an elegant, impressive potato dish, try a creamy potato gratin. Thinly slice 2 pounds of Yukon Gold or russet potatoes and layer in a baking dish, alternating with a rich cheese sauce made of heavy cream, garlic, and Gruyère or Comté cheese. Top with grated Parmesan or breadcrumbs and bake at 375F until golden on top and potatoes are perfectly tender about 45 minutes.
Potato gratin makes a decadent side dish for special occasions like Christmas or Thanksgiving. The thin slices ensure every bite contains a perfect ratio of creamy sauce to potato.
Potato Tacos
For a fun, Mexican-inspired potato dish, try making potato tacos. Dice 2 pounds of potatoes into ½-inch pieces and roast at 400F until crispy, about 30 minutes. Warm corn tortillas on a hot skillet. Top with crispy roasted potatoes, shredded cabbage, pico de gallo, avocado, and Mexican crema or Greek yogurt.
Potato tacos are a crowd-pleasing vegetarian main dish with lots of flavor and texture. The crispy potatoes contrast nicely with the soft tortillas and creamy fillings. Kids will love assembling their own tacos.
Conclusion
This tour around the world of potato dishes proves the versatility and comfort factor of the humble spud. Mashed, baked, fried, or curried, potatoes are a near-universal favorite, suitable for any meal or occasion. With such a variety of preparation methods, there are endless ways to highlight the potato as the star of the plate. Whether enjoying a simple baked potato or an elegant potato gratin, potatoes deliver substance, nutrition, and satisfaction every time.
Read also: