Ah, Christmas! The mere mention of this holiday evokes images of twinkling lights, snow-covered landscapes, the delightful scent of gingerbread, and the warmth of families gathered around the fireplace. But as the festive season approaches, so does the excitement of decking the halls. While traditional Christmas decorations never go out of style, there's something extraordinarily special about adding a personal touch to your holiday decor. One such timeless piece that can get a fresh twist is the Christmas wreath.
Creating a wreath adorned with fresh flowers is not only aesthetically pleasing but also adds a burst of freshness to the wintry ambiance. And guess what? Making these wreaths at home is simpler than you think! Let's dive into some DIY ideas that will make your front door or fireplace the focal point of your Christmas decor.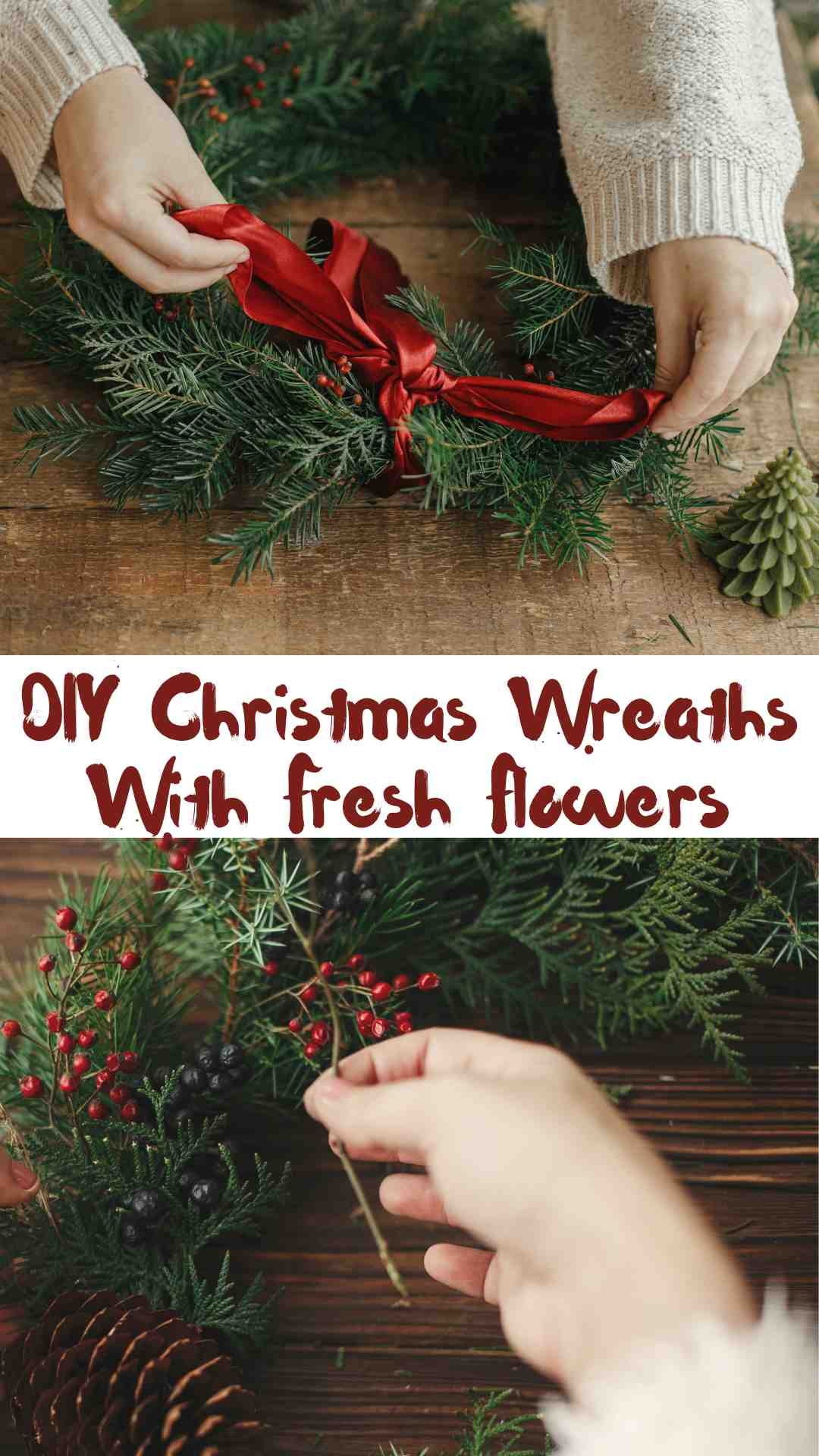 1. Elegant Christmas Rose Wreath
The charm of the Christmas rose is unparalleled. Often a part of many Christmas rose bouquets, this flower symbolizes hope during the cold winter months. Transforming such bouquets into wreath form can be an ode to both tradition and innovation.
Materials:
A circular wire wreath frame
Fresh Christmas rose flowers (along with other favorites like lilies or carnations if desired)
Fresh greenery (like pine or fir branches)
Floral wire
Ribbon
Steps:
Begin by wrapping your greenery around the wire wreath frame, securing it in place using floral wire.
Once you've created a green base, start placing your Christmas roses. Trim the stems, leaving about 2 inches.
Weave these short-stemmed roses into your green base, ensuring they're secured tightly with the floral wire.
Add other flowers sporadically for color contrast and volume.
Finally, tie a ribbon at the bottom or top of the wreath to hang it.
2. Citrus And Flower Fusion
Winter is synonymous with citrus fruits. Why not incorporate them into your wreath for a pop of color and freshness?
Materials:
A circular wire wreath frame
Fresh flowers of your choice
Sliced citrus fruits (like oranges or lemons)
Fresh greenery
Floral wire
Steps:
Create a green base on your wireframe using fresh greenery.
Start adding slices of citrus fruits, ensuring they're evenly spaced and secured with floral wire.
Fill the gaps with fresh flowers. The contrast between the vibrant citrus and soft flowers will be a visual delight.
3. Snowy White Blooms
Dreaming of a white Christmas? This wreath captures the essence of a snowy landscape.
Materials:
A circular wire wreath frame
White flowers (like daisies, roses, or lilies)
Silver spray paint
Pinecones
Fresh greenery
Floral wire
Steps:
Spray some pinecones with the silver spray paint for a frosty look and let them dry.
As always, start with a base of fresh greenery.
Add your white flowers at regular intervals.
Place the silver pinecones amidst the flowers.
Secure everything using floral wire, and your snowy bloom wreath is ready!
4. Rustic Herbal Delight
This wreath gives a nod to the culinary aspect of the holiday season by incorporating fresh herbs.
Materials:
A circular wire wreath frame
Fresh herbs (like rosemary, thyme, and sage)
Fresh flowers (preferably small blooms)
Twine
Fresh greenery
Steps:
Create your base using greenery.
Intersperse fresh herbs throughout the wreath, ensuring they're evenly distributed.
Add your small blooms in between the herbs.
Use twine instead of floral wire for a rustic finish.
5. Lavish Lavender Love
Lavender may not be a traditional Christmas flower, but its calming scent and beautiful color can be a unique addition to your festive decor.
Materials:
A circular wire wreath frame
Fresh lavender sprigs
Fresh flowers (like roses or carnations)
Floral wire
Steps:
Start by creating a base using just the lavender sprigs.
Once your wreath is covered in purple, add other flowers for contrast.
Secure with floral wire, and your lavender love wreath is ready!
6. Tropical Festive Flair
For those who celebrate Christmas in warmer climes or just love the vibrant touch of tropical flowers, this wreath is a perfect blend of festive and exotic.
Materials:
A circular wire wreath frame
Tropical flowers (like hibiscus, orchids, or bird of paradise)
Ferns or palm fronds
Small seashells
Floral wire
Ribbon
Steps:
Begin by arranging the ferns or palm fronds around the wire frame, creating a lush green base.
Intersperse with your choice of tropical flowers, securing them with floral wire.
To add a beachy touch, attach small seashells between the flowers.
Finish off with a vibrant ribbon to hang.
7. Golden Poinsettia Elegance
The poinsettia is a classic Christmas flower, often associated with the festive season due to its bright red and green colors. This wreath idea elevates the traditional poinsettia with a touch of golden elegance.
Materials:
A circular wire wreath frame
Fresh poinsettias
Gold spray paint
Fresh greenery
Small gold ornaments or baubles
Floral wire
Steps:
Gently spray the tips of the poinsettia petals with gold spray paint, creating a shimmering effect. Allow them to dry.
Wrap your wreath frame with fresh greenery, securing it with floral wire.
Once your golden poinsettias are dry, arrange them around the wreath.
Add gold ornaments or baubles for an extra touch of festivity.
Secure everything with floral wire.
8. Victorian Lace & Blooms
This wreath combines the vintage charm of lace with the freshness of flowers for a classic Victorian look.
Materials:
A circular wire wreath frame
Delicate lace or lace ribbon
Fresh flowers (like roses, baby's breath, or camellias)
Pearl beads or small pearl ornaments
Floral wire
Steps:
Start by wrapping the lace or lace ribbon around your wireframe, ensuring it covers the frame completely.
Intersperse with your choice of fresh flowers, keeping in mind the delicate and soft look of the Victorian era.
Add pearl beads or pearl ornaments amidst the flowers, creating a sophisticated and vintage touch.
Secure everything with floral wire, ensuring the lace and flowers are firmly in place.
In Conclusion
Fresh flowers bring life, color, and a touch of nature to our homes. By incorporating them into your Christmas wreaths, you not only ensure that your decor stands out but also infuse the freshness of blooms into the festive ambiance.
Remember, the essence of DIY is to let your creativity flow. Use these ideas as a base and let your imagination run wild. Whether you choose the elegance of a Christmas rose bouquet wreath or the rustic charm of an herbal delight, your home is sure to radiate festive cheer. Happy decorating and Merry Christmas!
Other ideas you should check out: