Oops, you forgot to grab a Halloween costume. Don't let excitement fade away because these Last Minute DIY Halloween Costume ideas can help you get out of this scary situation. They are easy to make but still have a high degree of fear factor. Before going for any DIY Halloween costume ideas, a little planning is crucial. Before you prepare your costume, let's explore some of the possible options.
Scary Prank Lovers
If you and your family are scary prank lovers, there is a pretty good chance you can quickly create an easy DIY costume in a few minutes. Your in-house inventory will be full of scary masks and props that can scare the hell out of people. Just grab your favorite scary mask, and now you just need to select an outfit that goes along with this mask. If you want to recreate a new one, we have got you covered. Read below to grab some ideas.
In-house Inventory
Yes, you read that right. Our house basement and storage room are usually full of scary stuff. Don't consider these things useless items; consider them elements to make new things. Making DIY Halloween costumes is no exception with such a vibrant old pile of stuff. The possible items to select from these can be an unwanted corrugated box, party leftover supplies, old toys, and old costumes that your kids may have used for their school performance. These can come in handy, and now we have plenty of supplies at our disposal to get this costume adventure going. Let's start with a simple but exciting one.
DIY Halloween Costume Ideas
Ghost Costume
Oh come on we know it is an old concept; why not connect it with modern technology, especially social media, to give it a modern look? All the basic elements of the ghost costume will remain the same; you just need to incorporate social media in a funny context. Imagine a unique, unseen Facebook ghost. You can put a Facebook logo and a like button on the front or back of the outfit, as you prefer. You will be able to create a funny, scary smile on the people's faces of whomever you pay a visit.
Clown Costume
Clowns have been part of our lives since childhood, and they are still very popular, especially in the horror genre. You will require a cone-shaped hat leftover from party supplies that you can color as per your choice. Secondly, duct tape can be used to create stripes on your outfit. Finally, a mommy makeup kit will be required to complete your facial look. You are ready to awaken the fear of clowns in people or even get together with Pennywise to make a spooky pair.
Sunshine or Star Wizard Costume
This is a minimum-effort easy DIY Costume that you can make with a piece of cardboard. Draw and cut out the shape of a star or sun as per your desire. It can be attached to any outfit or hung on your shoulder with the help of any lace or ribbon. You can paint it, and adding glitter or sparkles to this basic outfit will strengthen the appeal of this costume.
Luggage Man Costume
For the luggage man costume, you will require a cardboard or corrugated box, its size can be easily adjusted through duct tape. Create a hole on the top and on the left and right sides for the arms. At the bottom, create a round hole for the belly. Put a handle on the side and an old zipper on the front, and voila, your luggage costume is ready to go. If you want to take your costume to the next level, you can use an unwanted old suitcase that is not heavy and create holes as per need.
Food Costume
Making a food costume can be tricky, but it's not impossible. In fact, food costumes can get more attention and liking because of so many foodie people. Let's create a donut box DIY costume. You will need cardboard to create a donut-shaped circle. Now download your favorite yummy donut pictures, get them all printed, and paste them on cardboard. Your donut box is ready to wear. Attach a ribbon or lace to hang it on your shoulders and walk around the streets on Halloween to make people crave donuts.
Costume by Profession
Costumes by profession are quite popular and easy to make as well. People adore kids who mimic themselves as mature businesspeople because their mischievous tactics make them look funny and cute. All you need is a white coat and a touch of makeup, and you are all ready to go to become a lively doctor or grumpy nurse.
Crypto Costume
If you are conscious of keeping yourself up to date with modern trends, a crypto costume is a good choice to opt for. You will need cardboard to cut out a round coin shape out of it. If you're fond of art, then use paint and create a cryptocurrency logo mark or coin on the cardboard. If not, then simply get a big print of the coin and paste it on the cardboard. Wear it with a themed outfit and hit the Halloween streets to get yourself some nice treats.
PUBG Game Costume
Games are never out of fashion neither their costume. Creating your favorite game might be easier than you think. Your existing fan club merchandise such as a hoodie, T-shirt, or spectacles can adequately meet your costume needs. Just put it on your favorite merchandise and your pub costume is ready to go.
Alien Costume
The debate over whether aliens exist or not continues. Real or not, they have been existing in our imagination since childhood. Therefore, it is not possible to separate them from the festivities of our beloved spooky Halloween. If you have any bright green apparel, ninety percent of your work is done. Grab some large-sized black goggles, and you're done. Safe to use green face paint would be a perfect addition to add more drama and a funny touch. You are now ready to be part of an alien costume family.
Robot Costume
Robots are always known to catch glances wherever they go. In this fast-paced world of advancement, turning yourself into a unique DIY robotic figure would be a brilliant idea! The winding key is mostly used to symbolize robotic phenomena. So use cardboard to cut out a winding key shape and use some metallic spray paint to get that shiny finish. Use duct tape to attach it to your costume. This concept can go with any costume, such as a winding doll, alien robot, etc. of your choice.
Superman Costume
Want to express some power with your costume? A Superman costume is a great choice because many of us already own a t-shirt with that iconic Superman logo on it. It's time to utilize that forgotten tee and turn yourself into a life-saving superhero by wearing a red cape. In case you don't own a Superman tee, you can simply use a blue shirt and either paint it or paste a printed S-logo image on it. Don't forget to wear a red pair of undies to complete the look.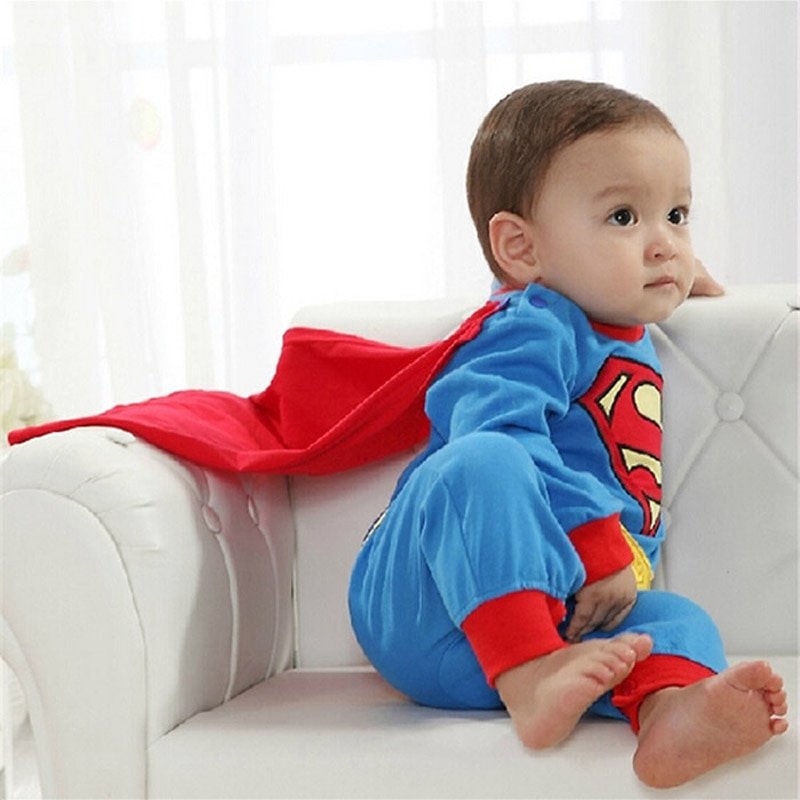 Bat Costume
Bats are creepy creatures, and they make a good choice for easy DIY costumes. So, it's time to use your broken umbrella that you always thought to get rid of. Cut the top part of the umbrella into two halves and separate it from the main stick. Now attach these two parts to a blackout fit with the help of duct tape or string, and your batman costume wings are ready to take new heights of DIY costume.
Solar System Man Costume
Children's science projects based on solar system themes are good props to create a solar system man costume. Turn yourself into a sun by wearing a bright yellow-orange costume. Add face paint and a sun-shaped headgear to make it obvious. Now get the planets from your school projects or make new ones to attach them to your outfit in a circular way. It is a different costume concept but it will surely gain a lot of attention.
Toy Man Costume
It's a good time to use old children's toys to create a Toy Man Costume. Gather all the toys you want to put in your costume. Put a string on each of the toys. Now, with the help of this string, attach these toys to your outfit. Use duct tape or glue to secure the toys, and your toy man costume will be ready to creep everyone out with those broken or disastrous old toys.
Hoodie Costume
The old hoodies come in very handy for DIY costumes, as they provide a great opportunity to create a complete head-to-body costume with a single outfit. First, select the character that you would like to create, such as a shark or dinosaur. You will require cardboard to create your desired shape for shark fins or dinosaur scales. Make sure to create enough patterns from cardboard so they cover the head and body. These shapes can be attached to the outfit with the help of duct tape.
Conclusion
These Last Minute DIY Halloween Costume Ideas will come in very handy to address your unmet Halloween costume needs; they are easy, convenient, and inexpensive choices to opt for. They foster creativity in their kids, enabling you to create endless possibilities that are hard to find in costume stores. If you are good at DIY projects and want to buy a nice costume under your budget, then head over to the Halloween 2023 collection of TinyJumps and grab the most unique, funky, trendy, and spooky fits for your little ones.
Other ideas you should check out: