Create a dauntingly cool Halloween front door display with these DIY Halloween wreath ideas. From creepy spiders to jack-o'-lanterns, these fun & easy wreaths will give your home a spooktacular touch.
More collections: Halloween Pumpkin Cheesecake, Halloween Pumpkin Bars, Halloween Pumpkin Soup, Halloween Potluck, Halloween Whiskey Cocktails, Pumpkin Decoration Ideas, Kids' Halloween Makeup Ideas, Halloween Decor Ideas, Candle Holder Ideas, Halloween Nail Art Ideas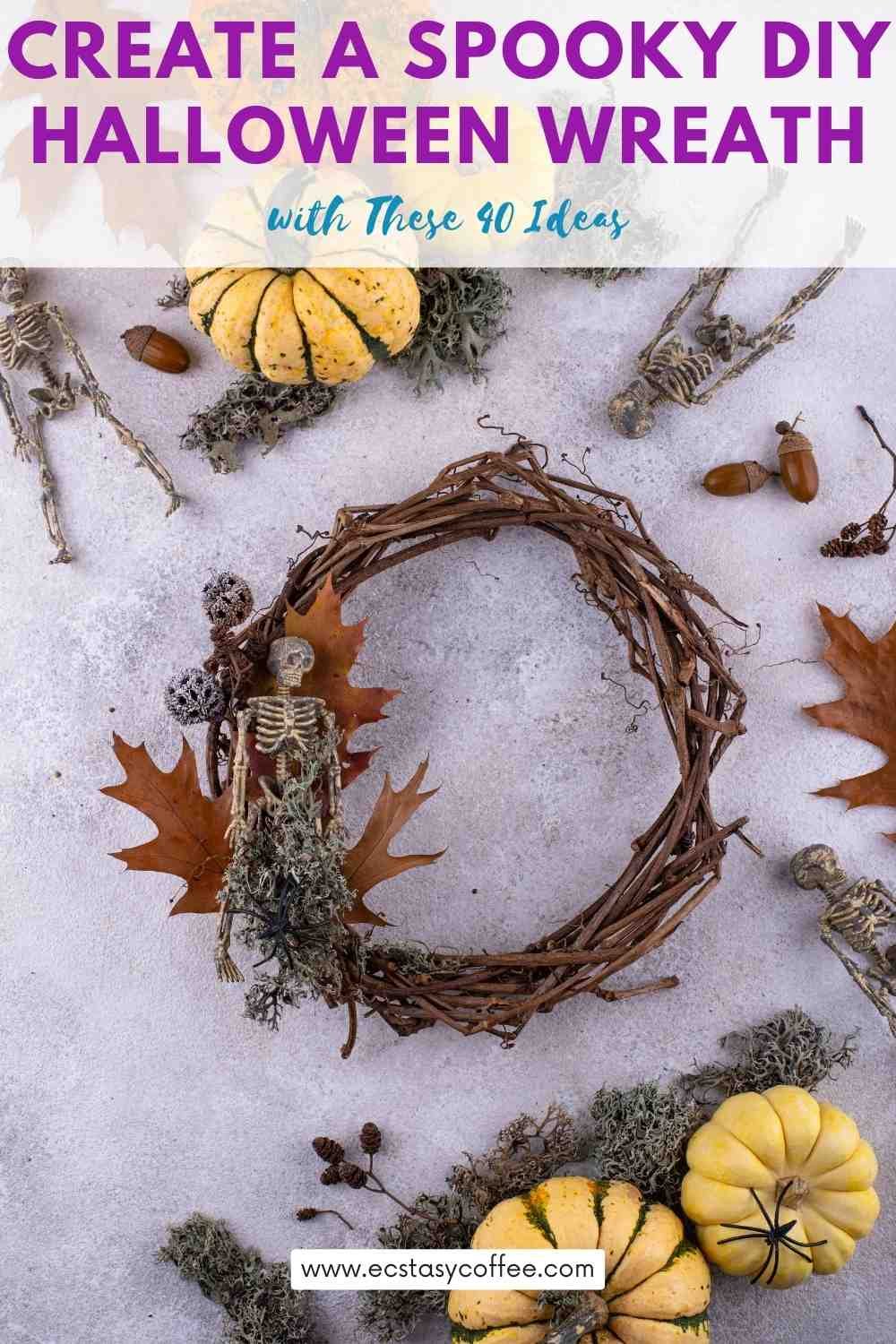 Wreaths' representing the symbol of life, death, and karma have striking significance to date. Halloween on the other hand creates an electrifying atmosphere in the air and brings back those bubbling adventurous spirits from childhood. While you are looking for ways and means to create a scary makeover along with putting up daunting centerpieces and other crafts, you must also think about putting up DIY Halloween wreaths.
A Halloween wreath can be pretty expensive if you set out to buy one. I suggest you go for some super easy and spine-tingling DIY Halloween wreath ideas which are going to give serious competition to the Halloween wreaths available in the market. You can go for a skull wreath Mysterious mummy wreath or any other easy-to-make wreath that gives you chills down your spine. Check them all out here.
Create a Spooky DIY Halloween Wreath with These Ideas
#1 Mummy spider web wreath
via theyellowgiraffeblog.com
#2 Halloween Spider Web Wreath
#3 Halloween Raven Wreath
#3 Spooky Halloween Spider Web Wreath
#4 Owl Wreath
via persialou.com
#5 Mummy Wreath
via worthpinning.com
#6 Spooky Wreath
#7 Witch Halloween Wreath
#8 Make a Spooky Halloween Wreath
via realcoake.com
#9 Ceiling Medallion Halloween Wreath
#10 Pinecone Monster Halloween Wreath
#11 DIY Witch Crash Wreath
via the alison show
#12 Halloween Skull & Spider Wreath
via bali blinds
#13 DIY Sugar Skull Wreath
#14 Googly Eye Door Wreath
via craft cuts
#15 Handmade Witchy Wreath
via crafty sisters
#16 Add a glittered up sign to the center of your tulle wrapped wreath
via Apothecary Home.
#17 A quick spray paint and some cotton project
via justagirlblog
#18 Burlap Rosette Wreath
via Shanty 2 Chic
#19 Spider Wreath
via Mom Endeavors
#20 Wiggly Eye Wreath
Other Ideas You Should Check Out: Halloween Food Crafts, DIY Christmas Wreaths, Halloween Treats, Spooky Halloween Wreaths, Christmas Wreath Decorating Ideas, Natural Nail Design Ideas, Beautiful Christmas Nail Art, Fall/Winter Nail Art Designs, Fall/Winter Nail Art Designs, Quick Nail Art Ideas for Short Nails, Girls Group Halloween Costume Ideas, Natural Thanksgiving Decorations, Delicious Halloween Cakes