Your wedding should be the most beautiful event in your life. The joining of destinies with the person you love is one of the most memorable personal moments you can go through, and it should bring you a sense of satisfaction that goes beyond any considerations that have arisen in the wedding planning process. But, besides the unique symbolism of a wedding, the expensive costs that are sometimes associated with such a ceremony must also be taken into account. Nowadays, a dream wedding is not necessarily one that is extravagant but one that successfully combines practicality with beauty. And one of the ways more and more brides choose to save a buck is by using a dried baby's breath wedding bouquet instead of ones made of fresh flowers.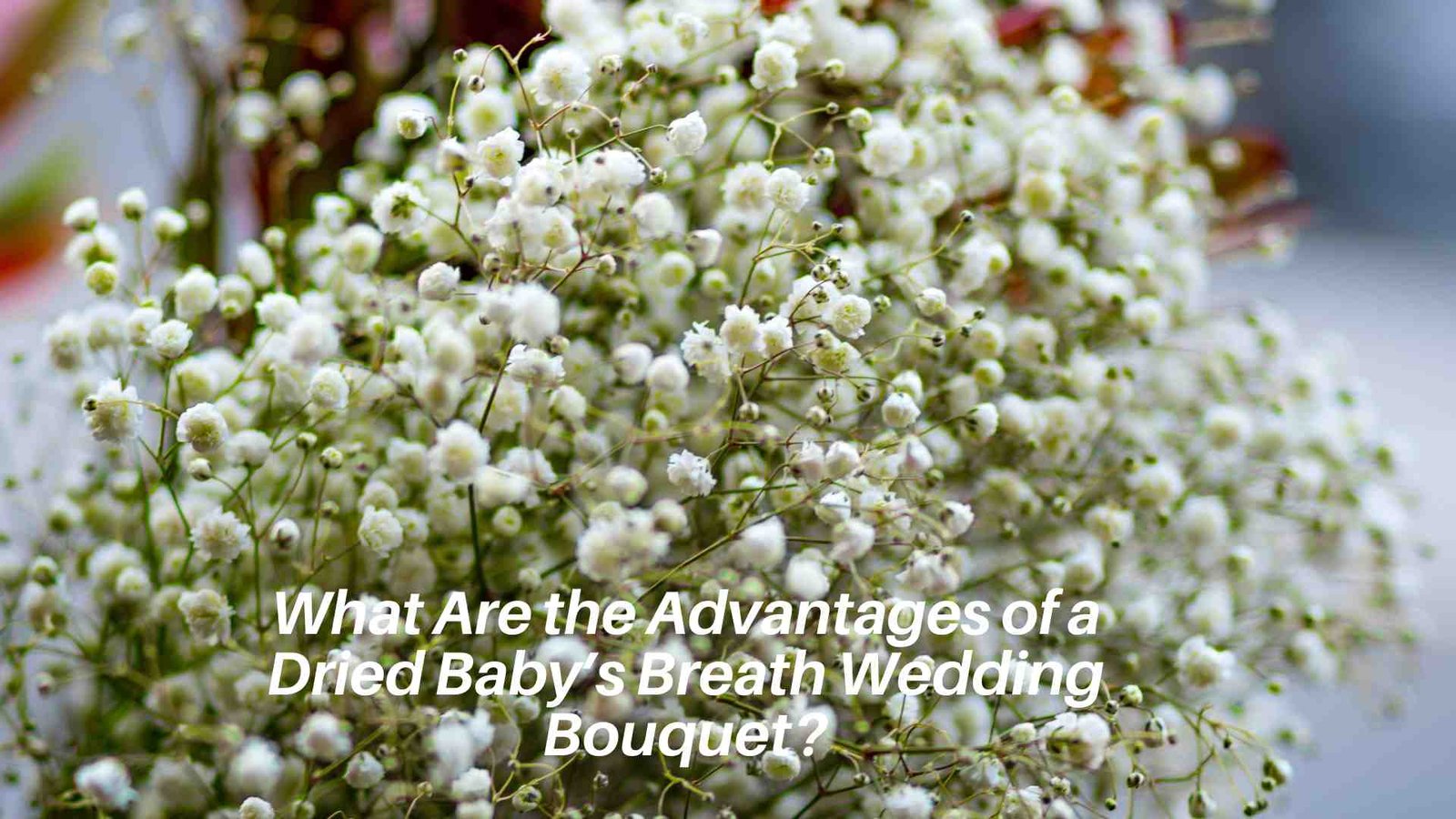 Additionally, for women who seek to immortalize the symbol of their happiness and make it a cherished reminder of their special day, a sola wood flower wedding bouquet could also present a beauteous option. Handcrafted with care and precision, dried flower or wood-based bouquets are not just mere flower arrangements but rather works of art that can be displayed and admired for years. Not only do they possess an alluring natural aesthetic, but they are also long-lasting and can be cherished as focal points of your home's interior decorations. But what are the practical advantages of buying these bouquets, and how can they be your ideal wedding gift? We propose to delve into these questions and provide the answers you deserve in the following pages.
A Cost-Effective Alternative
A dried baby's breath wedding bouquet can be a cheaper alternative to other fresh and rare flower bouquets that may not keep their freshness for long. Baby's breath, also known as Gypsophila, is a plant native to Eurasia, Africa, and Australia that has come over time to symbolize innocence and eternal love for your special half.  Baby's breath bouquets are generally considered a financially wise choice for people who don't want to spend a fortune on their wedding, and this applies even more if you go for a dried baby's breath wedding bouquet.
Dried flowers last much longer than fresh flowers, so a dried baby's breath bouquet can serve as a moment of that happy occasion in your life. Furthermore, dried flowers are generally cheaper than their fresh flower equivalents, so they can be a more cost-effective alternative for brides-to-be on a budget. Nowadays, the average cost of an American wedding is over $25,000, so every little expense that can be reduced has the potential to impact your financial well-being significantly.
A Lightweight Option
Wood or dried flower bouquets can be lightweight and easily store alternatives to fresh flowers. The range of styles and colors specific to wood or dried flower bouquets make them an ideal addition to any wedding, with various arrangements possible to suit any bride's vision. And if you are reading this article, you are most likely a creative person who wants to be involved in all aspects of your wedding, which is why these arrangements may be what you are looking for.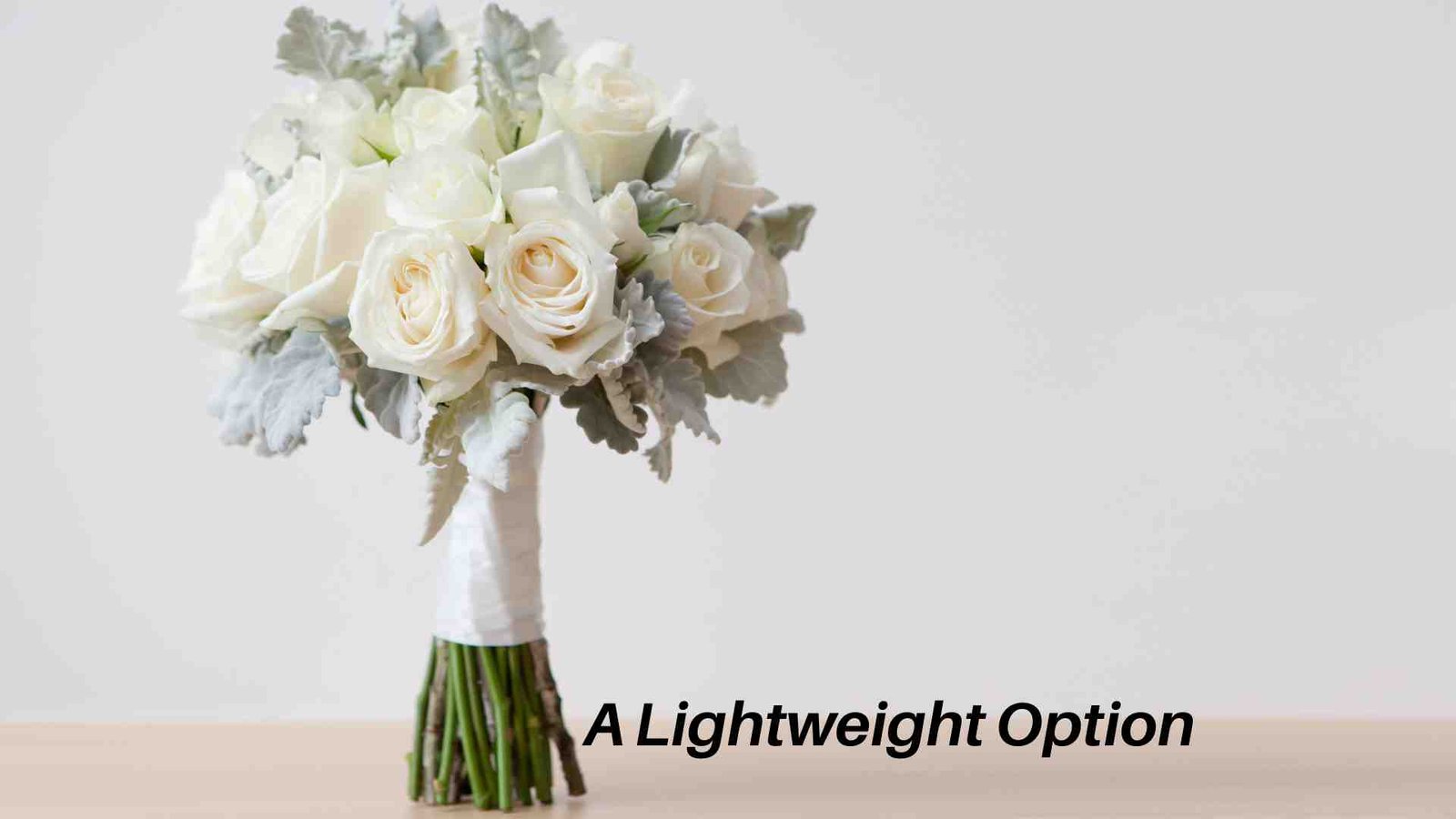 Would you like to have a Hawaiian-style wedding? Then a sola wood flower wedding bouquet can transport you to your dream destination. Are you hoping to recreate the wedding you've dreamed about since childhood? Then dried baby's breath bouquets can help you make that dream come true. Imagination is the only thing that can prevent you from having a perfect wedding, and as you are probably a creative person, this can only be a good thing.
Most likely, the ideas you have for your wedding can be perfectly matched by the many types of dried flowers available on the market. A dried baby's breath wedding bouquet could match your aesthetic appeal and allow you to bring out the ideas you are known for. Dried flowers have a natural, rustic appearance that can fit your wedding decor if what you are looking for is charm and quirkiness. Last but not least, we should also mention the environmentally sound properties of dried flowers. Being more resilient than real flowers, they lead to less waste and can turn your special occasion into an earth-friendly event.
What Are the Advantages of a Sola Wood Flower Wedding Bouquet?
More than two million Americans got married in 2019 alone. All of these couples were required to invest a considerable amount of money in the specific decorations for this special occasion, but an increasingly popular option for people wishing to unite their fates in a budget-friendly manner is to use sola wood flowers as wedding decorations. What are wood flowers? They are artificial flowers carved from balsa wood that can be adapted in various shapes and colors to suit your needs and requirements. Balsa wood is a lightweight and durable material that can easily pass the test of time, and for many brides, at least in the last ten years, a solo wood flower wedding bouquet has become a cheaper and eco-friendlier alternative to bouquets created from fresh blooms.
A sola wood flower wedding bouquet can be tailored to match the requirements of your dream bridal ceremony. They can be carved to mimic any flower you imagine and painted in any shade to highlight your unique features. Thanks to their natural look, sola wood flowers are ideal for outdoor and rustic weddings, and their increased durability allows them to be kept as souvenirs for your special event.
A traditional bride bouquet can generally last up to two weeks without fading, but a sola wood flower wedding bouquet can last for years and be turned into the focal point of any room in which it is placed. Sola flowers are also cheaper than their fresh counterparts, and for a wedding, christening, or outdoor party, their associated costs can be much more financially advantageous than if you had chosen the fresh flower decorations option.
The Only Thing that Matters Is for Your Wedding to Be Special
Your wedding is your special day. The moment you have waited for all your life and the chance to unite your destiny with the love of your dreams. But weddings also require a great deal of practical thinking and organizing. The decorations around the venue's premises can be one of the most significant expenses associated with your special day, which is why many brides choose to opt for bouquets or decorations containing dried flowers or wood.
A dried baby's breath wedding bouquet can, for example, be the perfect ornament for the memorable photos you will take with your family, thanks to the versatility and durability of dried flowers. On the other hand, a sola wood flower wedding bouquet can be your keepsake from the most incredible day of your life and can even, with good maintenance, turn into an heirloom to be given to your daughter at the right time. The wedding day is a moment of joy and celebration, but it should also be a time to escape daily life's worries. And to achieve this, you should make practical and financially reasonable decisions that will make your married life more manageable.
Check out some of our other blog posts now!