Looking for quick and easy dinner recipes which you can make in no time? Then have a quick look at these wonderful dinner recipes which we have listed below. Dinner is a meal which we have at the end of the day and at that time all of us are really tired. I think most of us feel like ordering something online or getting a takeaway meal.
But since they are unhealthy we are left with the only choice of making dinner for ourselves at home. This is tiring, boring and at times really irritating. But what If I told you that you can take a look at some of the quick and easy dinner recipes that will make your life so much easier than you thought.
So, before you go, have a quick look at these extremely delicious and mouth-watering dinner recipes which are incredibly easy and quick to make. I think you are going to love all of these quick and easy dinner recipes.
Preparing dinner every day can naturally get a boring affair! Looking for new options every day or making something elaborate may not be feasible after a tiring day at work either. Then what is the solution to this monotony? Well, some easy dinner recipes that you can give a try here and there as you create the mood for a sumptuous and exciting meal. Let's have a look at these dinner recipes for tonight's meal.
So, without much ado, let's quickly check them out. I am sure you are going to love all of these recipes.
To view the full recipe for any of these easy dinner recipes, please follow the link above the picture.
Quick and easy dinner recipes
1. 5-Ingredient Turkey Zucchini Boats
Here is a paleo-friendly recipe by Eating Bird Food that looks simply incredible. The Turkey boats take only about five ingredients and guess what! It is completely gluten-free.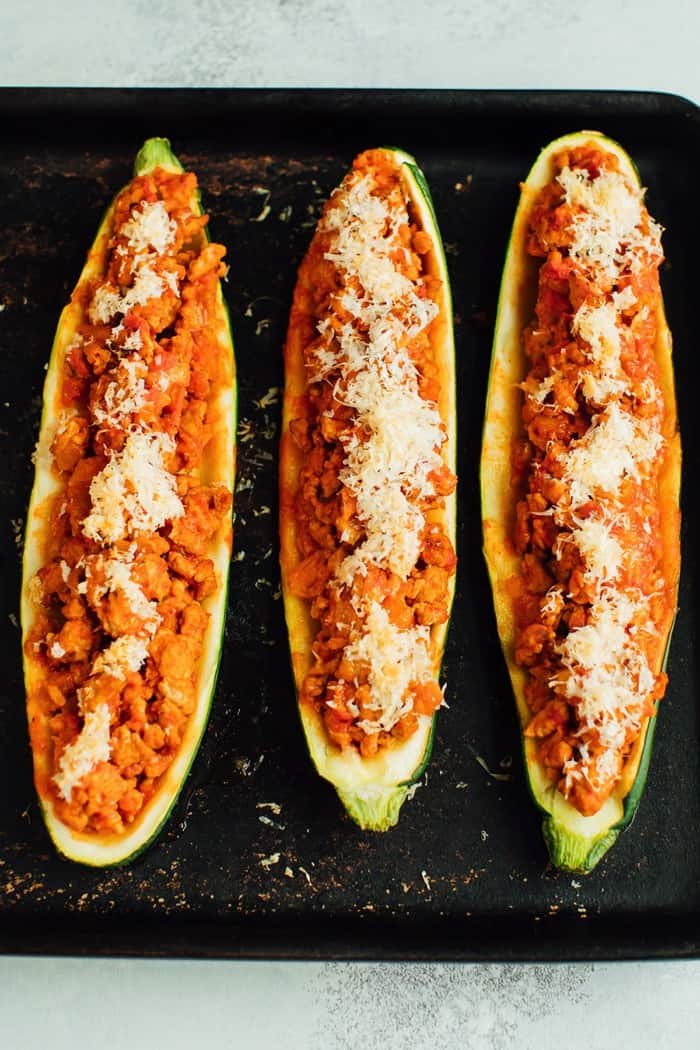 from Eating Bird Food
2. Balsamic chicken and veggies
Wish to have something homemade and warm after a tiring day? Well, the balsamic chicken with refreshing veggies by Cooking Classy just takes about twenty minutes to get done.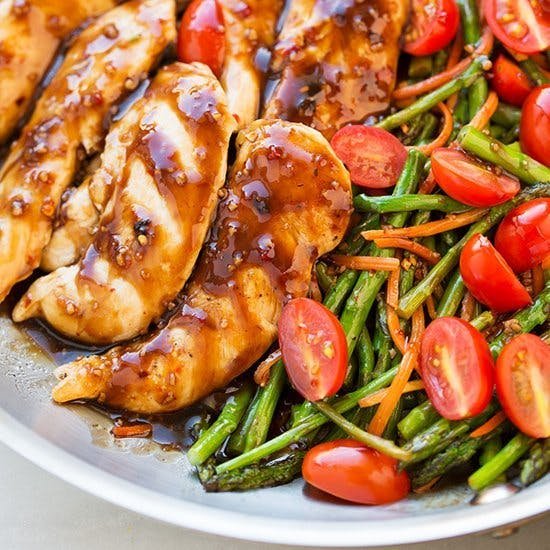 from Cooking Classy
3. Broccoli and Cheese Baked Potato Casserole
Warm and hearty casserole by Trial and Eater the detectable flavour of creamy cheese and refreshing broccoli flowers coated in rich gravy is the source of ultimate bliss at the end of the day.
from Trial And Eater
4. Bubble Up Carbonara
A recipe with bacon and bread, the bubble up carbonara is a unique creation by Mandy's Recipe Box for a wholesome meal.
5. Caprese style portobello mushrooms
This is exclusively for mushroom lovers, the recipe of Caprese style portobello by Proud Italian Cook with cherry tomatoes and herbs is mind-blowing.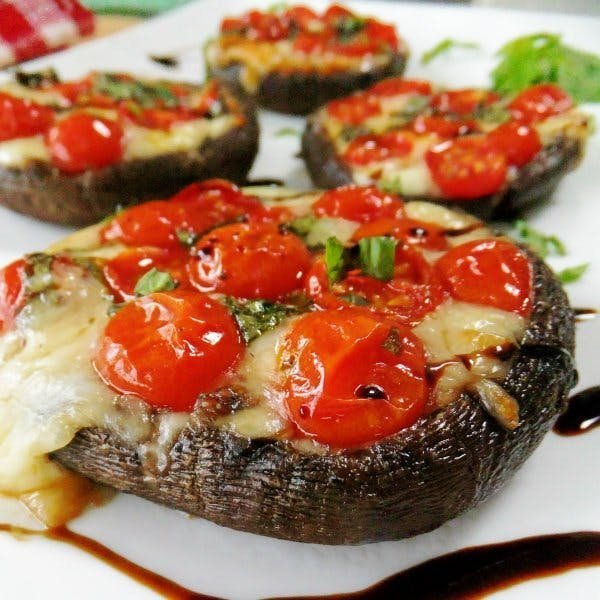 from Proud Italian Cook
6. Caribbean chicken tacos
This is where all the leftovers from lunch will come to use to fill up the crispy tortillas. The Caribbean chicken tacos recipe is a creation by Real Food by Dad and is ideal for a fulfilling meal with your family.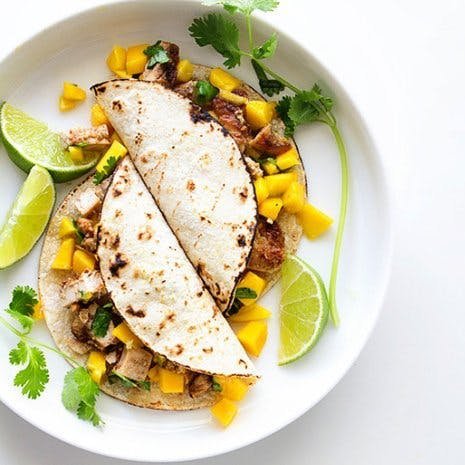 from Real Food by Dad
7. Chicken posole
A twenty minutes recipe created by Domesticate-me, the chicken posole has got chicken stocked and minced garlic and hominy in abundance. The chicken breast marinated in cumin and red chilli powder is marvellous for you to relish.
from Domesticate-me
8. Chicken Tawook Quinoa Bowls
This Lebanese style bowl with quinoa and chicken by What's Gaby Cooking is tasteful and full of nutrients. Hummus, garlic sauce and avocado combine to create its marvellous flavour. Don't forget the shredded lettuce for garnishing.
from Whats Gaby Cooking
9. Chili Garlic Tofu Bowls
The vibrant chilli tofu bowls are packed with nutrients like protein and fibre to make sure that you make the most of your summer dinner. Check out the recipe at Budget Bytes.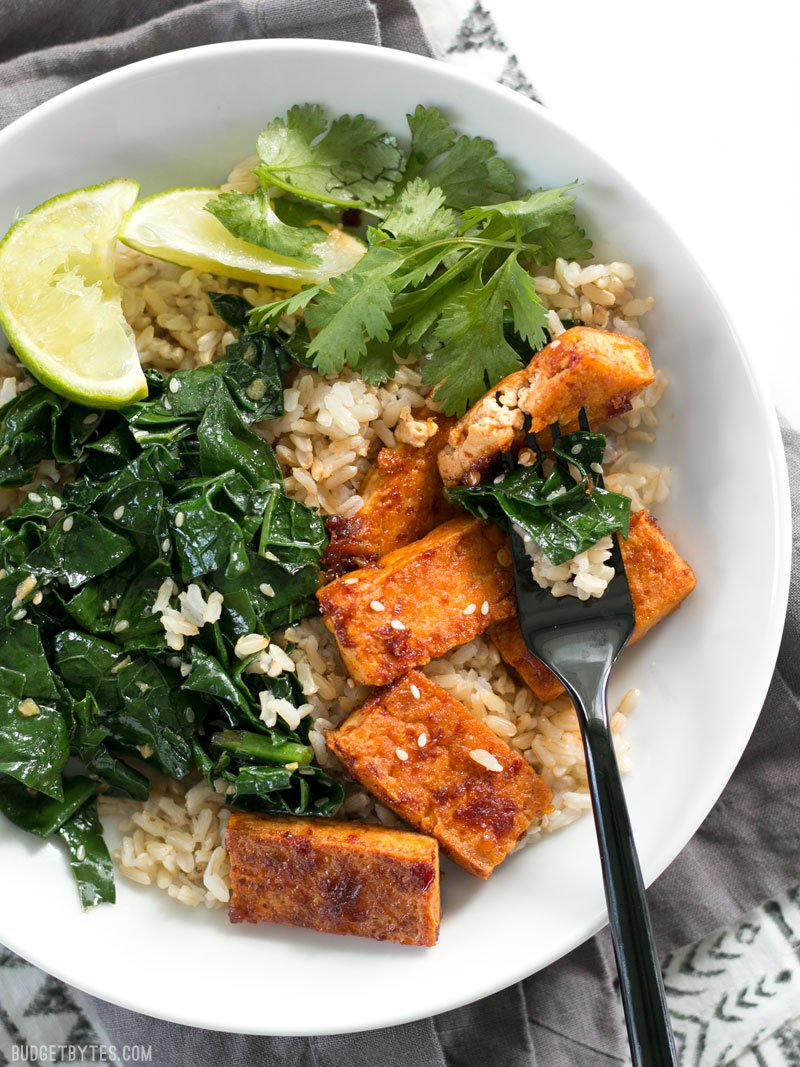 from Budget Bytes
10. Coconut Curry
Ah! Here is a humbling vegan curry that you will certainly enjoy as a comforting meal at dinner. The recipe by Hurry the Food Up is here for coconut lovers.
from Hurry The Food Up
11. Creamy chicken, vegetable and parmesan orzo
Combined with succulent chicken and cheesy parmesan sauce it is a replica of risotto but in a much quicker style. The veggies are further helpful to escalate the nutritive value of the dish. Go for the recipe at Recipe Tin Eats.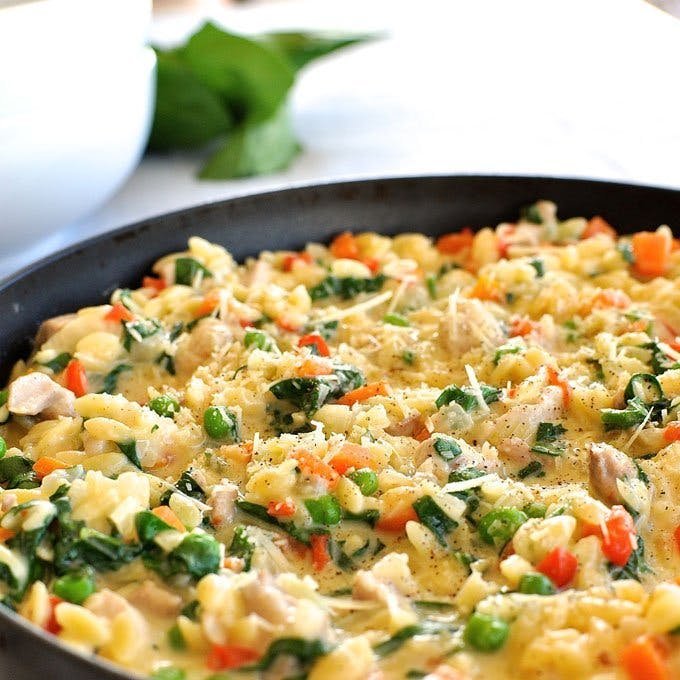 from Recipe Tin Eats
12. Curried Chickpea Bowls with Garlicky Spinach
Here is the perfect healthy choice for vegans. You can prepare this bowl with chickpeas and sharp flavours of garlic. A little brown rice and fresh spinach were chopped and added to the bowl. It is quite a comforting recipe which makes dinner an easy-peasy affair. Check out the recipe at Eating Bird Food for assistance.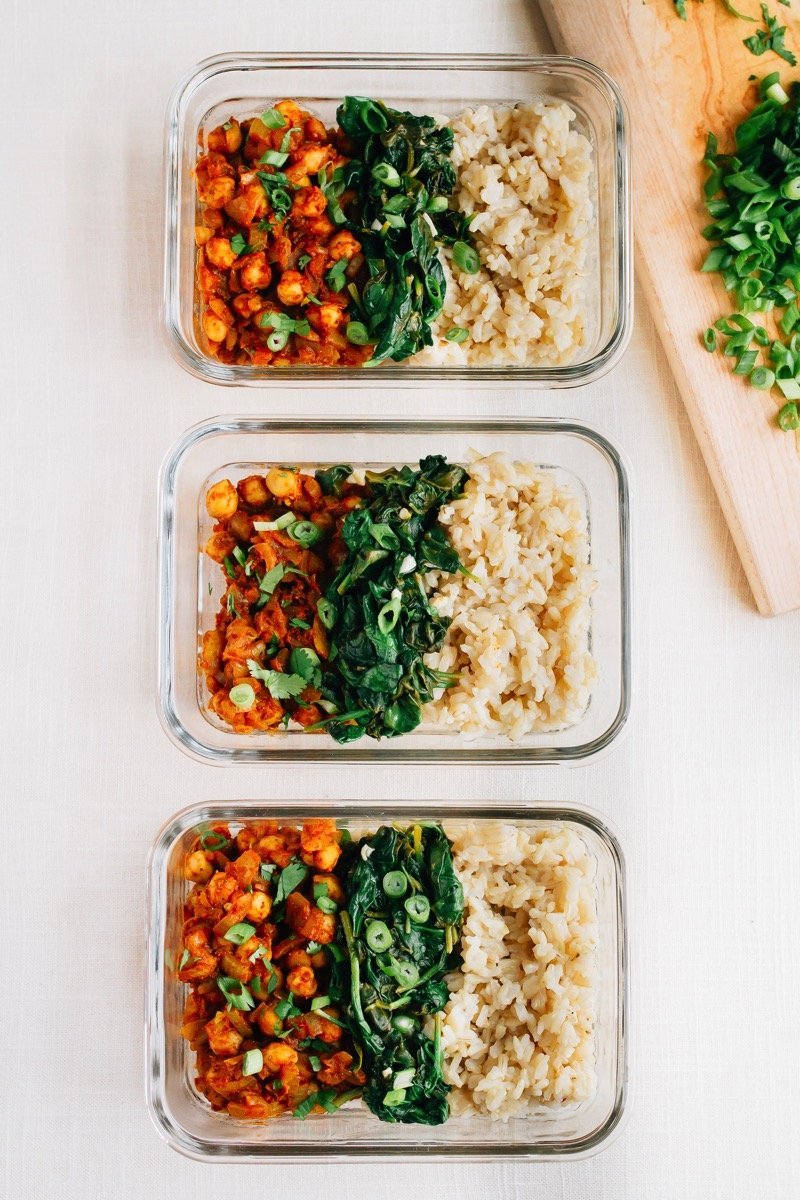 from Eating Bird Food
13. Easy Potato Soup
Nothing as warm and fuzzy as the potato soup for a winter dinner plan. Add some bacon and cheese to further escalate the taste. We have got you a brand new recipe by Hurry The Food Up to give a revamp to the classic potato soup.
from Hurry The Food Up
14. Easy tortellini bake
Wholesome and fulfilling, making dinner just got easier with these twenty minutes of tortellini bake. We are sure you will regret not trying out this recipe so here is a simple guide for you, This Gal Cooks.
from This Gal Cooks
15. Farro Salad with Green Olives, Hazelnuts and Raisins
Here is a salty, spicy and savoury salad with hazelnut and olives. Tangy and tasteful every bite of the Farro salad by Pinch and Swirl is rewarding.
from Pinch And Swirl
16. Garlic chicken, courgette and corn
Originally derived from Ukraine, the dish will add a sense of uniqueness to your regular boring meals. The recipe for garlic chicken with corn is low on carbs and you will get the steps ready here I Food Real to follow.
from I Food Real
17. Greek Cauliflower Rice Pilaf Bowls
Dinner just got easier and healthier with the cauliflower pilaf bowls. In an authentic Greek dish, grape leaves are used to enhance the flavour of the recipe and serve cauliflower rice. Check out the recipe at Lexi's Clean Kitchen.
from Lexi's Clean Kitchen
18. Greek-style chicken gyros and Tzatziki sauce
This herb marinated chicken recipe is succulent and spicy. Coated in tzatziki sauce, the recipe by Le Creme De La Crumb is delightful.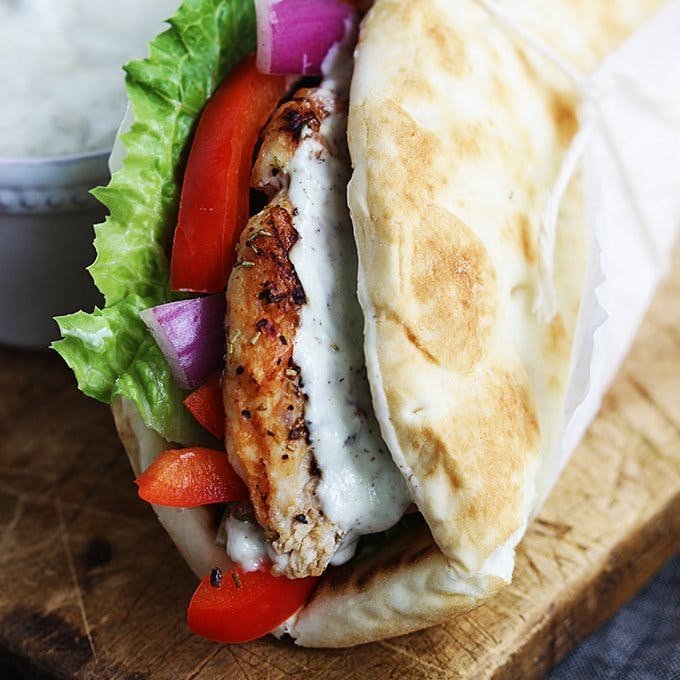 from Le Creme De La Crumb
19. Green Goddess Glow Bowl
This is a gluten-free recipe with smooth tahini lemon dressing and quinoa. Loved with kale, zucchini and edamame, the recipe by The Glowing Fridge is wholesome.
from The Glowing Fridge
20. Healthy coconut curry noodle soup
This is a Chinese recipe for the fans of noodles and soup. Rich coconut curry marinating noodles, the dish by The Woks of Life is a must-have.
from The Woks of Life
21. Healthy Greek couscous salad
Packed with cucumber, olives and chopped tomatoes, the Greek couscous salad by The Big Mans World is splendid. The healthy and savoury Greek dressing is surely fascinating for you to indulge in.
from The Big Mans World
22. Honey Sesame Chicken
Loaded with chicken, veggies and price, there is not a better bowl idea for dinner than the honey sesame chicken bowl. This recipe is an innovative creation by Sweet Peas and Saffron and you should give it a try this weekend.
23. Lemon chicken with asparagus
The pan-fried chicken in lemon juice and cream butter sauce is served with tender asparagus and rice for a meal. The recipe is curated by Pinch of Yum which can be served with mashed potatoes.
from Pinch of Yum
24. Lemon, garlic and herb baked cod
Savoury and tasteful, the lemon, garlic and herb baked cod is sumptuous and juicy for one to relish. Cooking fish just got easier with Baker by Nature.
from Baker by Nature
25. Lentil Sloppy Joes
The meaty lentil filling is marinated in tangy sauce, and the lentil sloppy joes are crispy and wholesome as an appetizer to the main course for dinner. Packed with protein, this burger style dish by Stacey Homemaker is indispensable.
from Stacey Homemaker
26. Mediterranean Grilled Chicken Salad with Hummus
If you are the one who can't get enough of hummus then the Mediterranean grilled chicken salad recipe by Whats Gaby Cooking is fascinating for you to relish. Replenished with quinoa and cucumber you must give it a try.
from Whats Gaby Cooking
27. One Pan Italian Sausage with Veggies
Highly nutritious, the one-pan Italian sausage with zucchini is surely a gorgeous dish for dinner. And don't forget loads of veggies like carrots, red pepper, broccoli and potatoes that are incorporated in the dish. Check out the recipe at Chelsea's Messy Apron.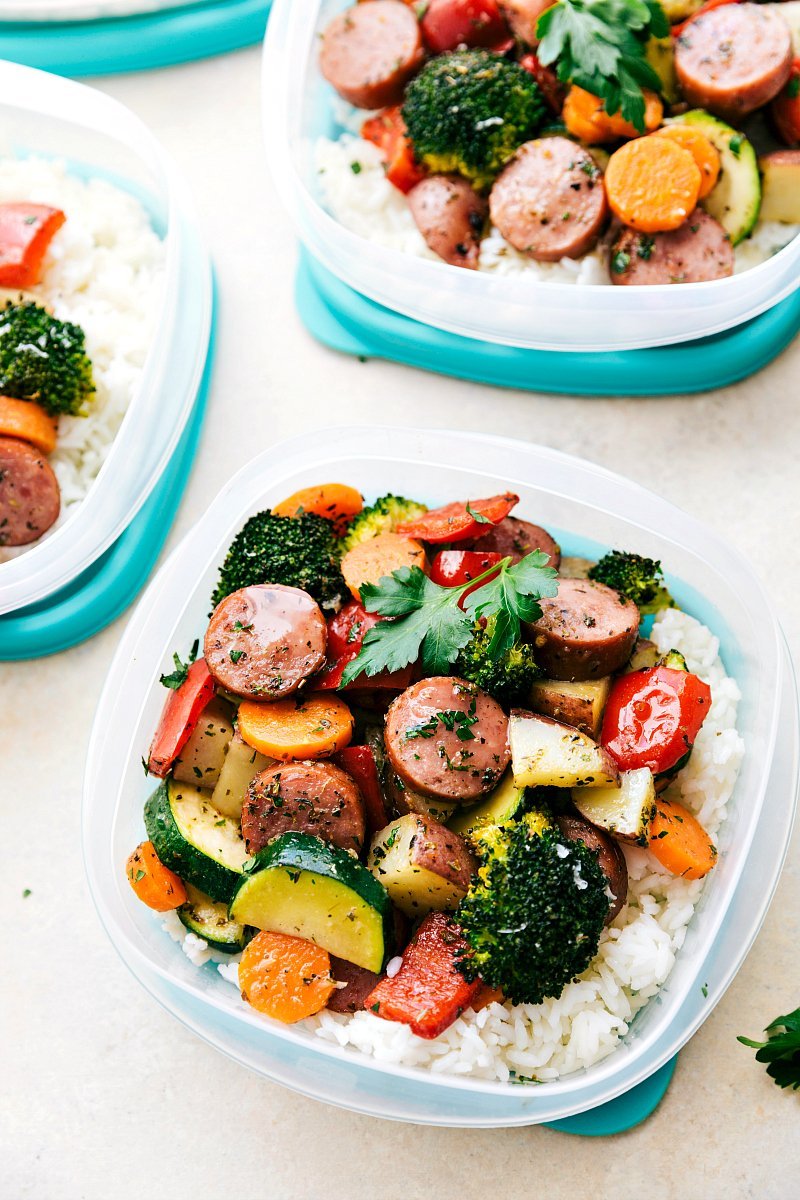 28. One Pot Spinach Artichoke Pasta
We all love pasta, don't we? However, you might get bored with the regular recipe for making the dish so here is a brand new and insanely tasteful one with spinach and artichoke. Here is the recipe by My Suburban Kitchen that will help you to prepare the dish with perfection.
from My Suburban Kitchen
29. One Pot Spinach Rice
Packed with refreshing greens and loaded with carbohydrates, spinach rice is good for keeping you full at night. The recipe by Watch What U Eat helps make this dish with beans and veggies to call it a meal.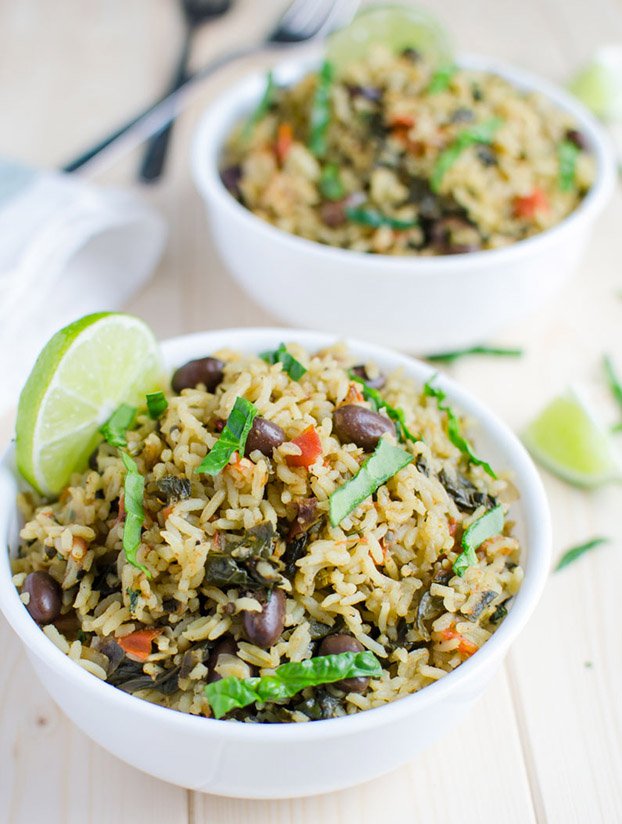 from Watch What U Eat
30. One-pan veggie fajita pasta
If you have not tried out something flavorful and unique in a long time then the veggie fajita pasta is here to your rescue. A recipe by Baker by Nature the dish is loaded with veggies.
from Baker by Nature
31. Pasta with kale and walnut pesto
Here is another pasta recipe packed with flavours so divine. Insanely tasteful, the pasta with kale and walnut pesto is fulfilling and nutritious for weekend dinners. Check out the recipe at Sayyes.com.
from Sayyes.com
32. Pepperoni Bubble Up Pizza
To our beloved pizza lovers, here is the most incredible dinner that you could probably ask for! Pepper Toni bubble up pizza by Lets Dish Recipes is a blend of canned pepperoni, cheese and loads of marinara sauce.
from Lets Dish Recipes
33. Pineapple Fried Rice
Sweet and savoury, the pineapple fried rice requires no additional side dish. And to your delight, the coconut shavings in the pineapple fried rice are a taste enhancer. The recipe by Hurry The Food Up you will surely enjoy this dish.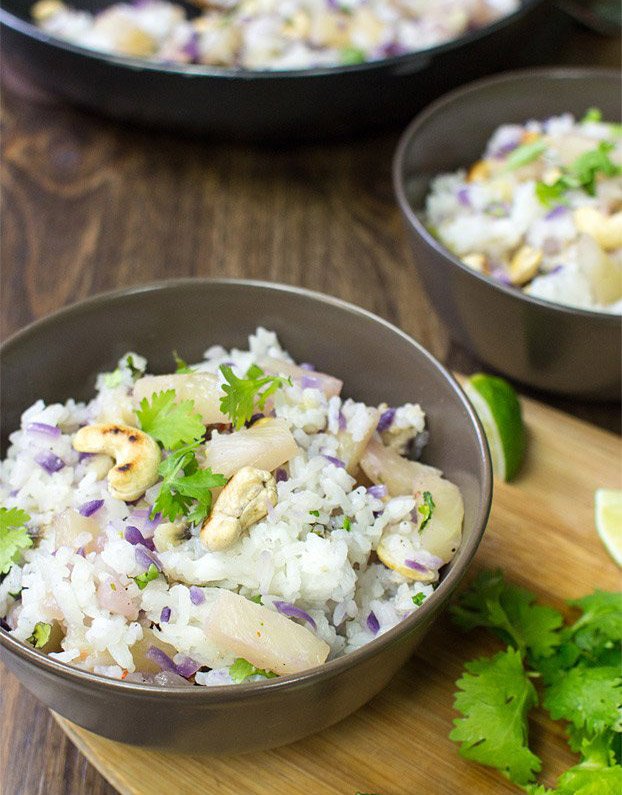 from Hurry The Food Up
34. Pizza quinoa
A bowl of pizza quinoa is relishing and tasteful for a quick dinner meal. The recipe by Girl Makes Food is wonderful for the season.
from Girl Makes Food
35. Shells & Roasted Cauliflower
The sweet and tasteful pasta recipe by Love and Lemons is a dish that you will certainly relish. The refreshing presence of cauliflower makes it a flavourful delight.
from Love and Lemons
36. Shepherd's Pie Loaded Baked Potatoes
A fun twist to the classic casserole recipe, the delicious shepherd's pie with loads of tender potatoes in the filling is one of the best that we have come across. Here is the pie recipe by Cupcakes and Kale Chips.
37. Skillet Chicken and Spinach Parmesan
We see that you had a very busy day at work and no energy left for cooking dinner! But wait! Do not go for a takeout when we have got you this instant skillet chicken and spinach parmesan recipe by Mom on Timeout which gets done in just twenty minutes.
from Mom on Timeout
38. Skinny honey lemon chicken
Here is a gluten-free recipe by Gimme Some Oven if you are conscious about your diet. The skinny honey lemon chicken is sweet and spicy, a perfect choice to accompany as a side dish to a bowl of steamed rice for a meal.
from Gimme Some Oven
39. Sloppy Joe Mac & Cheese
A comforting bowl of sloppy Joe mac and cheese is all that you need for a fulfilling meal. The recipe is an innovative curation by Wishes n Dishes which you should check out.
from Wishes n Dishes
40. Slow Cooker Mexican Shredded Beef Bowls
Here is a slow cooker recipe with beans, beef and veggies that you will certainly enjoy. The authentic Mexican recipe is brought to us by none other than Running to the Kitchen.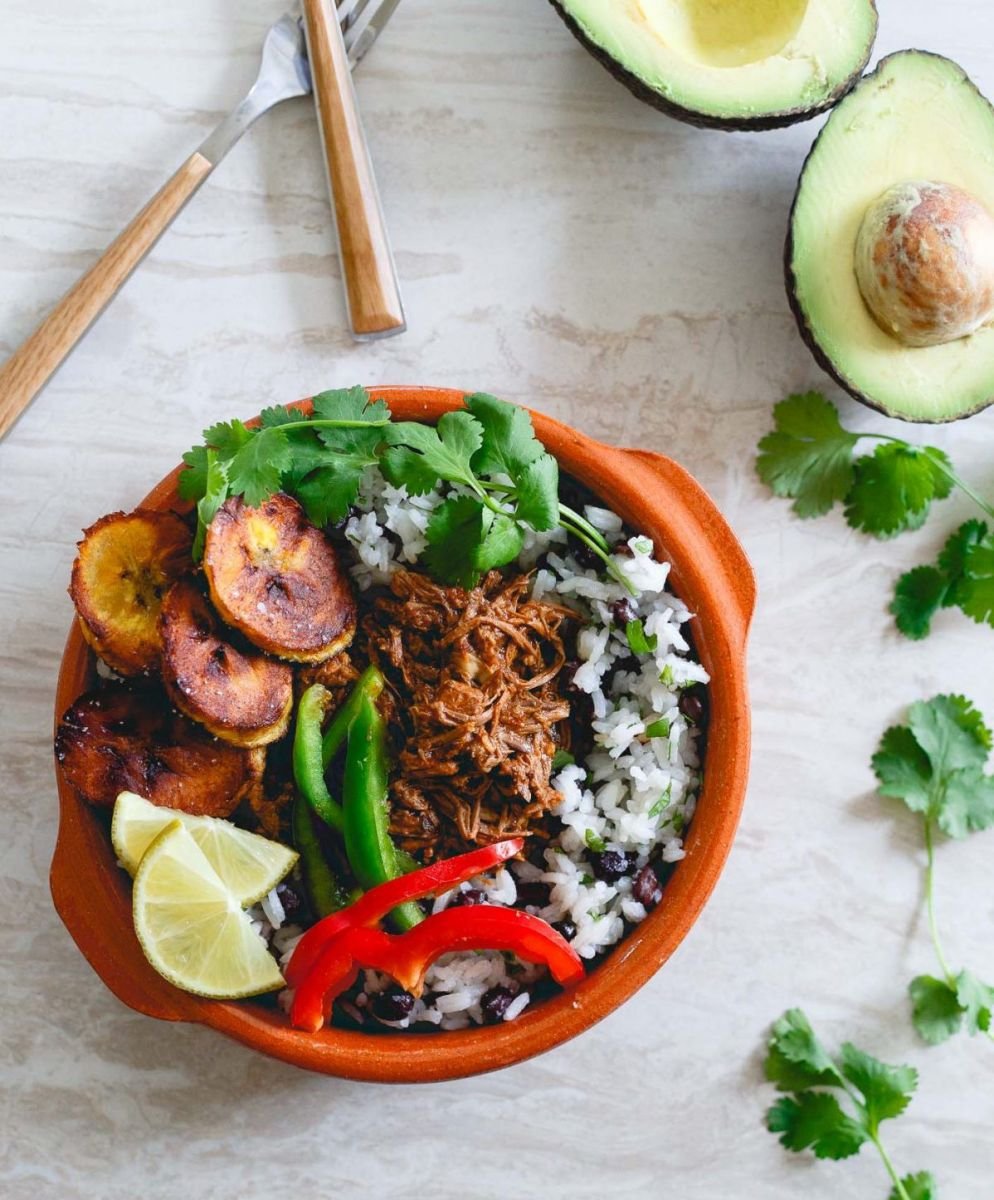 41. Slow Cooker Pineapple Brown Sugar Pulled Pork
Tangy and tasteful, the pineapple brown sugar pulled pork recipe is sumptuous and succulent for one to indulge in. If you are planning for a hearty meal then try out this recipe by The Recipe Rebel.
from The Recipe Rebel
42. Slow Cooker Spaghetti Squash with Bolognese
Spicy and saucy, the slow cooker spaghetti squash with bolognese is delicious and one of the best for you to enjoy. Here is a simple recipe by Half Baked Harvest to emulate.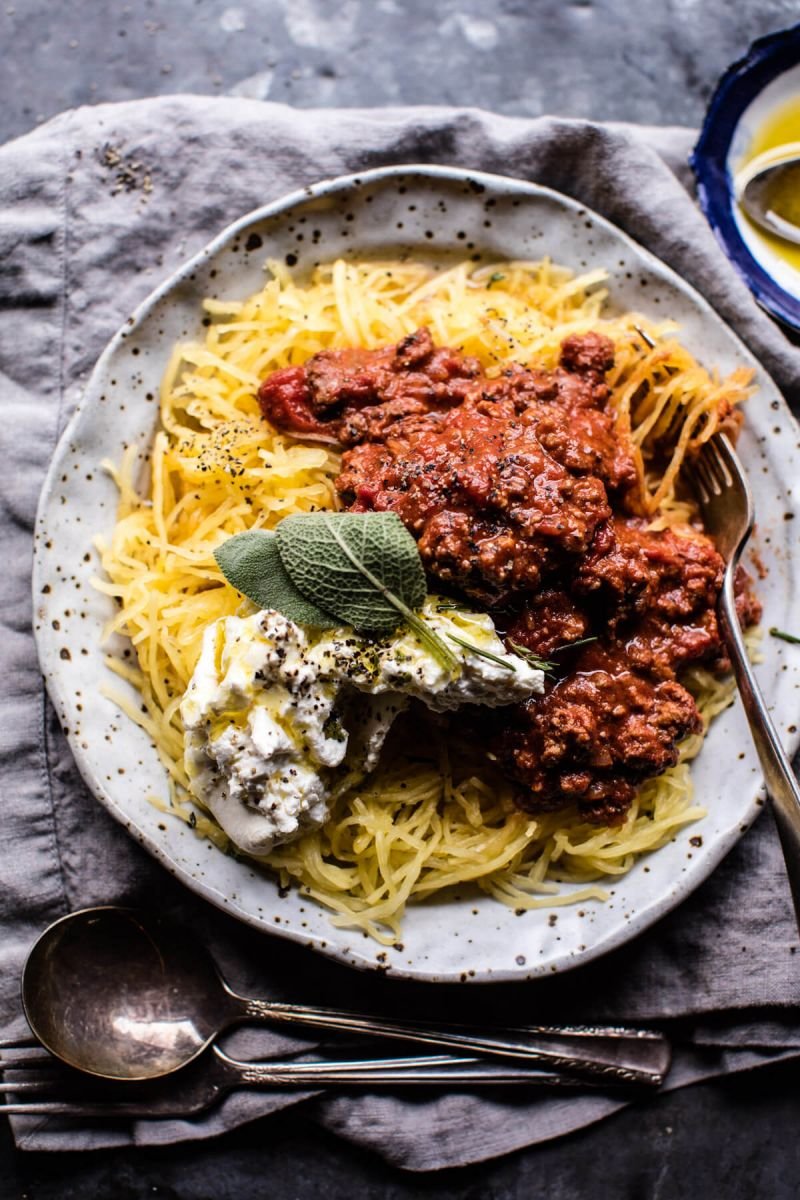 from Half Baked Harvest
43. Slow Cooker Taco Spice Chili
Lean ground turkey and black beans in taco spice in chilli are delicious and beyond description. You must check out this recipe at Sally's Baking Addiction to discover yourself.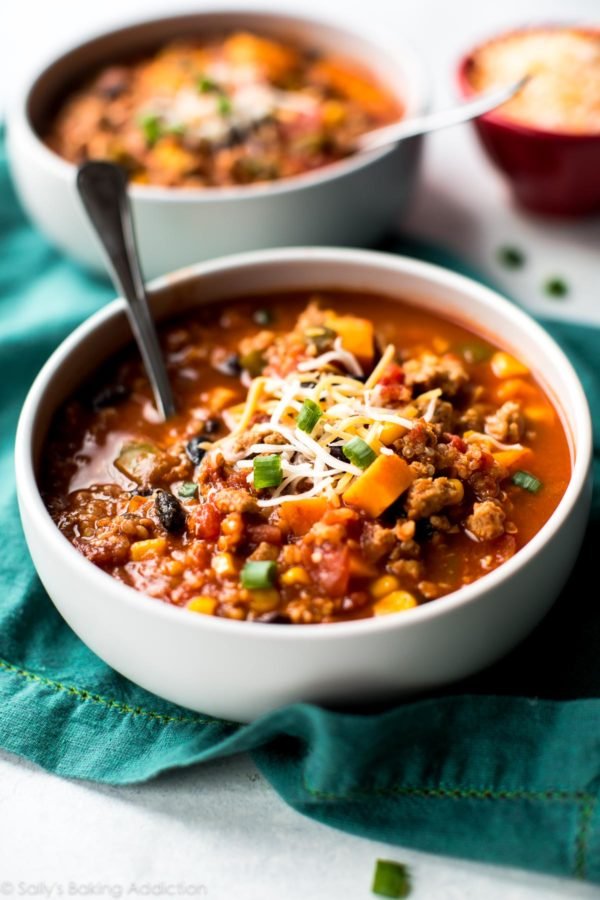 44. Smoky Tex Mex Sloppy Joes
Give your cravings for burgers a little bit of indulgence with the smoky Tex Mex sloppy joes for dinner. The recipe by Fake Ginger is certainly the one you can refer to.
from Fake Ginger
45. Spicy chickpea and tomato soup
The spicy bowl recipe is sumptuous and tangy with flavours so divine. Takes only about fifteen minutes to curate this dish by The Healthy Family and Home for a hearty and wholesome dinner main course.
from The Healthy Family and Home
46. Spinach pesto quinoa bowl
Refreshing and nutritive, there are no words to describe the excellence of the spinach pesto quinoa bowl. Light and easy, the recipe by Table for two Blog gets prepared in a couple of minutes.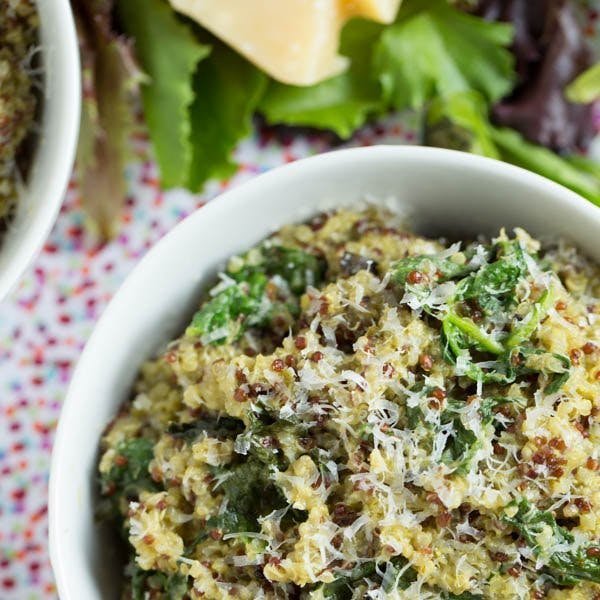 from Table for Two Blog
47. Sweet & Spicy Sriracha Meatballs
Packed with proteins, the dish of sweet and spicy sriracha meatballs is succulent and paleo-friendly so you can have as much as you desire for a meal. There is nothing as delicious as a meatball coated in gravy. Here is the recipe by Cotter Crunch for your assistance.
from Cotter Crunch
48. Sweet Potato Vegan Buddha Bowl
The sweet potato vegan buddha bowl is healthy and flavourful for you to enjoy. The tasty dish by Fit Foodie Finds is not only delectable but also replenished with nutrients and protein to energise you.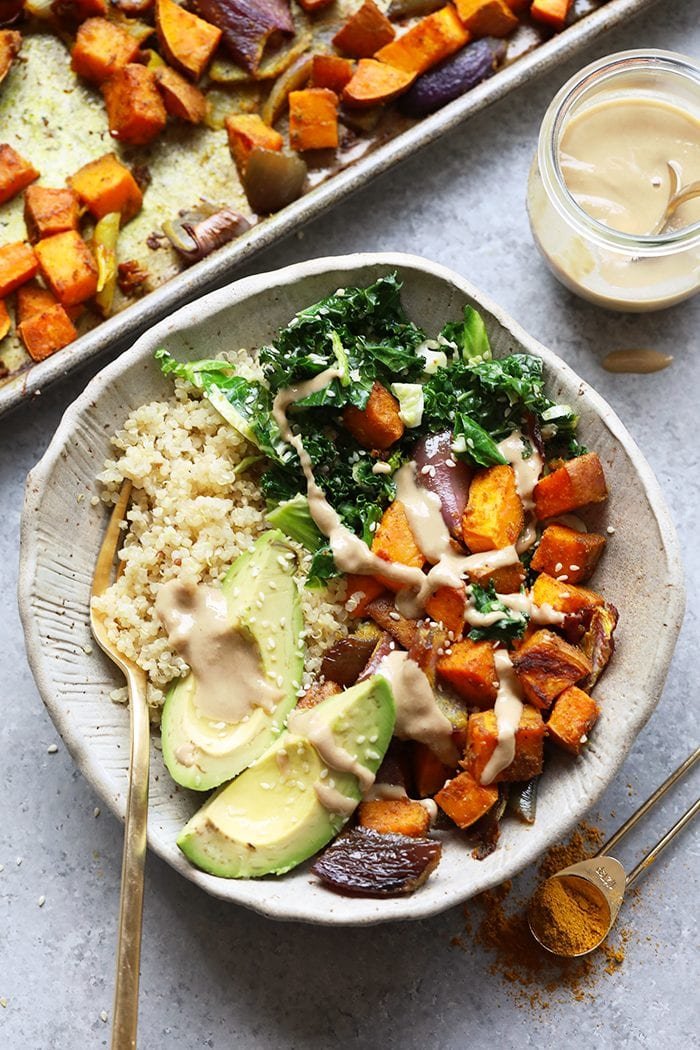 from Fit Foodie Finds
49. Thai Green Curry Chicken Salad
A chicken salad on toast, the Thai green curry chicken salad is splendid and gorgeous to relish as an appetizer for dinner. The recipe by Fit Foodie Finds is simply marvellous.
from Fit Foodie Finds
50. The Easiest Black Bean Tacos
Divinely tasteful and healthy, the black bean tacos are crispy and loaded with veggies and beans to your heart's content. Check out the recipe at Nourish Nutrition Blog for curating the dish with perfection.
51. Tom Yum noodle soup
Ah! What's better than a hot bowl of ramen with shrimp for winter? The Tom Yum noodle soup is prepared from scratch and you can refer to the recipe at Rasa Malaysia.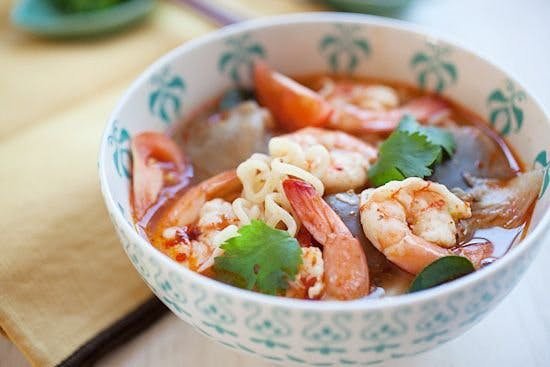 from Rasa Malaysia
52. Triple Grilled Cheese
Toasty and cheesy, the triple grilled cheese sandwich is wonderful for one to relish for a sumptuous dinner plan. Light and easy, you can check out the recipe from Culinary Ginger and your dinner for tonight is ready!
from Culinary Ginger
53. Vegan Bahn Mi with Ginger Lime Hummus
Here is a quick and tasty sandwich for the vegan dieters with cilantro and pickled veggies all by A Couple Cooks.
from A Couple Cooks
54. Vegetarian Fajita Pasta
Nothing as detectable and inspiring as Fajita pasta for dinner. Did we tell you that the recipe is completely free from gluten? Check out the recipe at Contentedness Cooking.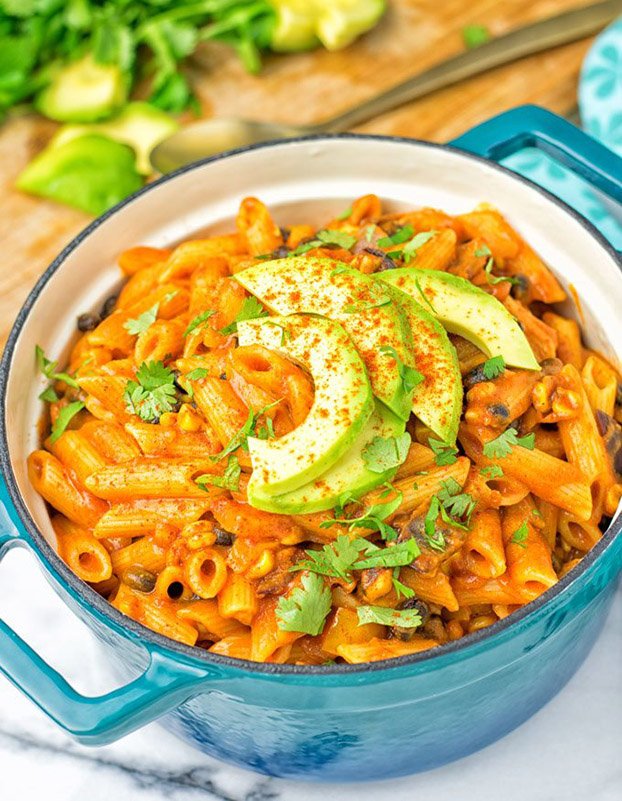 55. Veggie Fried Rice
Vibrant and colourful, the vegan fried rice is loaded with veggies and sauces of the choice. If you haven't tried it yet, here is a recipe by Hurry the Food Up so go for it now!
from Hurry The Food Up
56. Weeknight tikka masala
The weekends just got better and bigger with the sumptuous and spicy till nasal with a bowl of steamed rice or naan bread. Readers, here is a recipe by Amuse Your Bouche to help you out!

from Amuse your bouche
Have you been wrongly credited or someone submitted your project/image? Kindly reach out to us and expect a response…
Hopefully you were able to get a bit of inspiration from this list..