Get ready for a spooky Halloween celebration with these easy-to-make, delicious Halloween appetizers. Perfect for a Halloween night, these recipes will make your party memorable. Try them now, and you won't be disappointed!
More collections: Halloween Cupcake Recipes, Halloween Treats, Halloween Food Crafts, Halloween Dessert Recipes, Halloween Cocktail Recipes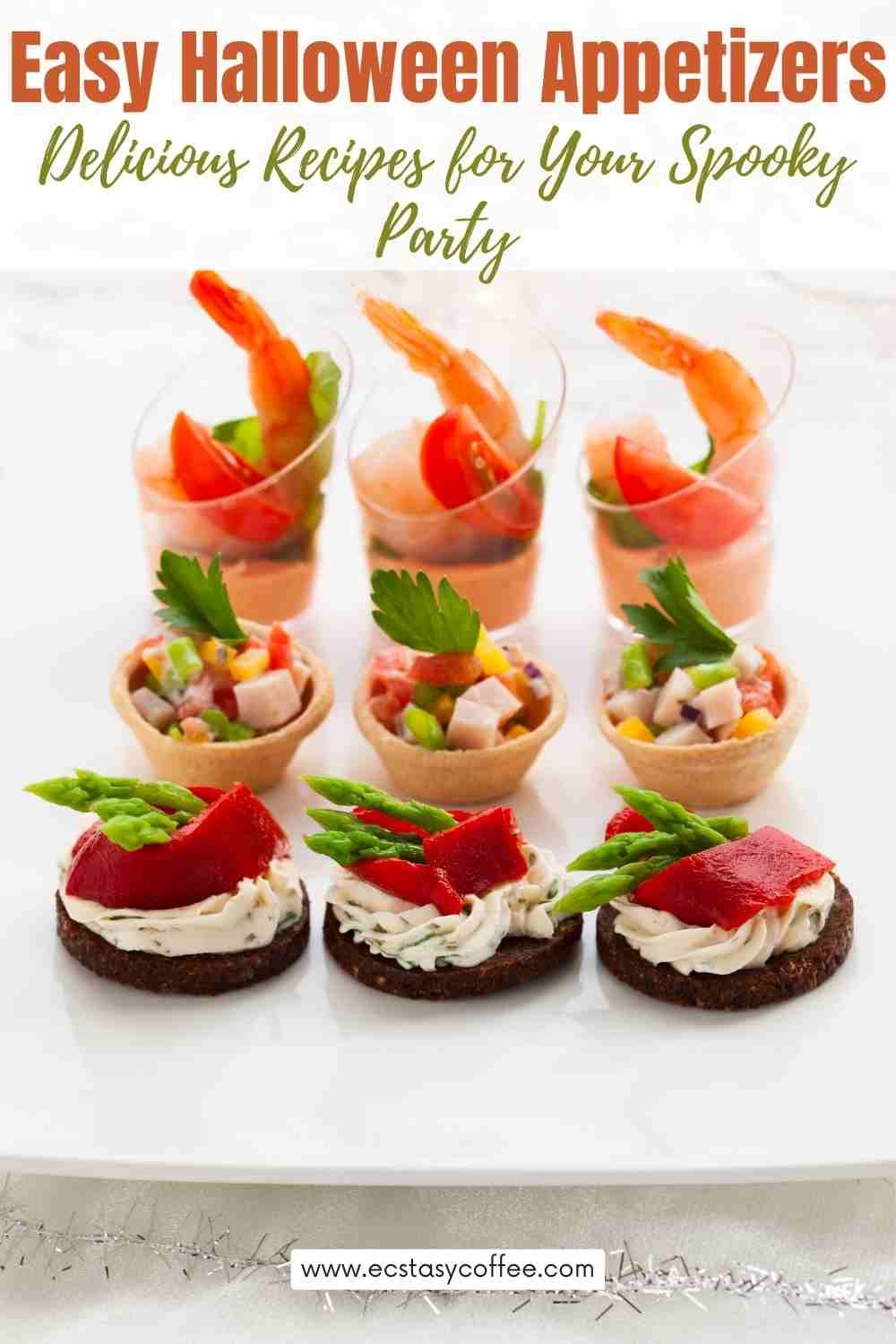 Halloween as we know is a season of colors and yet it also conveys the aura of macabre and spookiness in every inch of the air! It comes once a year and we are so glad this is the time when we can let go of all the diets and focus on wonderful dishes and customized festive appetizers and desserts.
Of course, it is Halloween so you have to engage in making treats and starters for the parties! There will be guests and small to big gatherings, everything needs the presence of good food. Here are some awesome Halloween appetizers that you can indulge in during Halloween!
What are appetizers and which are the ones you should make during Halloween
As we know appetizers are also finger foods that you can consume during the evening! They are mainly served as light snacks during the course of the party or right before the meal! Appetizers are what sets your mood for the rest of the meal. Halloween appetizers are indeed distinguished! They are not just tasty and tempting for the taste buds but also customized to look horrifying and spooky! Some are patterned like ghosts while some look like green Frankenstein! And how can we forget about the pumpkins? Yup, the edible jack-o-lantern candies and so on.
If you are wondering what are some of the appetizers that you can serve this Halloween season as the guests come pouring into your house, there are several options for you! In fact, endless! While some are traditional, many are quirky and quite interesting as well. This is the perfect time of the year when you can combine creativity with culinary expertise.
You must have heard about pumpkin pies! Yup, they are an all-time classic and in fact, we make it every year! Halloween without pumpkins is like ice cream without ice! Pardon our poor skill of humor but you get it right? Then we have caramelized apples, candies, bread, and so many other options! For sure, the ideas are endless and it is indeed possible for you to get confused.
Are Halloween appetizers healthy?
Now the next big question! The celebration of Halloween is simply not restricted to a day! Indeed, it is the whole month or at least the week, we feel like celebrating. That is because you should never give up on an option to rejoice and cheer up! Packed with food, appetizers, drinks, and desserts, have you ever wondered how healthy these are actually going to be?
Isn't it concerning that you end up not with a cheat day but a complete cheat month on your diet? Well, it is! But of course, if you take some measures then you can combine both health and flavor at the same time. For example, if you feel like you are consuming sugar in a massive amount try to substitute it with something healthier like honey and so on.
If you wish to cut out on gluten, then there are several wonderful ideas these days that you can indulge in! Sometimes you can change and substitute all-purpose flour with almond, chia seed flour, and so on! There are several vegan options as well if you are following such a diet. Cooking healthy during the holiday season is a conscious decision that one needs to take into account. If you wish to learn more then we can help you to choose the right recipes!
Today, we will share with you twenty exclusive Halloween customized appetizers that you can indulge in this season.
Quick & Easy Halloween Appetizers - Perfect for the Holiday Season
Why do you have to deprive yourself of something you love when you can turn it into a healthy treat?
We have these awesome peanut butter fingers for you right here.
During Halloween, we find it simply impossible to get over peanut butter desserts!
Here are the peanut butter cups curated with perfection and tasting so good. Healthy and enriching, you can serve these as appetizers at the party too.
This is no ordinary pepper but one which looks like a jack-o-lantern. Yup, the mini jack-o-lanterns are adorable and taste so divine!
Healthy and filling, you should give it a try! So what are you waiting for? Shall we try it then?
Once you give a try to this batch of zucchini fries you will understand what we are talking about!
Get ready to fall in love with this healthy and crispy treat during the Halloween season and enjoy as much as you want.
If you wish to impress your guests with the lovely Halloween platter at the party then this one is a must-have!
From meat to veggies, dip, and so on, the options are simply endless!
So what are you waiting for? Try it out right away!
We said that it is Halloween so it has to be scary, isn't it?
Yes, indeed! At a couple of glance, it might seem spooky to be served with skeletons floating in the white creamy sauce.
If you are fond of chips then the lovely and healthy chips are here but with a twist!
These are cut in the form of ghosts and guess what they are absolutely healthy too! You can enjoy these baked chips with dip on the sides.
If your kids throw a tantrum eating veggies or instead of the regular way of serving greens on the platter, you wish to try out something new then this recipe is meant for you.
Go for it today!
Do not ask us what are the treats that are studded to the chocolate barks because we are smitten by this one!
You have to try out this on your own and tell us how much you fell in love with this idea.
Well, you will be surprised at first to find out the innovative way in which cucumbers can be served at the table!
Adorned with spiders made with olives perched on the cucumber slices, this one is the best.
If you are craving seafood in the middle of the holidays then we have a solution for you!
Tender and succulent, this recipe is amazing and leaves you craving for more. The smokey shrimps are simply out of the world.
These mint pies are lovely but you will not be able to appreciate it fully until you give it a bite!
And for that, you need to make more and more of these pies as it is likely that you will fall short.
The pumpkin deviled eggs are awesome not because they are customized to the season but how intricately one needs to curate them!
So what are you waiting for? Try them out today!
Even a simple hotdog is enough to make something that is well-fitted to match the mood of Halloween!
We came across these mummy dog wraps and we knew that you would like to try it out this season.
Not just kids but even adults will be compelled to grab a bite when it comes to rich and cozy pumpkin hummus.
Delicious and rich in flavors, there is no way you should miss out on this one.
You will be totally smitten by the Caprese salad! That is something that we can guarantee!
Wondering why so? What is so special about this salad?
Well, that is for you to unravel by preparing this Caprese salad.
If you wish to surprise your kids then make this wonderful treat for them during the holidays!
The all-amazing monster burger is scary but your kids will not waste a minute attacking it. So what are you waiting for? Make it right away!
After all, it is Halloween and everything should be scary! We have these amazing Halloween snake breadsticks that are simply the best!
You can enjoy them with a dip on the sides and even make them during a party or gathering.
Ah, the bloody witch fingers were chopped off on the occasion of Halloween as the wicked witch attacked the town and got defeated!
At least that is the story you can tell your little ones.
And if you want something sweet, sticky, and crunchy then the cookie cluster is what you can indulge in!
And the best part is that you do not even have to face the hassle of baking these. Good luck!
Conclusion
Halloween parties are always a spooky hit, and this year can be no exception. With these simple and tasty recipes, you can step up your Halloween game while still making sure everything is spooky and fun. Whether you're making something ghoulishly good from scratch or taking a shortcut with store-bought treats, these easy Halloween appetizers will have your guests talking and your party off to a great start. So, it's time to get creative in the kitchen and have a hauntingly good time! As the saying goes, "Good food, good mood!"
Let the Halloween festivities begin!
More collections: Baby Shower Food Appetizers, Fall And Halloween Decor Ideas, Halloween Fall Decoration Ideas, Halloween Pumpkin Decor Ideas, Halloween Table Decor Ideas