The kitchen is often considered the heart of a home, where meals are cooked, conversations are had, and memories are made. Therefore, creating the perfect kitchen is essential for any homeowner. Whether you're renovating your existing kitchen or building a new one, here are some things to consider to create the perfect kitchen.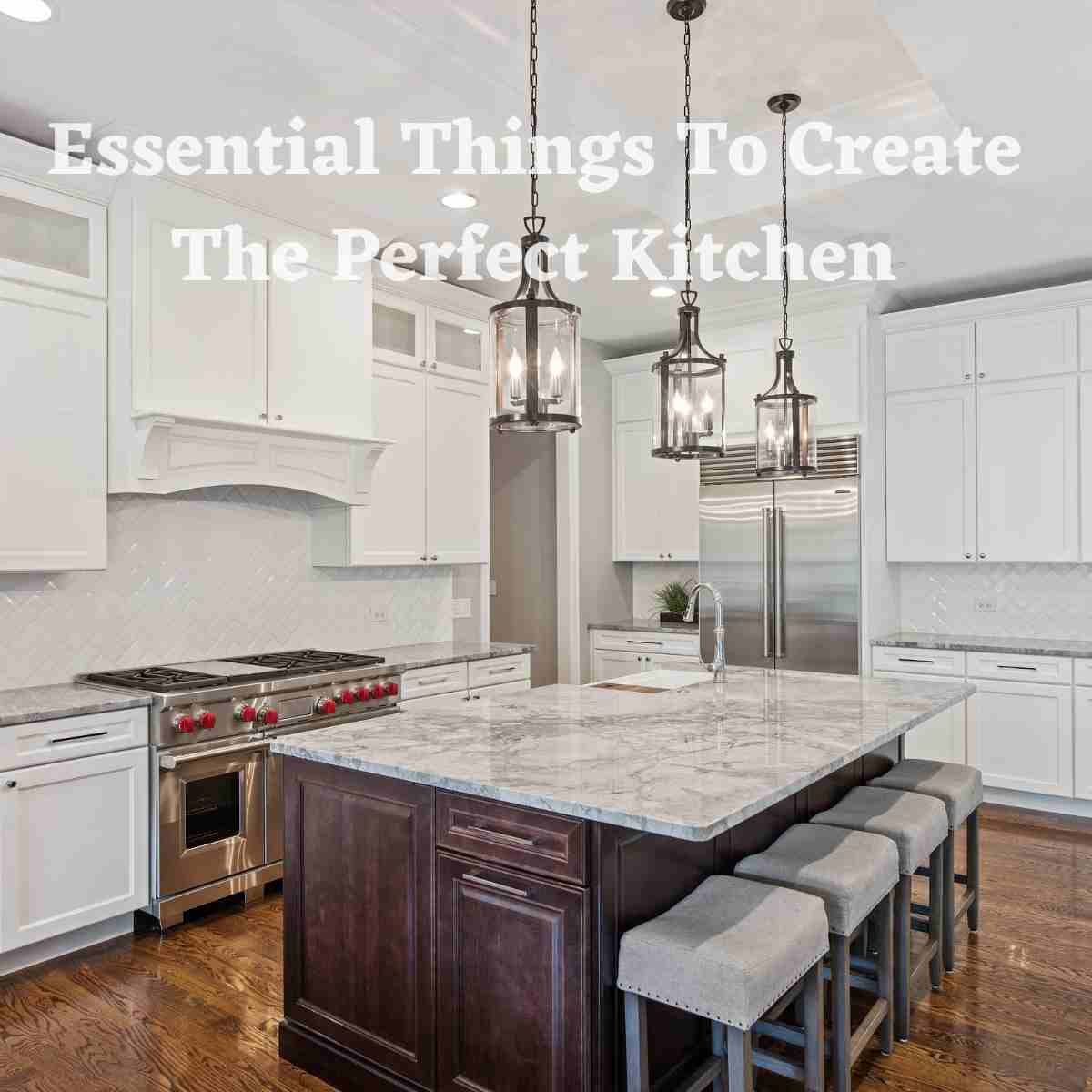 Jump to:
1. Layout and Design
The layout and design of your kitchen are critical to its functionality and overall aesthetic appeal. You want to ensure the space is easy to navigate, with ample storage and countertop space. The most common kitchen layouts include L-shaped, U-shaped, galley, and open-concept. Consider the size of your kitchen and the number of people who will be using it when choosing a layout. For example, a galley kitchen may be ideal for a single cook, while an open-concept design would be better for entertaining guests.
2. Quality Appliances
Investing in high-quality appliances is crucial to creating the perfect kitchen. Not only do they make cooking and baking more comfortable and efficient, but they also add value to your home. Consider appliances that are energy-efficient and offer the latest features, such as smart technology, which allows you to control them remotely. Also, look for appliances that match the overall design of your kitchen, such as stainless steel or black finishes.
3. Ample Storage
Having ample storage is essential in any kitchen. You want to ensure that you have enough space for your pots and pans, dishes, utensils, and pantry items. When designing your kitchen, consider custom cabinetry that maximizes storage space and includes features such as pull-out shelves and built-in organizers. A kitchen island with storage is also a great addition, providing additional counter space and room for storage.
4. Lighting
Proper lighting is important in creating the perfect kitchen. It not only enhances the overall aesthetic appeal but also improves functionality and safety. Consider a combination of ambient, task, and accent lighting, such as recessed lighting, pendant lights, and under-cabinet lighting. Also, make sure that the lighting is adjustable, allowing you to set the mood for different occasions.
Additionally, you can also consider buying blinds. Blinds are a great addition to any kitchen, as they help regulate the amount of light that enters the room. Natural light can be both beneficial and problematic in the kitchen, depending on the time of day and the activity taking place. For example, too much sunlight during meal preparation can cause glare and make it difficult to see, while too little light can make it challenging to read recipes and work safely. Blinds provide a flexible solution to this problem by allowing you to adjust the amount of light entering the room. With the ability to open and close the blinds, you can control the amount of sunlight that enters the kitchen, creating a comfortable and functional workspace. Additionally, blinds like Venetian blinds can also provide privacy and enhance the overall design of your kitchen.
5. Countertops
Countertops are a vital component of any kitchen. They not only provide workspace but also contribute to the overall design and style. Popular materials for countertops include granite, quartz, marble, and concrete. Consider durability, maintenance, and cost when choosing the right material for your kitchen. You want to ensure that the countertops can withstand daily use and are easy to clean and maintain.
6. Flooring
The flooring you choose for your kitchen should be durable, slip-resistant, and easy to clean. Popular flooring options include hardwood, tile, vinyl, and laminate. Consider the overall design of your kitchen and choose a flooring material that complements it. For example, hardwood flooring provides a warm and cozy feel, while tile flooring offers a sleek and modern look.
7. Seating
Seating is an essential aspect of any kitchen, as it provides a space for family and friends to gather and socialize while meals are being prepared. In today's fast-paced world, the kitchen has become a hub of activity, not just for cooking but also for entertaining guests. Adding seating to your kitchen, such as a kitchen island with bar stools or a breakfast nook, can create a functional and inviting space for people to sit, eat, and converse. Seating in the kitchen also offers a practical solution for families who want to eat together but have busy schedules. Having a designated space for meals in the kitchen can encourage people to sit down and enjoy a meal together, strengthening family bonds and promoting healthy eating habits.
8. Ventilation
Proper ventilation is essential in any kitchen. It not only eliminates cooking odors but also prevents the buildup of harmful gases such as carbon monoxide. Consider a range hood that is appropriately sized for your stove and has enough power to remove smoke, steam, and cooking fumes.
In conclusion, creating the perfect kitchen requires careful consideration of several essential factors, including the layout and design, quality appliances, ample storage, lighting, countertops, flooring, backsplash, ventilation, and seating. By taking the time to plan and invest in these key areas, you can create a functional and stylish kitchen that meets your needs and enhances the overall value of your home. Whether you're a professional chef or a busy parent, the perfect kitchen can provide a space for you to cook, entertain, and create memories with family and friends.
Read also: