There's just something about a burger that makes it irresistible. Maybe it's the juicy, well-seasoned beef, or the creamy melted cheese. Or maybe it's the perfect balance of toppings, from crisp lettuce and tomatoes to tangy pickles and onions. 
Whatever the reason, burgers are one of Australia's favourite foods. And there's no shortage of ways to enjoy them. When it comes to the best burgers, most people stick to tried-and-true flavour combinations like ketchup and mustard or pickles and cheese. However, there are many other delicious possibilities out there if you're willing to experiment.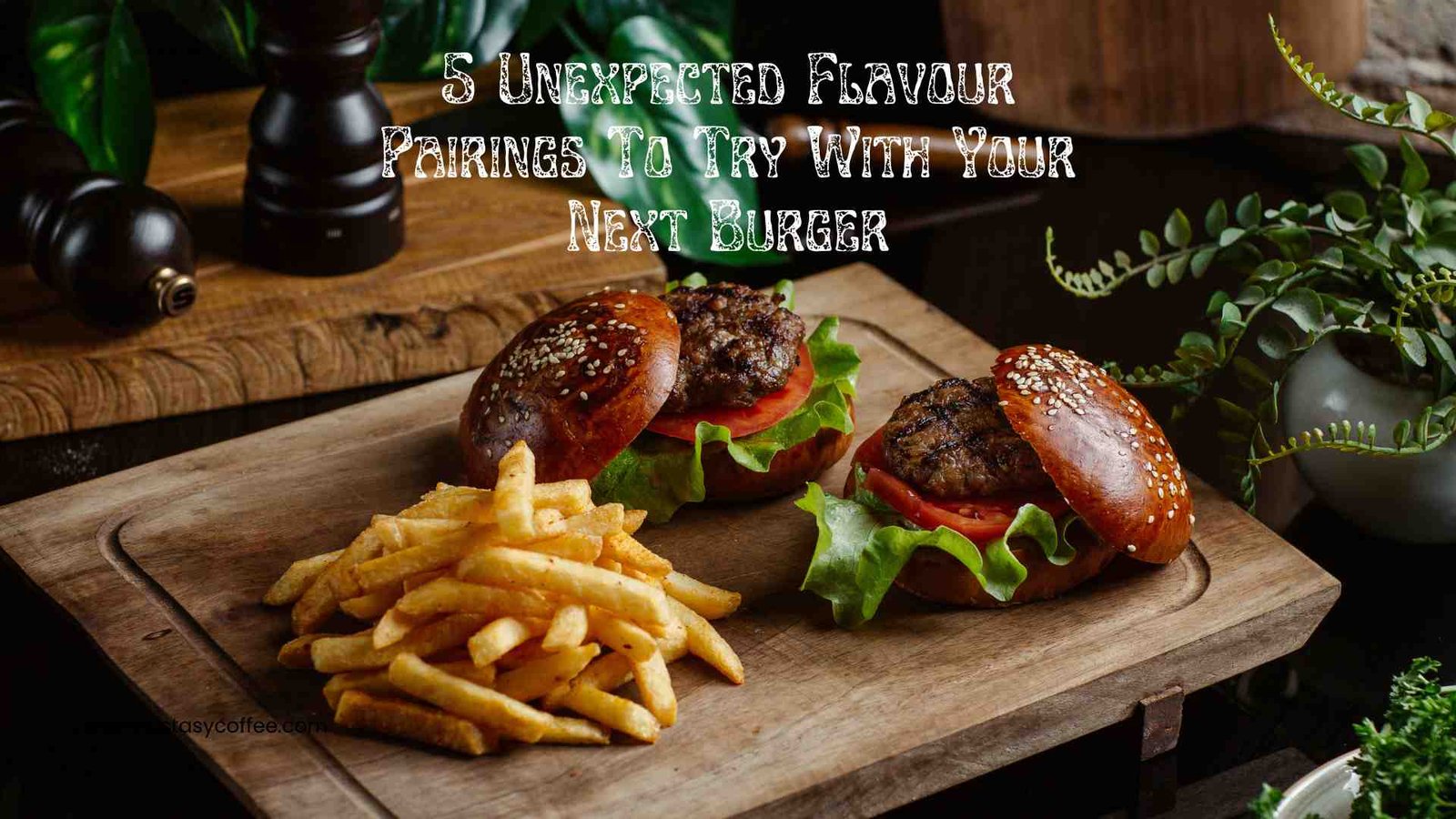 When it comes to creating the perfect burger, there are endless possibilities when it comes to flavour pairings. However, some combinations are more unexpected than others. Here are five flavour pairings to try with your next burger:
Jump to:
1. BBQ Sauce and Coleslaw
Any true BBQ aficionado knows that the key to a great burger is in the sauce. And when it comes to sauces, there is none more iconic than BBQ. The smoky, Tangy flavour of BBQ sauce is the perfect complement to the creamy texture of coleslaw.
Simply top your burger with your favourite BBQ sauce and enjoy. You can even experiment with different flavours of BBQ sauce to find the perfect match for your taste buds. So next time you're firing up the grill, don't forget the sauce- BBQ sauce is the secret ingredient that will take your burgers from ordinary to extraordinary.
2. Blue Cheese and Caramelised Onions
Blue cheese is a rich and flavourful cheese that pairs well with a variety of foods. One unexpected pairing that works particularly well is blue cheese and caramelised onions.
The sweetness of the onions helps to balance out the sharpness of the cheese, while the creaminess of the cheese enhances the texture of the onions. When combined, these two flavours create a burger that is both unique and delicious.
But what if you want to take your burger to the next level? Here are a few ideas for what to put on your blue cheese and caramelised onion burger:
Add some heat with jalapeño peppers or hot sauce.
Make it extra creamy with avocado or aioli.
Add a crunch with bacon or chopped nuts.
Balance the sweetness with vinegary pickles or green capsicum.
No matter how you dress it up, blue cheese and caramelised onion burger are sure to be delicious.
3. Goat Cheese and Roasted Red Peppers
The creamy texture of goat cheese is a perfect match for the smoky flavour of roasted red peppers. Plus, the acidity of the goat cheese helps to balance out the sweetness of the peppers. 
Best of all, this combination is incredibly easy to prepare. Simply top your burgers with a few slices of goat cheese and a few roasted red peppers. If you want to take things one step further, you can also add a thin layer of pesto or tapenade.
However you choose to enjoy them, goat cheese and roasted red peppers are sure to take your burgers to the next level.
4. Avocado and Chilli Flakes
If you're looking for a way to add some extra excitement to your next burger, why not try avocado and chilli flakes? The creaminess of avocado is a perfect contrast to the heat of chilli flakes, and the combination is sure to leave your taste buds tingling.
Plus, avocados are packed with nutrients that are essential for good health. So not only will your burger be delicious, it will also be good for you. So next time you're at the grill, don't be afraid to experiment with new flavours. You might just find your new favourite recipe.
5. Pesto and Sun-dried Tomatoes
Pesto and sun-dried tomatoes are a match made in culinary heaven. The rich, creamy flavour of pesto complements the sweetness of sun-dried tomatoes perfectly. Plus, the sunny colours of the tomatoes add a beautiful pop of colour to your burgers.
For a cheesy twist, add some mozzarella or cheddar cheese to your burger. If you're looking for a bit of sweetness, try adding some grilled onions or roasted red peppers. And for a bit of spice, try topping your burger with jalapeños or mild chillies. Of course, don't forget the bun. A soft brioche bun pairs perfectly with the flavorful pesto and juicy tomato.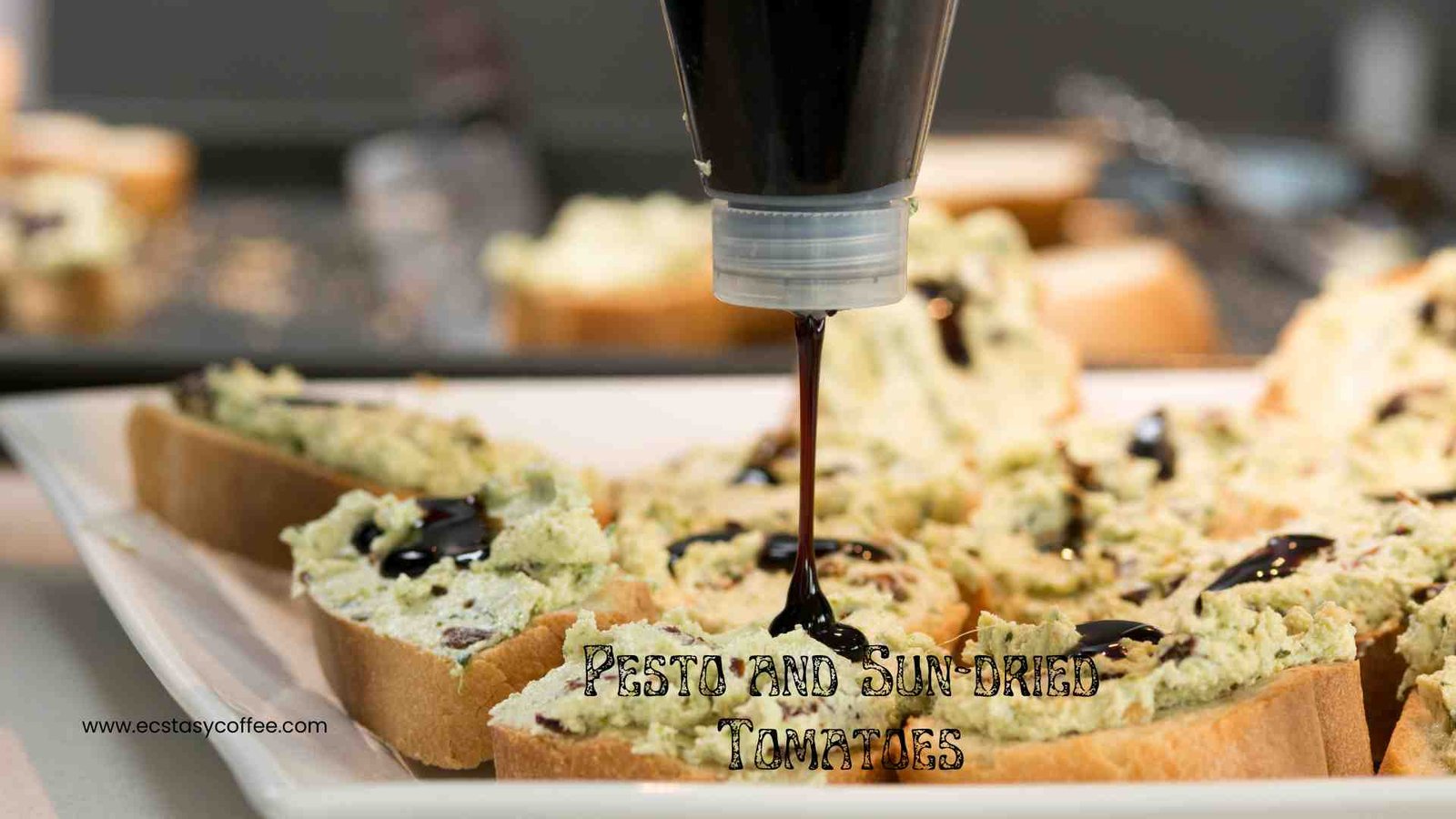 Whether you're cooking for a crowd or cooking for yourself, these pesto-tomato burgers are sure to please. So why not give them a try at your next barbeque? You might just find yourself hooked on this delicious flavour combination.
_______
A burger is not simply a piece of meat between two slices of bread. It is a blank canvas, waiting to be given flavour and personality by the cook. To create a truly delicious burger, you need to experiment with different flavours and find the perfect combination that satisfies your taste buds.
Sriracha sauce, for instance, can add a spicy kick to your burger, while avocado can give it a creamy texture. The possibilities are endless, so don't be afraid to experiment until you find the perfect flavour combination for your burger.
By expanding your flavour horizons, you can create a burger that is truly unique and delicious. So go ahead and experiment - your taste buds will thank you for it.
Read also: