Cooking is an art and the results are a mouth-watering experience! The way to make your place in someone's heart through their tummy! Food makes one happy and no matter how tough the regular responsibilities get you can always lift your mood with the presence of comforting dishes on the table. Maybe your partner had a hard day at work and you know that they will come back home exhausted. Maybe you can present them with a little surprise to lift their spirits. Similarly, fluff dishes are marvelous for the little ones! They will instantly become a fan of these fluff recipes and will urge you to make more and more of these treats.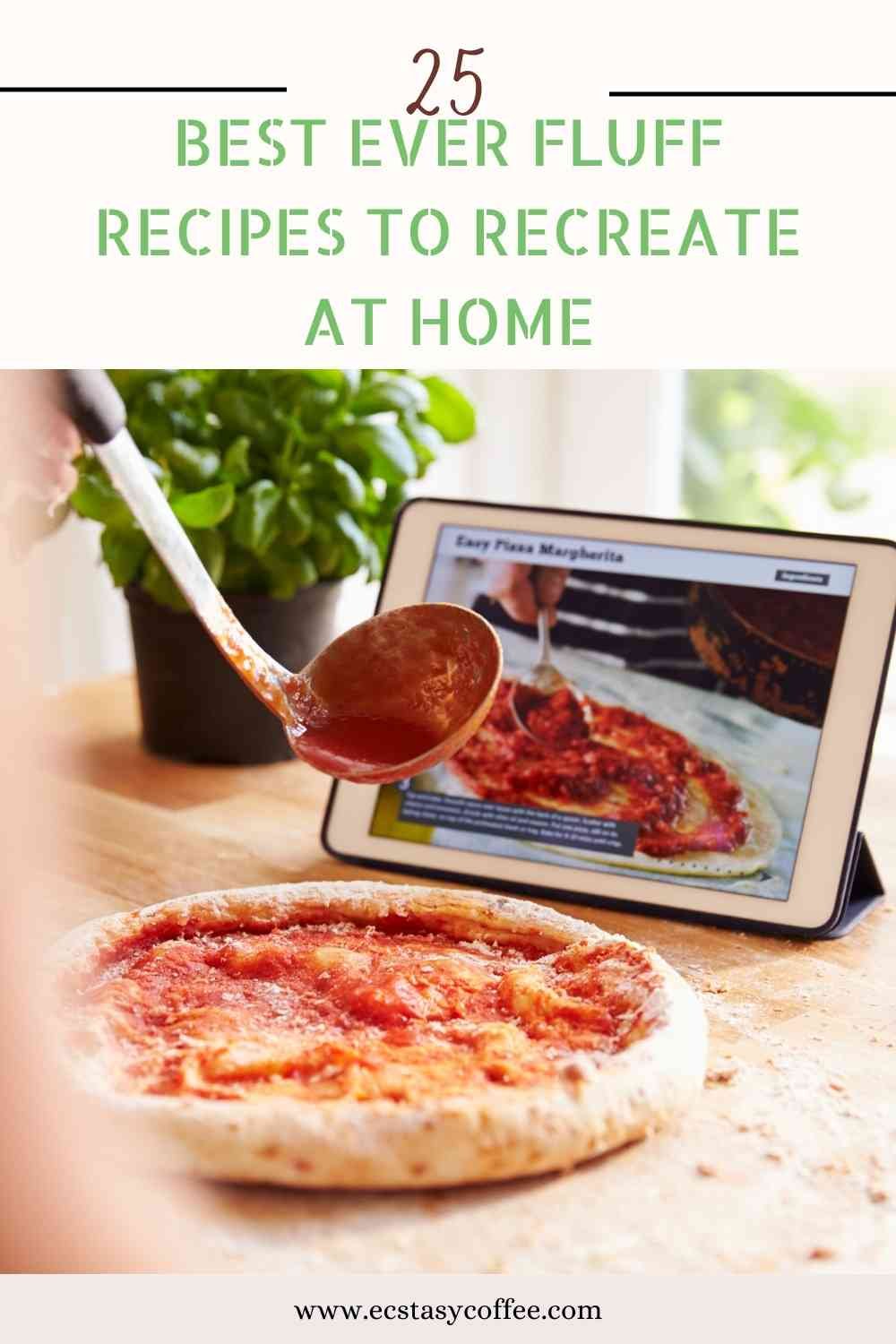 Best Ever Fluff Recipes
Why do you always have to rush to the store for restaurant food and order dishes from takeaways for a date night? Homemade recipes are the best to impress your loved ones as it conveys warmth and affection.
You can even offer these amazing fluff recipes to the guests if you have a party or a gathering planned ahead. These are so easy to make and you can always use your imagination and creativity to give a twist to the dishes.
Self-indulgence is also a great idea with fluff recipes. With so many options waiting for you to explore, you will surely love these dishes that are so gooey and gorgeous. Let's wait for no further and recreate these awesome dishes which are amazing and exciting ones to try out during the holidays. We are already so fond of these fluff recipes which are waiting for you on the list. And the best part is, the recipes are low on carbs and healthy, so you will get the best of flavor and fitness!
1. Low Carb Cherry Cheesecake Fluff
Here is a keto-friendly cheesecake fluff by Cheesecake It Is. The drink is topped with marshmallows and is ideal even if you are on a diet. Cold and refreshing, do not forget to add some whipped cream on top. Get it done in fifteen minutes.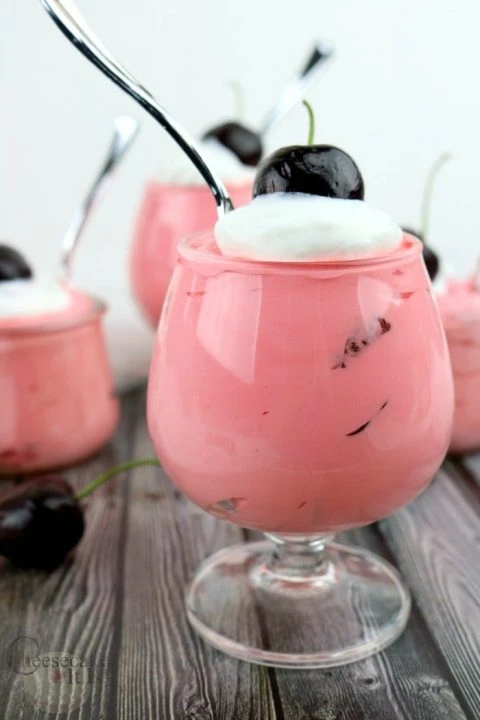 Recipe – Cheesecake It Is
2. Banana Pudding Fluff
The banana fluff salad is fabulous and you can make it for a healthy breakfast. The recipe for the banana dessert requires no baking and hence you save a lot of time indeed. The recipe is by Crazy For Crust for you to try out.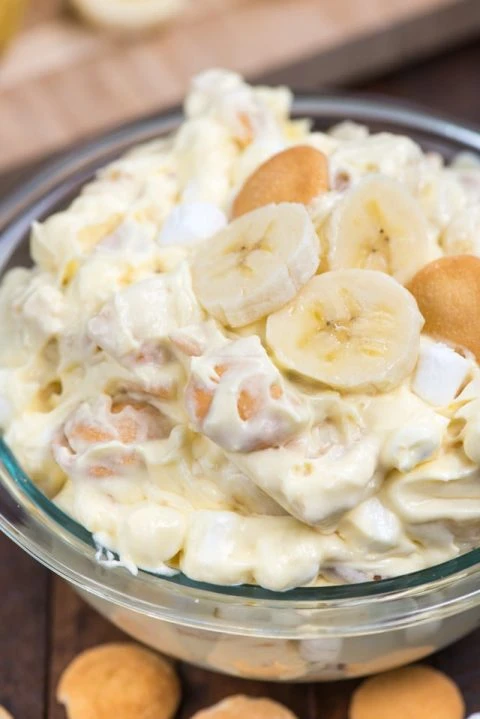 Recipe – Crazy For Crust
3. Strawberry Cheesecake Fluff
Made in less than ten minutes, the strawberry cheesecake fluff is wonderful and the fantastic flavor of juicy and tangy strawberries is simply out of the world. The dish is available at My Baking Addiction for a tender cheesecake fluff.
Recipe – My Baking Addiction
4. Fluffy Lemon Jello Salad
The creamy lemony jello salad is refreshing and made by Mindee's Cooking Obsession. The dish is gorgeous and such a marvelous recipe which is an absolute favorite among the little ones. The zesty lemon flavor of the salad is amazing.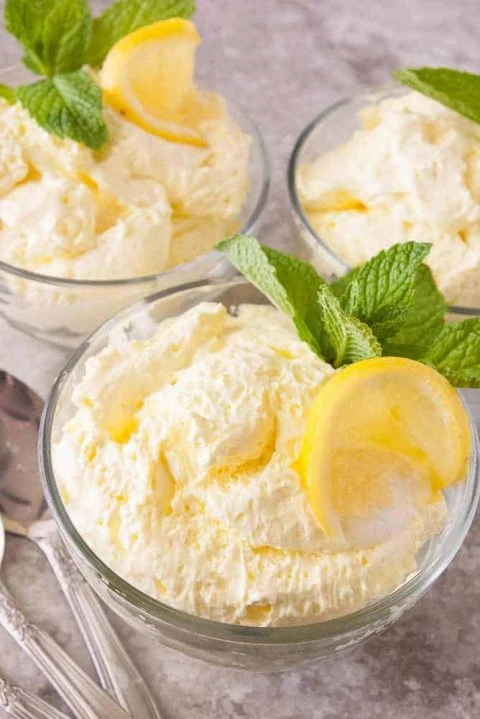 Recipe – Mindee's Cooking Obsession
5. Strawberry Shortcake Fluff Salad
Served with whipped toppings, the strawberry shortcake fluff salad is gorgeous and made by Inside Bru Crew Life. The angel fruit cake and served with chopped fruits. Ideal to carry for a picnic or a barbeque session, this will bring out the best of the season.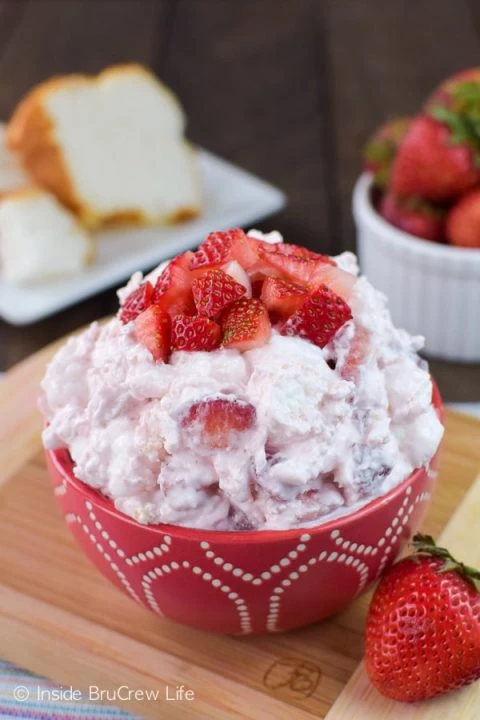 Recipe – Inside Bru Crew Life
6. Sea Foam Salad
Minty and green, the sea foam salad is brilliant and made by The Bitter Side Of Sweet. The ingredients are so simple that you can make them at any time of the year. You can make the foam salad in just a couple of minutes. So shall we?
Recipe – The Bitter Side Of Sweet
7. Banana Split Fluff Salad
Loaded with banana mashed toppings, if you like the flavor then this is the most amazing option for desserts. The recipe is present at Inside Bru Crew Life for you to emulate. You can surprise the little ones with the banana split fluff for breakfast in the morning.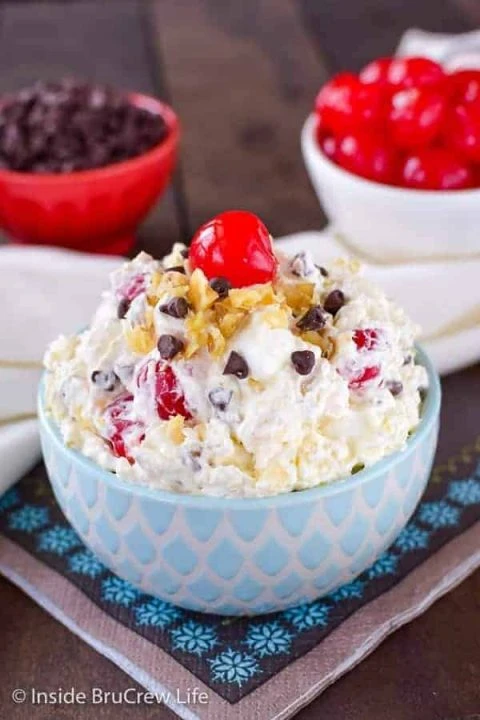 Recipe – Inside Bru Crew Life
8. No Bake Cherry Cheesecake Fluff
We have made use of cracker pie crust to prepare this recipe of Tornadough Alli. The cherry cheesecake fluff does not require baking and hence even a beginner can try their hands at it without any hassle.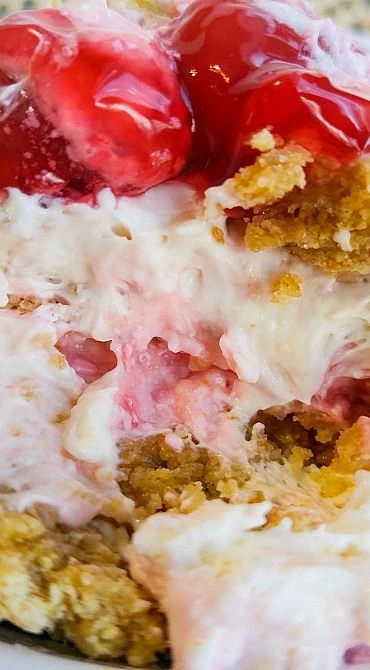 Recipe – Tornadough Alli
9. Low Carb Marshmallow Fluff
The tender and creamy marshmallow fluff are waiting for you to get made during the holidays. The recipe is present at Low Carb Inspirations loaded with peanut butter and creamy marshmallow. You can spread it over the cookies or enjoy it raw, whichever you want!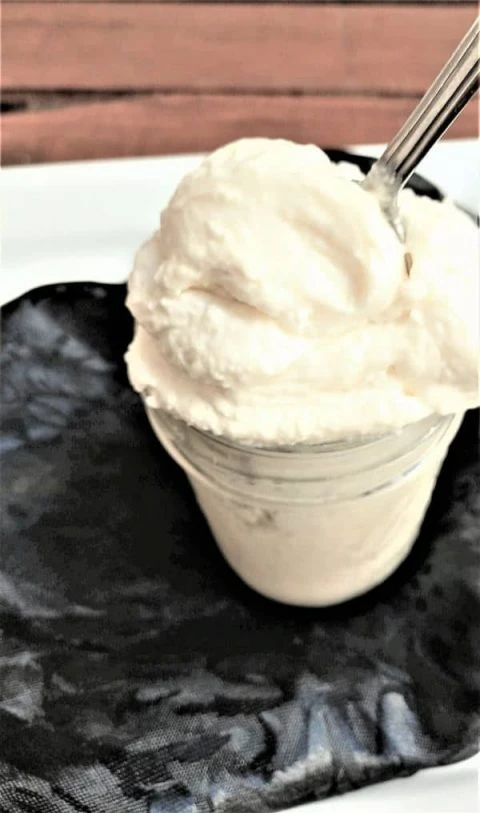 Recipe – Low Carb Inspirations
10. Classic Orange Fluff
The combination of orange and pineapple renders the dish with a brilliant zesty taste. The recipe is present at The Kitchen Is My Playground for making the classic fluff! You can spread it over some crackers and enjoy the flavor in every bite.
Recipe – The Kitchen Is My Playground
11. Ambrosia Salad
The Ambrosia salad is a favorite among the little kids as well as the adults. The recipe is present at Mom On Timeout and is a dessert salad that is ideal for the holiday season. Whipped cream and marshmallows are also added to this dish with mandarin orange!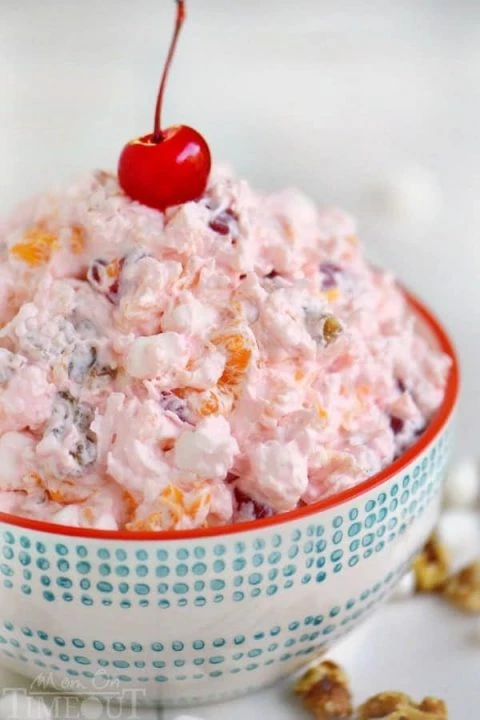 Recipe – Mom On Timeout
12. Creamsicle Fluff
The creamsicle fluff salad is meant to be a part of any part as it is a great crowd pleaser. The recipe is present at Pretty Providence and provides you with a mouth-watering experience indeed. Topped with a couple of marshmallows, the recipe is complete.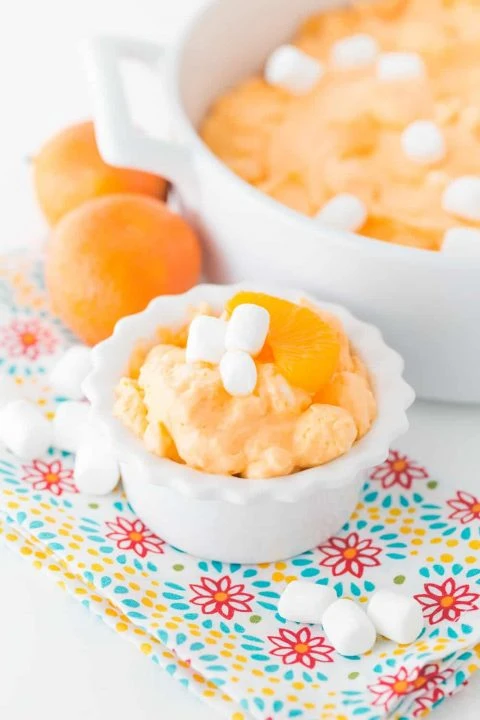 Recipe – Pretty Providence
13. S'Mores No Bake Cheesecake Fluff
The S'mores no bake cheesecake is a creation of Tornadough Alli and such a tempting option indeed. The creamy and tender cheesecake fluffs will leave you with an everlasting flavour! Get ready to explore this brilliant dish in the holidays with crispy crackers.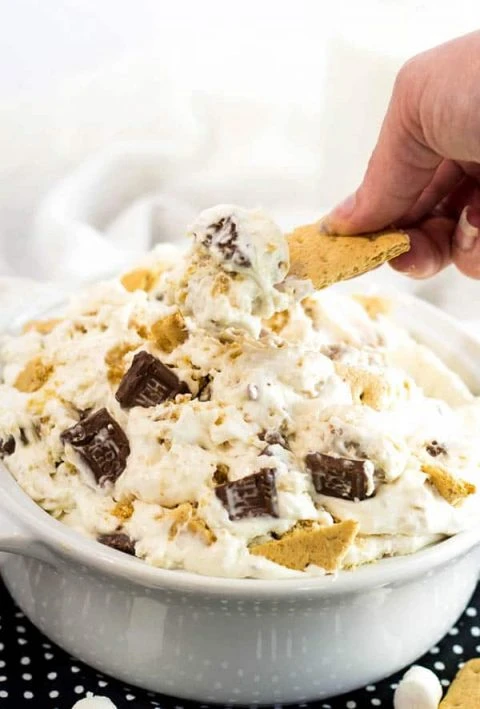 Recipe – Tornadough Alli
14. Pumpkin Pie Oreo Fluff
The pumpkin pie oreo fluffs are delectable and a creation of Back For Seconds. Seasonal to celebrate the joy of Thanksgiving, the pumpkin oreo fluffs are right here to sway you off your feet. You can enjoy the dish with oatmeal crackers.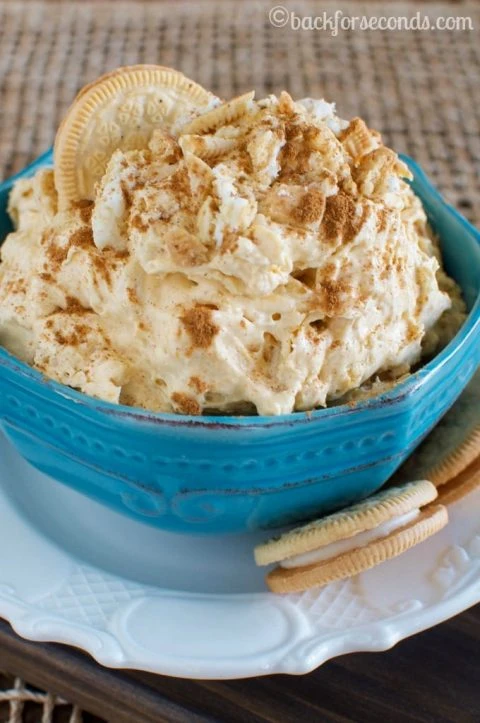 Recipe – Back For Seconds
15. Reese's Peanut Butter Fluff
All you need is five minutes to make Reese's peanut butter fluffs that do not need the hassle of baking. The recipe is available at Mom On Timeout and is great to serve for BBQ or game day. Take a bite of this dish with crackers and experience its exotic flavor.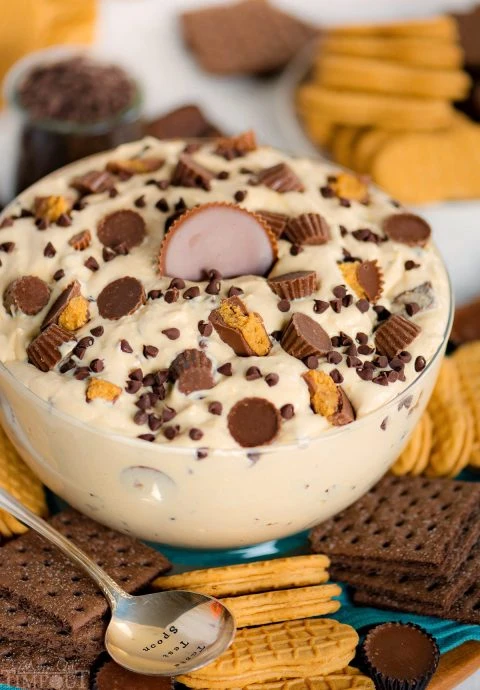 Recipe – Mom On Timeout
16. Fruit Fluff Salad
How charming and colorful is a bowl of fruit fluff salad! The recipe is present at Craft-O-Manic and blended with juicy and tender marshmallows which melt in your mouth at every bite.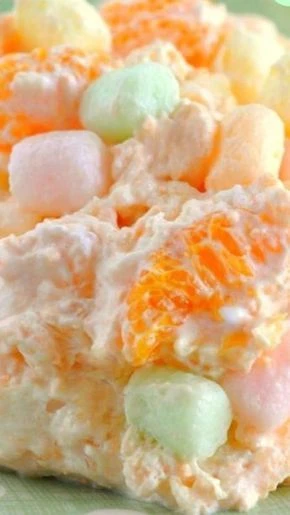 Recipe – Craft-O-Manic
17. Millionaire Peach Salad
The millionaire peach salad is a marvelous recipe that is loaded with flavors of juicy peach and drizzled with as many marshmallows as you want. The dish is present at Spicy Southern Kitchen! The millionaire peach salad fluff will fill your mouth with delightful flavor.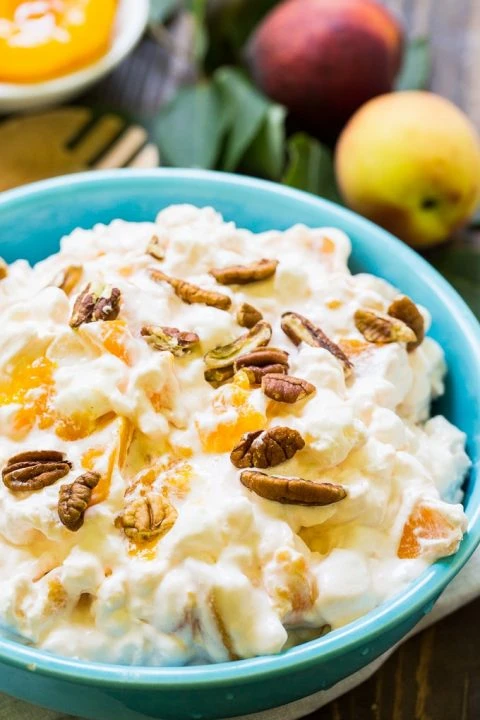 Recipe – Spicy Southern Kitchen
18. Cherry Fluff
Topped with cherries and creamy marshmallows, the recipe is gorgeous and made by Mom On Timeout. The dish is tempting and you will surely love the taste of the cherry fluff served as a dip with cookies and crackers. The kids may instantly finish a bowl.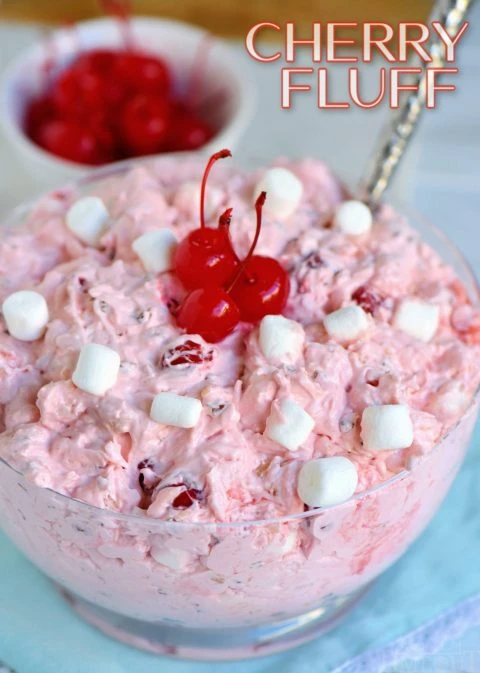 Recipe – Mom On Timeout
19. Strawberry Banana Fluff Salad
A great one to enjoy a round of potluck with your family. The recipe is present at Simple Joy and the tender and juicy flavor of the banana leaves you craving for more and more. The combination of strawberry and banana is so tempting indeed.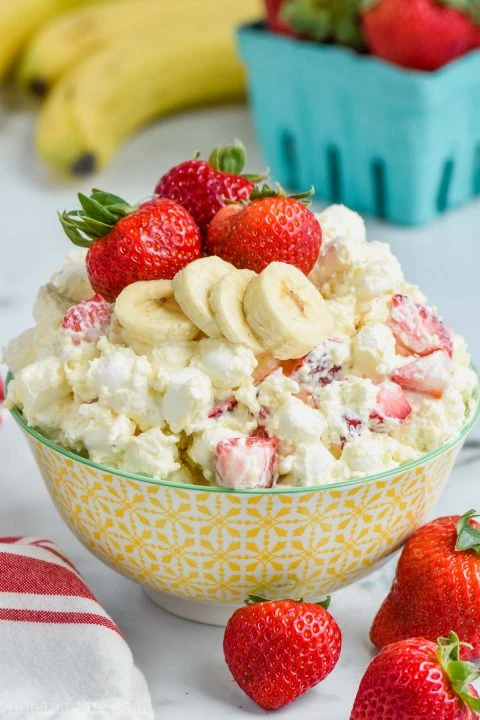 Recipe – Simple Joy
20. Cherry Cheesecake Fluff
This is the literal definition of cherry on top! You can emulate the recipe of cherry cheesecake fluff from Simple Joy and be ready to enjoy the juicy and tender marshmallows in every bite. So what are you waiting for?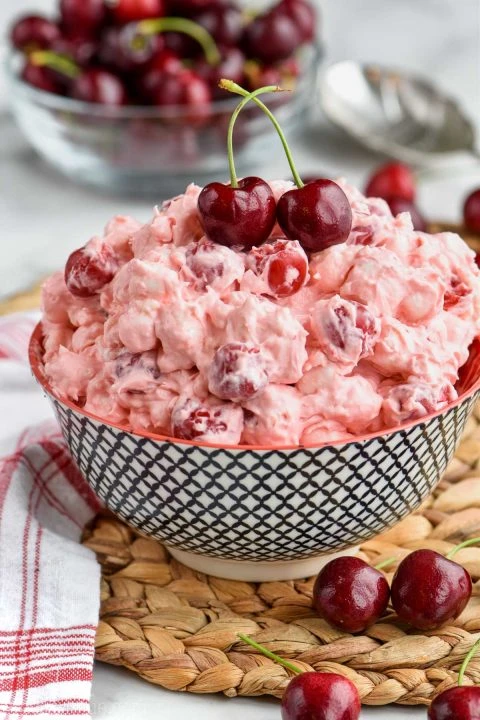 Recipe – Simple Joy
21. Hawaiian Pineapple Coconut Fluff
The classic Hawaiian fluff is made with coconut and pineapple, the recipe is present at Melissa's Southern Style Kitchen for a wonderful experience indeed. Her ready to be surprised with the flavors of creamy pineapple coconut in the holiday season with your family.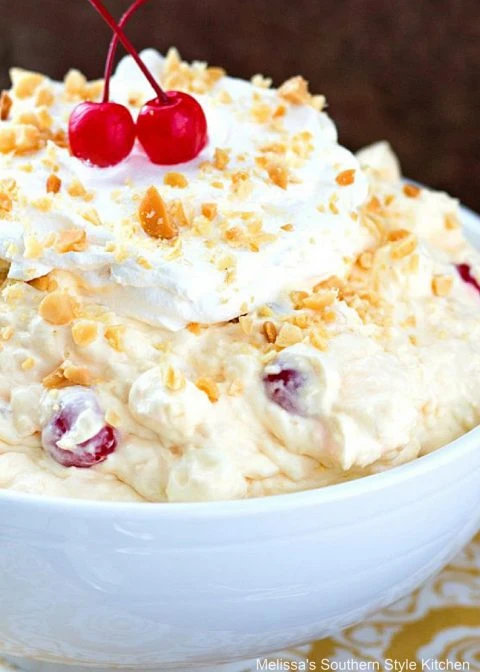 Recipe – Melissa's Southern Style Kitchen
22. The Best Watergate Salad
Here is another marvelous choice of dish that you can make during the weekends! The dish of water grate salad is a recipe presented only by Mom On Timeout. If you are fond of fluffs and looking for a unique one then go for it already.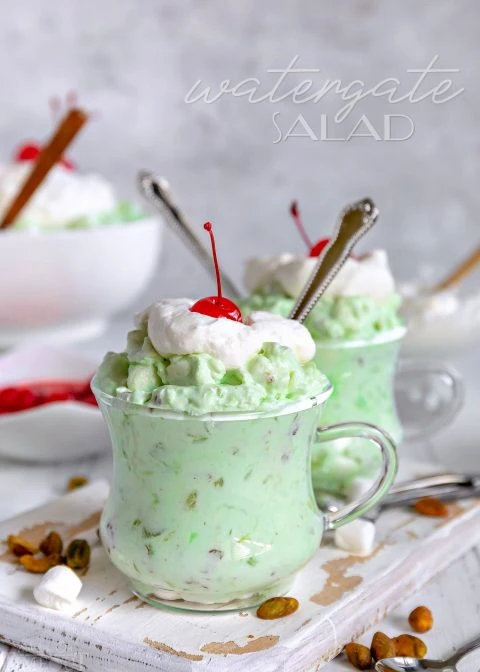 Recipe – Mom On Timeout
23. 2 Minute Peppermint Fluff Dip
The Christmas desserts with peppermint are gorgeous and a creation of The Pinning Mama. All you need is two minutes to adorn the table with tasty fluffs that the guests will surely admire. Check out this peppermint fluff for sure!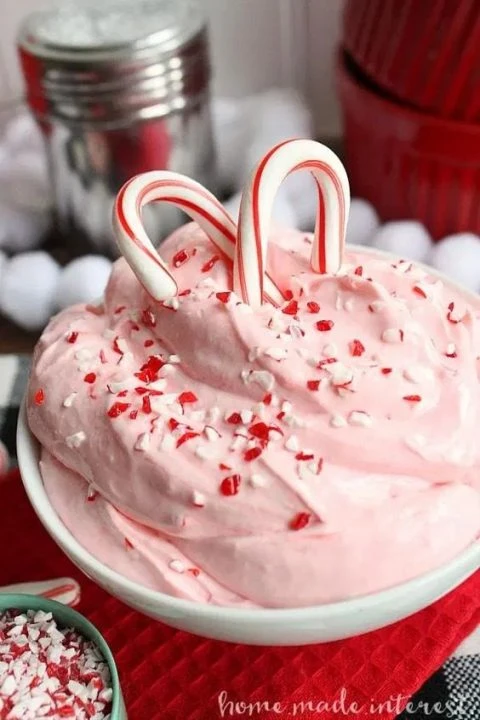 Recipe – The Pinning Mama
24. Summer Berry Cheesecake Salad
All you need is five ingredients to make the summer special fluff! The recipe is present at The Slow Roasted Italian and adorns the table perfectly to tempt the little ones. If you are fond of cheesecake then this is the best.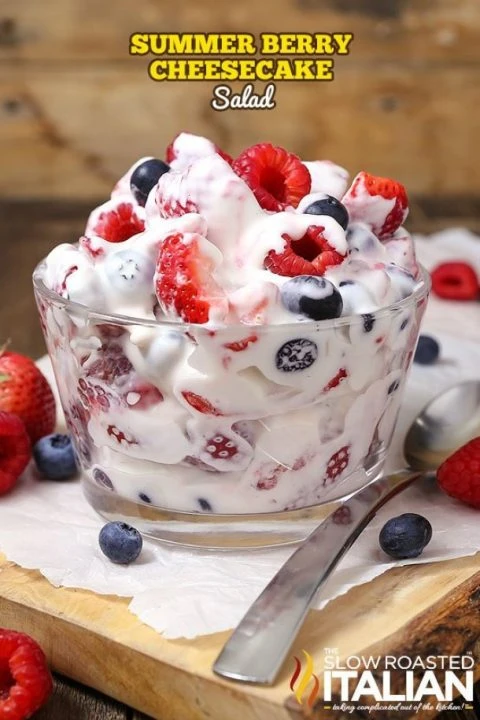 Recipe – The Slow Roasted Italian
25. Raspberry Vanilla Jello Salad
There is nothing that can beat the flavours of raspberry and vanilla jello salad. You can learn the steps to make it from Butter With A Side Of Bread. If you like fluffs then this is one of the best that you can relish.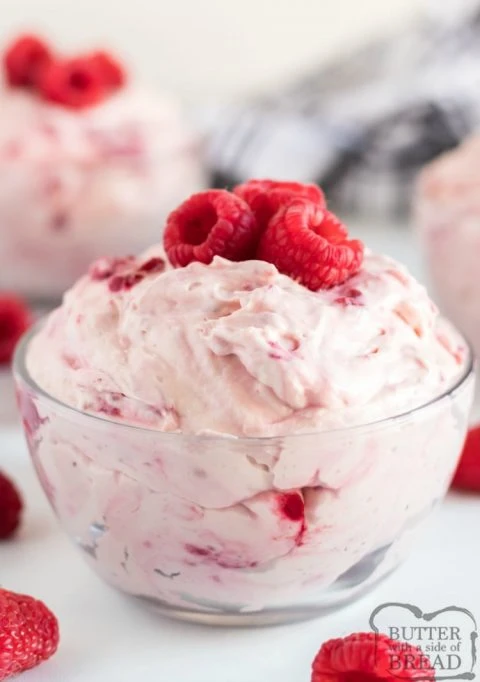 Recipe – Butter With A Side Of Bread
Read more: