Love Kebabs? Can't seem to get enough of those crunchy from the outside and soft and juicy from the inside BBQ Skewer Recipes? Well, it's time to check out some of the most delicious food skewer recipes that will make your party so much more happy and happening. The only way you can make your festive party or summer parties more happening is by introducing these skewers.
They will instantly be everyone's favourite and trust me people love skewers. Especially in the summer seasons, these food skewers make our summer parties so much more interesting and happening. I think these food skewers should be there in every party. We all should make sure that we think of food skewers during all parties. I think they bring out the inner foodie in us.
That inner foodie which sees the beauty of food. That inner foodie who knows how to make the most of any food item. That inner foodie in us who lives to love food. It's all about feeling the food so that it reaches to your body in a positive and cheerful way.
There is nothing as gorgeous and tasteful as the skewer recipes for the holidays. Call it a weekend or a long vacation plan, the barbeque sessions with friends and family will be more eventful with these awesome recipes that we have listed below for one to explore for the season.
And if you think of these food skewer recipes for party then you are sure to impress your guests.
To view the full recipe for any of these food skewer recipes for a party, please follow the link above the picture.
Food skewer recipes for a party
1. 4 Ingredient Caprese Salad Skewers
The Caprese salad skewers with balsamic touch are stunning to serve as an appetizer before the meal. The recipe by Food Meanderings is beautifully adorned on the table for an elegant dinner.
from Food Meanderings
2. Antipasto Kabobs
Packed with three cheese tortellini, the antipasto kabobs are made with the goodness of green olives and marinated with mozzarella. A recipe by The Hungry Housewife is all definitions of flavours so divine.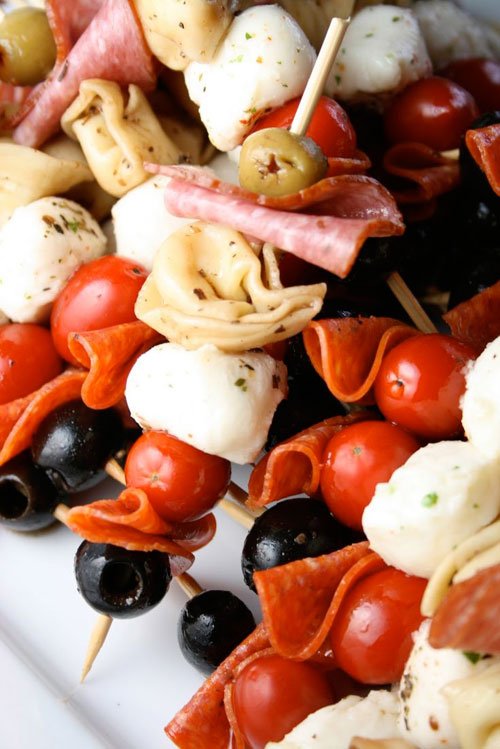 from The Hungry Housewife
3. Antipasto Salad Kabobs
Looking for an ideal appetizer for dinner? Well, we have here the antipasto salad kabobs that are low on carbs and beautifully curated by Mantitlement. A great way to serve salads in a distinguished style!
from Mantitlement
4. Antipasto Skewers
Just a couple of minutes and the antipasto skewers are ready in no time! Loaded with the flavours of smokey veggies, the antipasto recipe by The Sweetest Occasion is wonderful for a light party appetizer to the meal.
5. Baked Panko Chicken and Waffles on a Stick
The authentic southern style chicken and waffles are so sumptuous and detectable for your meal. Coated with exotic sauces, the recipe by Hello Wonderful is the perfect description for tender and crisp.
from Hello, Wonderful
6. Caprese Salad Skewers
Refreshing sun-dried tomatoes with mozzarella balls, the Caprese salad skewers are not only tasteful but also look so tempting that you will not be able to resist this recipe by Stuck on Sweet.
from Stuck on Sweet
7. Chef Salad On A Stick
A delightful way to present veggies and eggs on a single stick. You can enjoy this chef's salad at Pocket Change Gourmet for breakfast.
8. Cherry Bacon Blueberry Skewers
Hosting an outdoor barbeque party? These berries and mozzarella with bacon are ideal and succulent to present to the guests. Small and crispy, the recipe by Cooking on The Weekends is a fantastic appetizer for the season.
9. Chicken Satay Kebabs
The authentic Asian recipe just got better and easier with Savory Tooth. Showered in rich peanut sauce, the tender chicken satay kebabs are wonderful for you to relish.
from Savory Tooth
10. Chicken Skewers with Cucumber Yogurt Sauce
Marinated in yoghurt sauce and served with fresh cucumbers, the chicken skewers by Diethood are detectable and cheesy for one to indulge in during the BBQ session.
from Diethood
11. Copycat Pizza Factory Breadsticks
These tender and refreshing spirals of breadsticks are an amazing creation for one to devour. The copycat pizza factory breadsticks by Sweet Treats More are one of a kind for a side dish.
from Sweet Treats & More
12. Easy Chicken Kebab
The flavour of paprika and garlic is simply irresistible! The fine presence of cumin is wonderful to spice up the chicken kebab and a little hint of lemon juice at the end makes this simple recipe by Rasa Malaysia incredible to savour.
from Rasa Malaysia
13. Easy Homemade Corn Dogs
Ah! This is just a brand new version of the hog dogs and guess what you can prepare them at home with a few easy steps by Chef in Training.
from Chef in Training
14. French Toast Kebabs
You probably did not expect the classic French toast as skewers! Did you? Here is a recipe by Martha Stewart, by all means, unique and surely worth your time for breakfast.
from Martha Stewart
15. Frozen Chocolate Dipped Pineapple Pops
A perfect combination of coconut and pineapple, you will love this one in the hot summer months. An innovative creation by Kudos Kitchen the recipe is simple and refreshing.
from Kudos Kitchen
16. Fruit and Cheese Kabobs
Fruits and cheese! Probably the best we have come across this season! Celebrate the advent of the spring season with the recipe by My Baking Addiction.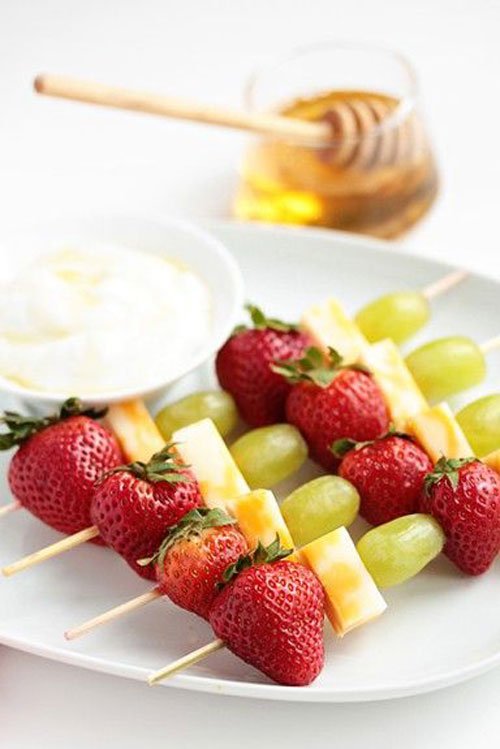 from My Baking Addiction
17. Fruit and Cheese Skewers
Another classic and cool recipe by The Lemon Bowl, the fruit and cheese skewers are delicious and awesome for you to relish. Good for smacking any time of the day, the dish is a people pleaser.
from The Lemon Bowl
18. Fruit Kebabs with Chocolate Sauce
Ah! What a delightful recipe this is! Coated in chocolate sauce, the fruit kebab is sumptuous for you to relish by My Catholic Kitchen.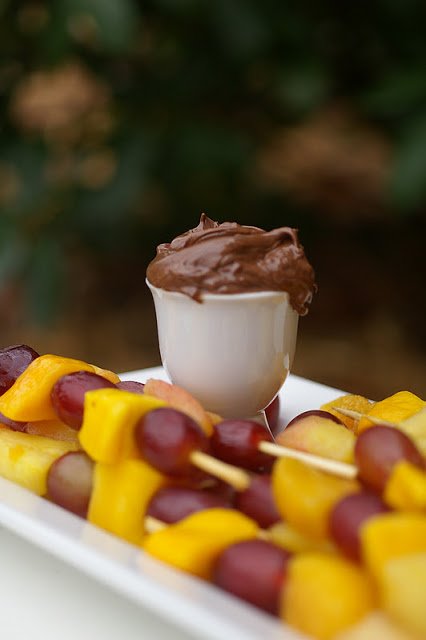 from My Catholic Kitchen
19. Fruity Rice Krispies Kabobs
Crispy and sweet, the fruit rice kabobs are wonderful and certainly an excellent choice for breakfast. You must try out the recipe at A Spicy Perspective is simply extraordinary!
from A Spicy Perspective
20. Ginger Garlic Glazed Korean Chicken Skewers
Here is an authentic Korean recipe that you can try out at this BBQ session on the weekends! The fascinating flavour of the gorgeous chicken skewers in garlic and ginger glaze is a recipe by Flavour and Savour.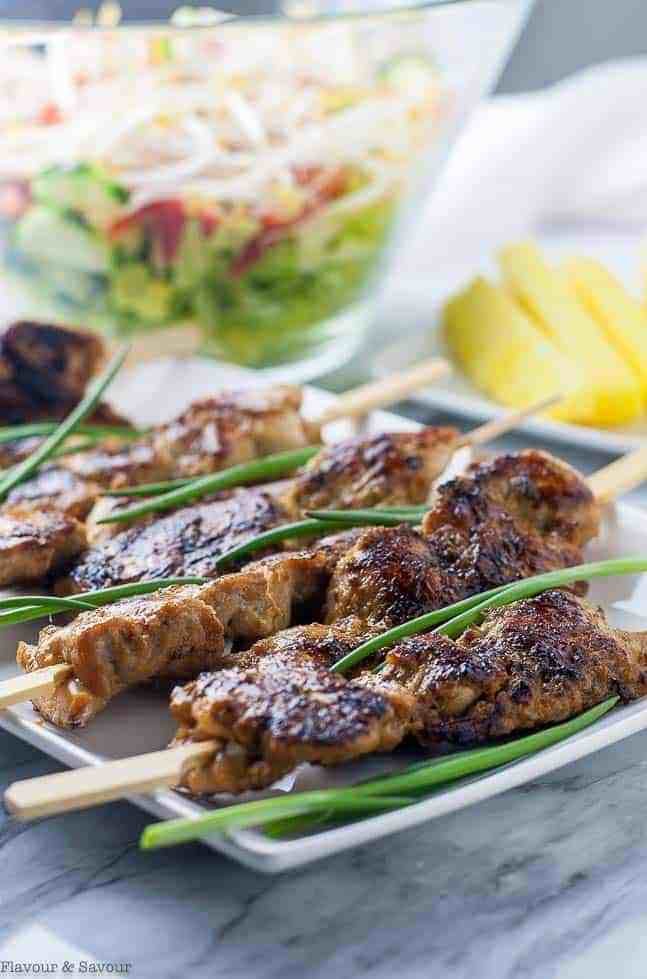 from Flavour and Savour
21. Gluten-Free Sandwich on a Stick
Mini sandwiches on a stick! The recipe by Ingredients INC is healthy and tasteful as you can see it is a complete gluten-free choice. Don't forget to add the green veggies in the row!
from Ingredients, Inc
22. Gouda Peach Skewers
Classic to the 80s, the Gouda each skewer is small and light to nibble on as appetizers at the parties. The recipe is redefined by Sprinkles and Sprouts, and certainly going to add a touch of tradition to your Thanksgiving occasion.
23. Greek Lemon Chicken Skewers with Tzatziki Sauce
With the touch of refreshing flavours, the recipe is unique and created wonderfully by Recipe Runner. With the fine lemony zest and the rich tzatziki sauce, the tender chicken skewers are delightful to enjoy.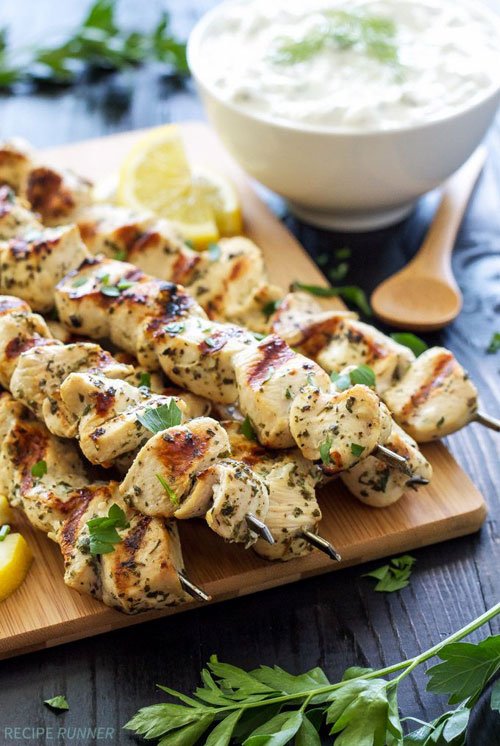 from Recipe Runner
24. Greek Salad Skewers
Marinated with feta cheese, olives and cucumber, you will surely relish the taste of the authentic salad by Little Broken for the holiday season.
from Little Broken
25. Grilled Cheese & Tomato
Here is a classic American recipe by Brit.Co for the barbeque weekend. Thank us later for this marvellous discovery after you are done relishing the taste of juicy tomatoes with rich cheese. There is nothing as delicious as grilled cheese!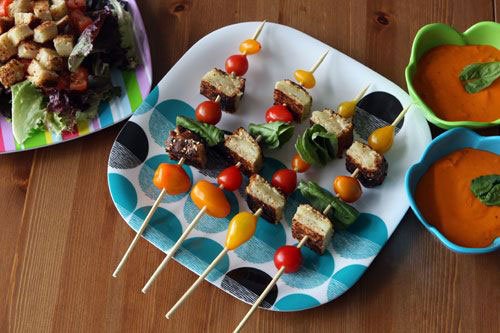 from Brit+Co
26. Grilled Garlic Shrimp Skewers
Coated in rich garlic butter, the grilled shrimp skewers are heavenly. Tell us if you could resist yourself from chugging down the entire plate by Simply Recipes.
from Simply Recipes
27. Grilled Shrimp and Potato Skewers
Salads and shrimp are a great combination for appetisers! What is better than getting them combined on a single stick? The flavourful recipe by Cook The Story is fascinating for you to relish.
from Cook the Story
28. Grilled Vegetable Skewers
This tempting and eye-catching recipe by Proud Italian Cook makes veggies tasteful and gorgeous to enjoy. If you were worried about kids rejecting veggies then here is a way to feed them fresh greens.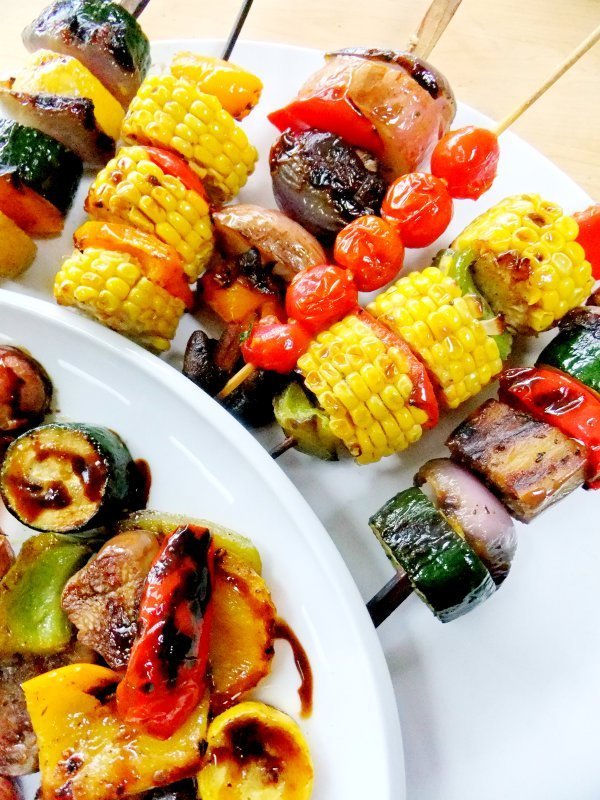 from Proud Italian Cook
29. Harissa Teriyaki Chicken Skewers
Replenished with the sweet and sour flavour of mangoes, the Harissa Teriyaki chicken skewers by The Roasted Root are wonderful for the season. Here is a grilled recipe that you will certainly enjoy with the rich flavour of teriyaki sauce combined with tender chicken. Do not miss out on this gorgeous appetizer!
from The Roasted Root
30. Hawaiian Chicken Bites
The classic Hawaiian recipe by Rasa Malaysia is detectable and crispy. With the sweet flavour of pineapple combined with the goodness of spices, the chicken bites are awesome for you to indulge in.
from Rasa Malaysia
31. Hoison Glazed Chicken Kebabs
Just about ten minutes and you will get the glazed chicken skewers done with refreshing and vibrant carrot sesame salad for appetisers. A recipe by Healthy Delicious you must not miss out on this!
from Healthy Delicious
32. Honey Lime Shrimp Skewers
What a marvelous creation with honey, lime juice and jalapeno pepper, the shrimp recipe by Food Faith Fitness are marvelous for you to indulge in. Light and easy, the recipe is good for summer!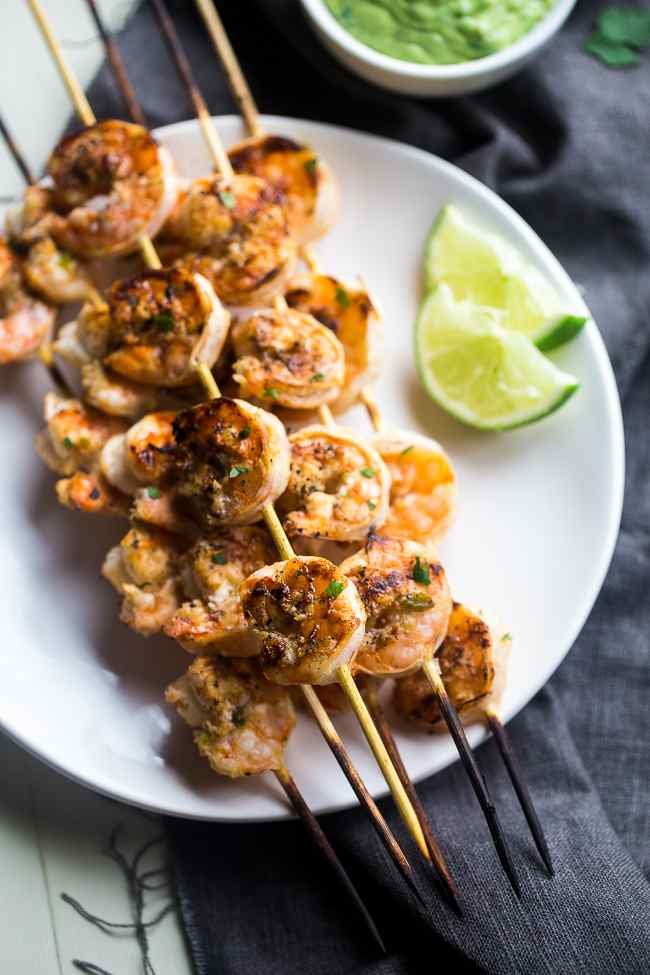 from Food Faith Fitness
33. Indian Spiced Lamb Kebabs
Here is a splendid recipe for Indian cuisine which you must make for the BBQ event you are planning this season. Marinated in rich spices, the juicy lamb kebabs by The Crafting Foodie is a treat to both the eyes and mouth.
from The Crafting Foodie
34. Jalapeno Bacon Tater Tots
A perfect dish for spice lovers, the jalapeno bacon tater tots are stunning for you to enjoy. With the recipe by Spicy Southern Kitchen, you can relish the tater tots with ranch dipping sauce.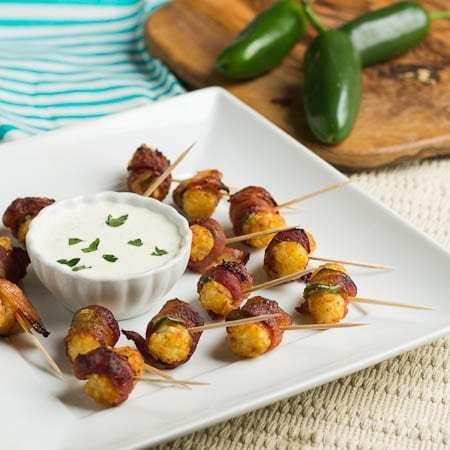 35. Keto Grilled Radish Skewers
A keto-friendly recipe with radish, the dish by I Breathe I'm Hungry is stunning for you to indulge in. With the fine flavour of herb butter, you will certainly enjoy this skewer dish.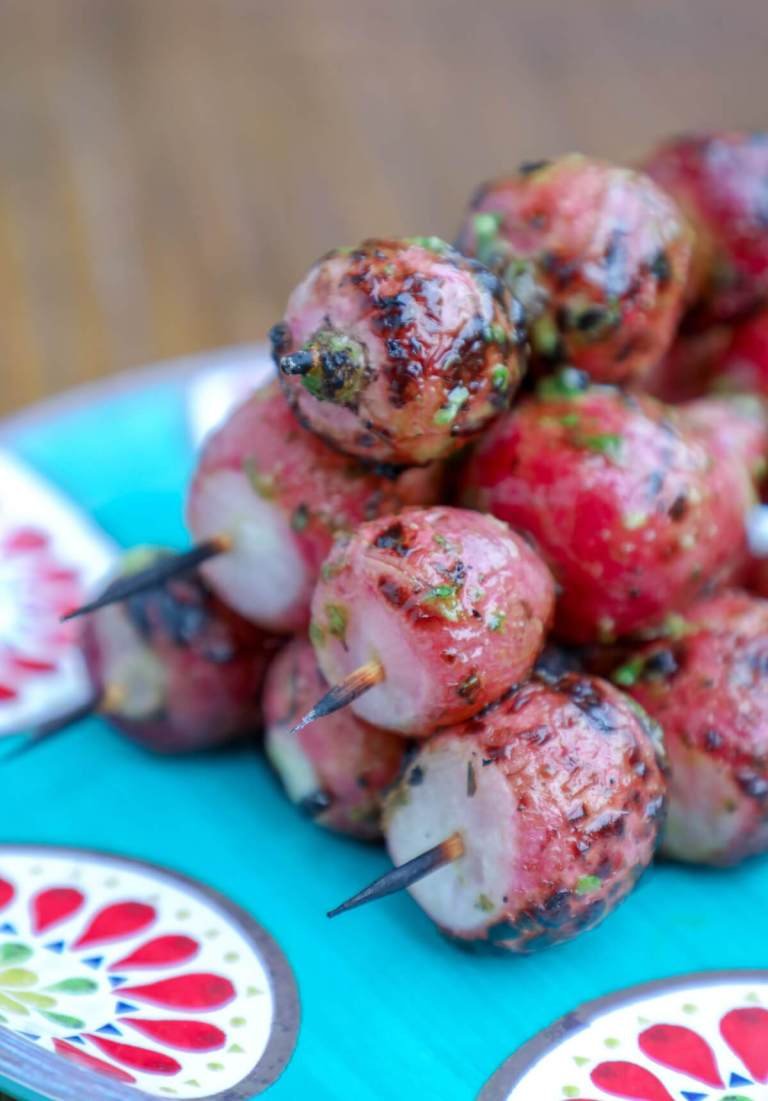 from I Breathe I'm Hungry
36. Lemon Glazed Swordfish Skewers
Delicious and glazed, the swordfish skewers are stunning and lemony to relish for the season. A recipe by A Family Feast you will find this marine recipe awesome for one to enjoy.
from A Family Feast
37. Lemon Pound Cake Kebabs with Yogurt Dip
Well, there is very little to say about the marvels of lemon pound cake kebabs with yoghurt dip. Light and vibrant, the cake skewers are excellent for breakfast. Check out the recipe at It's Yummi.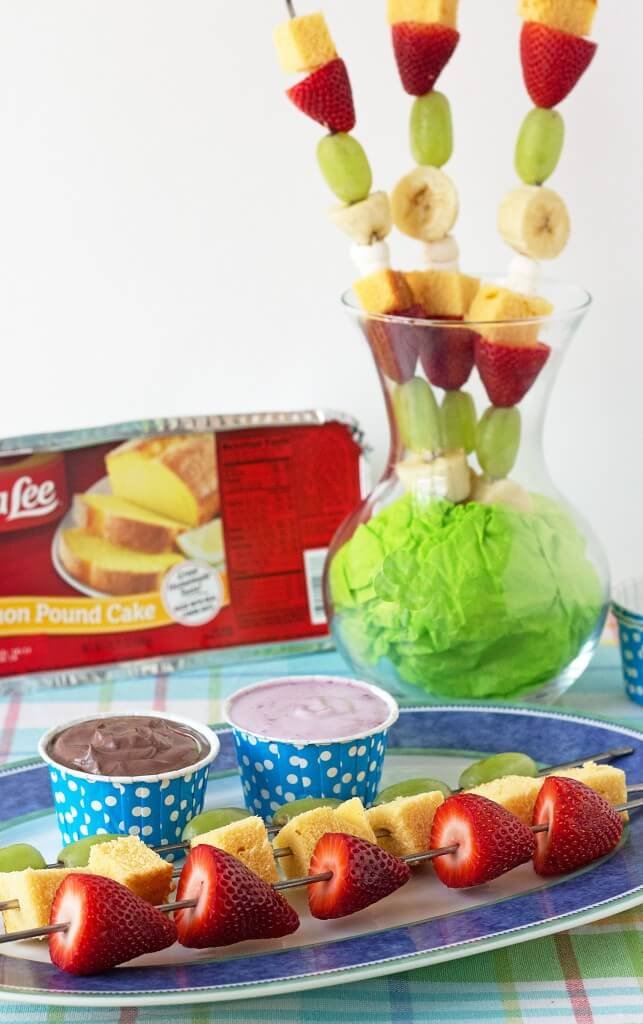 from It's Yummi
38. Low Country Boil Kebabs
A tender recipe of Southern origin, the dish is made with shrimp, corn and potatoes all by the initiative of Framed Cooks.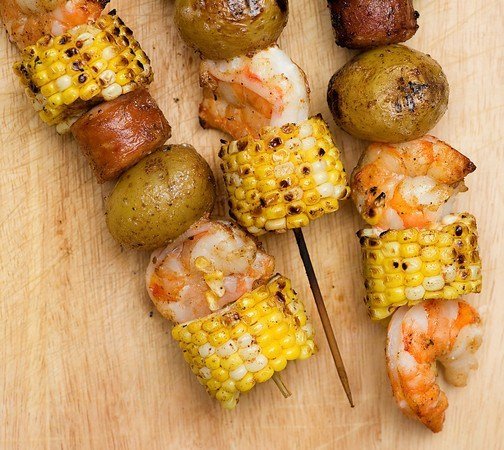 from Framed Cooks
39. Lunch Box Bites
Ah! The spring season can be more fun with exciting lunches packed for the office. The lunch box bite recipe by Betty Crocker is here to your rescue.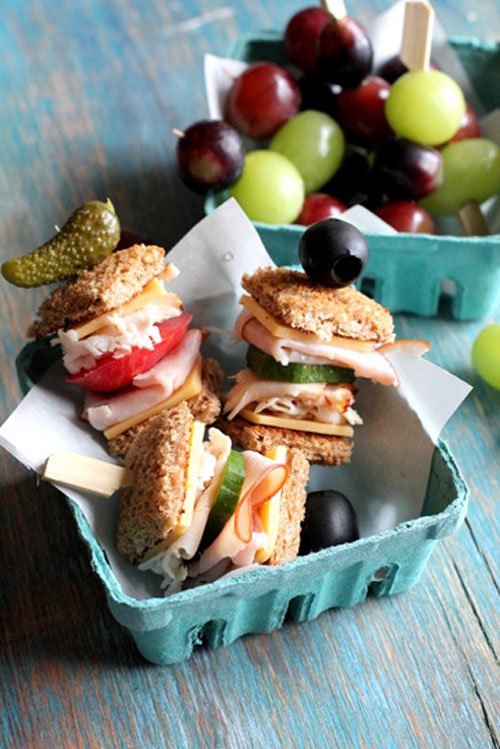 from Betty Crocker
40. Lunch Kabobs
The lunch kabob is an ultimate meal for the kids as well as the adults. With the fascinating flavour of grilled cheese combined with the wonderful taste of BBQ chicken, you will surely love this recipe by Lil' Luna.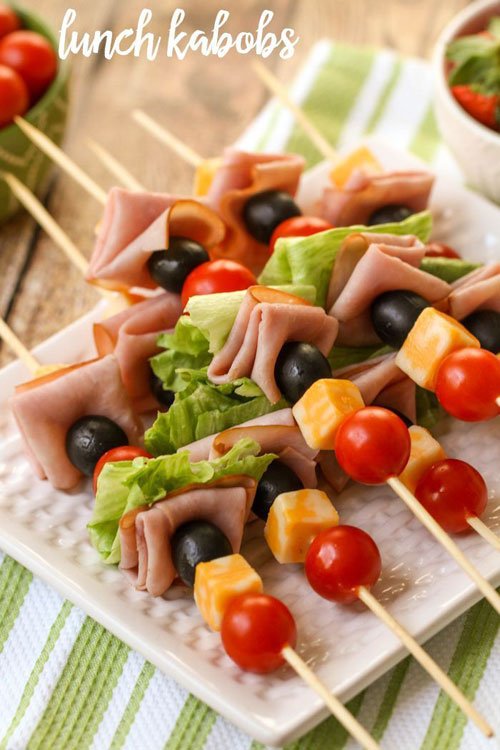 from Lil' Luna
41. Magic Wand Fruit Kabobs
This recipe will surely be one of the most favourite choices among the little ones. The magic wand fruit kabobs by The Melrose Family with all sorts of vibrant fruits and cherries make this dish one of the best for you to present as a magical treat to the kids. It is indeed delightful with strawberries lined up together!
from The Melrose Family
42. Meat & Cheese Roll Up
The season of spring is ready to make sure that you get the best of wonderful delicacies! The succulent meat with juicy and tender cheese between the meat cubes is irresistible once they are placed for display. Check out the recipe by A Mom's Take to make meat and cheese roll-ups perfect. Thank us later for this tasty delight on the weekends.
from A Mom's Take
43. Meatball and Breadstick Sub Skewers
Ah! What an elegant recipe for you to savour this season. The tender meatballs between the spiral breadstick is a unique choice of recipe that is devised by Pillsbury to make your dinner special.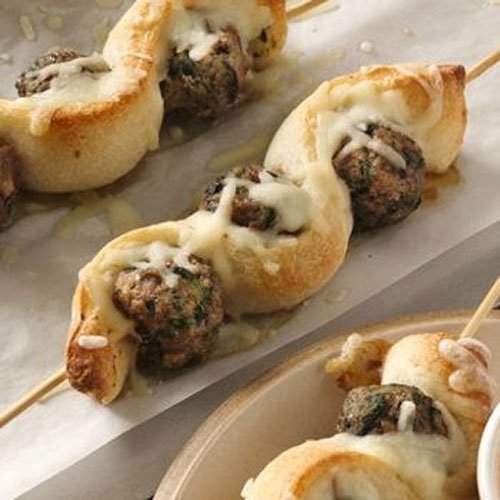 from Pillsbury
44. Mexican Steak Skewers
Coated in rich Mexican spices, this authentic delicacy is succulent and meaty for you to relish. A wonderful creation by Spices in my DNA tells us how you liked it for the weekend plans.
from Spices in my DNA
45. Mini Bacon Cheeseburger Skewers
Greatly a people pleaser recipe you will be thrilled to dive deep into the world of juicy skewers marinated in creamy cheese. Burgers on a stick are what you call it! In a recipe by The Pinning Mama, the bacon steaks are delectably cooked.
from The Pinning Mama
46. Mini Bunless Cheeseburger Bites
It has got it all except for the boring bread on either side! A perfect cheeseburger bite with succulent steak and fresh greens, the recipe is created by Sugar Free Mom.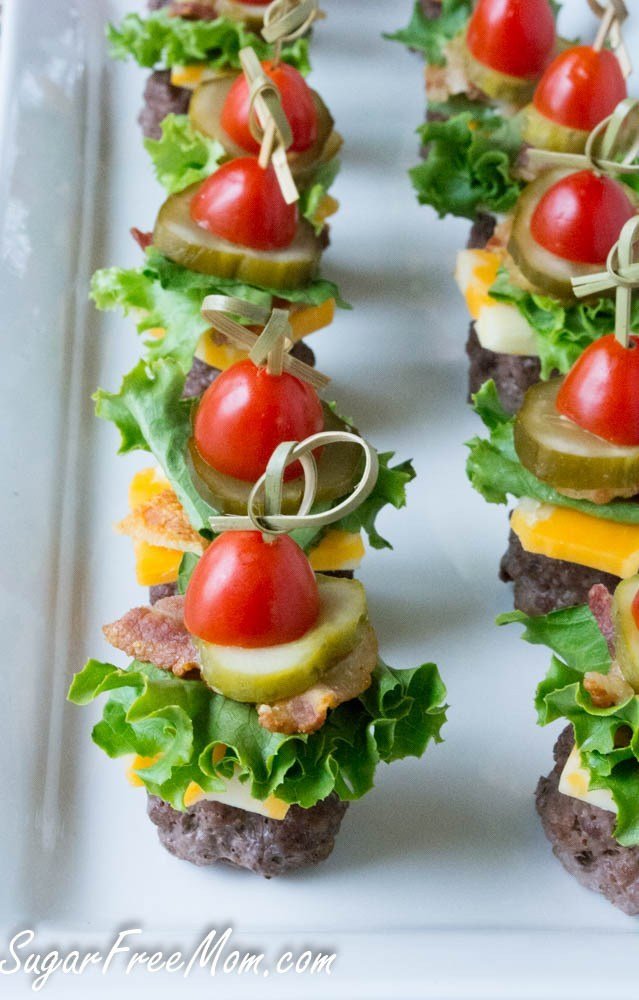 from Sugar Free Mom
47. Mini Shrimp, Tomato and Cucumber Skewers
Here is a solution to make the tiffin breaks more special for your kids in the autumn season. A skewer recipe with mini shrimps and veggies like tomato and cucumber cut in myriad adorable shapes is the best choice. Lookup for help at Skinny Taste and the skewer shrimp sticks will be ready in no time.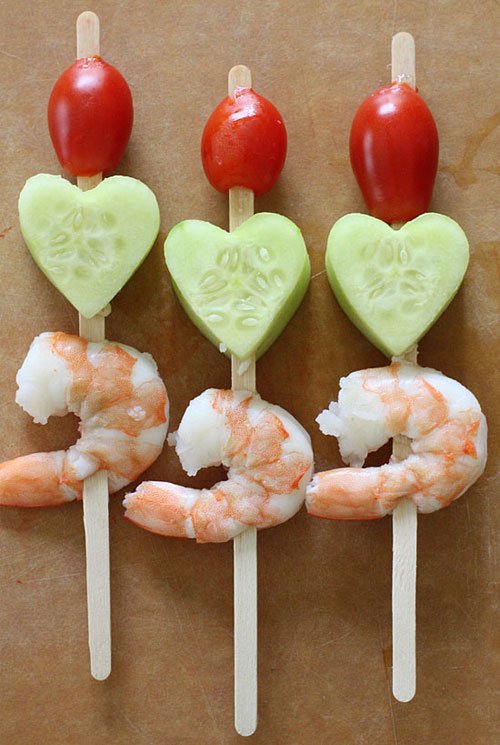 from Skinny Taste
48. Mojo Pork Kebabs
A brilliant combination of red pepper flakes, garlic and orange, the citrusy essence of the mojo pork kebabs is fascinating for one to relish. The exotic recipe is devised by Martha Stewart.
from Martha Stewart
49. Peach Glazed Chicken Kebabs
A perfect skewer recipe with tender chicken and refreshing veggies, the additional flavour of peach glazed chicken kebabs in the recipe by The Seasoned Mom is here for a delectable dinner appetizer.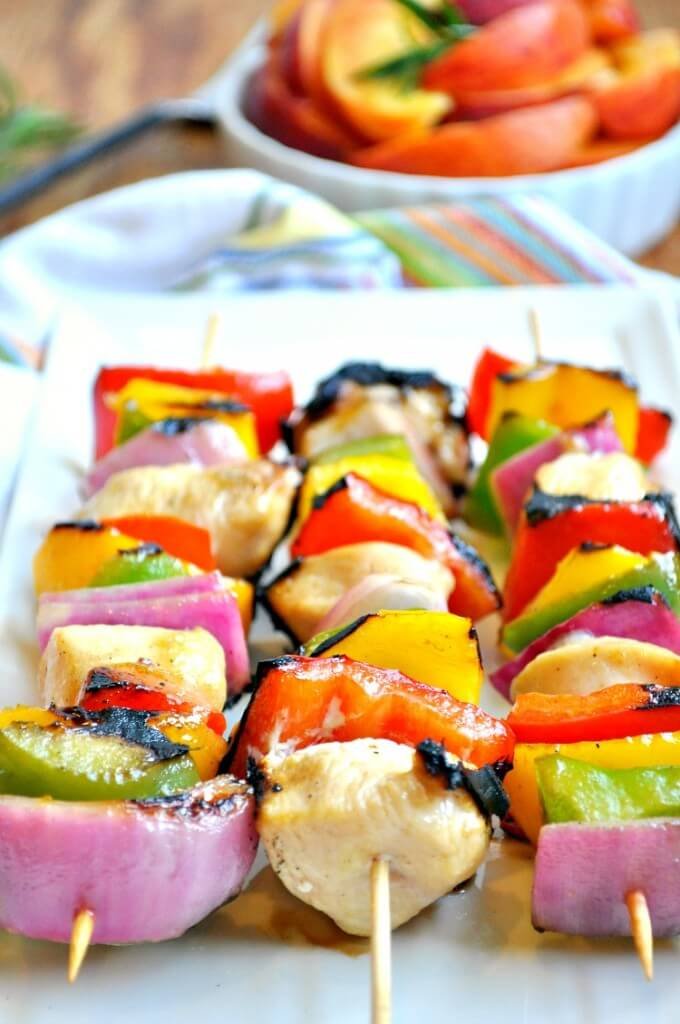 from The Seasoned Mom
50. Peanut Butter and Jelly on a Stick
If you are simply bored with the regular meal for breakfast then we have here the peanut butter and jelly sticks with mini slices of bread with berries and banana slices in between. This easy recipe is devised by Welch's.
from Welch's
51. Rosemary Pineapple Mozzarella Bites
The fine rosemary essence with the sweetness of pineapple, and the delicious mozzarella bites on sticks is a recipe which is created by none other than Cook Craft Love. Tiny and tasteful, they are good to go for a fantastic spring appetizer that the guests will thoroughly praise.
from Cook Craft Love
52. Salad Snack On A Stick
Light and tasteful, this is a great way to represent the salads with a recipe by Barefeet in the Kitchen. Olive, tomato, meat and cheese, you name it and we have got it here!
53. Salami & Cream Cheese Bites
Look no further for we have got you here the succulent salami and cheese duo for an exciting appetizer. This is a recipe by The Kitchen is my Playground and completely a heartthrob.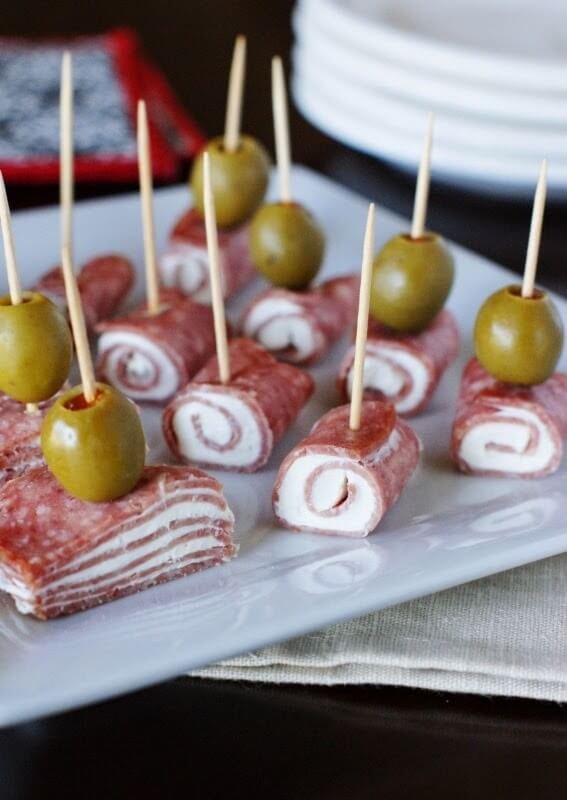 from The Kitchen is My Playground
54. Simple Fruit Kabobs
Fruit kabobs are an ideal way to relish the refreshing flavours of spring and make a hearty breakfast in the morning. This simple and easy recipe by Dinner at the Zoo is pretty basic to emulate.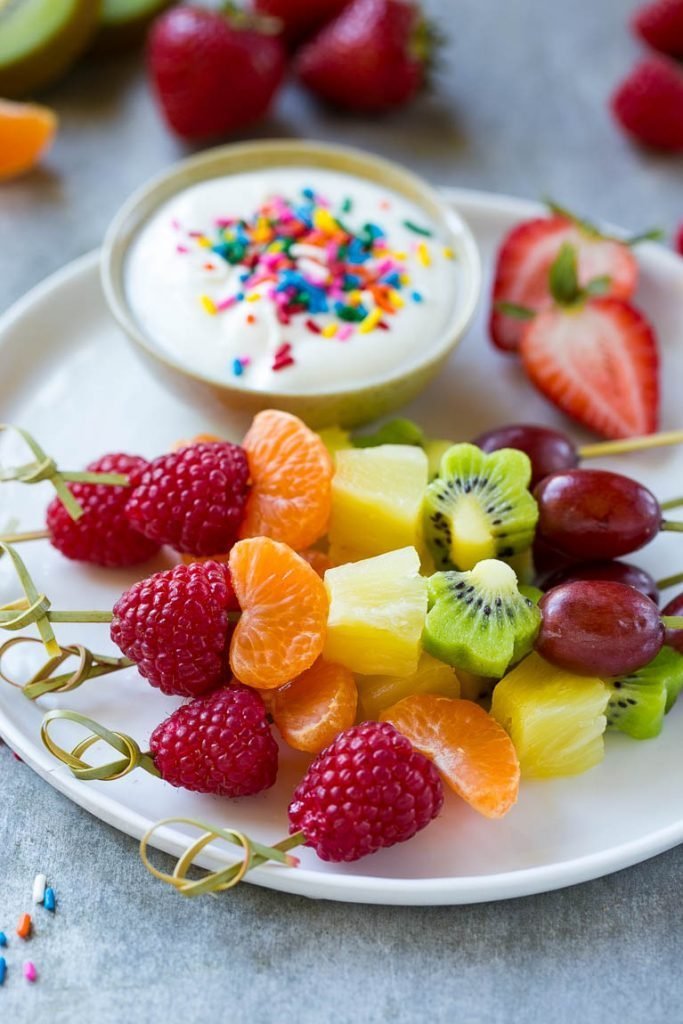 from Dinner at the Zoo
55. Simple Greek Salad Skewers
These authentic Greek skewers are exciting and tasteful with the brand new recipe by Oh Sweet Basil. Tossed onions, cubes of feta cheese and Greek vinaigrette is all that you need.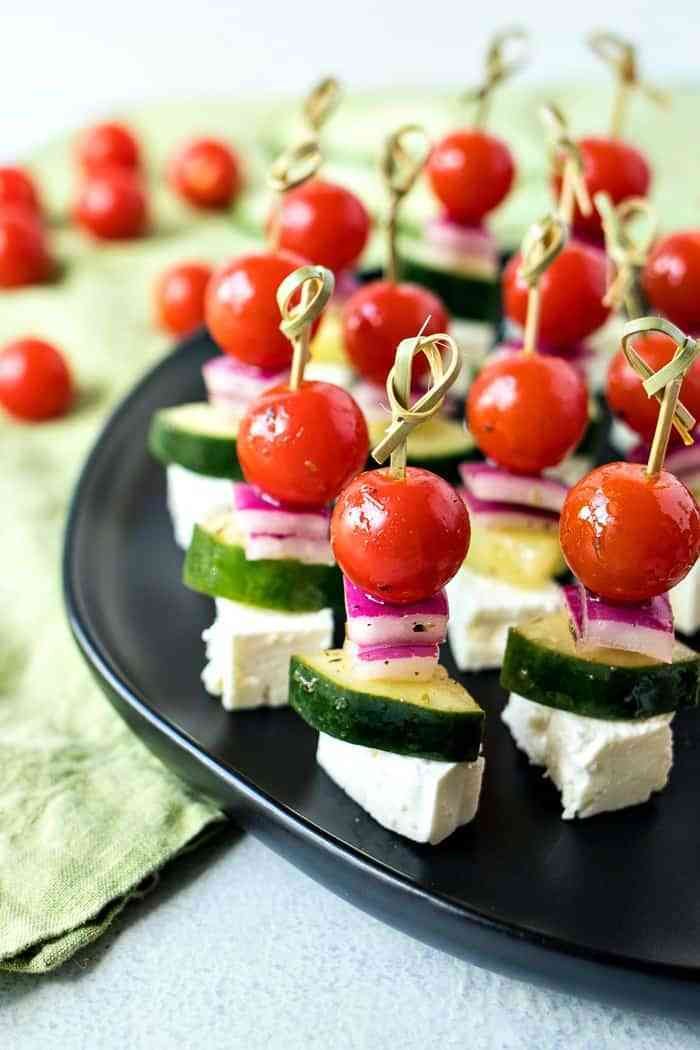 from Oh Sweet Basil
56. Smoked Salmon and Cream Cheese Cucumber Bites
With the relishing taste of dill cream cheese, the smokey salmon marinated in spices and roasted tenderly with cucumber is a skewer recipe by Baker by Nature to indulge in as you gear up for the BBQ weekend.
from Baker by Nature
57. Snacks on a Stick
Rightly named so, the snacks on sticks are light and tasteful to make for a party appetizer. This recipe by Good Life Eats is great to nibble on.
from Good Life Eats
58. Spicy Shrimp & Sausage Skewers
Savoury and flavourful, the spicy shrimp recipe with tender and succulent sausage on a stick is an absolute source of delight for the foodies. If you are looking for an unforgettable skewer recipe then check out this one by Iowa Girl Eats.
from Iowa Girl eats
59. Steak Fajita Skewers from The View
A wholesome meal with rice, couscous and fajitas, the skewer recipe here is ideal for a hearty brunch date with your loved ones. The recipe by The View From Great Island is here for your assistance.
from Great Island
60. Strawberry Banana Peanut Butter Skewers
Ah! Apple syrup it is! With goat cheese and the crispy presence of toast. The strawberry banana peanut butter skewer is perfect for an exciting breakfast to begin your day on a fresh note. Do not forget about the maple syrup for a finishing touch just by Peas and Crayons.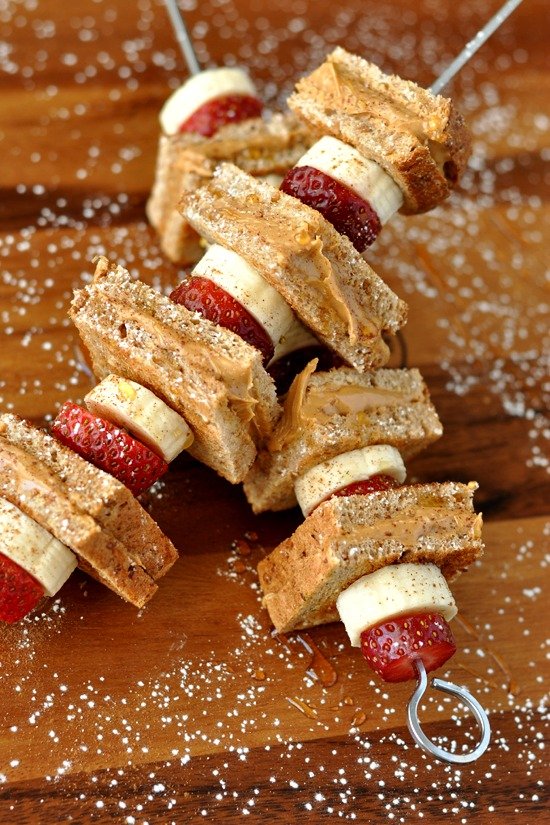 from Peas and Crayons
61. Strawberry Brownie Kebabs
Here is another spectacular recipe with strawberries of all time. These strawberry brownie kabobs are perfect for desserts and surely one of the most innovative and vibrant recipes of all time. Here is the recipe by Erica Sweet Tooth so you can get them ready, warm and tender for an after-dinner indulgence.
from Erica Sweet Tooth
62. Strawberry Shortcake Skewers
Let's celebrate the advent of spring with the strawberry shortcakes by Karen in the Kitchen.
from Karen in the Kitchen
63. Sweet and Sour Meatball Skewers
The tender meatballs soaked in sweet and sour sauce on a stick are easy and delicious with the brand new recipe by Taste and Tell. A hint of pepper sprinkled on top is enough to do the job.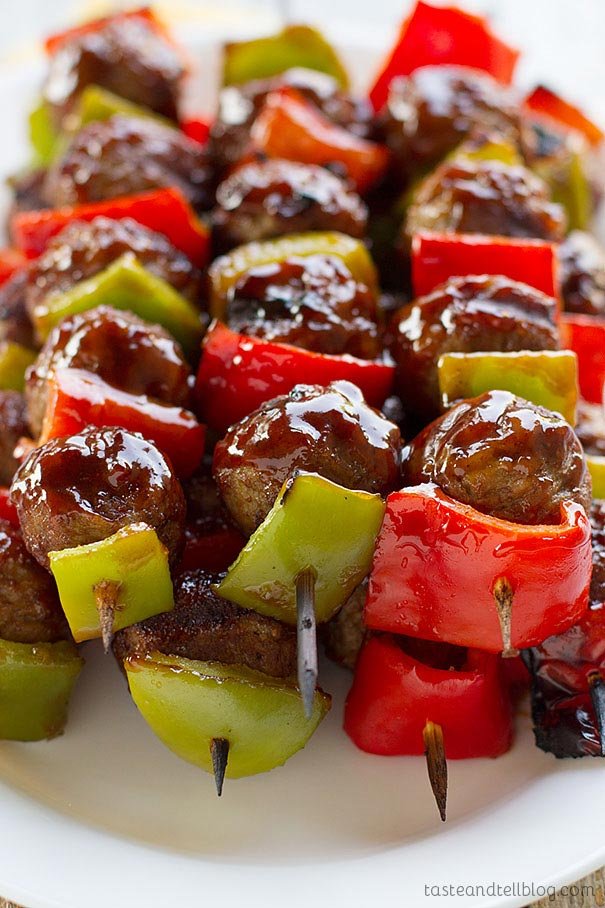 from Taste & Tell
64. The Ultimate Turkey Club Skewers
Bacon, avocado, turkey and juicy tomatoes are all combined on a single stick to create the ultimate turkey club skewer. And if that still isn't enough, we have got cheese and mini toasted bread slices too! Check out the recipe at A Latte Food.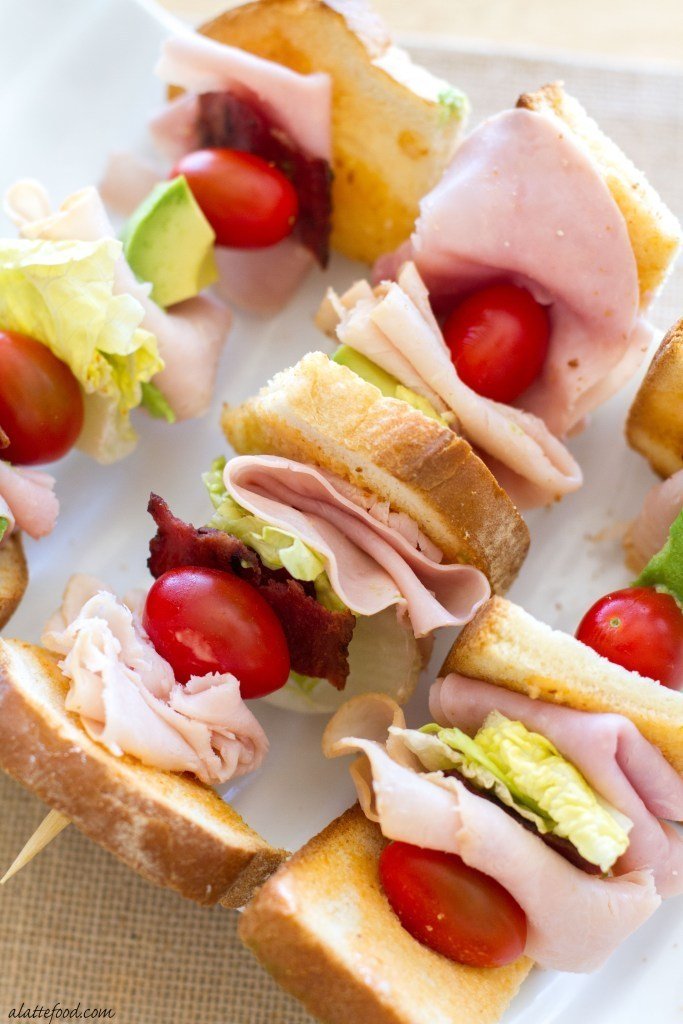 from A Latte Food
65. Watermelon Feta Mint Skewers
The minty flavour of the skewer with feta cheese and juicy watermelon is refreshing at each bite. The dish is a creation by bitesofbri.com.
from bitesofbri.com
66. Wedge Salad On A Stick
Marinated in liquid cheese dripping from all sides, the wedges salad on a stick is a delightful one with green lettuce and bacon for an ideal picnic by All Recipes.
from All Recipes
Have you been wrongly credited or someone submitted your project/image? Kindly reach out to us and expect a response…
Hopefully you were able to get a bit of inspiration from this list..