Enjoy some spooky fun with these gluten-free Halloween treats! From frightful cupcakes to ghoulish candy apples, get ready to share some festive goodies with all of your guests. Try these sweet and spooky recipes today!
More collections: Halloween Pumpkin Pancakes, Halloween Pumpkin Cheesecake, Halloween Pumpkin Bars, Halloween Pumpkin Soup, Halloween Potluck, Halloween Whiskey Cocktails, Halloween Tequila Drinks, Halloween Cake Pops, No-Bake Halloween Treats, Halloween Milkshakes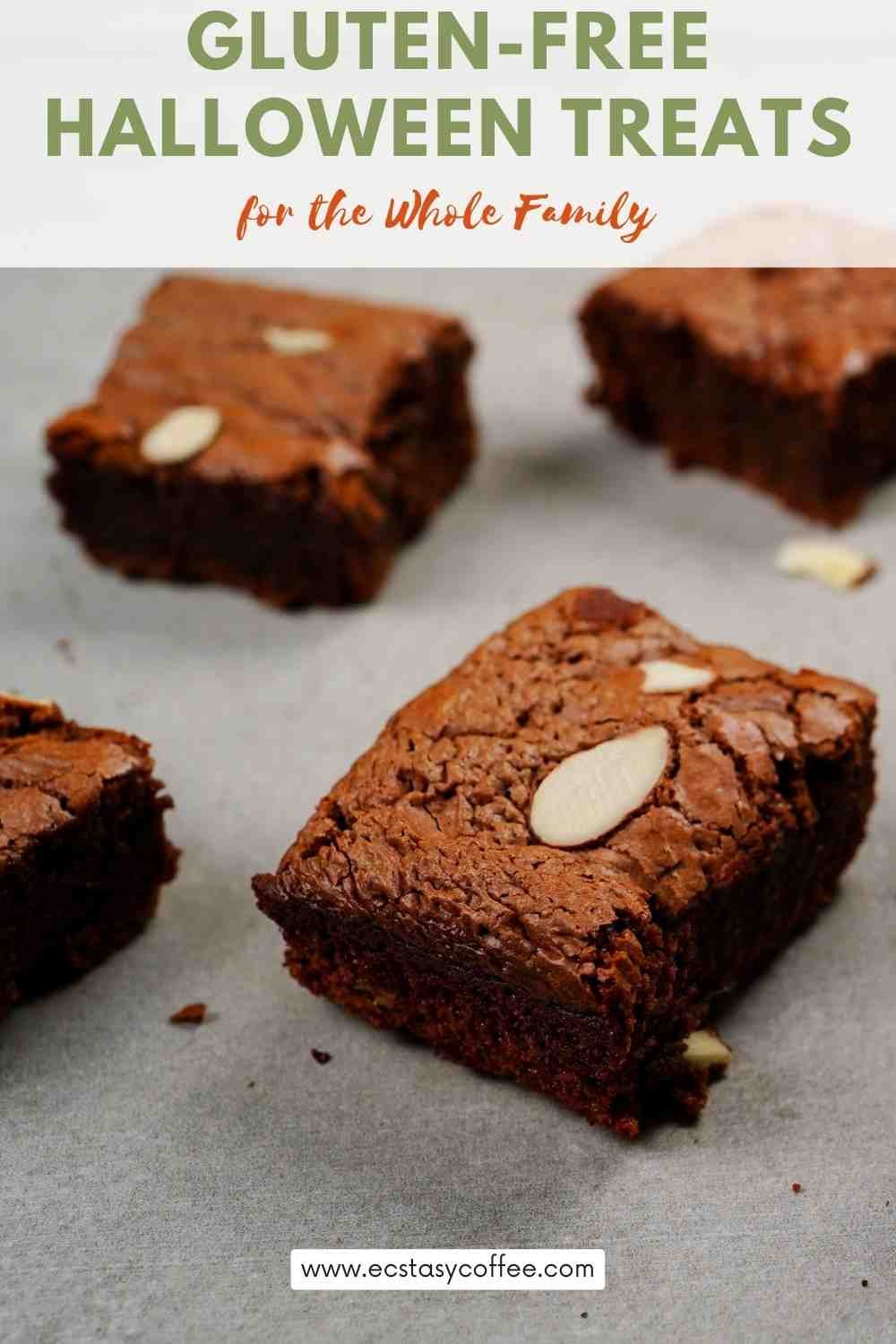 Going gluten-free is a very conscious decision that you need to make! However, during the festivals, it might often happen that you are rather confused about sticking to the diet and at the same time enjoying something nice and yummy. Hence we have brought you these easy-peasy tips and ideas that you can keep in mind as you make your desserts during the holidays.
If you thought going gluten-free was all tough and boring then we are here to change your thoughts! Making gluten-free desserts are so easy with the tips that we have here.
What do you mean by a gluten-free diet?
To be precise and simple, you need to exclude all the gluten from your meal! This means removing a particular protein that is found in grains, wheat, and so on. Hence you need to consume whole food like eggs, meat, fish, veggies, and fruits. It is a natural protein that is a binding agent!
It can be present in anything, to be honest! From pizzas, pasta to ice cream and so on! Hence when you are going no-gluten it becomes even more important for you to be very careful while choosing what to consume.
So what is the food you are expected to consume while on a diet
If you are following a gluten-free diet then there are several things that you can still include in your meal! After all, this is the season of holidays and you do not wish to miss out on good stuff. So we have got you covered there. Soon we'll be sharing with you some ideas that you can opt for as gluten-free Halloween treats. So hold onto your seats!
Who should consume a gluten-free diet?
If you are suffering from celiac disease then you need to consume a gluten-free diet. As a result, auto-immune gluten affects and attacks the small intestine. This causes pain, nausea, bloating, or diarrhea. Hence a celiac patient is asked to avoid gluten at all costs. If you are having guests over for the party then make sure that you have a couple of gluten-free options as well.
Is it possible for you to be gluten-free and lose weight
Many wonder whether it is possible to lose weight as they go all gluten-free. One needs to cut out on a lot of processed food as a part of the diet and hence this can lead to a certain extent of weight loss.
Is there a chance of gluten withdrawal if you go gluten-free
Often when you are embarking on the journey of becoming gluten-free a question arises whether you shall face withdrawal symptoms and here is the answer to your question. There are no scientific reasons that have been found that can indicate that you shall have withdrawal symptoms. Although some cite that they have nausea, headache, and extreme hunger. However, these are pretty generalized symptoms and cannot be strictly associated with a gluten-free diet.
How to get started with a gluten-free diet
Of course, there are some preliminary measures that you need to bring into account when you are making gluten-free food. Let's find out!
Always read the packages well! You have to make sure that there can be warnings on the packets that they may or may not be gluten-free! In that case, it is always advisable that you read the descriptions well.
Keep your utensils, tools, and equipment in the kitchen separate for gluten-free recipes. Even a particle of gluten in your food and then in your body can adversely affect your diet and hence you should be careful.
Delicious Gluten-Free Halloween Treats for All Guests
Why go with the hassle to bake when you can enjoy pumpkin spice truffles without even baking at all?
Delicious and chewy, you must give it a try for sure.
The spider cookies are simply the best with chocolate candy placed on top!
Yummy and flavorful, this recipe is gorgeous and renders you simply smitten with every bite.
Easy-peasy and yummy, these cookies are the highlights of the holidays.
The gorgeous pumpkin s'mores cookies are flooded with icing and taste so divine.
Gooey and tender, the cookies turn out to be the best and perfectly curated to match the wonders of the season.
Marshmallows and chocolate chips are present in loads and loads.
These mummy brownies are chocolatey and flooded with great flavors!
Delectable and yummy, the rich icing on top makes these brownies even more amazing in every bite!
Not to forget the spooky eyes on top. So what are you waiting for? Do give it a try!
If you are looking for something rich and yummy then the pasta salad is the best filling dish as an appetizer at the party.
Packed with zucchini, pepper and so much more, you must try out this recipe at once. Shall we then?
The chewy and yummy cupcakes are exactly what you need for the holidays!
Topped with rich cream cheese, the cupcakes shall melt in your mouth at every bite and render a sense of contentment.
And yet you shall crave more.
If you are looking for something nice and chewy as a Halloween treat then the Frankenstein rice crispers are the best thing to go for!
Easy to make and yummy, what an incredible idea it is! So shall we then?
Treats like these are why we wait for the holidays to arrive! Delectable and tender, these luxurious pumpkin pies will make it very hard for you to resist.
But you shouldn't since they are so healthy too! Let's make it then?
An entire platter to relish as the kids enjoy the healthy treat as well as the adults!
These spooky fruity ideas are perfect if you are planning to go all gluten-free this season.
Yup, you heard it right, these Halloween chips do not need any frying but are purely baked.
Shaped as ghostly figures, this idea is fantastic and you can enjoy it with a tangy dip on the side.
Make this one for the parties.
Adorned with jelly worms, the Halloween dirt cups are so easy to make!
Creative and cozy, the dirt cups are filled with chocolate crumbs on top!
Packed with a rich layer of icing, these are best to serve at parties.
If you haven't tried mummy bars yet then you should with this recipe right here!
Crunchy and creamy, the mummy bars are adorned with colorful frosting and then a pair of spooky eyes as well.
Try them out today and let us know how much you enjoyed the gluten-free Halloween treats.
Did you try out the black velvet Halloween cake yet? If you haven't then you are surely going to regret not trying them so far.
Here is the recipe! Bake yourself one and grab a piece before anyone does.
If you are looking for something crispy and crunchy then you ought to check out this easy-peasy all-time favorite Rice Krispies!
There is no problem if you have decided to go all gluten-free as well. Shall we?
Wait! Are we hearing it right? Yup, the rice crispy treats they are! Yummy and crunchy, packed with pumpkin pulp you will find yourself finishing a bucket of these and we will not be surprised at all.
That's how good and irresistible they are!
The Halloween junk cookies are full of treats on top! Yummy, crunchy, and crumbly, you must indulge in their blissful taste!
Perfect to go with hot chocolate on the sides, surprise your little ones right away!
You now can make your monster cookies without flour! If you wish to learn then quickly follow this recipe and bake yourself a fresh batch, we can guarantee you will fall in love with them at the very first bite. So shall we?
Well, these cake rolls are perfect if you are looking for something vibrant, sweet, and yummy!
Delicious, tempting, and gorgeous, the cake is best suited to the holiday season and leaves you drooling for more.
So what are you waiting for? Bake them today!
These pinwheel cookies are indeed the highlights of the season!
Yummy, crumbly, and chewy, this recipe turns out to be so tempting for both kids as well as adults.
Bake as many as you want and enjoy to your fullest.
These cupcakes are not just healthy but also vegan at the same time.
Yummy and packed with rich frosting, you will definitely fall in love with this great right away!
So shall we get started with the preps then?
Other ideas you should check out: Coconut Dessert Recipes, Healthy Thanksgiving Recipes, Gluten-Free Breakfast Recipes, Gluten-Free Snacks, Oreo Cookie Dessert Recipes, Christmas Truffles Recipes, Spookiest Halloween Drinks, Cake Batter Cookie Recipes, Thanksgiving Dessert Recipes, Pumpkin Recipes, Healthy Dessert Bar Recipes