Get ready for Halloween with these simple and delicious Halloween caramel apple recipes. Choose from classic flavors or get creative with inspired toppings and fillings for your caramel apples. Follow along with our step-by-step instructions to make the perfect Halloween treat. Try it today!
More collections: Halloween Leftover Candy Recipes, Halloween Cakes, Halloween Pumpkin Rolls, Halloween Cookies, Halloween Pumpkin Cookies, Halloween Pie Recipes, Halloween Popcorn Balls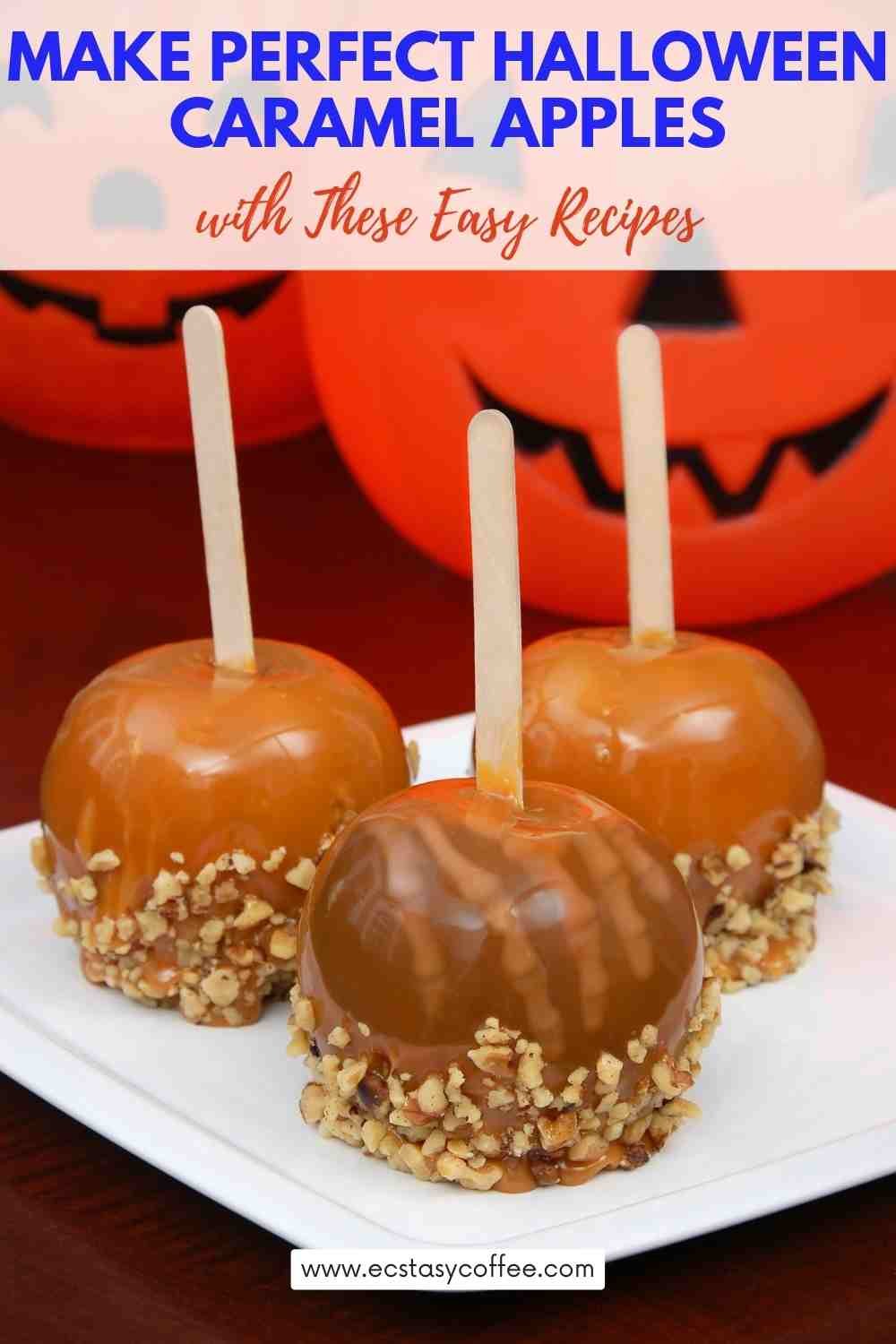 As we all know, Halloween is the season of celebration and macabre! While the spooky aura is hanging in the air, we are also quite excited to indulge in treats and yummy desserts! Gatherings, parties, costume occasions, food, and laughter are all synonymous with the season of Halloween!
Even while we write this, a chill is running down our spine because it is that time of the year when anything can happen as the spirits are let out loose. Today, we are going to discuss Halloween caramel apples, so let's go!
So, what are caramel apples?
We make caramel apples every year, from color sprinkles to cozy dippings, the options are simply endless! There are different varieties of caramel apples that you will come across! It is the specialty of the season, also known as toffee apples as these look like large candies. The apples are perched on a stick and then rolled in a bowl containing caramel sauce. Once the caramel cools down, there are several toppings that are used.
If you have to produce these caramel apples in bulk then you need a sheet of caramel on which the apples are wrapped. On being heated, the caramel sheet over the apple gradually melts! If you wish to present this as a gift for the holidays, then this technique is perfect to keep the caramel steady on the apples.
How do you obtain the caramel?
Usually, we purchase the caramel candies and then melt them in a bowl to dip the apples into the syrup! Otherwise, you can try to do it at home but the consistency of the caramel sauce will be thinner than the store-bought ones. Both are good but if you are sending them away to your neighbors or friends, store-bought caramel is best to maintain the candy layer intact on the apples.
Now in recent years, when innovation met creativity, there are several ideas that have come up! From dipping in chocolate to adorning with toppings and so on, the options are simply endless.
What is the history of caramel apples?
The history of caramel apples is very interesting and came into existence when Hunter's Candy in Moscow, Idaho came up with the idea in 1936. They were around 1908 but became popular around the 1930s itself. During World War II, these candy apples were sent off to soldiers in Japan, England, and Korea.
In 1960, the first mechanical caramel apple, produced in factories came into being Vito Raimondi.
How does traditional caramel apple taste?
If you are making caramel apples, then let us tell you that it is an all-time classic. Signature of the fall season, the tart apples are tasty! While it is crunchy and tarty inside, the outsides are dipped in sweet caramel and give you a mouth-watering experience.
What kind of apples should you use for making caramel apples?
To be honest, any sort of apples you can use for making caramel apples! So there is nothing particular when you are making caramel apples.
Granny Smith is the most common kind of apple which is used for making caramel apples and candy apples. They have a firm and crispy consistency that makes your caramel apples even more tasteful.
However, small apples are best when you opt for preparing caramel apples as they are crispier than the larger ones which often turn mushy. These are easier to dip in the bowl and maintain the apple-to-caramel ratio. Flat-bottomed apples are the best so you can balance them on the tray.
Easy-to-Make Halloween Caramel Apples - A Delicious Spooky Treat!
This recipe makes use of apples to create the witch's cauldron! Such an adorable and cute model to try out this season.
Do give it a try for sure this season! The combination of chocolate and caramel is amazing.
The lovely candy apple ghost is anything but spooky! Yes, Halloween can be all cute and yummy with the candy apple recipe that we have for you right here.
Let's not waste a single minute more and get started with the preps, shall we?
If you are looking for the most classic candy treat for the season then do not miss out on the caramel apples!
Dipped in rich caramel sauce and drizzled with sprinkles, this tastes so good indeed.
These spooky black caramel apples give a sense of spookiness and macabre air!
Ghostly and perfectly themed for Halloween, you must give it a try for sure.
With holidays around the corner, you should opt for this delightful treat.
Are apples shaped like pumpkins? Yup, you heard that right! The idea is wonderful as these mini pumpkins perched on top of the tray look so amazing!
A perfect candy idea for the guests at the party. So what are you waiting for?
This is the marvelous Disney apple candy copycat that you must try out during the holidays!
Packed with cinnamon swirl, the recipe is brilliant and leaves you with a temptation for more.
The rich white chocolate coating on top tastes so magnificent indeed.
If you do not wish to indulge in the whole apple then you can try out chocolate-covered apple slices instead!
The combination of Apple and caramel is outstanding and you should try it out!
Such an incredible creation to relish this season!
Cozy and crunchy, the rich chocolate-covered apples are gorgeous and flooded with great taste!
Delicious and rich, there is no way you should give up on this one. Perfect to make your Halloween special!
Here is another tempting apple candy recipe that we are sure you will find awesome!
Drizzled with syrup, this recipe turns out to be the best and topped with chocolate crunches and bits, it tastes even more amazing. Shall we then?
No worries if you are trying your hands at caramel apples for the first time!
Savory and packed with great taste, the apple tastes so so good that after one, you will be craving more.
Go for it today!
If you are looking for something nice and crunchy then the homemade Halloween caramel apples are the best things!
These are healthy candy versions, which kids to adults, anyone can indulge in.
Savory and packed with toppings, one can hardly resist this one.
Have you tried the graveyard candy apples before? The recipe is lovely and loaded with treats, poppy eyes, syrup, sugar and so much more.
Savory and crunchy, make this during the holidays and enjoy to your heart's content.
Let's go!
Making black caramel apples are no big deal as long as you have this recipe to guide you!
Rich and cozy, the apples taste so amazing that we are sorry to say, there shall be none left behind at the end of the evening.
The Hocus Pocus candy apples are full of excitement! Delicious and yummy, this is an excellent treat full of spooky spells cast upon it!
After all, it is the witch's apple, what else can you expect? Go for it today!
If you are in the mood for something unique and exclusive then why just make one kind of Apple?
This is a platter of Apple caramel bars which are made in so many different flavors by dipping in different sauces.
You can serve these mini apples as a crunchy and sweet bite-sized appetizer to the guests at the party!
From kids to adults, there will be no one who can resist this treat! So try them out today!
Coming up with the rich and luxurious chocolate caramel apple eyeball is so easy!
Loaded with sauces and thick syrup, the possibilities are low that even one will be left behind on the plates.
So what are you waiting for? Make it today!
The delicious caramel apple fondue is lovely and flooded with great taste!
Savory and crunchy, this recipe is wonderful and gets done in a jiffy!
If you like cheese fondue then this caramel fondue is something you will find equally good.
The delicious candy caramel apples are what we crave for the whole time until Halloween finally arrives!
When we found this recipe, we knew you would definitely find this one to be amazing. So what are you waiting for? Do give this one a try for sure.
If you are making Halloween-customized apple candies then the spider-webbed caramel idea is the best we must admit.
Rich and crunchy, this recipe is so easy to emulate and perfectly suited to the holidays.
Other ideas you should check out: Caramel Dessert Recipes, Halloween Dessert Recipes, Healthy Dessert Bar Recipes, Thanksgiving Dessert Recipes, Christmas Sticky Buns Recipes, Healthy Late Night Snacks, Christmas Candy Recipes, Healthy Salty Snacks, Best Sheet Pan Recipes